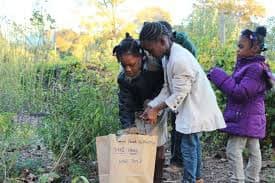 It's so unfortunate that so many of our fellow residents in the USA have limited access to healthy food and in most instances, they're only able to purchase prepackaged and processed foods from corner stores. Healthy choices are just not an option. When people don't have healthy food, what happens? Childhood obesity rates rise and chronic health problems settle in – and that's just not cool.
This problem is particularly prevalent in west Atlanta, and that's where the
Georgia Food Oasis Campaign
comes in. With funding from the Atlanta Falcons Youth Foundation, nonprofits like Georgia Organics, Atlanta Community Food Bank,
Captain Planet
, and many other organizations have come together to transform the food desert of west Atlanta into an oasis! The current food crisis is creating a picture of Georgia, which looks a little something like this:
20% of people in Georgia have food insecurity, which basically means they have very limited access to quality food, if they're even able to buy food at all, according to the USDA.
One in four children live in households where their families cannot afford to buy their next meal.
Georgia is among the top ten states with the highest food insecurity rate in the country.
Georgia Food Oasis is working hard change these staggering statistics by connecting people of all income levels to healthy food choices. The nonprofits involved with the project include a variety of categories, from cooking food, growing it, and medical care, which means Georgia Oasis can tackle this problem from every angle! Here are some of the ways they are planning to transform the city:
Doctors will write nutrition prescriptions to help patients make healthy food choices and send coaches to the supermarket to help patients shop differently
Mobile farm stands, corner store makeovers, traveling pantries and other innovations will make healthy food choices available and affordable
Chefs will offer cooking demos and health and nutrition classes, including "Shop with the Doc" events where health care providers help consumers choose options that can prevent or reverse chronic diseases
Urban farms will help local residents grow fresh produce, right in their own neighborhoods, creating affordable and reliable sources of high-quality food
Farmers, doctors, grocery store owners and others will work with residents to explore innovative ways to expand the Westside Food Oasis
Who knew farming could create so much change? By utilizing urban farms the Georgia Oasis Campaign can transform the lives of people living in impoverished areas of west Atlanta.
If you want to get involved, head on over to their website and check out all the opportunities they have for you to get connected. Meanwhile, if want to learn more about urban farming and the huge impact it can have on cities, click here!
---