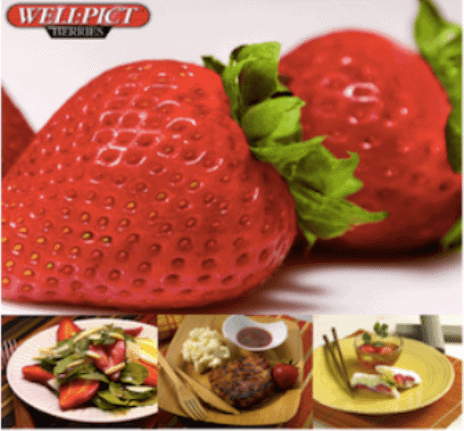 I just had an amazing weekend of sun, food and fun with my family, and I don't think it would have been the perfect summer experience without strawberries being served in something! Just serving a tray of beautiful red strawberries seems festive to me, and one company that continues to deliver the most sweet, big and juicy strawberries is Well•Pict Berries. It constantly delivers.
One of the things that I particularly love, and I think you will, too, is the fact that Well•Pict Berries has been "green" long before "being green" was in! They have never utilized any GMO products to help create their generous sized berries!
Plus, they really do care what they do for the environment, and when you're producing this amount of berries, that makes quite a positive impact! Their plastic clamshell packaging is 100% recyclable and made up of 70% recycled drinking bottles. Also, 50% of the power used in their manufacturing process comes from the sun. Yep, solar!
Check out these 3 "BERRY" Delicious Recipes, for something light, unique, and fun to serve! Do you have any favorite strawberry recipes? Let Well•Pict Berries know on their Facebook page or comment here!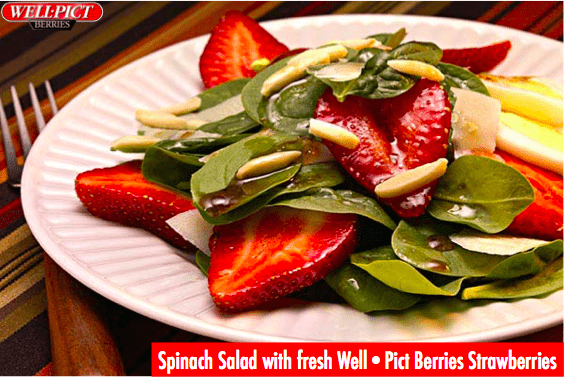 Spinach Salad with fresh Well•Pict Berries Strawberries (8 servings) Ingredients:
1 bag fresh spinach
2 hard boiled eggs, sliced
1/4 C slivered almonds
Balsamic vinaigrette dressing
1/2 C Parmesan shavings
Dressing:
1/4 C balsamic vinegar
1 C Extra Virgin Olive Oil
1 tsp honey
Water
Pour balsamic vinegar into food processor and slowly add oil and honey. Color of dressing should go from dark brown to a lighter shade as it thickens. Use water to achieve desired consistency. Additional honey and/or vinegar can be added to achieve taste desired.
Rinse spinach and place in a large salad bowl. Add eggs, almonds and Well•Pict Berries Strawberries. Drizzle balsamic dressing over and toss. Finish with Parmesan shavings. If protein is desired, grilled chicken, shrimp, salmon or flank steak can be added to give this delicious salad even more punch!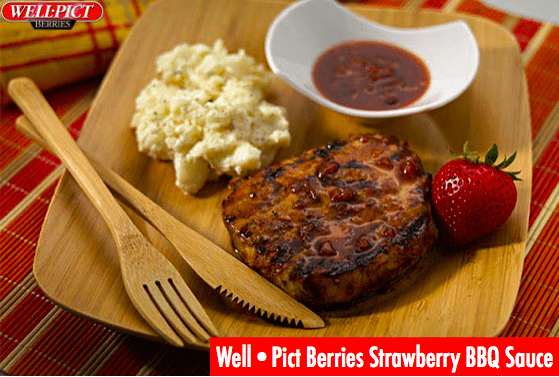 Well•Pict Berries Strawberry BBQ Sauce
Ingredients:
1 onion, chopped
3 cloves garlic, minced
3 tablespoons minced ginger
1/2 cup apple cider vinegar
2 chipotles, minced
1 tablespoon Worcestershire sauce
2 cups strawberry preserves
1 tablespoon Dijon mustard
1 1/2 teaspoons liquid smoke
1 teaspoon kosher salt
Directions:
Heat onions and garlic in a pot with 2 tablespoons olive oil until onions are translucent.
Add ginger, vinegar, chipotle, Worcestershire sauce, strawberry preserves, Dijon mustard, 16 ounces chopped fresh strawberries, liquid smoke and 1 teaspoon kosher salt.
Cook over medium heat for 15 minutes, take off heat and let rest at room temperature for up to 1 hour.
The sauce is bold, but versatile so it can also be used when grilling pork chops, chicken, fish, or beef.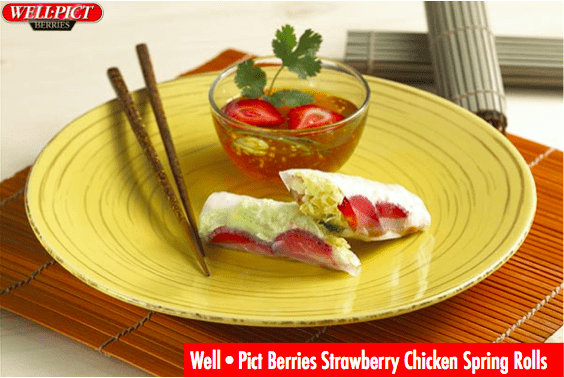 Well•Pict Berries Strawberry Chicken Spring Rolls
1. Filling:
14 oz. boneless, skinless chicken breast
2 tbsp. soy sauce
1 tbsp. sugar
1/2 tsp. minced ginger
1/2 tsp. minced garlic
Zest of 1 lemon, reserving lemon juice for sauce
2 tbsp. canola oil
In medium size bowl, combine the soy sauce, sugar, garlic, ginger, and lemon zest. Set chicken in bowl and marinate for 30 minutes. Over medium heat, lightly saute the chicken in canola oil until done, browning on both sides. Remove chicken from heat and let cool, then slice chicken 1/8" thick.
2. Rolls:
12 spring roll wrappers
2 cups thinly sliced Nappa cabbage
1 cup julienned cucumber, peeled
1 1/2 tbsp. chopped cilantro
1 1/2 tbsp. chopped mint
Fill a large bowl with hot water. Submerge one wrapper until softened, then carefully remove and place on clean kitchen towel. In center of wrapper, layer 3 tbsp. cabbage, a few slices each of chicken, cucumber and
strawberries
, and a sprinkling of cilantro and mint. Folding in the sides, roll up tightly until you have a tight, cigar-like shape. Repeat with remaining ingredients.
3. Dipping Sauce:
---