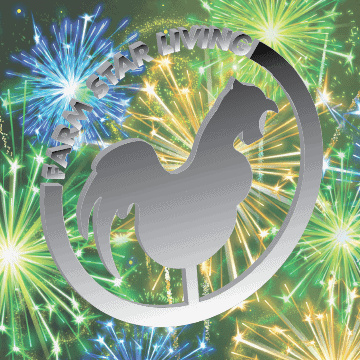 There is no better way to begin the process of becoming healthy than when you're sick, and I've had this nasty cold all week! So I decided to devote a day to myself, to work on getting well and to practice healthy habits for the New Year. My day began with holy basil tea from our friends at Truly Living Well. Love it - so soothing! I learned tulsi basil reduces stress, has anti-aging affects, and has powerful compounds that protect your body from viruses, stress and disease! No wonder Indians and ancient healers call it HOLY!
One of the things we've learned is your body care can be the same as what you eat! Many of the things we eat in our daily lives, you can use for your hair, skin, nails and face! Check out this hydrating hair remedy Sam (Samantha) made me:
Cuckoo for CoCo Hair:
Ingredients:
1 avocado
Coconut Oil (amount depends on preference and hair) - heated for about 35 seconds to allow the oil to melt makes it great for a warm, soothing head massage (Courtney and I can tell you all about that!)
1 tbsp. Apple Cider Vinegar
Instructions: Just put everything in a bowl together, mix and it's ready for that head of yours! Massage and lather it all in, letting the oils really seep into your scalp. Throw it up all together as a bun or even a funky Mohawk and wrap your hair in a towel or shower cap. You can let it sit for 20 minutes or even a few hours, depending on how hydrated and moisturized you are trying to make your hair and scalp. For great results, try this out once a week! No matter what, at the end of this hair treatment, you really will be Cuckoo for CoCo Hair!
Benefits:
Avocado: The oils are very similar to our very own skin secretions, which are light and moist and can really help repair damaged hair. The fatty, protein of an avocado provides nutrients and vitamins that can really work wonders on your hair. The vitamins and proteins found in avocado are A, D, E, B6, magnesium, folic acid, amino acids, copper and iron. The combination of these help with all of the following: hair growth, nourishment, prevent split ends, hydrate dry hair and revitalize making it soft and shiny.
Coconut Oil: The nectar of the gods when it comes to hair! Coconut oil is the best possible conditioner you could use for many reasons. Here are some of the reasons how magical coconut oil benefits your hair: 1) It has antibacterial properties that the ultimate protection from bacteria, infections, rashes etc. 2) It will make your hair strong because of its ability to retain moisture and how it conditions from within to protect it. 3) It reduces protein loss so you never have to worry about unhealthy, damaged hair! 4) Stimulates hair growth 5) Moisturizes, shines and softens.
Apple Cider Vinegar: It's a fantastic natural hair remedy that is cheap and effective! The acidity of the vinegar is very similar to that of our natural hair. This makes it a good conditioner and skin stabilizer. It removes residue from buildup and leaves your hair shiny and clean!
So, that was just all the love my hair received, now it's time to tell you about how my face got pampered:
Our friends from our Holiday Gift Guide, Black Rock Mud Company, gave us a sample of their face and body mask called Mudpot. This amazing company and product is sustainable and straight from the earth!
A few factoids about this outstanding mask:
-It's completely organic and also hand harvested, only twice a year to protect the spring's resources, from a hot springs in Nevada's Black Rock Desert! (REALLY? HOW COOL IS THAT?)
-This mineral rich clay, which has no additives, benefits your skin by detoxifying, sooths, heals and restores pH balance.
- On top of all that, the jar is recyclable and they won an International Green Packaging Award with the plantable box it's packaged in! So you can just go outside put that baby in the ground and it will grow into wildflowers!
You have to try it! Courtney, Sam and I all loved it, and we even had some fun with our fabulously green faces! Afterwards, we all agreed it made our faces glow and super soft. Seriously!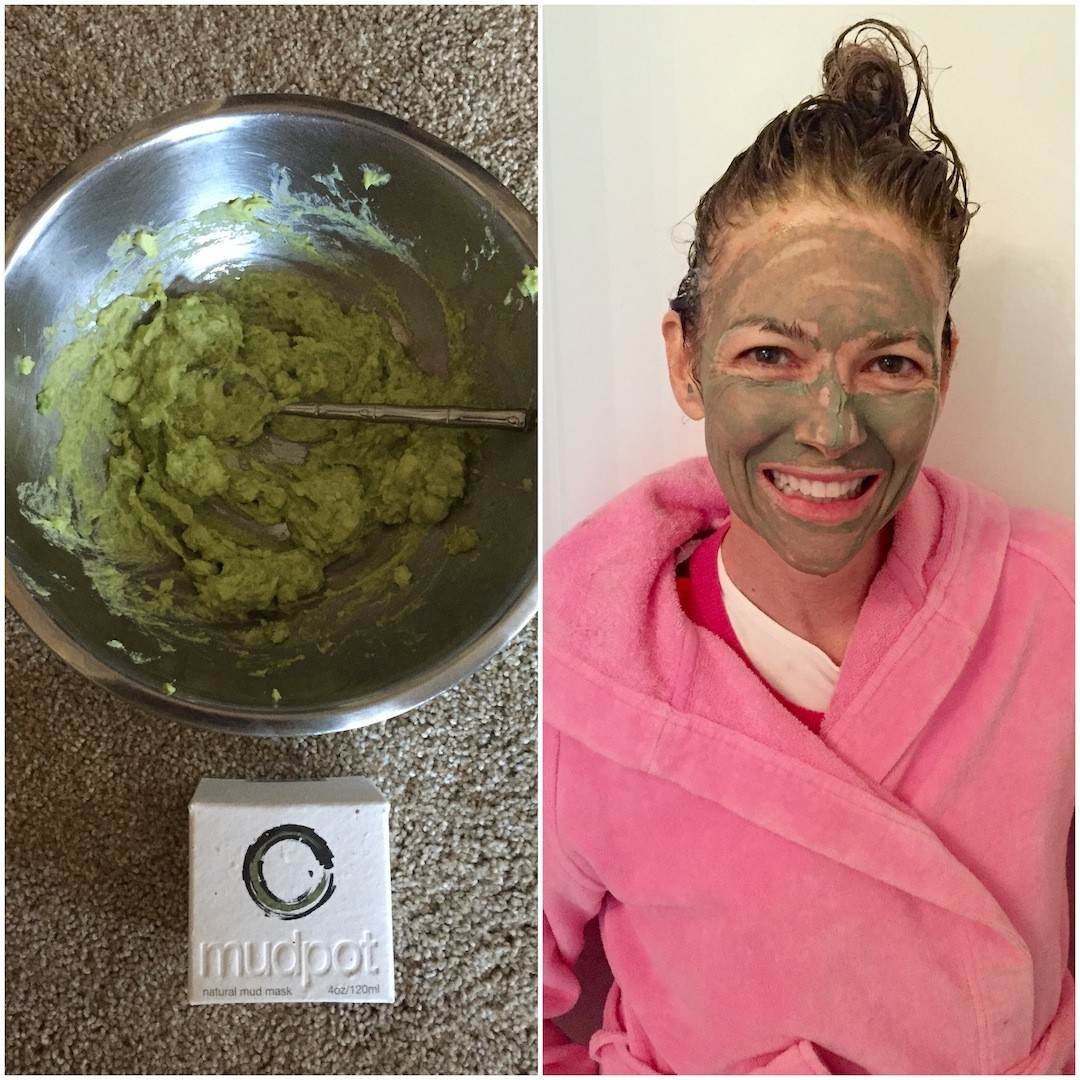 Well, our day wouldn't be complete unless we made something to eat that would rock our bodies into health!
So, the team and me pulled out our good ol' friend, The Vitamix, and ventured onward to "The Land of Happily Healthy."
This is what we found when we got there, this green smoothie:
Green Gold:
Ingredients:
-1 banana
- a handful of Kale
- a scoop of pineapple chunks
- 1 tsp. freshly-grated ginger
- 1/4 - 1/2 cup almond milk
Instructions: Blend it all up to the consistency of your liking and drink up!
Benefits:
Banana: Eating bananas can aid digestion and naturally help fight disease and sickness because they are high in antioxidants. They also help with depression with it's high levels of tryptophan, which is converted into serotonin (neurotransmitter that makes your brain happy), helps with muscle cramps, reduces swelling, strengthens nervous system and much, much more!
Kale: A "super green" with powers to make your body healthy. Kale is high in fiber helping aid in digestion, it's high in iron (even more than beef!), which is essential for good health, high in vitamin K helps prevent and cure diseases/cancers, powerful antioxidant, great anti-inflammatory food because it's omega-3, vitamin A, vitamin C, calcium and the list could go on and on and on!
Pineapple: High in antioxidants to keep your cells happy and healthy. Pineapple is also high in manganese for strong bones. It helps with indigestion and inflammation.
Ginger: It has immune boosting actions and helps assist the body with detoxification. Ginger is an antioxidant, anti-inflammatory and anti-tumor on cells, it just keeps cells and the body happy. It is known for its outstanding effects to help with nausea and maintaining normal blood circulation.
Almond Milk: It's high in energy, proteins, lipids and fiber. Almond milk has many health benefits, here are a few: improvement of vision, weight loss, stronger bones, promotes a healthy heart, maintaining ideal blood pressure and great for the kidney!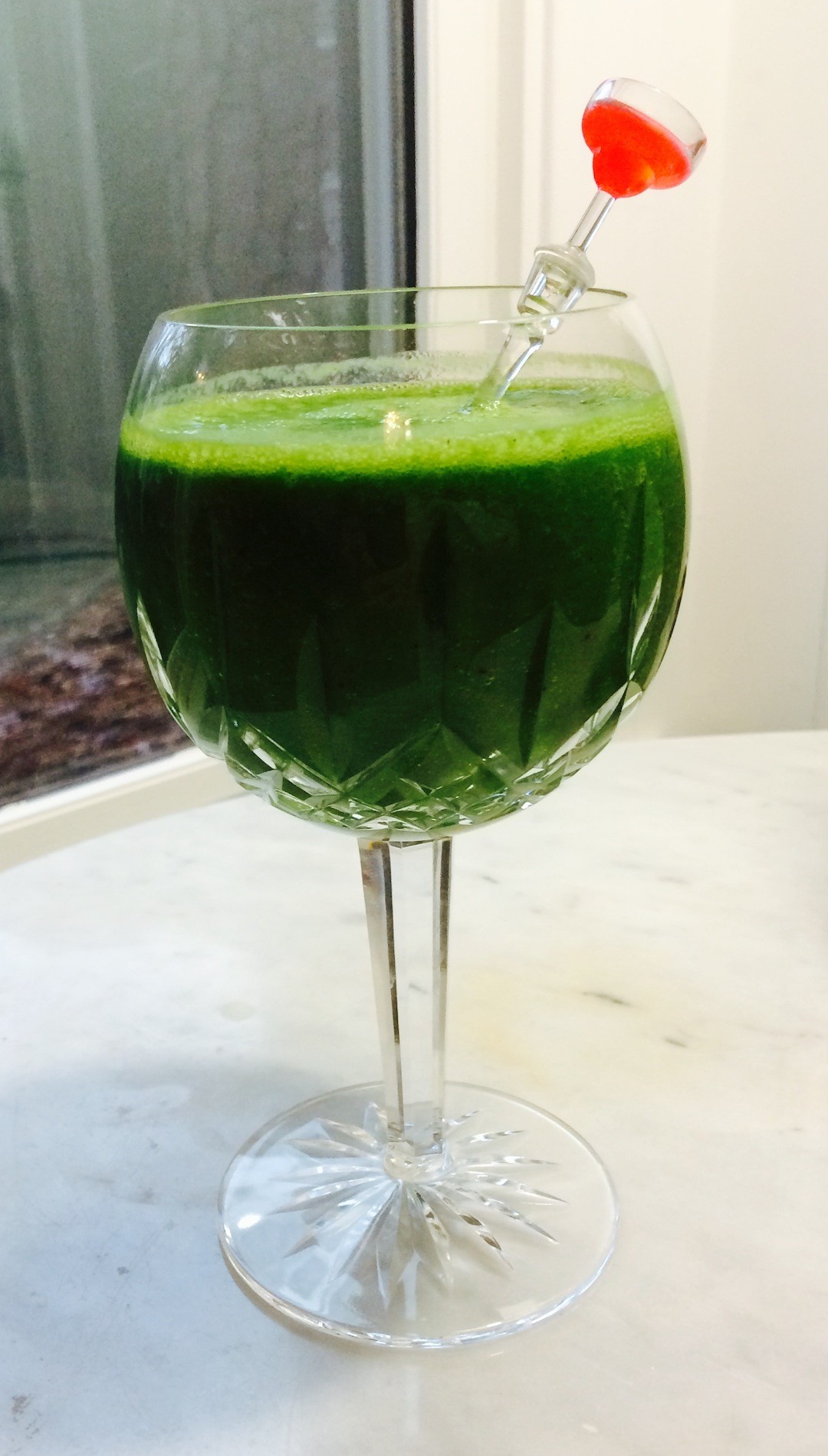 We are here to embrace the New Year, as it stands before us and can't wait to see where Farm Star Living is going to find itself! I know wherever the team and I go, it's going to be fresh and exciting! So cheers to 2015 and a healthy one at that!
---