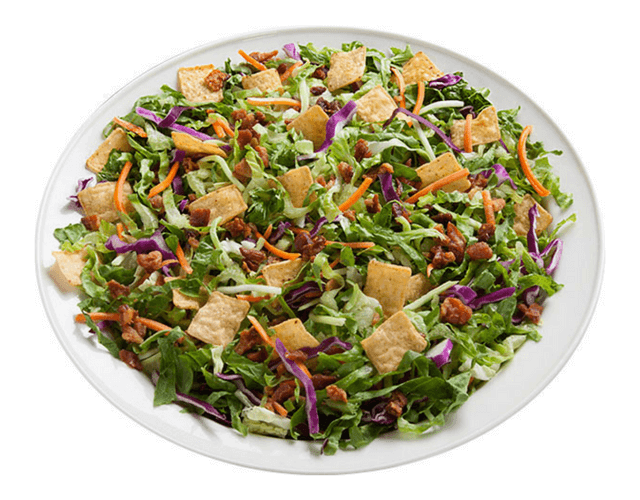 Parents, we absolutely love the Chopped Salad Kits from Taylor Farms. Not only are they something the whole family will enjoy, they're also easy to prepare and nutritious! Our favorite part about these Chopped Salads Kits is that they are pre-washed, and pre-chopped with a delicious dressing and yummy toppings included. Everything you need comes right in the bag! There's absolutely no prep or cooking needed; just pour, top, and mix.
If you're like us, you probably enjoy grilling this time of year, even though sometimes you may not feel like all the prep and fuss. That's another reason why we love this healthy salad - it gives us all the flavors of grilling without having to fire up the grill!
The BBQ Ranch Chopped Salad Kit is full of romaine lettuce, broccoli, red and savoy cabbage, green onions, and carrots with smoky bacon, tortilla chips, bbq sauce, and creamy ranch dressing. Perfection.
See how this salad measures up when it comes to your health:
Romaine Lettuce:
Aids in digestion
Aids in weight loss
Improves bone and muscle health
Lowers blood pressure
Broccoli:
Anti-inflammatory
Combats fatigue
Improves hair, skin and nails
Broccoli has been shown to reverse diabetes heart damage because it promotes the production of enzymes that help protect your heart blood vessels.
Cabbage:
Anti-aging
Fights free radicals
Helps control LDL cholesterol levels
Fresh cabbage is rich in vitamins B1, B5, and B6, and also contains 61% of the daily recommended amount of vitamin C and 63% of the daily recommended amount of vitamin K.
Carrots:
Improves eyesight
Anti-inflammatory
Lowers blood pressure
Carrots are very rich in many different vitamins and minerals, as well as fiber and antioxidants!
Check out the Recipe to see how we made it!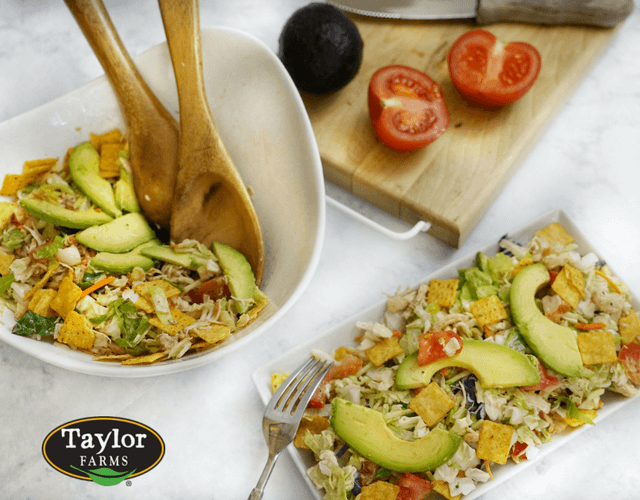 ---