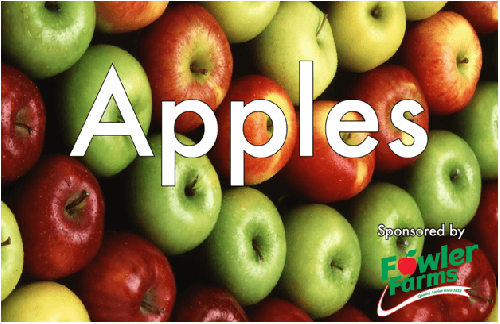 Since 1858 their passion for growing quality apples has built a tradition of excellence six generations long. Their farm, just south of Lake Ontario, New York, provides the ideal climate for growing crisp, juicy, locally grown apples for their customers.
Fowler Farms is still family owned and they control every stage of the growing process, from root stock through final consumer packaging. They've made it a high priority to make their produce buyers' jobs as easy as possible, and their reputation for excellence and innovation has made them the apple grower of choice by many.
When you bite into a Fowler apple you're taking a smart step toward life-long health. An average size apple of about 180 grams is a nutrition powerhouse. It's packed with vitamins, minerals and other elements that have been shown to lower cholesterol, fight cancer, and reduce the chances of developing heart disease.
Nothing evokes Fall better than the aromatic fragrance of McIntosh apples. People have enjoyed this apple since 1811 when John McIntosh discovered the first seedling. McIntosh apples grow particularly well in New York's cool climate!
What's It Like?
Sweet with a tart tang
Very Juicy
Tender, white flesh
Best Uses
Excellent for snacking and sauce
Good for salads and pies
Special Hint
McIntosh's tender flesh cooks down quickly. Add a thickener if making a pie.
Available – September through June
Basic Nutrition
One apple of about 180 grams is 95 calories, contains 0.5 g of protein and 25.1 g of total carbohydrates. Based on a 2000 calorie diet, that represents 1 percent of the recommended daily value (DV) of protein and 8 percent DV of carbohydrates. Apples only have 0.3 g of fat, which is so small it provides less than 1 percent DV. Apples are a great source of dietary fiber. The total fiber of 4.4 g (17 percent DV) includes soluble and insoluble fiber. The soluble fiber helps prevent the buildup of cholesterol and the insoluble fiber provides bulk that moves food through the intestines.
Vitamins –
Apples are a rich source of Vitamin C. Containing 8.4 mg, just one apple provides 14 percent DV. You'll also obtain between 1 to 4 percent DV of thiamin (0.031 mg), riboflavin (0.047 mg), niacin (0.2 mg), pantothenic acid (0.1 mg), Vitamin B6 (0.1 mg) and folate (5.5 micrograms). They also provide three of the fat-soluble vitamins; Vitamin A (98.3 IU or 2 percent DV), Vitamin E (0.3 mg or 2 percent DV) and Vitamin K (4.0 micrograms or 5 percent DV).
Minerals–
Apples supply 195 mg, or 6 percent DV, of potassium. They also provide 1 to 3 percent DV of calcium (10.9 mg), iron (0.2 mg), magnesium (9.1 mg), phosphorus (20 mg), copper (0.049 mg) and manganese (0.1 mg). Apples are perfect if you're watching salt intake because they only have 1.8 mg of sodium, which is a trace amount.
Flavonoids –
Flavonoids are compounds that work as powerful antioxidants. Information provided by the Linus Pauling Institute (LPI) states that apples are one of the main sources of dietary flavonoids, providing about 22 percent of consumed flanovoids per person. Increasing consumption of apples is associated with a "decreased risk of heart disease, Type 2 diabetes and incidence of thrombotic stroke."
Phytosterols –
One apple has 21.8 mg of phytosterols. Phytosterols are substances that are similar to cholesterol but they actually inhibit the absorption of cholesterol in the digestive tract, resulting in lower LDL ("bad" cholesterol) levels.
Cancer Fighting Properties –
Apple skin helps protect against cancer more than the rest of the apple. The entire apple provides you with valuable antioxidants to protect your cells against damage from free radicals. Only the skin contains compounds known as triterpenoids that have the ability to prevent cell proliferation, protecting you from many forms of cancer, according to a study published in the May 2007 issue of the "Journal of Agricultural and Food Chemistry."
Dietary Fiber –
Apples provide the body with a good source of dietary fiber. One apple can provide about one-fifth of the daily recommended intake for fiber. Fiber is an indigestible polysaccharide which has several important roles in the body. According to MayoClinic.com, fiber normalizes bowel movements, maintains bowel integrity and health, lowers blood cholesterol levels, controls blood sugar and aids in weight loss. Fiber helps the body to feel full for a longer period of time which can help those trying to lose weight or maintain a healthy body weight.
---