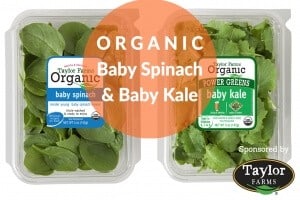 Great Salads, Sustainable Practices, &Community Involvement.
Taylor Farms began in the Salinas Valley in California, and it was here, where Bruce Taylor, Founder & CEO , became the third generation to work in the fresh produce business. In 1995, Taylor Farms was founded with the vision of making some of the best salads & healthy fresh foods! Since the beginning they've partnered with over 100 family growers across the country and employ around 10,000 employees. They are hardworking and dedicated in delivering the best quality products to local grocery stores daily.
They accomplish their goals with responsible and sustainable practices with their Energy, Water, and Waste. They use clean, reliable, and affordable energy by utilizing solar panels, wind turbines, and fuel cells. Their advanced controlled water tanks help control the use of water, and they don't use more water than they need. By minimizing their packaging, the food waste is minimized as well.
Another HUGE part of Taylor Farms is their community involvement. From day one, Taylor Farms has been giving back to their local communities. From awarding scholarships, running for a cause, and so much more, sharing their success with their community is so important to Taylor Farms.
Taylor Farms Organic Baby Kale
With a mild taste and soft leaves Taylor Farms Organic Baby Kale has so many great nutritional benefits. It is high in Vitamins K, C, and A, and is great for juicing, sautйing or with any salad recipe. It's not only delicious and great for you, but it's also washed and ready to enjoy right after you buy it!
Ways to Prepare Kale:
Steam it!
Juice it!
Blend it in a Smoothie!
Saute it!
Eat it Raw in a Salad!
Bake Kale Chips!
Add it to Soups!
Surprising Kale Facts:
A serving of kale has more absorbable calcium than a small carton of milk.
Kale belongs to the same family as cabbage, Brussels sprouts, and collards.
Cooking kale doesn'tdiminish any of its nutritional benefits.
Kale is actually a great sourcehealthful fats!
Kale can provide you with some special cholesterol-lowering benefits if you will cook it by steaming.
Taylor Farms Organic Baby Spinach
This delicious superfood is very nutritious with a milder taste.
Taylor Farms Organic Baby Spinach
is fat-free, low calorie, and something everyone will enjoy. It is pre-washed and ready to enjoy as soon as you get home! It's also super versatile and can be enjoyed in so many ways.
Ways to Prepare Spinach:
Eat it Raw in a Salad!
Roast it!
Slice & Stir Fry it!
Steam it!
Blend it in a Smoothie!
Saute it!
Make a Dip or Sauce!
Bake it!
Add it to Soups!
Juice it!
Surprising Spinach Facts:
Cooking spinach actually increases its health benefits!
Regular consumption of fresh, organic spinach juice has been shown to improve skin health dramatically.
Just half a cup of raw spinach counts as 1 of the 5 servings of fruits and vegetables you should eat a day.
Spinach comes in two shapes, smooth or curly.
Spinach is a flowering plant and a relative of the quinoa and the beets
---