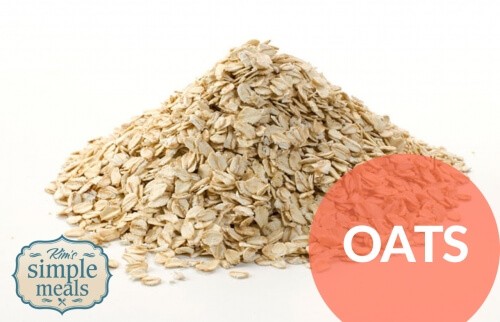 The MANY health benefits from oats:
Low in calorie, and will keep you fuller longer
Provides high levels of fiber, low levels of fat, and high levels of protein
Stabilizes blood sugar and reduces risk of diabetes
Protects against heart disease and cancer
Enhances immune response to disease
And so much more!.. Find more health benefits
HERE!
Different kinds of oats:
Irish or Scottish oats, this variety is made when the whole groat is cut into several pieces, rather than rolled.

used for porridge, to make meatloaf and savory congee (a nice alternative to rice), or add texture to stuffing.

Old-fashioned or whole oats, rolled oats look like flat, irregularly round, slightly textured discs.

used for warm breakfast bowl, granola bars, cookies, muffins, and other baked goods.

Quick oats, instant oats are the most processed of the three oat varieties. They are pre-cooked, dried, and then rolled and pressed slightly thinner than rolled oats.

used for oatmeal, biscuits, oatcakes, scones and crumble toppings.

Oat flour is finer than oatmeal, and is made by grinding and sieving oats. As with oatmeal, the flour can be coarse, medium or fine.

use for making bread or cakes.
Make sure to show our friends at Kim's Simple Meals some love! Follow them on
Facebook
and
Twitter
!
---