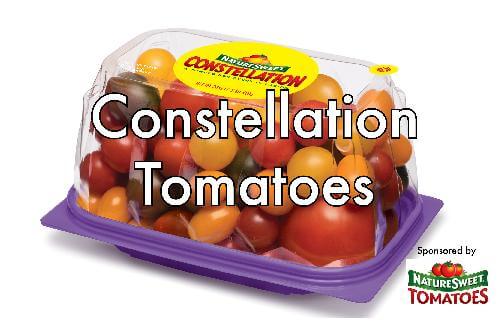 The benefits of consuming fruits and vegetables of all kinds, including tomatoes, are infinite! Consuming tomatoes helps lower the risk of heart disease, diabetes, cancer, and the risk of obesity. It also helps with healthy skin and hair, increased energy, lower weight, and so much more!
Some of the benefits include the following:
An excellent source of the strong antioxidant vitamin C and other antioxidants,

tomatoes

can help combat the formation of free radicals known to cause cancer
Maintaining a low sodium intake is essential to lowering blood pressure, however increasing potassium intake may be just as important.
The fiber, potassium, vitamin C and choline content in tomatoes all support heart health.
High potassium intakes are also associated with a reduced risk of stroke, protection against loss of muscle mass, preservation of bone mineral density and reduction in the formation of kidney stones.
Collagen, the skins support system, is reliant on vitamin C as an essential nutrient that works in our bodies as an antioxidant to help prevent damage caused by the sun, pollution and smoke, smooth wrinkles and improve overall skin texture.
Eating foods that are high in water content and fiber like tomatoes can help to keep you hydrated and your bowel movements regular.

Tomatoes

contain adequate folic acid intake, which is essential for pregnant women to protect against neural tube defects in infants. The folic acid also may also help with depression.
And there are so many more!!
Did you know..? Interesting Facts about Tomatoes you may not know!
The world's largest tomato tree was grown in the experimental greenhouse at Walt Disney World Resort. It produced over 32,000 tomatoes in the first 16 months after it was planted, and holds the record for the most tomatoes in a single year, according to the Guinness Book of World Records!
Florida grows more tomatoes than any other state.
Because the tomato has seeds and grows from a flowering plant botanically it is classed as a fruit NOT a vegetable.
There are more than 7,500 tomato varieties grown around the world.
In 1986, the heaviest tomato according to Guinness World Record weighed 3.51 kg (7 lb 12 oz). As of 2013, it still holds the record!
At
NatureSweet®
, they're not just growing tomatoes. They're
growing futures!
They are dedicated to increasing the sustainability of the land and the lives of all those surrounding their products! NatureSweet® tomatoes are greenhouse grown in a controlled environment, from the seeds, to the growing medium, to the water that is used.
NatureSweet®
tomatoes begin with seeds that have been selected for their superior taste, and all plants are nurtured with a "secret recipe" of water and nutrients.
---