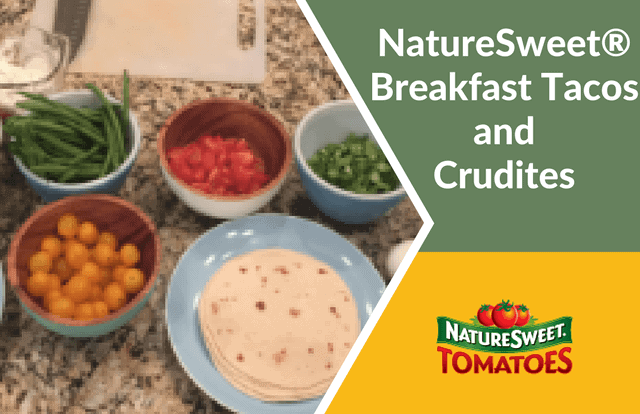 NatureSweet® SunBursts™ Crudites: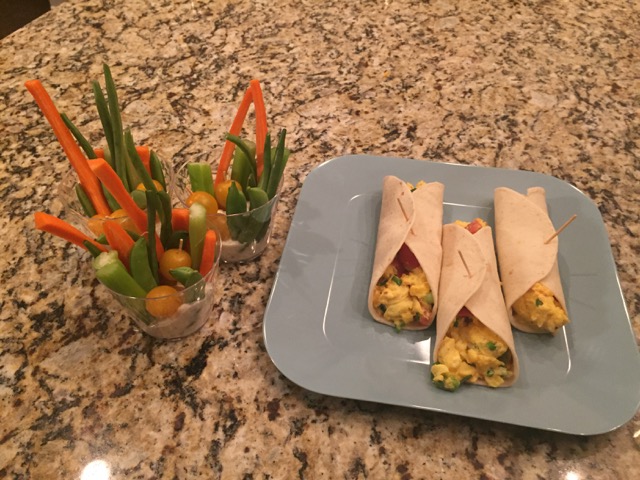 Course Type: Snack
Preparation Time: 5 minutes
Short Summary: An excellent way to use your favorite tomatoes and salad dressings.
Ingredients:
6 fresh carrots cut into sticks
6 stalks fresh celery cut into sticks
1/2 lb. blanched Haricot Vert green beans (or any other string/snap green beans)
1 (10.5oz.) container NatureSweet® SunBursts™ Tomatoes
8 oz. your favorite creamy dressing.
12 skewers or toothpicks
12 small shot cups
Instructions:
Prep fresh vegetables into sticks.
Skewer tomatoes.
Spoon 2 tbs. creamy dressing into shot cup.
Fill with fresh vegetables and SunBursts™ skewers.
Refrigerate until ready to serve.
NatureSweet® Glorys™ Breakfast Tacos:
Course Type: Breakfast
Preparation Time: 10 minutes
Short Summary: A great way to add yummy tomatoes to breakfast
Ingredients:
6 eggs
1/4 cup milk
1/2 package NatureSweet® Glorys™ Tomatoes, quartered
1/2 tablespoon butter
3/4 cup grated cheddar cheese
5 green onions, sliced thin
Salt and pepper to taste
4 medium flour tortillas, warmed
Salsa to garnish (optional)
Instructions:
In a medium bowl, whisk together eggs and milk. Stir in tomatoes.
Heat butter in a large skillet over medium-high heat. When butter melts and bubbles, add eggs. Let eggs sit until edges cook, about 1 minute. Reduce heat to medium-low and stir constantly.
When eggs begin to hold together but are still runny, add cheese and onions. Season with salt and pepper to taste. Cook until eggs set.
Serve eggs in warm tortillas. Garnish with salsa.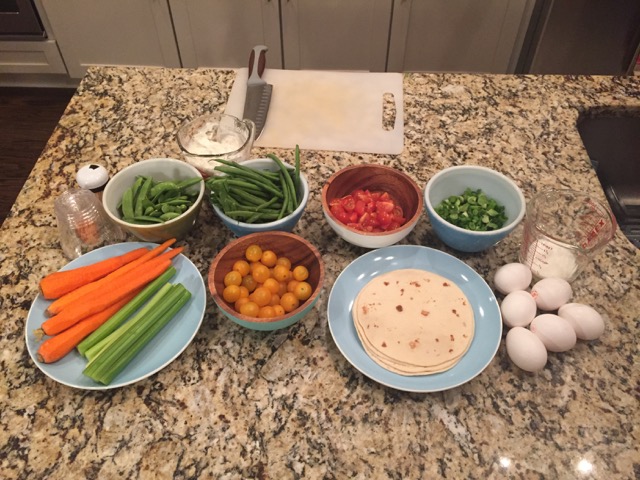 ---