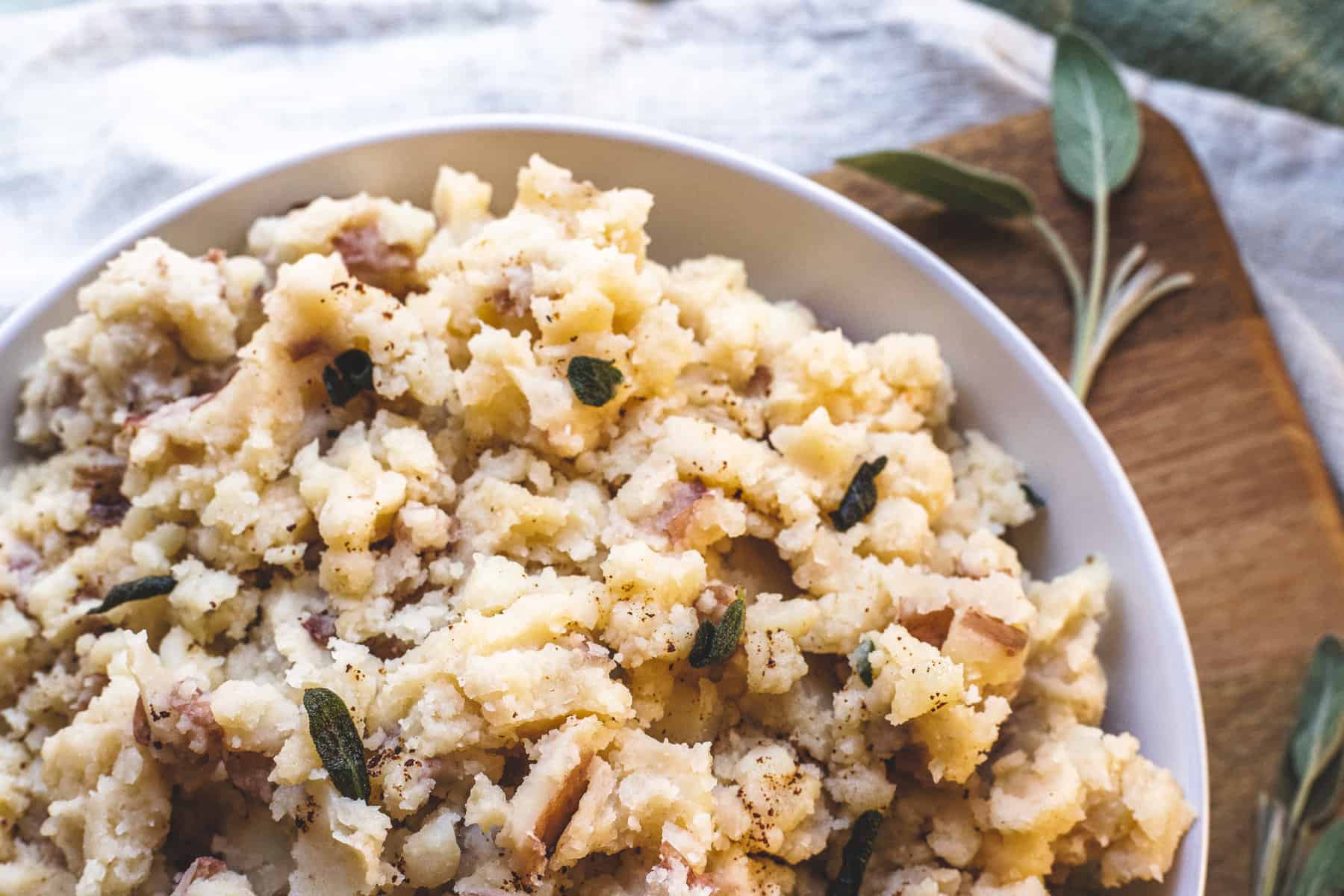 We've certainly learned a few things over the past couple of years, but most importantly: enjoy the moment and don't stress the small stuff. While the holidays can bring extra stresses with all of the planning and parties, we want to help the cooking portion of your celebrations the least of your worries. That's why we've created this easy, two-in-one recipe with a make-ahead option and directions on how to repurpose your leftovers! Say hello to these scrumptious Brown Butter & Sage Mashed Potatoes AND Brown Butter & Sage Shepherd's Pie!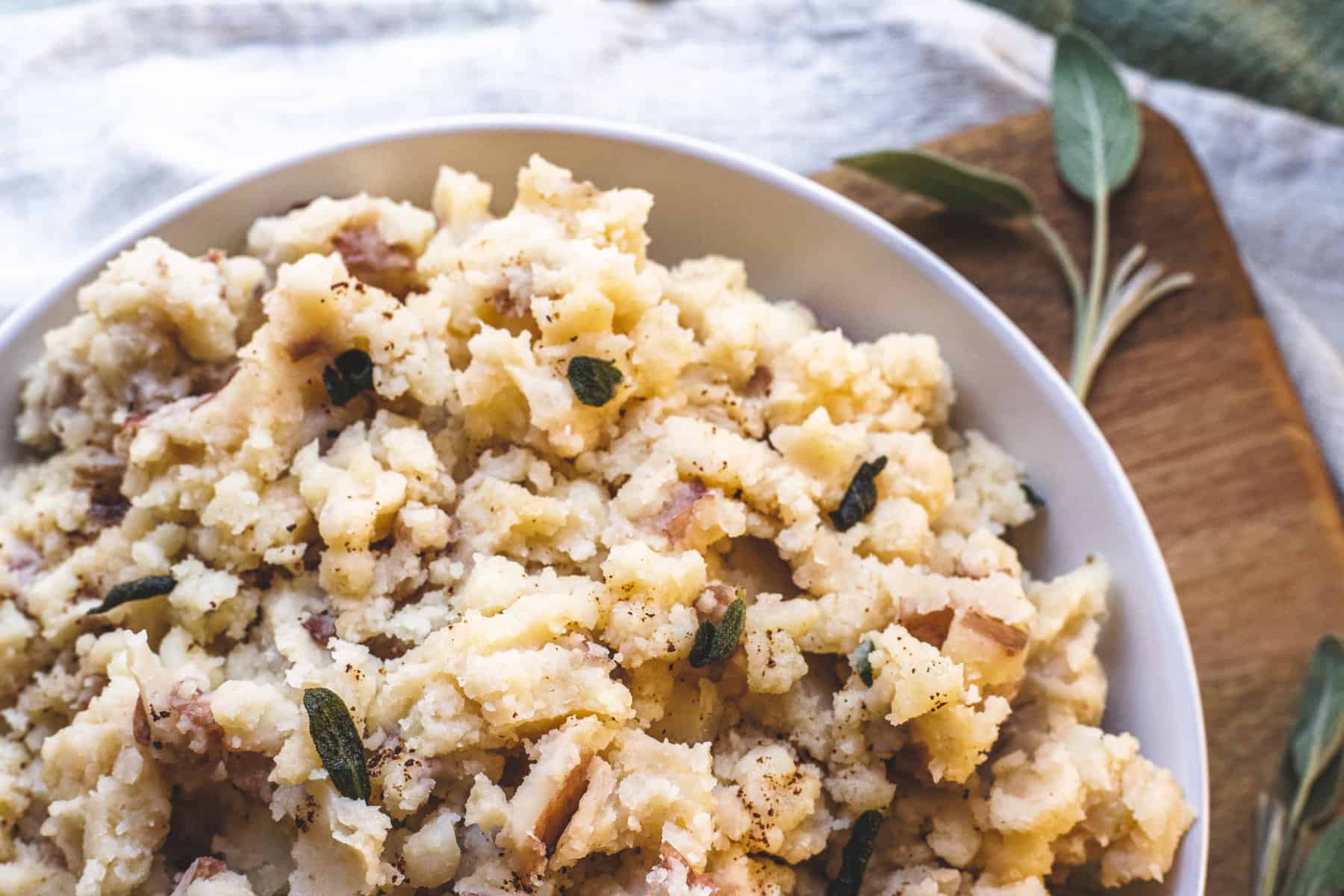 What is brown butter? Well, to quote the food-centric movie Julie & Julia, "Is there anything better than butter?" Not many things, but we'll argue that brown butter is better than butter. Brown butter is simply butter that's been melted and then slowly cooked which causes the butter to turn brown. Brown butter also has a different flavor than plain melted butter and it makes a wonderful topping for meats, vegetables, and you can even use it in baked goods! It has a sightly nutty taste and when paired with sage it develops into a delicious, two-ingredient sauce.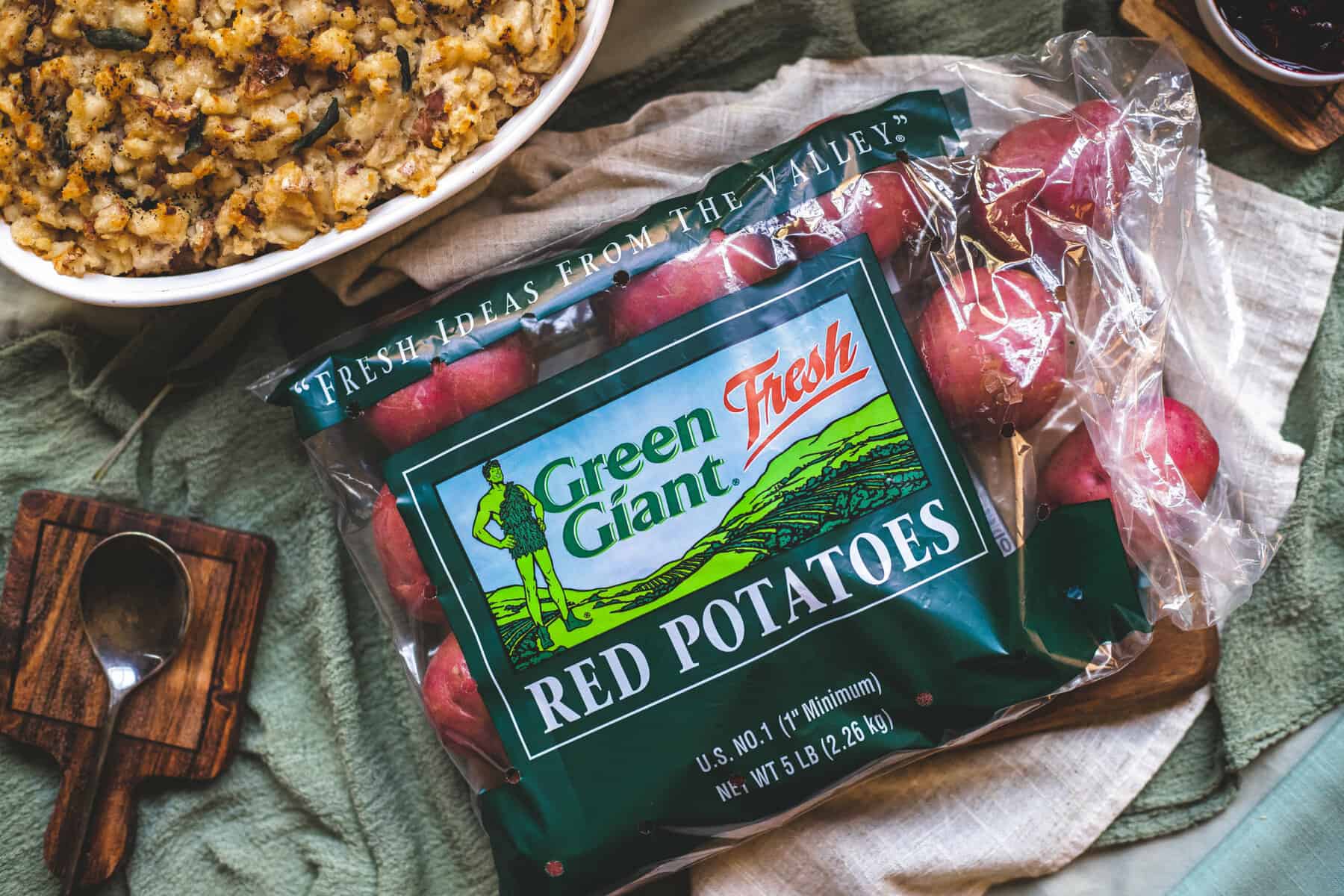 When making mashed potatoes, it's all about the potato because they're the main ingredient and really carry the texture of the entire dish – and we know that not all potatoes are created equal. For this recipe, we chose Red Potatoes from Green Giant™ Fresh because these potatoes are ideal when steamed, boiled, or used in casseroles and crock pot meals. They'll remain firm during the cooking process and their flavor is sweet and robust with a creamy, slightly moist mouth feel. Most reds are round and typed as waxy, which means more moisture and less starch so you'll always end up with a creamy consistency when using Reds in your mashed potatoes. Plus, these potatoes save you time because the skin is ultra-thin which means there's no need to peel...another time-saver!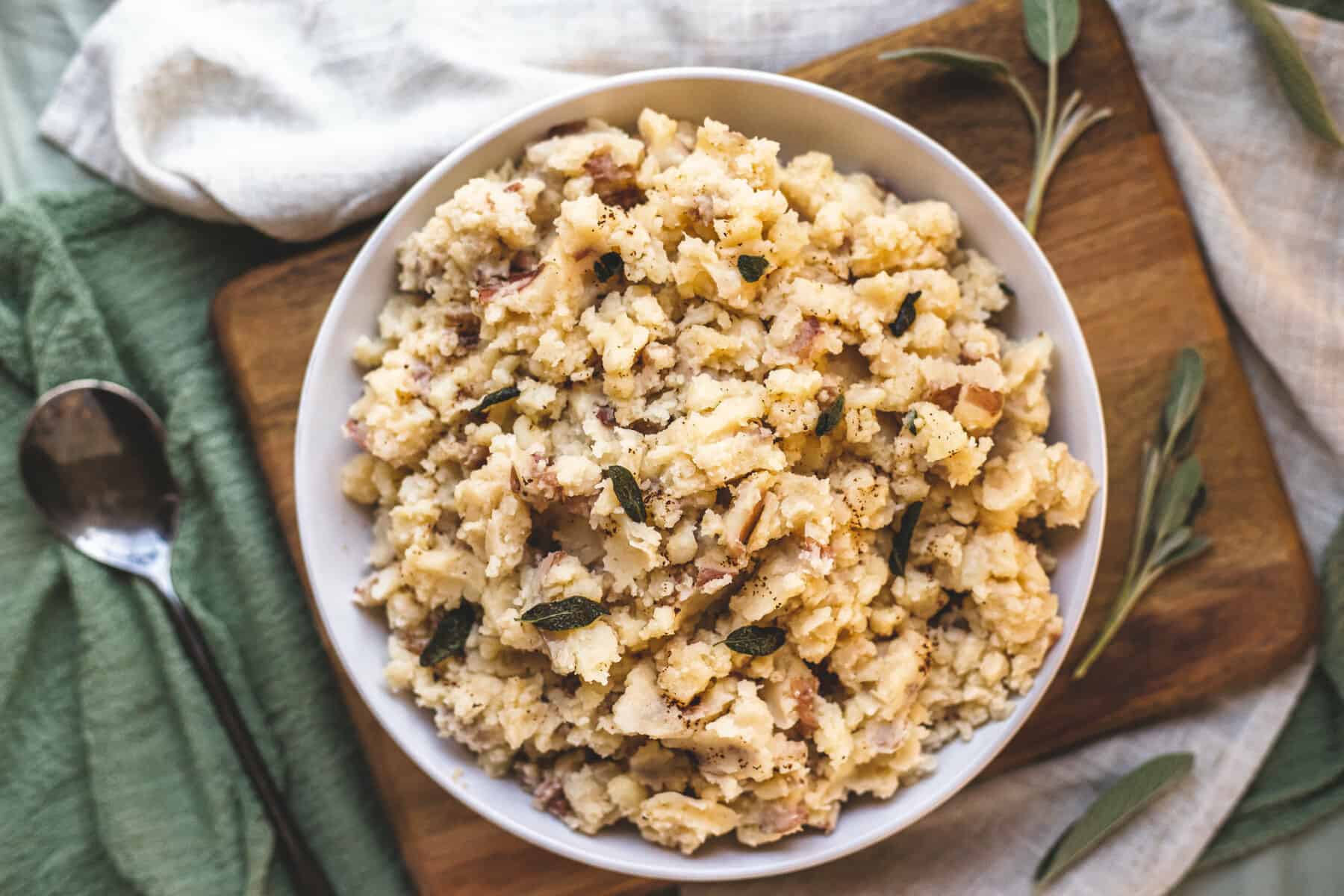 You can also make the mashed potatoes ahead of time and, when you're ready, just reheat in a pot by adding a little extra warm broth to bring your potatoes back to your desired consistency. Plate and top with a little more brown butter and you've got fresh mashed potatoes in minutes.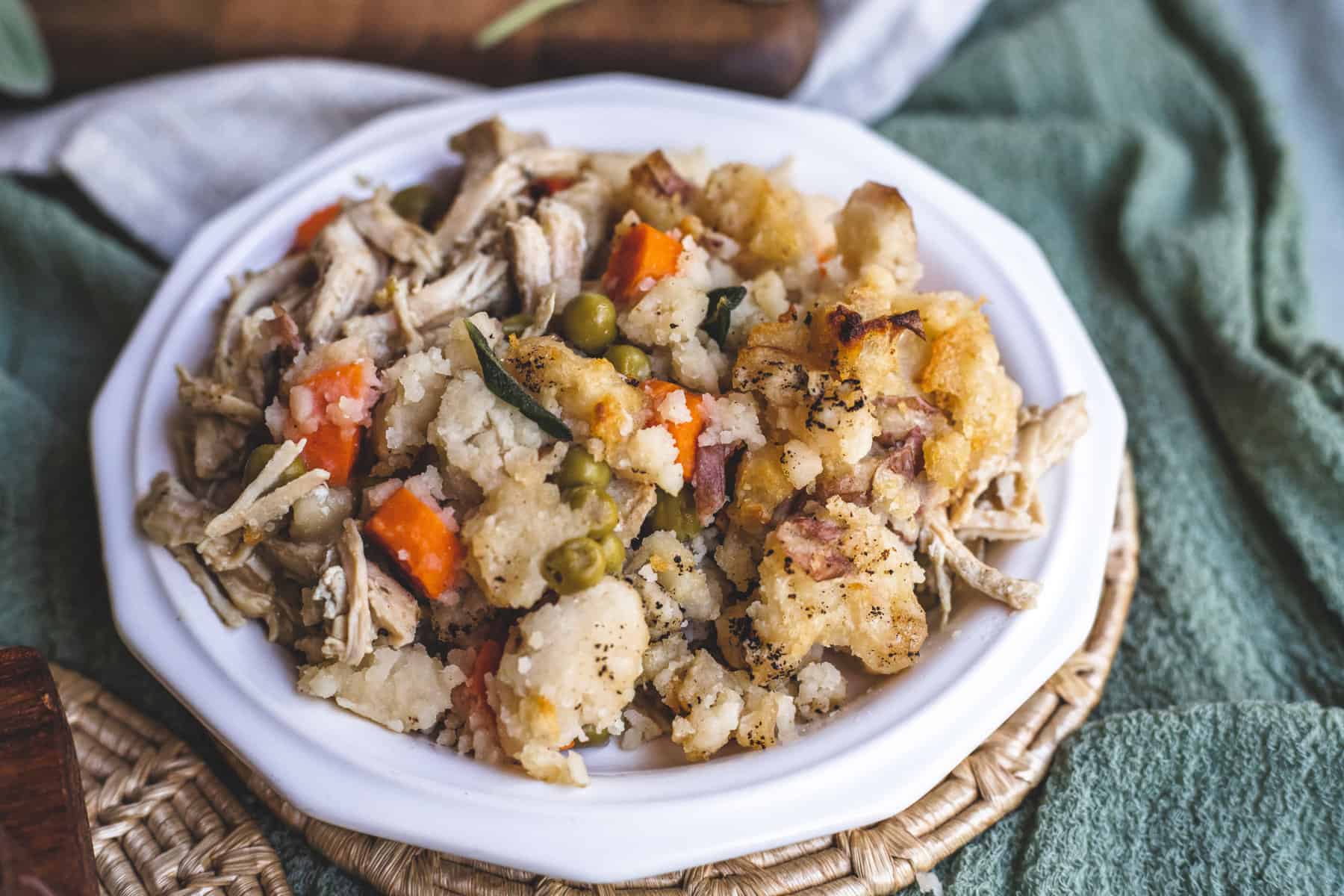 But once the festivities are over and and crowd has come and gone, you likely have a ton of leftovers on your hands. You can toss veggies and meats in the freezer to use in soups and stews, but why not create a large casserole that's ready to heat-and-eat the following week (when you're totally tired of cooking). Using the leftovers, toss everything into an aluminum or freezer-friendly casserole dish and create the most delicious shepherd's pie!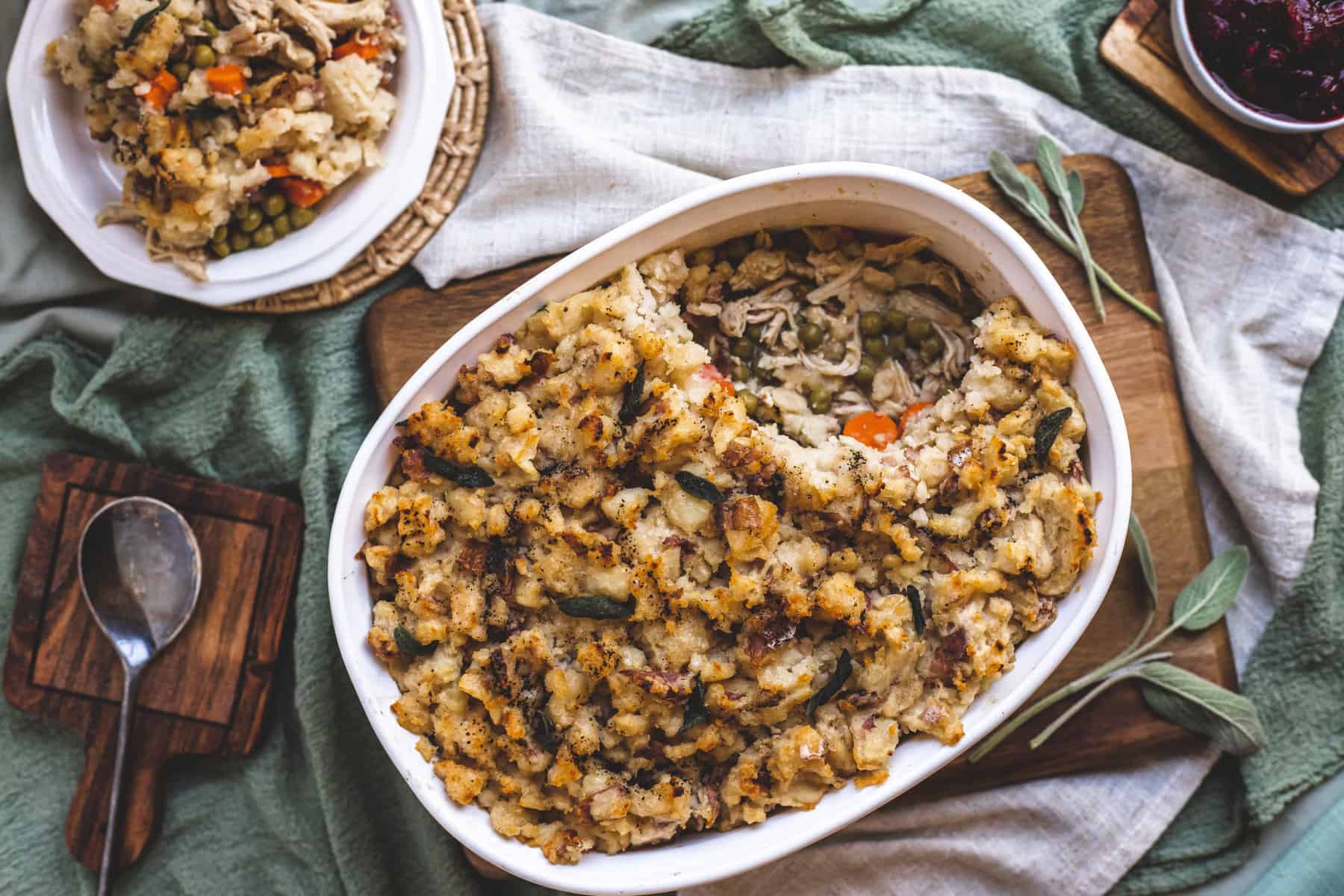 We hope you love this delicious recipe and if you give a try, don't forget to tag us and Green Giant™ Fresh Potatoes on social media! Enjoy, friends!

Brown Butter & Sage Mashed Potatoes Ingredients:
8 cups skin-on Green Giant™ Fresh Red Potatoes, cubed small
2 tbsp kosher salt
1 whole head of garlic
1 tbsp olive oil
1 cup broth of choice (we used vegetable broth)
1 stick unsalted butter
2 heaping tablespoon fresh sage, chopped
Brown Butter & Sage Mashed Potatoes Directions:
Preheat oven to 400F.
Cut off the top of the garlic bulbs (about 1/4 inch), drizzle with olive oil, and wrap in aluminum foil. Bake until golden and bulbs are soft, about 35 minutes.
While garlic cooks, add cubed potatoes to a large pot and fill with enough cold water to cover potatoes. Add salt and bring to a boil. Lower heat to a simmer and cook until potatoes are fork tender. Drain potatoes, add back to the large pot.
While potatoes cook, melt butter in a skillet over medium. Swirl butter around pan until it begins to foam and turn lightly golden brown. Remove from heat and add chopped sage – the sage will turn darker and become crispy. Set aside. TIP: butter can turn from brown to burnt very quickly so make sure you are cooking using a medium heat.
Squeeze the soft garlic bulbs from the head of garlic into the pot of potatoes. Add 2 tbsp sage brown butter and slowly add broth as you mash to reach your desired consistency. Taste and season as needed. TIP: warm (but don't boil) broth in a small pot before adding to potatoes.
Add Brown Butter & Sage Mashed Potatoes potatoes to a bowl and drizzle with any additional sage brown butter. Enjoy!
Brown Butter & Sage Shepherd's Pie Ingredients:
3 cups leftover Brown Butter & Sage Mashed Potatoes, warm
4 cups leftover vegetables (we used 2 cups carrots and 2 cups peas)
4 cups leftover turkey
1 cup leftover gravy, warm
Shepherd's Pie Directions:
Preheat oven to 400F
To a 9x13 baking dish layer:
Turkey
Vegetables
Drizzle with gravy
Top turkey, vegetables, and gravy with mashed potatoes and bake for 30 minutes or until hot. Enjoy!
---