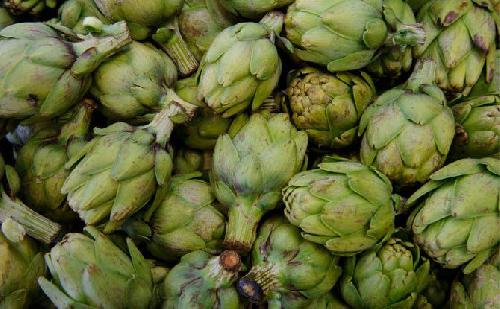 CROWNING ACHIEVEMENT - California has the U.S. monopoly on artichokes. In April, 2013 it was proclaimed to be the California's Official Vegetable, with Castroville claiming to be the Artichoke Center of the World. In 1947, a young girl named Norma Jeane was crowned Castroville's first Artichoke Queen. She went on to become Marilyn Monroe.
MATH PROBLEM - Italy produces 32% of the world's artichokes. The U.S. produces just 3%.
ANCIENT ARTI-FACTS(?) - They're one of the oldest known foods. Zeus was said to have turned a scorned lover into an artichoke. The Greeks and Romans considered them to be an aphrodisiac - it seems like they did that with ALOT of foods.
I'll DRINK TO THAT - Artichoke is the primary flavor in the Italian liqueur Cynar. It can also be made into herbal tea.
FIBER POWERHOUSE - They have more fiber than lima beans, prunes or green peas. They're also loaded with potassium, magnesium and vitamin C and are only about 25 calories each.
BIG TIME - In full growth, an artichoke plant can spread nine feet in diameter and stand five feet tall, and one plant can produce over 20 artichokes a year.
If you're not familiar with eating artichokes - there's definitely a process. Here's a quick :30 tutorial on how to do it right:
SERVING SUGGESTION/RECIPE Most folks like to dip their artichoke petals in a sauce whether it's melted butter or a mayo-based aioli like Big Sur's picturesque Napenthe Restaurant.
Napenthe, Big Sur, CA Castroville Artichoke - Steamed and chilled, served with a petite salad dressed with balsamic vinaigrette and sun-dried tomato pesto aioli.
Try This at Home: Pappardelle with Lemon, Baby Artichokes, and Asparagus - We love this mix of pasta and fresh spring veggies with a light citrusy dressing.
Ingredients
1. 12 ounces uncooked pappardelle (wide ribbon pasta) 2. 2 1/4 cups cold water, divided 3. 1/4 cup fresh lemon juice (about 2 lemons) 4. 24 baby artichokes (about 2 pounds) 5. 3 tablespoons extravirgin olive oil, divided 6. 1 pound asparagus, trimmed and cut diagonally into (1-inch) pieces 7. 2 tablespoons chopped fresh flat-leaf parsley 8. 1 tablespoon grated lemon rind 9. 1 teaspoon chopped fresh thyme 10. 1/2 teaspoon salt 11. 1/2 teaspoon black pepper 12. 1 1/4 cups (5 ounces) grated fresh Parmigiano-Reggiano cheese
Preparation
1. Cook pasta according to package directions, omitting salt and fat. Drain pasta, reserving 1/2 cup cooking liquid. Set pasta aside; keep warm. 2. Combine 2 cups water and juice in a medium bowl. Working with 1 artichoke at a time, cut off stem to within 1/4-inch from the base; peel stem. Remove bottom leaves and tough outer leaves, leaving tender heart and bottom; trim about 1 inch from top of artichoke. Cut each artichoke in half lengthwise. Place artichoke halves in lemon water. 3. Heat 1 tablespoon oil in a large skillet over medium heat. Drain artichokes well; pat dry. Add artichokes to pan. Cover and cook 8 minutes, stirring occasionally; uncover. Increase heat to medium-high; cook 2 minutes or until artichokes are golden, stirring frequently. Place artichokes in a large bowl. 4. Place pan over medium heat; add remaining 1/4 cup water and asparagus to pan. Cover and cook 5 minutes or until crisp-tender. Add asparagus, parsley, and rind to artichokes; toss well. Add pasta, reserved cooking liquid, the remaining 2 tablespoons oil, thyme, salt, and pepper to artichoke mixture; toss well. Place 2 cups pasta mixture into each of 6 shallow bowls; top each serving with about 3 tablespoons cheese.
Cooking Light
---