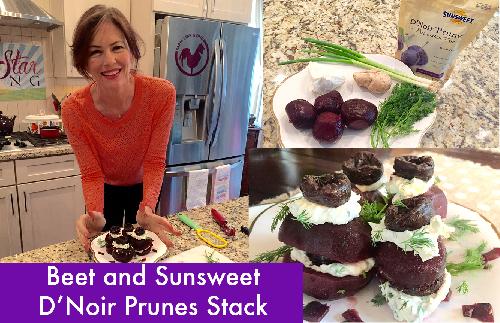 Ingredients:
4 small red beets
5 oz Sunsweet® Pitted Prunes
5 oz cream cheese, 12% fat
2 green onions
1 walnut-sized piece of ginger
1 bunch dill
Salt /Pepper
Directions:
Rinse beets and cook in salted water for about 30 minutes
Stir cream cheese until creamy
Clean green onions, rinse and cut finely
Rinse dill, shake dry and chop finely; keeping a few sprigs for garnishing
Mix cream cheese with green onions, ginger and dill and season with salt and pepper
Drain beets, rinse with cold water and peel. Cut a slice of the top and bottom of the beet, so it can stand up on a plate without rolling away.
Dice the segments you just cut off and set aside
Slice the beet horizontally through the center
Place the lower beet slice on a plate. Top with all but cream. Push 1 to 2 prunes gently into the cream and cover with beet top!
Spread the rest of the cream cheese and the remaining prunes on top.
Garnish with beet cubes and dill and serve.
Tip:
To save time, use vacuum-packed beets. This type of beet comes pre-cooked and can be found in every supermarket in the produce section.
For more great Prune recipes, visit www.sunsweet.com!
---