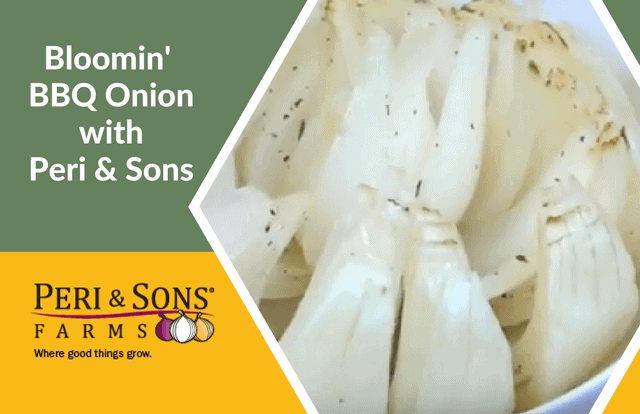 After trying this recipe from Peri & Sons Farms, you will never want to fry an onion again! Low in calories and fat - high in fiber! Peri & Sons onions are grown with the utmost care and love, so you will get a great onion every time! They are not only delicious, but they're also packed with so many great health benefits for you!
Ingredients:
1 Colossal Peri & Sons Farms Yellow onion
1 tbsp. finely minced fresh thyme or oregano
2 tsp. finely minced fresh rosemary
1 tsp. salt
1/4 tsp. paprika
1/4 tsp. pepper
2 tbs. olive oil or melted butter
Directions:
With a sharp knife, slice 1?2 inch off the top of the onion and then peel off only the outer-most layer. With the root-side down, begin at the top and cut 12-16 wedges cutting only down to about 1?2 inch of the root end; the onion should remain whole, although slit.
Place onion on a double thickness of heavy-duty foil (about 12 in. square).
Open wedges slightly; sprinkle with thyme, rosemary, salt, paprika and pepper.
Drizzle with oil or butter. Fold foil around onion and seal tightly.
Grill, covered, over medium heat for 30-35 minutes or until tender.
---