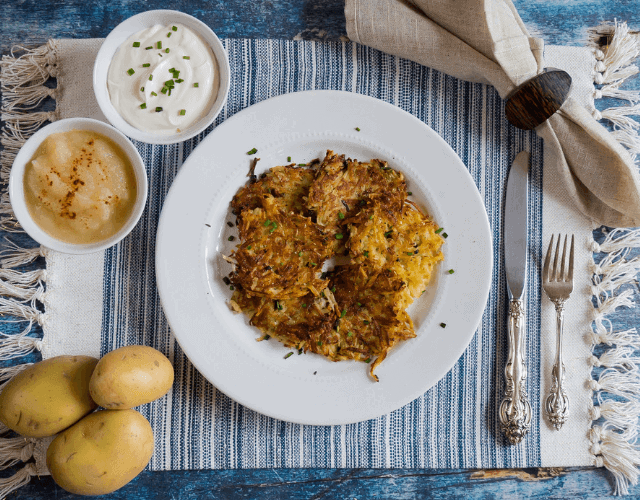 Potatoes are for lovers – lovers of farm-fresh foods, healthy foods, and foods that feed your body the proper fuel! We made these Potato Latkes with just five ingredients: onion, eggs, extra virgin olive oil, salt & pepper, and CarbSmart™ Potatoes. This easy recipe can be served as a side item, appetizer, or even as a great veggie-centric entree! Plus, they're free of flour which makes them a great gluten-free option, too.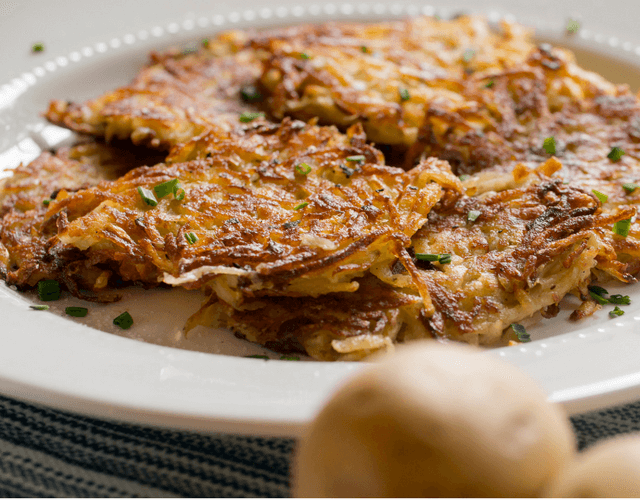 We're loving these CarbSmart™ Potatoes because they have all the nutrition of a traditional yellow potato, minus the extra carbs. They also have 55% less carbs than rice or pasta, so you can feel good about swapping out more carb-heavy foods for these potatoes. Did you know that potatoes are a superfood? Thats' right! Potatoes provide our bodies with the proper fuel to get us through every busy day. See how CarbSmart™ stands up: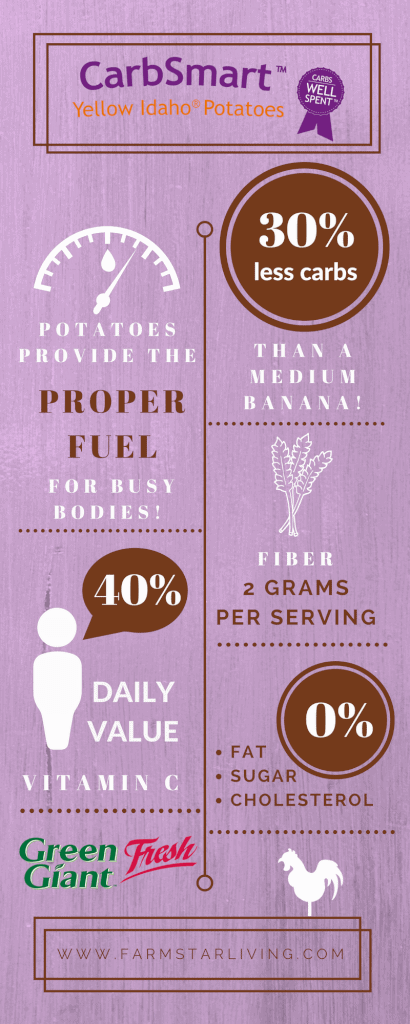 Now, let's get to cookin'! These latkes are crispy, crunchy, satisfying, and really easy to make. If you have a food processor, it makes this recipe even easier. If not, just use a handheld grater to grate the potatoes. We also used extra virgin olive oil because it's a heart healthy oil, which helps to elevate this dish on our imaginary 'healthy scale' even more. We're always trying to find ways to bring you farm-fresh comfort foods with a healthy twist, and we think this one really hits the mark! See how easy it is to make these: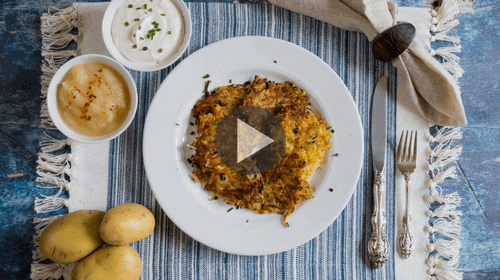 CarbSmart™ Potato Latkes:
INGREDIENTS:
5 CarbSmart™ Potatoes - grated

1/2 white or yellow onion - grated

1/2 tsp salt & pepper

3 eggs - beaten

3 tbsp extra virgin Olive Oil
DIRECTIONS:
Line a large bowl with a tea / kitchen towel. Using a food processor with a grater attachment or a hand-held grater, grate all potatoes and toss into the bowl over the towel. Allow to sit for 30 minutes.

While the potatoes sit, grate the onion and set aside.

Wring out as much of the water as possible from the potatoes by using the towel and letting the water drip into the bowl, and toss drained moisture.. Add the potatoes, onions, egg, to the bowl and mix to combine.

To a large skillet on medium / high heat, add extra virgin olive oil, and spoon 3 tablespoons of potato mixture. Quickly create a round potato cake using a spatula, spoon, or fork. Cook for 5 minutes (until golden brown) then turn and cook other side until golden brown.

Transfer to a paper towel lined plate and lightly sprinkle salt & pepper. Repeat. Serve warm.

Option: Serve warm with chives, apple sauce, sour cream or your favorite entree. Enjoy!

---