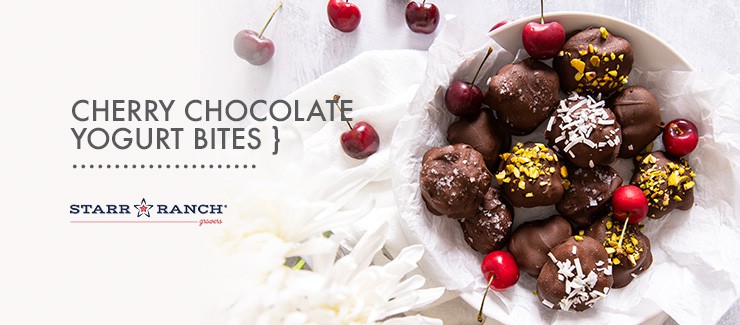 It's officially summertime which means it's officially cherry season! You may have seen a similar viral recipe using strawberries, but we're recreating the easy dessert of the summer using the seasonal fruit of the summer – cherries!
Starr Ranch® Growers cherries are explosively juicy, sweet, and firm. These shiny, deep red all-purpose cherries make a delicious snack straight from the bag or can be used for baking, juicing, and freezing, just like in this recipe. In fact, we recommend gobbling up as many fresh cherries as you can this season and freezing them to use all year long.
Here's a few tips and tricks to creating the best Cherry Chocolate Yogurt Bites:
Chocolate: Use whatever kind you prefer! We think think recipe would be equally delicious with dark chocolate.
Toppings: Have some fun with what you have in your kitchen and try some new flavor combos like hazelnut, almond, cinnamon, or even candy sprinkles!
Freeze Time: Make sure the cherry-yogurt bites are fully frozen before dipping in the melted chocolate or things will get messy.
Melting Chocolate: Be careful that you don't burn your chocolate! Microwave in 30-45 second intervals to avoid burning.
We're grateful to our friends at
Starr Ranch® Growers
for helping us make this recipe extra special with their dark sweet cherries grown in the Pacific Northwest. If you try this recipe, post a photo or video and tag us and our friends at Starr Ranch® Growers so we can see your creations. Don't forget to check out our other cherry recipes and go nuts this cherry season! Happy summer, friends!

Ingredients:
1 cup Starr Ranch® Growers Dark Sweet Cherries, pitted and quartered
1 cup full fat Greek yogurt
1 cup semi-sweet chocolate chips
1 tbsp. coconut oil
1/2 tsp. vanilla extract
Optional: 1 tbsp maple syrup (for extra sweetness)
Toppings: Sea Salt, Chopped Pistachio, Shredded Coconut
Directions:
Place prepared cherries, Greek yogurt, and vanilla extract in a bowl then mix to combine. Line a baking sheet with parchment paper.
Add dollops of the cherry-yogurt mixture (about 3 tbsp in size) to the lined baking sheet and place in the freezer for at least one hour until set. TIP: If a baking sheet is too large for your freezer, use plates lined with parchment paper instead.
In a small bowl, melt chocolate chips and coconut oil in the microwave in 30-45 second intervals until chocolate is completely melted. Mix to combine chocolate and coconut oil.
Remove baking sheet from the freezer and dip each frozen yogurt cherry bite into the melted chocolate, working quickly. If using toppings, add toppings immediately after dripping each bite.
Once each piece is dipped in chocolate, add to the freezer again for an additional thirty minutes. Once bites are completely frozen, add to a container with a lid and keep in the freezer until ready to enjoy.

---