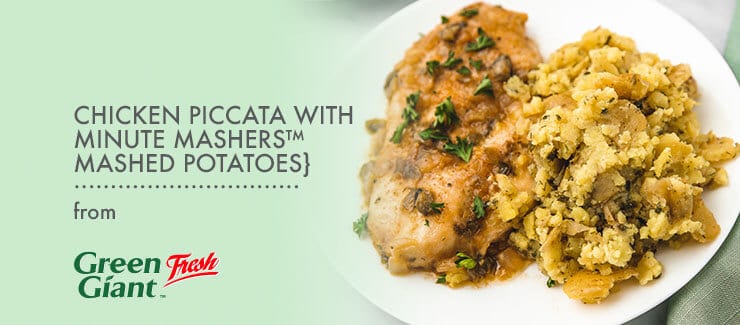 In between answering emails, answering the phone, managing schedules, and all of the day-to-day tasks that take up so much of our days, we're all craving something fast, easy, and efficient when it comes to what we cook at home. That's just one of the many reasons we're often reaching for Minute Mashers™ mashed potatoes from our friends at Green Giant™ Fresh.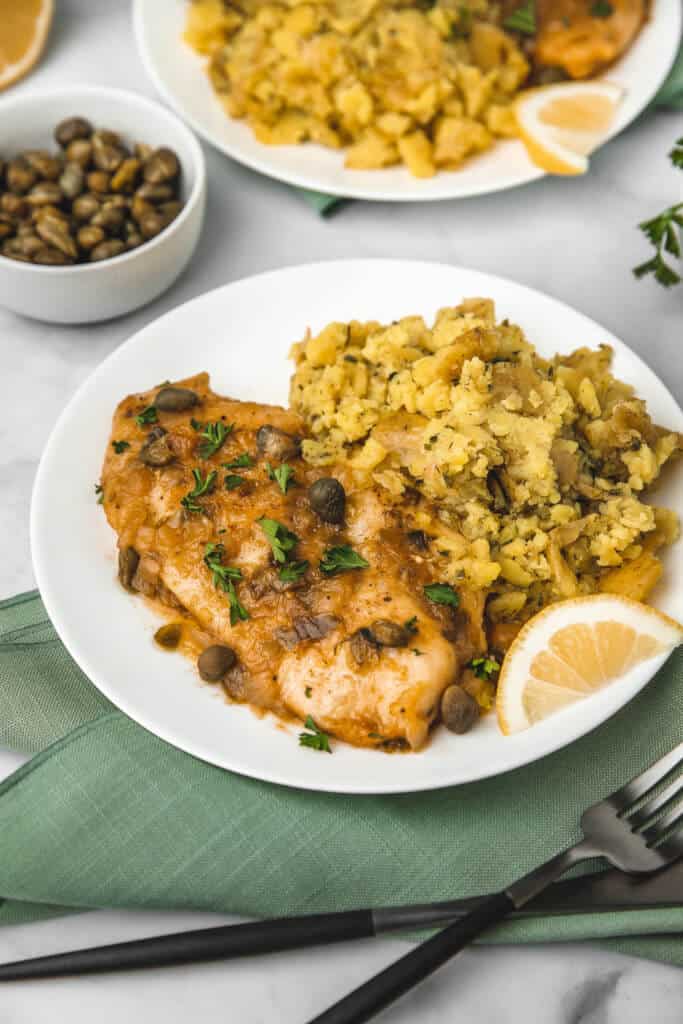 Minute Mashers™ mashed potatoes makes it easy to add a delicious vegetable side-dish to every meal with their unique COOK, MASH, SERVE recipe. Minute Mashers™ are totally cooked after just seven minutes in the microwave! Then simply mash to your desired consistency and tear open the bag to serve immediately for fresh flavor without the wait.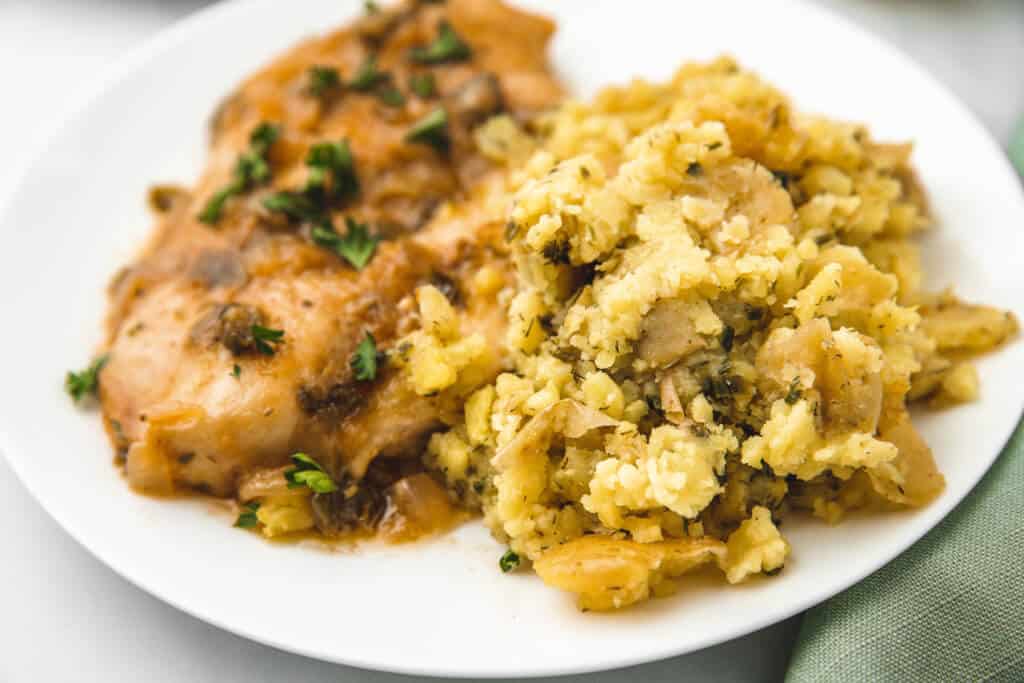 Inside the package are real, farm-fresh, petite potatoes grown by the potato experts at Green Giant™ Fresh. In addition to potatoes, there's also real butter and chef-inspired seasonings, just like the ones you use in your own kitchen to season and flavor your meals. For this recipe, we love the herbaceous Buttery Chive & Dill Minute Mashers™ – but truly any of the Minute Mashers™ mashed potato flavors would be absolutely delicious with this Chicken Piccata recipe. Other Minute Mashers™ flavors include: Buttery Roasted Garlic and Buttery Sea Salt & Pepper.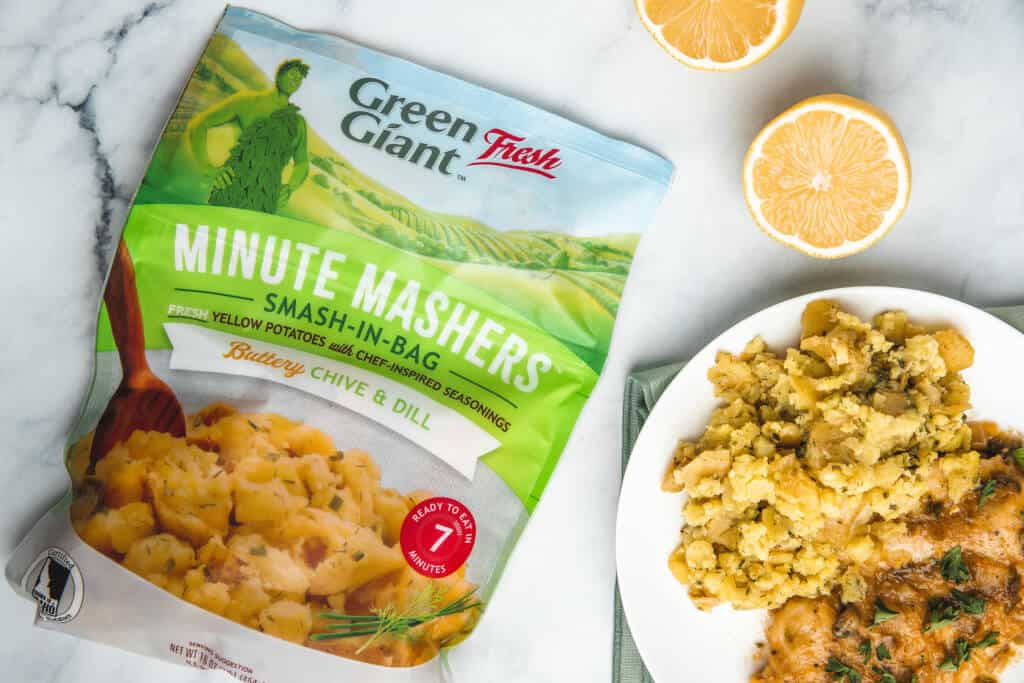 If you've never made Chicken Piccata before, here's a few tips and tricks to making the best Chicken Piccata recipe:
Chicken: If you can't find chicken cutlets, simply slice boneless skinless chicken breasts in half lengthwise so you'll have to even halves. Think of it as a thinner chicken breast. Alternatively, you can cover boneless skinless chicken breasts with plastic wrap and pound with a meat tenderizer making sure you achieve even thickness so the breast will cook evenly.
Capers: Capers are one of the main ingredients in Chicken Piccata but if you're not a fan or don't have them on-hand, try using sliced green olives instead.
Flour: After covering the chicken in flour on both sides, make sure you shake to remove excess flour. But you want to make sure the chicken pieces are covered on all sides.
Vegetarian Options: More people are eating plant-based so we wanted to provide a vegetarian option. Although we haven't tested these options, we think Seitan or Tofu would work well as a meat substitute in this recipe.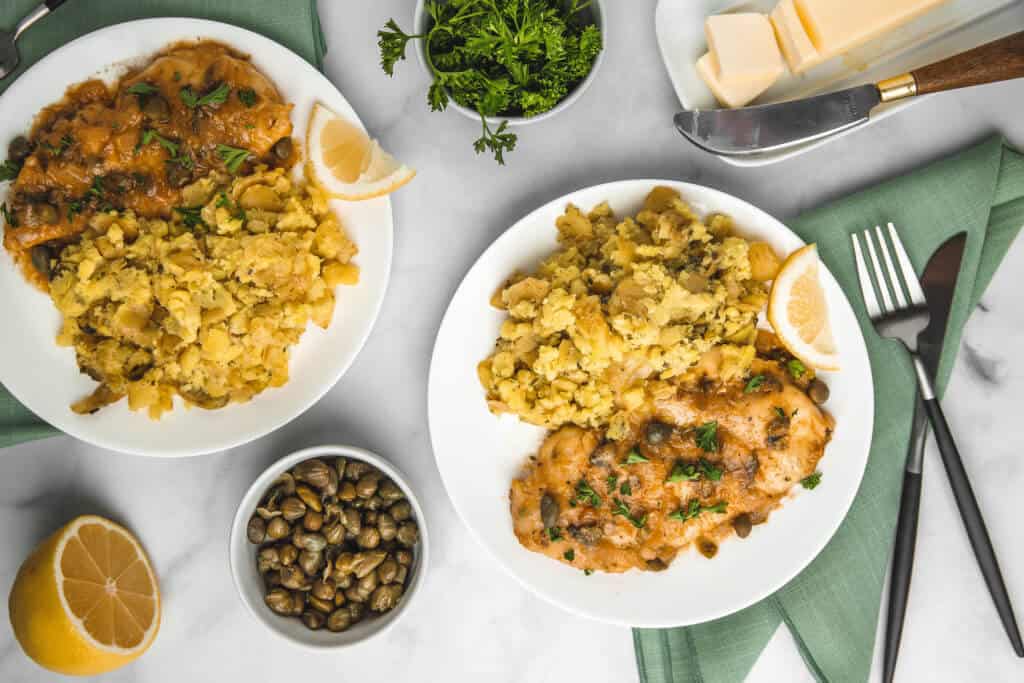 Please let us know what you think of this recipe and if you give it a try, we'd love to see your mashed potato creations! Please tag us or our friends @klondikebrands on your social media channels when sharing. Don't forget to take a look at all of our other potato recipes and videos here. Happy mashing, friends!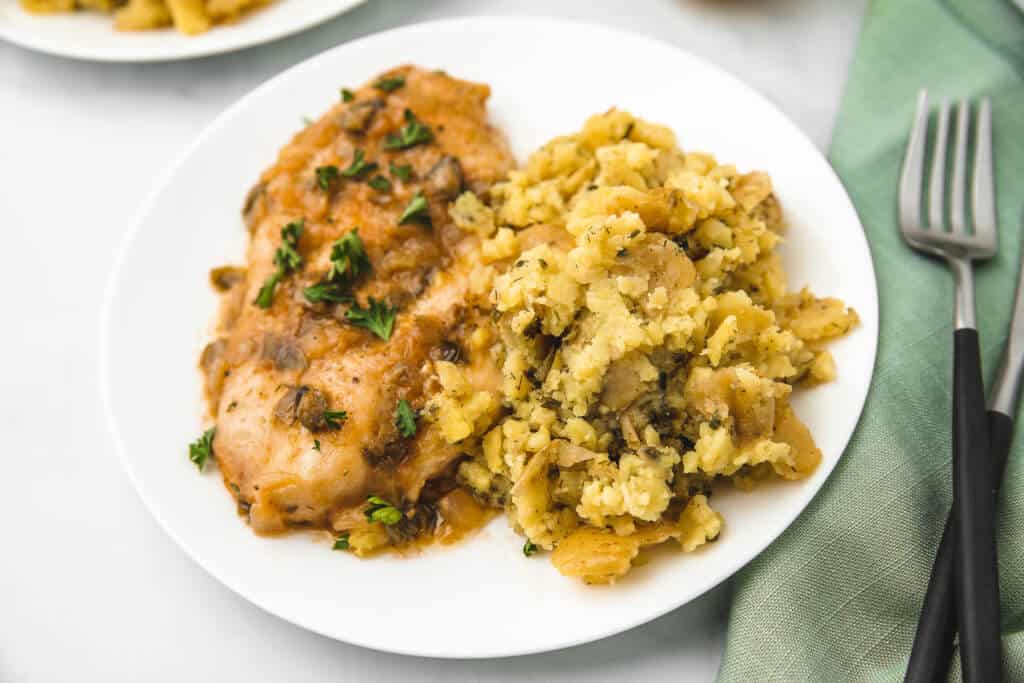 Chicken Piccata with Buttery Chive & Dill Minute Mashers™ Mashed Potatoes
Ingredients:
Buttery Chive & Dill Minute Mashers™
2 Chicken Cutlets
Salt & Pepper
1 cup Flour
1/4 cup Olive Oil
1/2 cup Onion
1 tbsp Garlic, minced
1/2 cup Chicken Broth
2 tbsp Unsalted Butter
1/4 cup Lemon Juice
2 tbsp Capers, roughly chopped
Fresh Parsley, garnish
Directions:
Season chicken cutlets with salt and pepper. Dip both sides in flour and shake to remove excess flour.
Warm oil in a skillet over medium heat. Add chicken and brown on each side for three minutes. Set chicken aside.
To the same skillet add olive oil, onion, garlic and cook for two minutes. Add broth, butter, lemon juice, capers and whisk to combine. Add chicken to the pan, bring to a low simmer, and cook for 5-6 more minutes (turning the chicken once) until the sauce thickens and the chicken is fully cooked.
Cook Minute Mashers in microwave according to package instructions. Remove cooked Minute Mashers™ from the microwave using oven mitts and mash until you reach desired mashed potato consistency.
Plate cooked and Minute Mashers™ mashed potatoes and top with cooked chicken. Drizzle with sauce and garnish with fresh parsley (if desired).

Calories 511 | Total Fat 33 g | Saturated Fat 10 g | Monounsaturated Fat 15 g | Polyunsaturated Fat 2G | Cholesterol 32 mg | Sodium 468 mg | Potassium 638 mg | Total Carbohydrate 27G | Dietary Fiber 3G | Protein 28 g | Vitamin A 5 % | Vitamin C 4 % | Calcium 3 % | Iron 9 %
---