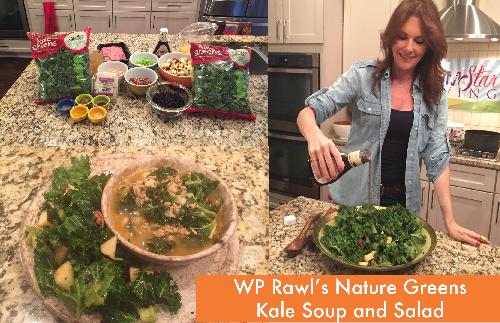 We loved making this Cozy Kale Chili & delicious Festive Kale Salad! We thought both were delicious.
TIP #1: The trick is to start by making the chili, so while it is simmering you can then make the kale salad. Times out perfectly!
TIP #2: We wished we had made more chili though. It was really delicious so you may want to double it for larger portions!
Cozy Kale Chili
Ingredients:
1 tablespoon extra-virgin olive oil
4 ounces Versatile Veggies Diced Yellow Onion
2 teaspoons ground cumin
2 teaspoons chili powder
3 cups chicken stock
8 ounces Nature's Greens Kale
16 ounces cooked white beans, rinsed and drained
1/4 teaspoon black pepper
2 cups cooked turkey breast, chopped or 1 lb of ground turkey
Directions:
Heat olive oil over medium-high in a medium pot
Add ground turkey to brown.
Add onion and sautй for 4 minutes or until tender.
Stir in cumin and chili powder; sautй for 1 additional minute.
Stir in chicken stock and kale. Cook for 12 - 15 minutes or until kale is tender.
Stir in beans and pepper; bring to a boil. Cook 1 minute or until thoroughly heated.
Serve.
Festive Kale Salad
Ingredients:
16 ounce Nature's Greens® Kale
4 large red apples chopped
3 cups orange juice
3 cups celery, chopped
10 ounces dried currants
2 cups toasted pecans, chopped
Balsamic Vinaigrette Dressing
Directions:
Pour kale into a large salad bowl.
Pour chopped apples into a medium size bowl.
Add orange juice over apples to coat and let marinate for 5 minutes and set aside.
Combine kale with celery and dried currants.
Drain apples and toss with kale mixture. Set aside.
Serve with toasted pecans and balsamic vinaigrette dressing to taste.

---