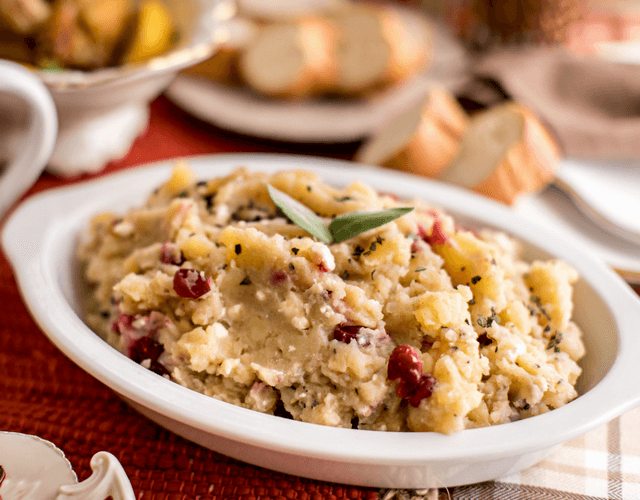 We are so excited to share this recipe with you, and we just have to mention how seriously GOOD this is! It's a great way to spice up your same old mashed potato recipe, plus this one has Thanksgiving written all over it.
We started with Organic Yellow Potatoes from EarthFresh Foods because they are super creamy and perfect for mashing. These potatoes are grown in "golden soil" from Canada – sounds magical, right? The soil is given this special name because it has the perfect amount of sand that potatoes love.
Did you know that the longer a potato is exposed to the light, the faster it will spoil? That's why Earth Fresh Foods uses special light blocking technology in their packaging – so you get more out of your purchase and less food waste, too.
Follow along in this video and see how we made it!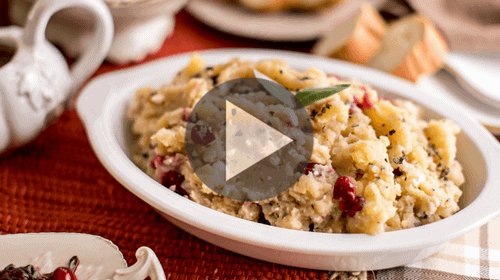 TIP: If you can't find fresh cranberries in your area, simply use whole frozen cranberries and allow them to thaw completely before adding to the boiling water.
TIP: Due to these potatoes' smooth skin, you don't need to skin these potatoes. So, we are betting that you'll enjoy the taste – as well as the extra vitamins and fiber!
Ingredients
8 Earth Fresh Yellow Organic Potatoes

1 cup fresh cranberries

1 tsp. brown sugar

1/3 cup skim milk

1 tbsp. butter

2 tbsp. fresh sage, minced

1/2 tsp. cinnamon

1/2 tsp. salt

1/3 cup feta cheese, crumbled
Directions
Wash, peel and dice potatoes. Transfer potatoes to a medium pot and cover them with cold, salted water. Over high heat, bring the potatoes to a boil, reduce heat to medium and continue boiling for 7-10 minutes or until potatoes are fork tender.

While potatoes are boiling, bring 3 cups of water to a boil in a medium pot. Add cranberries, reduce heat and simmer for 5 minutes. Remove cranberries with a slotted spoon. Place on a paper towel and pat dry. Transfer cranberries to a bowl and add the brown sugar, gently mix and set aside.

When the potatoes are fully cooked, drain and immediately transfer them to a large bowl. Add the milk, butter, one tablespoon of fresh sage, cinnamon and salt. Generously mash until the potatoes are smooth and lump free. Gently stir in the crumbled feta cheese and cranberries. Finish by garnishing the potatoes with the remaining fresh sage. Enjoy!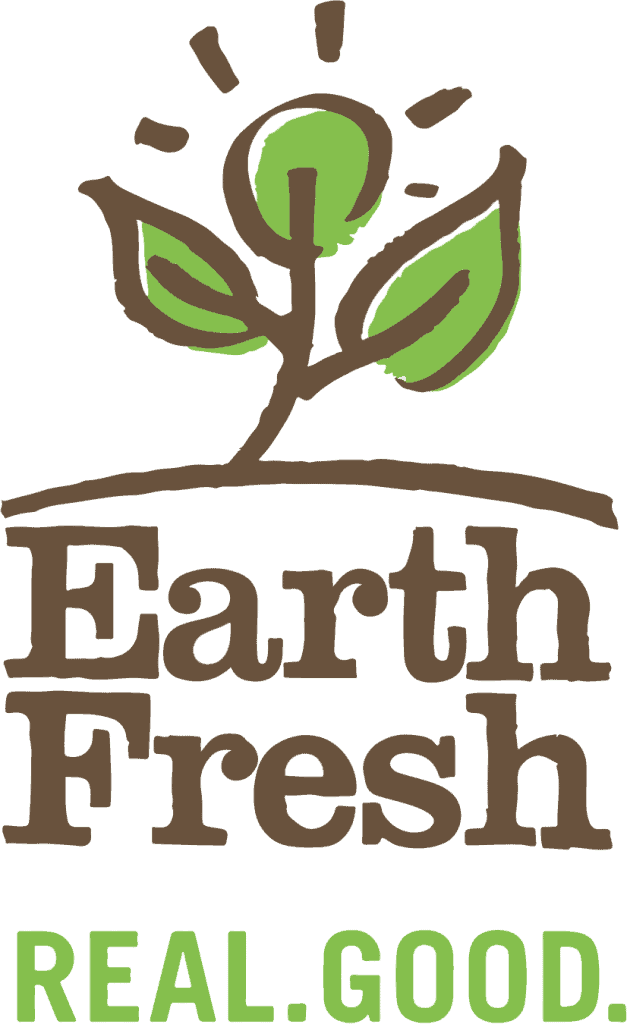 ---