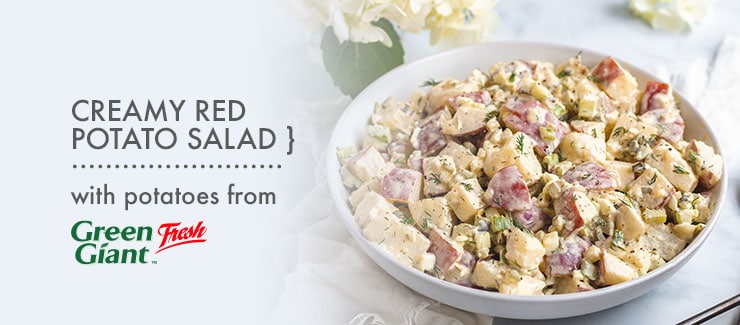 It's that time of year where bathing suit tan-lines become prominent than farmer's tans – and we're totally okay with that! The beginning of summertime brings a certain excitement and we're looking forward to getting back out there and celebrating with the one's we love again. For us, celebrations always include good food and this recipe is a great way to feed your friends and family.
Creamy Red Potato Salad is a classic potato salad but with a fresh take added to it in a way that we really enjoy – have you ever tried dill pickles in potato salad? *Mind-blown!* Dill pickles and fresh dill add a big, juicy crunch that just takes a classic potato salad up a few notches on the flavor scale.
And, did you know that potatoes provide with you protein and Vitamin C? Just one medium potato with the skin provides 30% of the recommended daily value of Vitamin C and 3 grams of plant-based protein!* While you're busy being active and enjoying summertime activities, don't forget to choose food that fuel your busy body.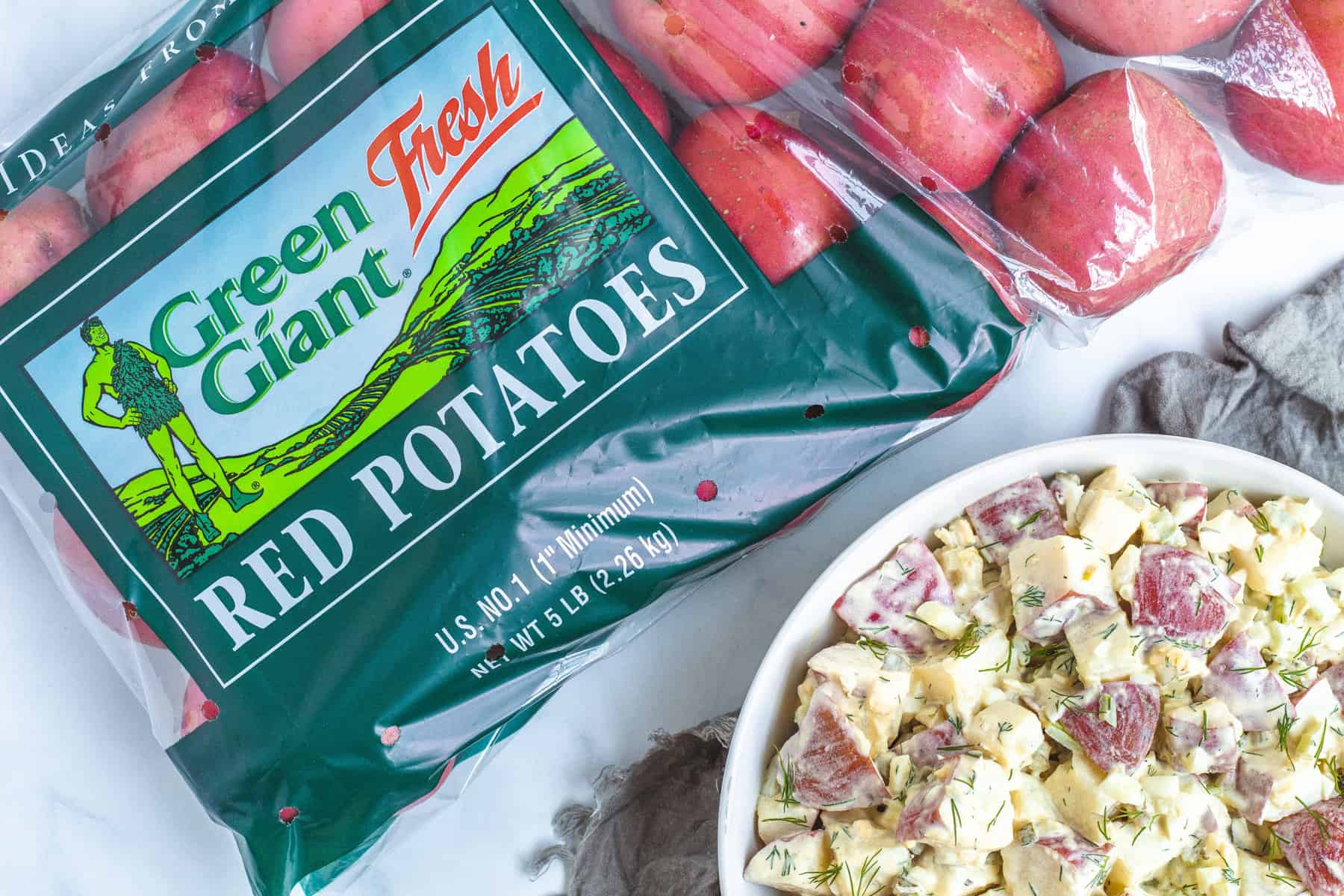 For this recipe, we chose Red Potatoes from our friends at Green Giant™ Fresh, of course. The skin of a red potato can vary from a dark red hue to a very light pink hue and the flesh from a creamy white to a golden yellow. One notable benefit often called out is the higher antioxidant level provided by the red skin versus russet or white potatoes. The underlying cause of the skin color variations is directly tied to where the potatoes are grown and the soil type! Most reds are round and typed as waxy, which means more moisture and less starch. This feature makes red potatoes ideal for potato salad dishes, steamed, boiled, or in casseroles and crock pot meals. They'll remain firm during the cooking process and their flavor is sweet and robust with a creamy, slightly moist mouth feel. A fan favorite for sure!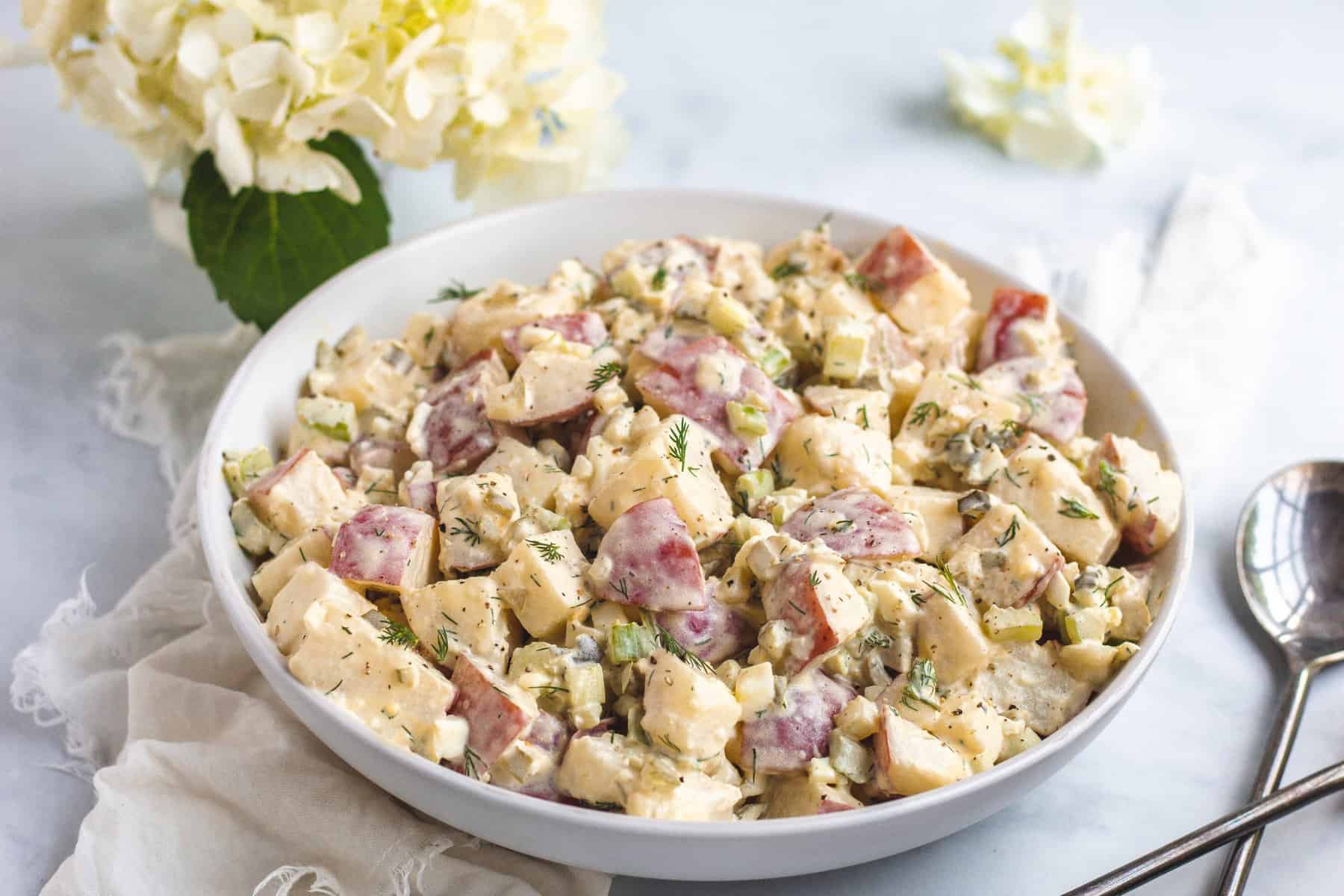 Substitutions and tips for this Creamy Red Potato Salad:
Lighten Up: Use Greek Yogurt instead of mayo for a lightened up version of this recipe.
Dried Herbs: While fresh is best for this recipe, you can substitute with dried dill if that's what you have on hand.
Pickles: Don't feel like chopping all of those pickle chips? Substitute with dill relish! We do recommend straining the relish before adding to the recipe to avoid a soupy consistency. If you think you'll enjoy larger pickle pieces, try using dill cocktail pickles and slice them into coins.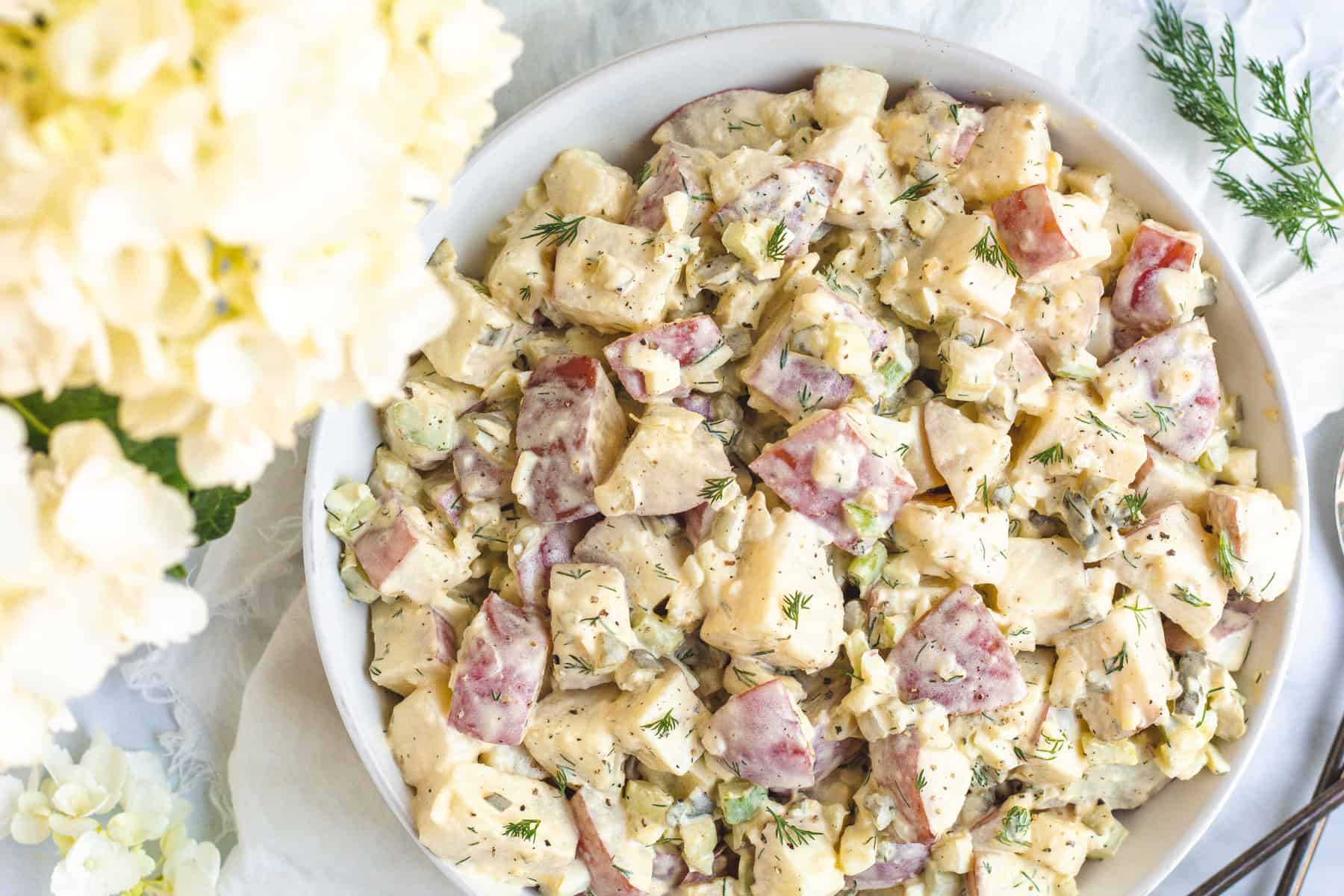 We hope you enjoy this dilly fresh potato salad. If you give it a try, don't forget to share and tag us on our social channels on Twitter, Facebook, Instagram, & Pinterest!
Ingredients:
8 cups diced Green Giant™ Fresh Red Potatoes

1 cup mayonnaise

6 tablespoons dill pickle juice (from the jar)

1 cup (or more, as desired) celery, finely diced

2 cups Dill Pickles, finely diced

4 Hard Boiled Eggs, chopped

1/4 cup Fresh Dill plus more for garnish

Salt & Pepper, to taste
Directions:
Slice Green Giant™ Fresh Red Potatoes into 1-inch cubes and add to a large pot. Cover with cold water and add 1 tsp of salt. Bring to a boil and cook potatoes until just fork-tender – once water is at a simmer, cook about 8-10 minutes.

While potatoes boil, stir mayonnaise and pickle juice together in a large bowl. Add celery, dill pickles, fresh dill, hard boiled eggs, salt & pepper, and stir to combine. Taste and adjust ingredients as needed.

TIP: Place cooked potatoes on a baking sheet in an even layer to cool slightly and allow some of the water to evaporate. This keeps potatoes from turning soggy and allows them to soak up more of the dressing.

Add warm potatoes to the bowl of ingredients and lightly toss to combine. Add more salt or pepper to taste, if needed.

Refrigerate for 2 hours or overnight. Garnish with fresh dill. Enjoy!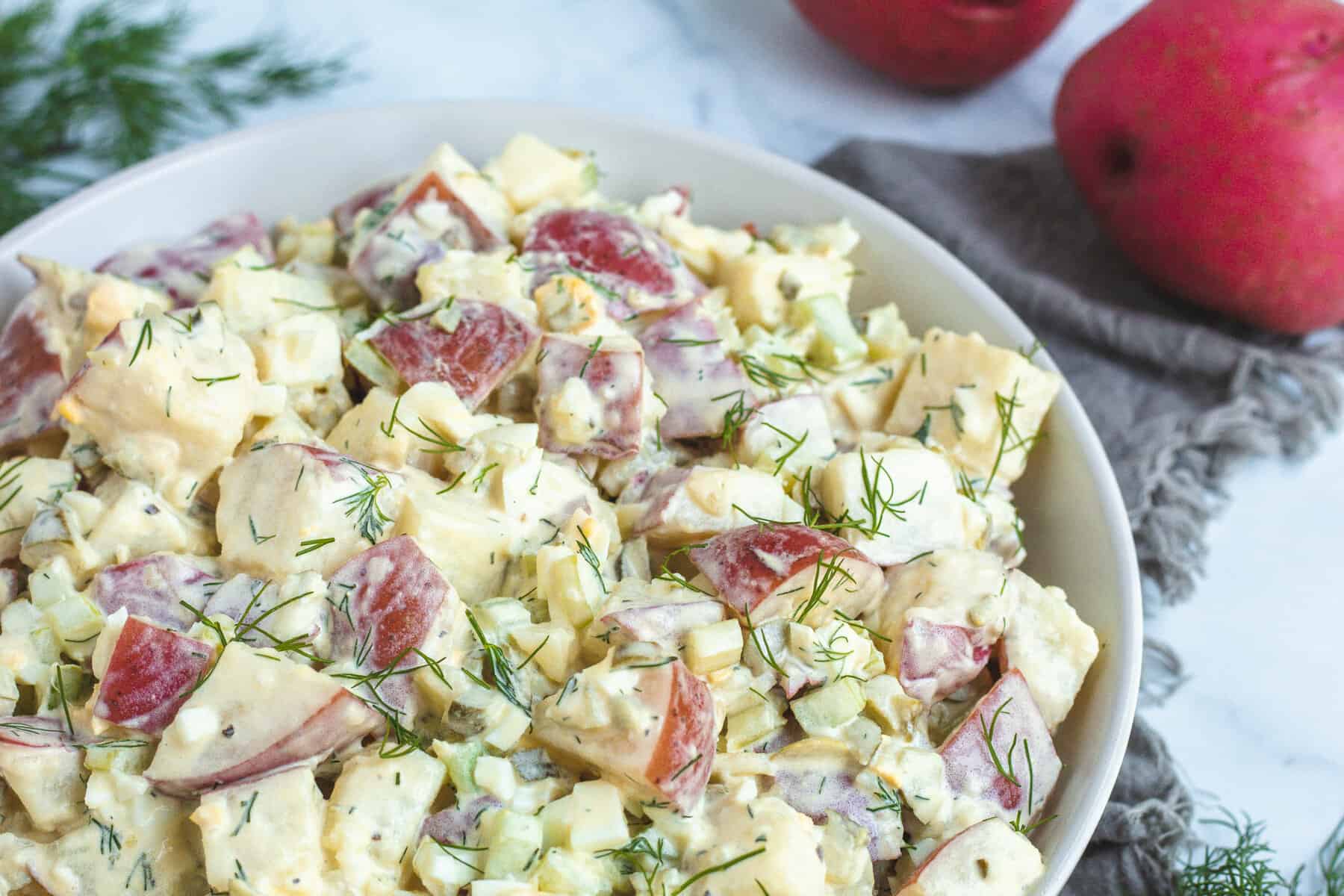 Servings 10.0 | calories 287 | Total Fat 19g | Saturated Fat 3g | Monounsaturated Fat 5g | Polyunsaturated Fat 10g | Sodium 549 mg | Potassium 546 mg | Total Carbohydrate 18g | Dietary Fiber 3g 10 % | Protein 5g | Vitamin A 9 % | Vitamin C 2 % | Calcium 8 % | Iron 6 %

---