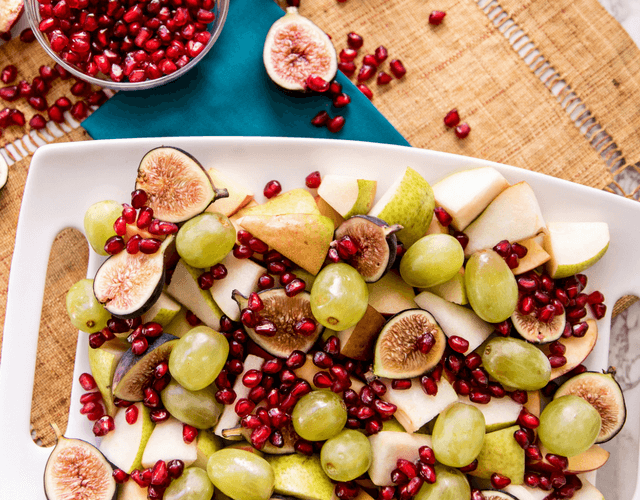 When we think of holiday entertaining, we typically think of heavy foods and large portions. However, in an effort to supply all of you lovely Farm Star Living supporters out there with fresh and healthy options, we are challenging you to add some fruit to your holiday spreads!
Introducing this super fresh, seasonal and healthy Fall Fruit Platter, beautifully topped with Pomegranate Arils from I Love Pomegranates.
We love the flavor of pomegranate, but it can't be a bit daunting trying to crack open all those pomegranates. However, these Pomegranate Arils are now available in a super easy to use package.
Sprinkling these into your meals and in this fruit platter will add bursts of health to your family and friends' meals, too. Pomegranates are a natural diuretic, which means they help to rid the body of excess fluids, and they will also help to reduce inflammation. There are plenty of reasons to eat pomegranates (especially during the holidays when we're trying not to fill up on the cookies), but we think they're delicious taste and beautiful color makes them just the perfect fruit for the fall.
See how easy it is to add a healthy choice to your holiday meal with this recipe video: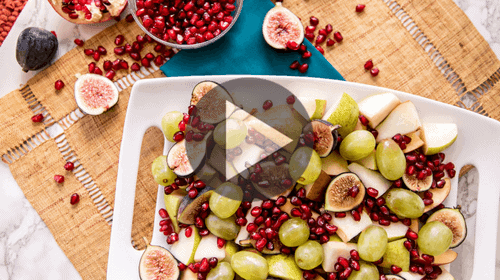 TIP: Pop the honey in the microwave for just a few seconds so it's easier to whisk into the Orange Juice.
Ingredients
1 - 2 Apples

2 Pears

1 cup Grapes

6 Figs

1 cup I Love Pomegranate™ Arils

1/4 cup orange juice

2 tbsp honey
Directions
Cut figs in half. Slice apples and pears into bite-size pieces. Add whole grapes.

In a small bowl whisk together orange juice and honey to create dressing.

Sprinkle the fruit salad generously with Pomegranate Arils.

Drizzle fruit platter with Orange Honey dressing. Enjoy!

---