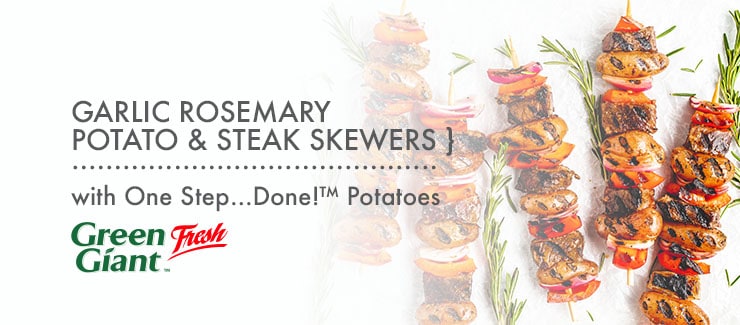 Backyard BBQ's, potlucks, picnics, and outdoor dinners! Time to knock the dust (or pollen) off the patio furniture, fire up the grill, and get back into the swing of these spring and summer activities. Something about spending afternoons outside with good food just gets us excited. How about you?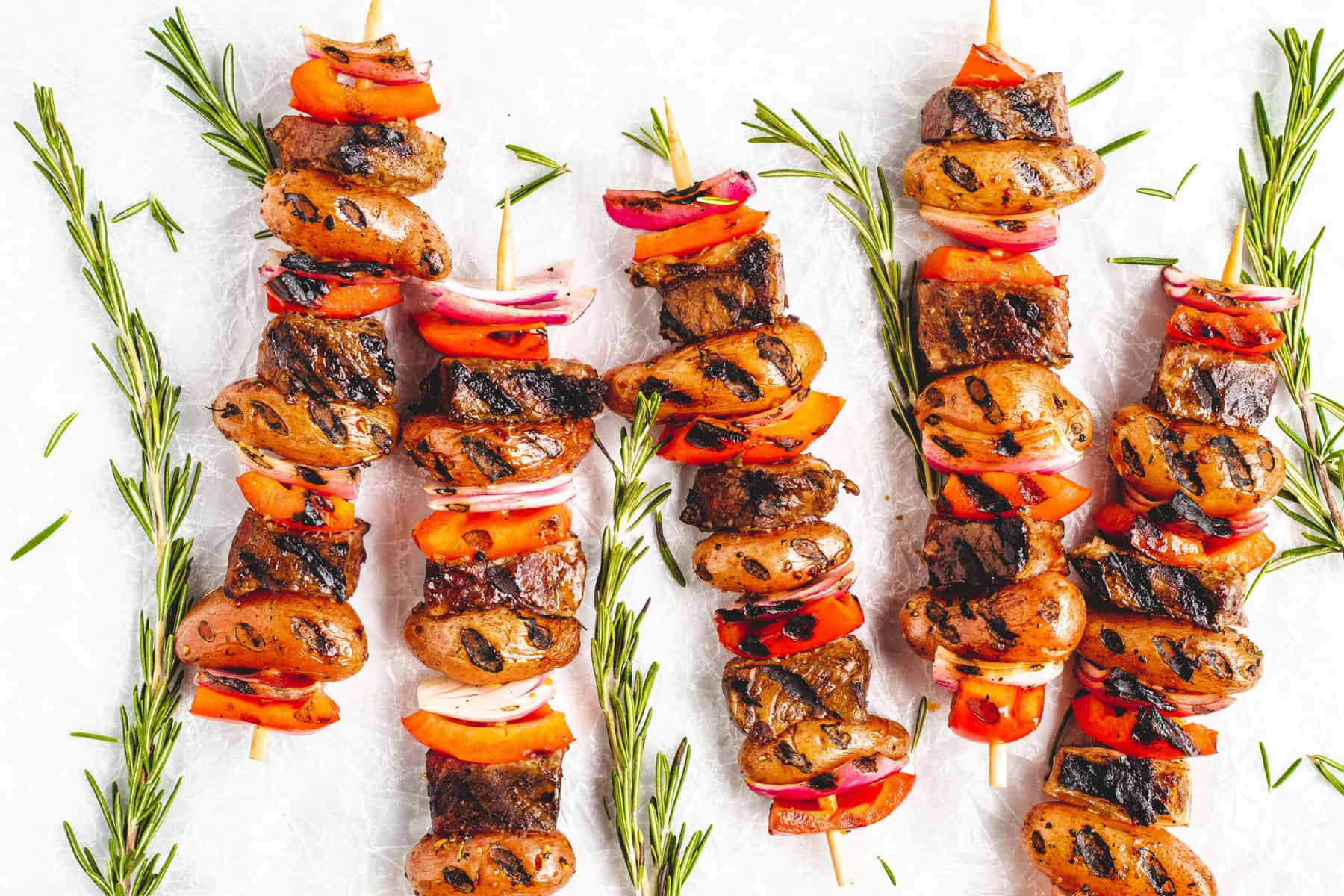 We're also excited to share with you our newest recipe just in time for grilling season – Garlic Rosemary One Step...Done!™ Potato & Steak Skewers. Onions, bell peppers, steak, and garlic rosemary potatoes from Green Giant™ Fresh all stacked together then grilled to a smoky perfection.
For this recipe, use One Step...Done!™ Potatoes to cut back on prep time in the kitchen which allows you to spend more time having fun. What are One Step...Done!™ potatoes? They're real, farm-fresh potatoes grown by the potato experts at Green Giant™ Fresh. The package includes everything you need including real chef-inspired seasonings just like the ones in your kitchen.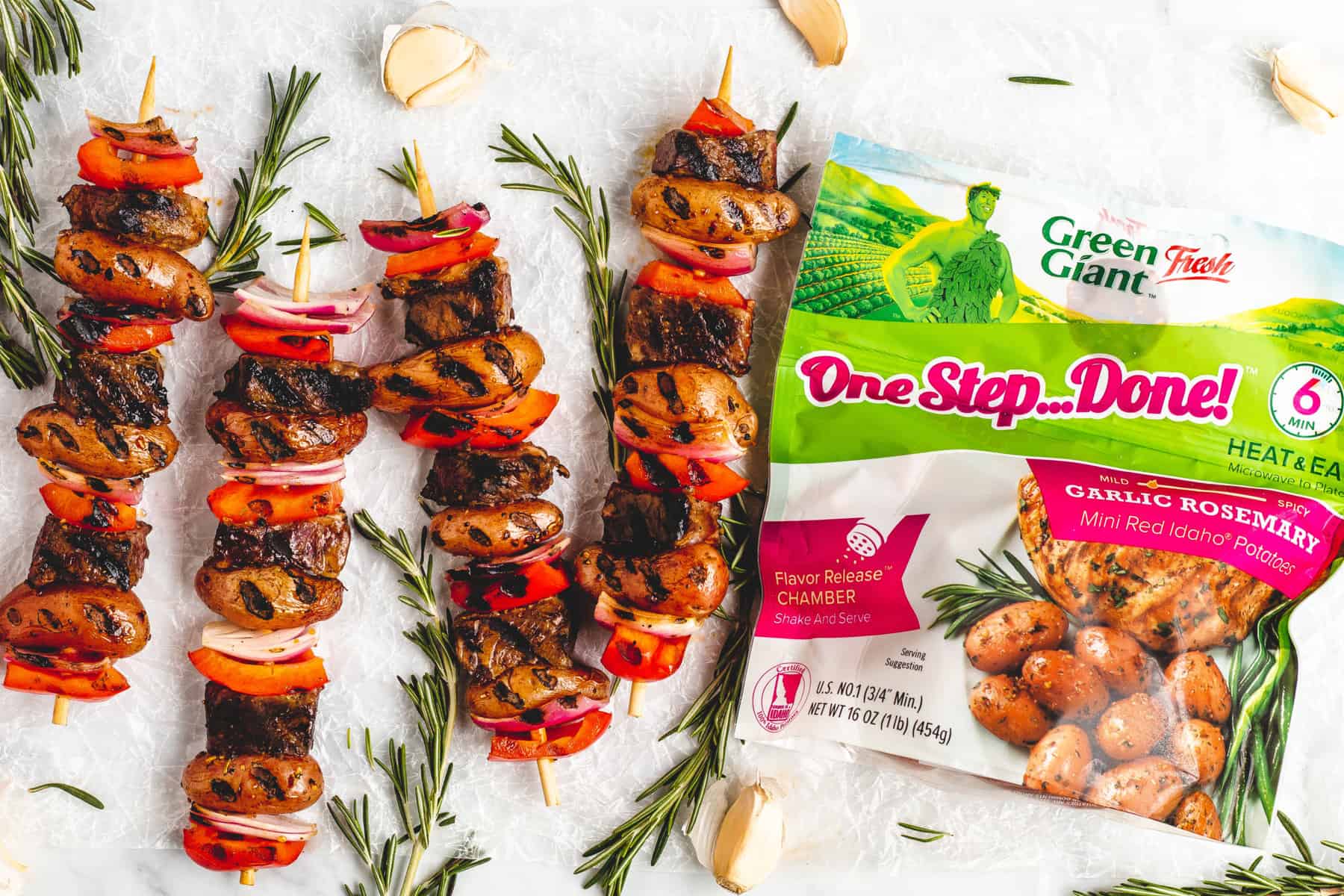 All you have to do is pop the whole package in the microwave and six minutes later you have hot, delicious, healthy potatoes that are ready to eat! No rinsing, no peeling, no boiling, no slits, no turning, no stopping half-way through cooking, no seasoning packets – just microwave and eat. One Step...Done!™ comes in a variety of flavors like Cajun Style, Roasted Red Pepper, and (our flavor of choice for this recipe) Garlic Rosemary.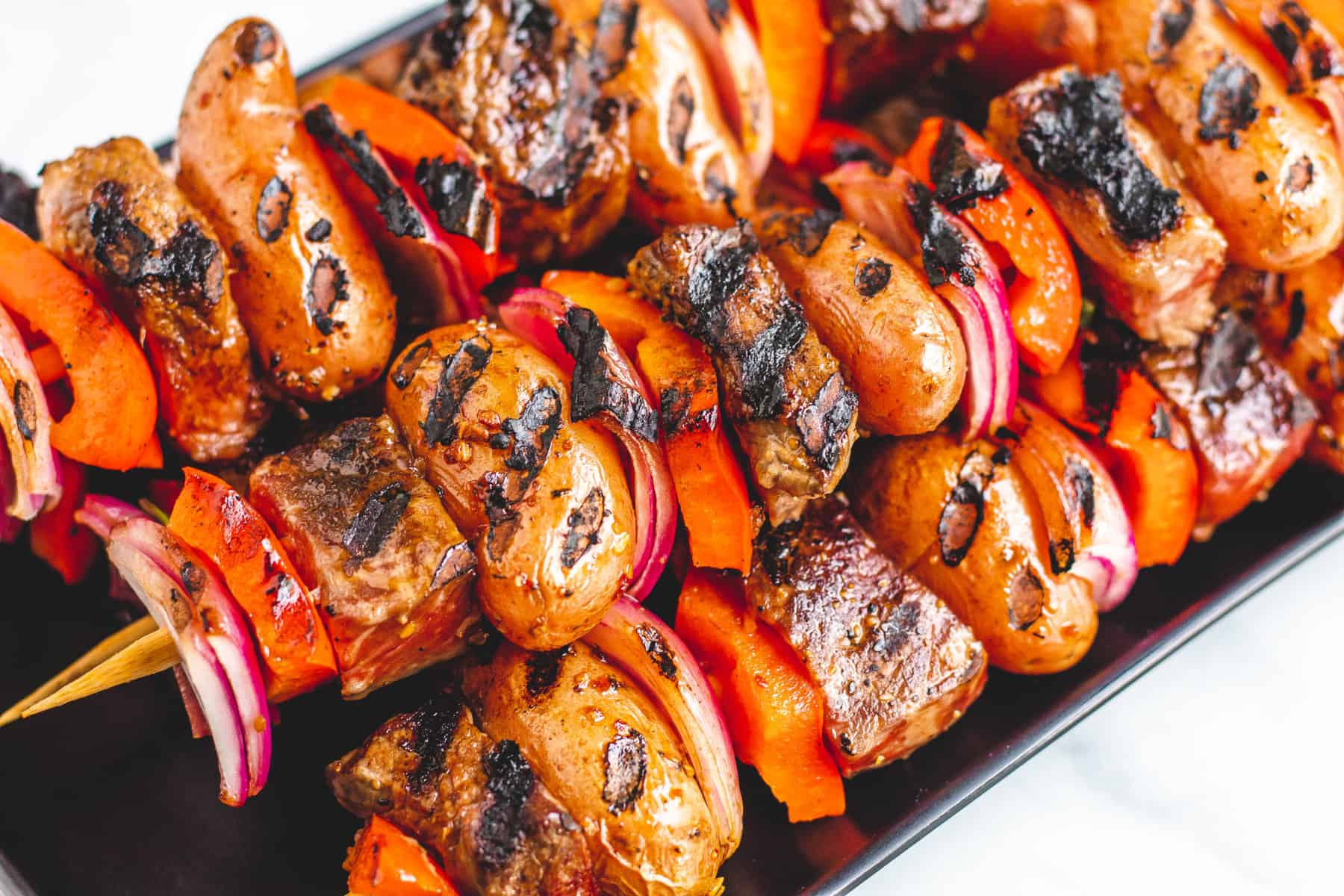 Here's a few tips, tricks, and substitutions so you can create the most delicious skewers:
Skewers: If you're using wooden skewers, make sure you soak them in water for at least 20 minutes to prevent them from burning. We recommend using wooden skewers because metal skewers transfer heat to the inside of your food which may cause meat to overcook.
Protein: If you're not a fan of steak, substitute with chicken, shrimp, or veggies like mushrooms.
Salt: One Step...Done!™ potatoes are a no-sodium food so be sure to add salt to taste. Be careful not to over-salt if you're also using a steak seasoning which can be very salty.
Size: Try to cut your protein in uniform sizes to they cook evenly. Larger pieces will take longer to cook while smaller pieces won't take quite as long.
Let us know if you give this recipe a try and tag us on
Instagram
or
Facebook
! Happy grilling!

Ingredients:
2 packages One Step...Done!™ Garlic Rosemary Potatoes

Onions

Bell Peppers

2 New York strip steaks (2 pounds), cut into 1-inch cubes

Your favorite steak seasoning blend
Directions:
Prepare One Step...Done!™ Potatoes in microwave one at a time, following package instructions. Once potatoes are done cooking, open package and set aside to cool slightly. Be sure to save the any residual seasoning in the One Step...Done!™ package to brush skewers.

Note: One Step...Done!™ Potatoes are a no sodium food, so add salt to taste.

Thread potatoes, vegetables, and steak onto skewers.

Brush skewers with any leftover seasoning in the One Step...Done!™ Potato package.

Season steak with your favorite steak seasoning blend just before grilling.

Heat your grill. Cook skewers for about 5-10 minutes or until steak reaches your desired doneness.

Serve immediately and enjoy!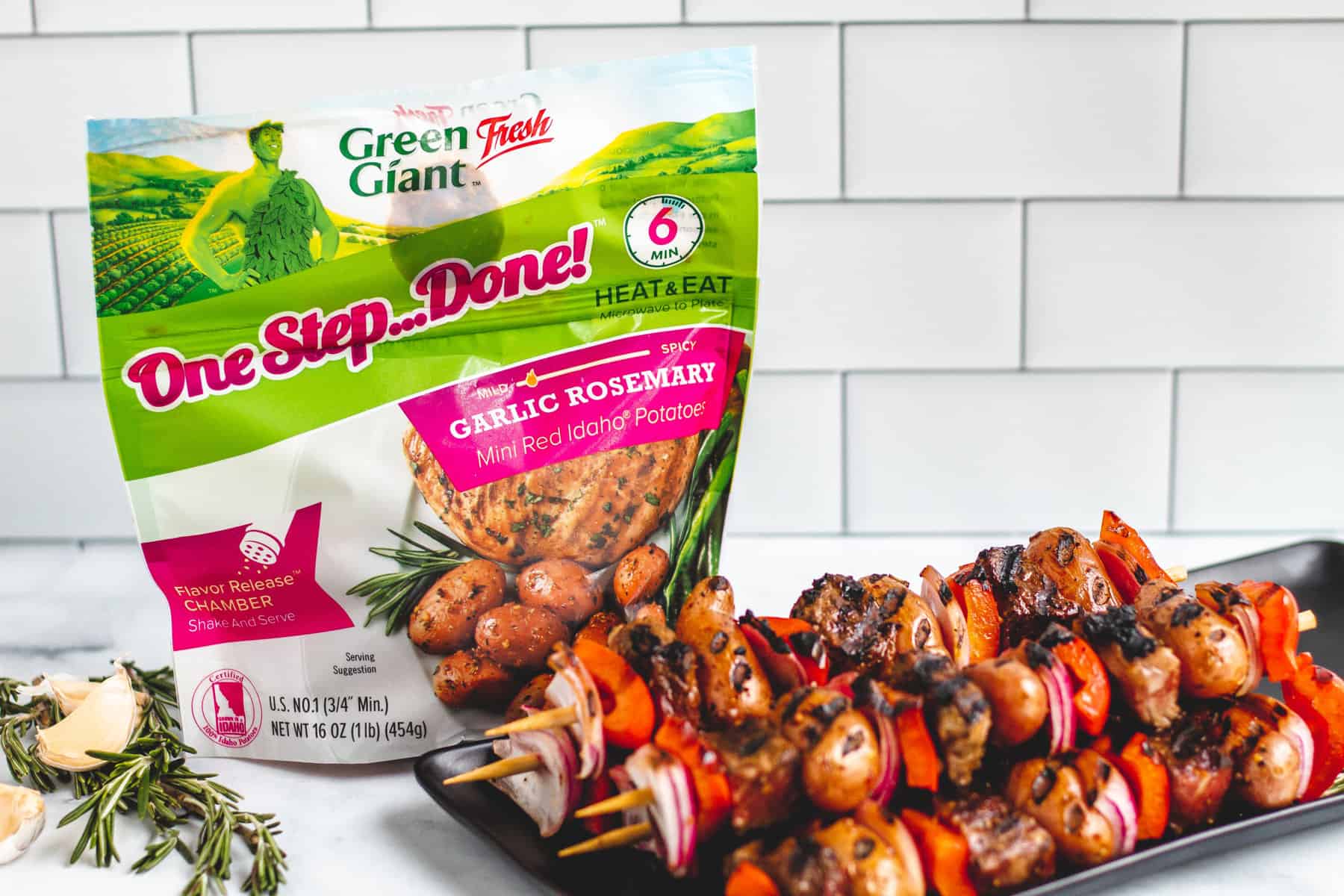 Servings 6.0 | calories 473 | Total Fat 26g | Saturated Fat 11g | Monounsaturated Fat 0g | Polyunsaturated Fat 0g | Cholesterol 92 mg | Sodium 497 mg | Potassium 591 mg | Total Carbohydrate 25g | Dietary Fiber 2g | Protein 34g | Vitamin A 2 % | Vitamin C 46 % | Calcium 6 % | Iron 19

---