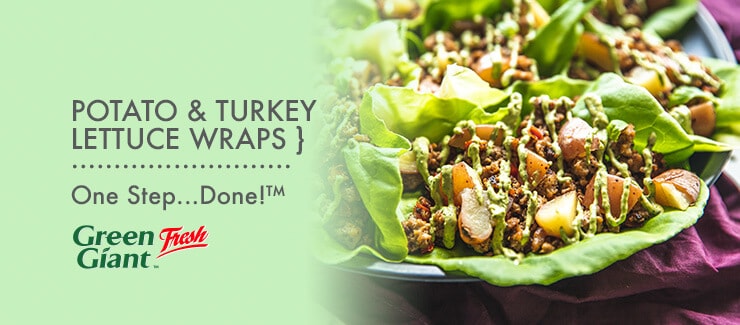 The team here loves an easy dinner and we're all about adding more plate rather than taking away from it. When you've had a long day and you don't feel like cooking, we suggest making lettuce wraps! It's an easy way to use what's in your fridge, get some healthy veggies in, with minimal cooking. Say hello to our latest lettuce wrap obsession – these Garlic Rosemary One Step...Done!™ Potato & Turkey Lettuce Wraps.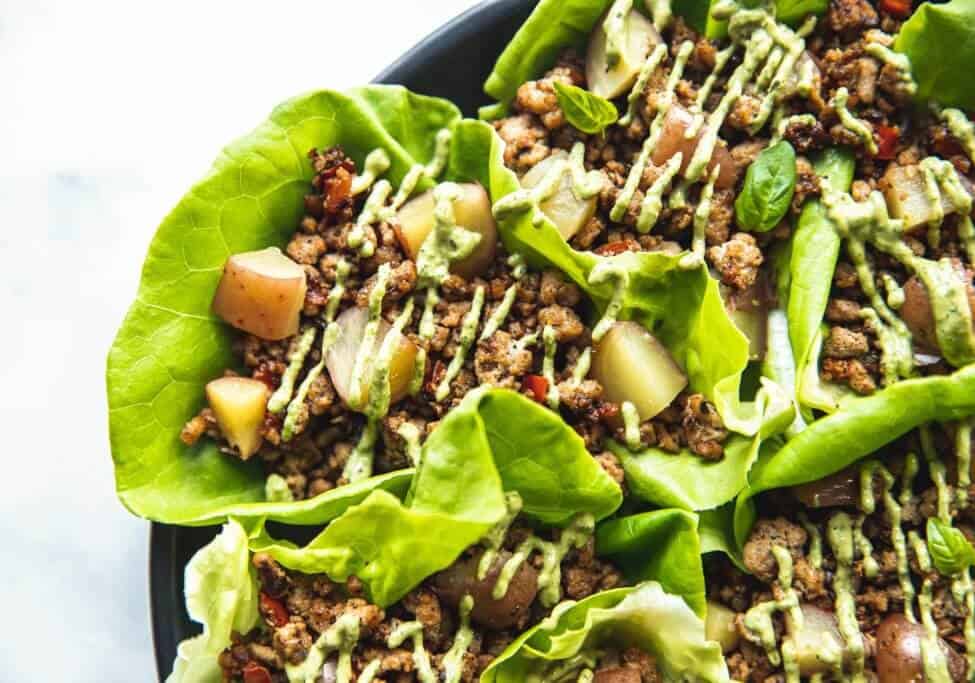 It's a mouthful in more ways than one, but this lettuce wrap won't leave you hungry and you'll be getting a good dose of protein, fat, and fiber – three things you need to make a "healthy meal." Though we believe healthy looks different for everyone, for us, it's all about making choices that make you happy and that are attainable. Which is exactly why we love these One Step...Done!™ potatoes from Green Giant™ Fresh.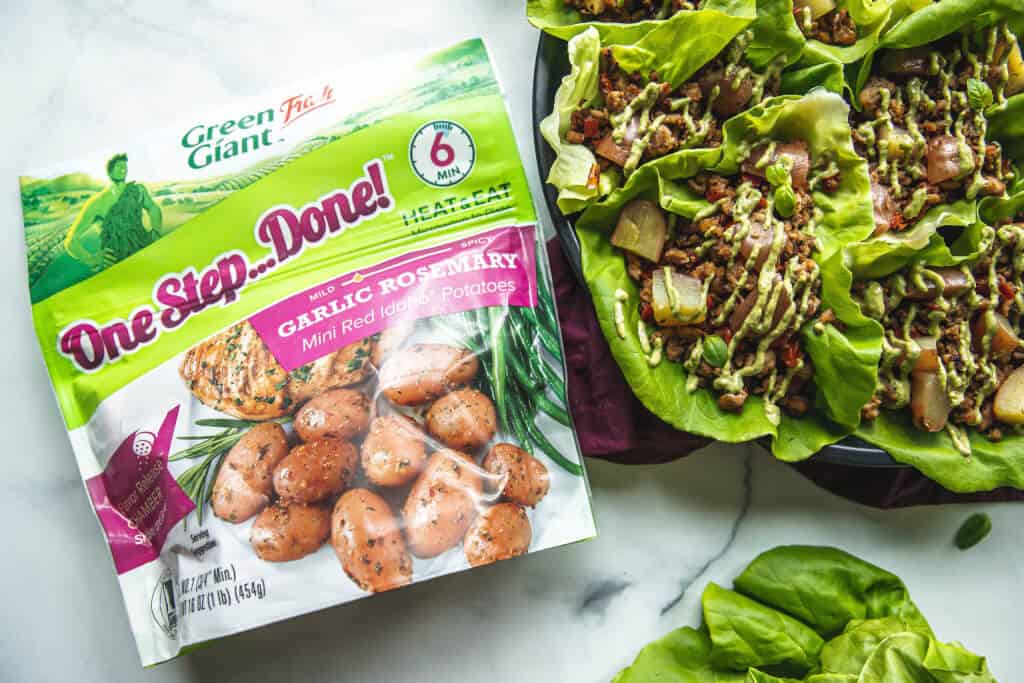 You can actually pronounce the ingredients on the back of the One Step...Done!™ package and inside is nothing but goodness: farm-fresh potatoes, real butter, real seasonings, and no funny stuff. And, they're low in sodium! After just six minutes in the microwave, hot, steamy, and deliciously flavored potatoes are ready for your plate – or lettuce wrap in this instance.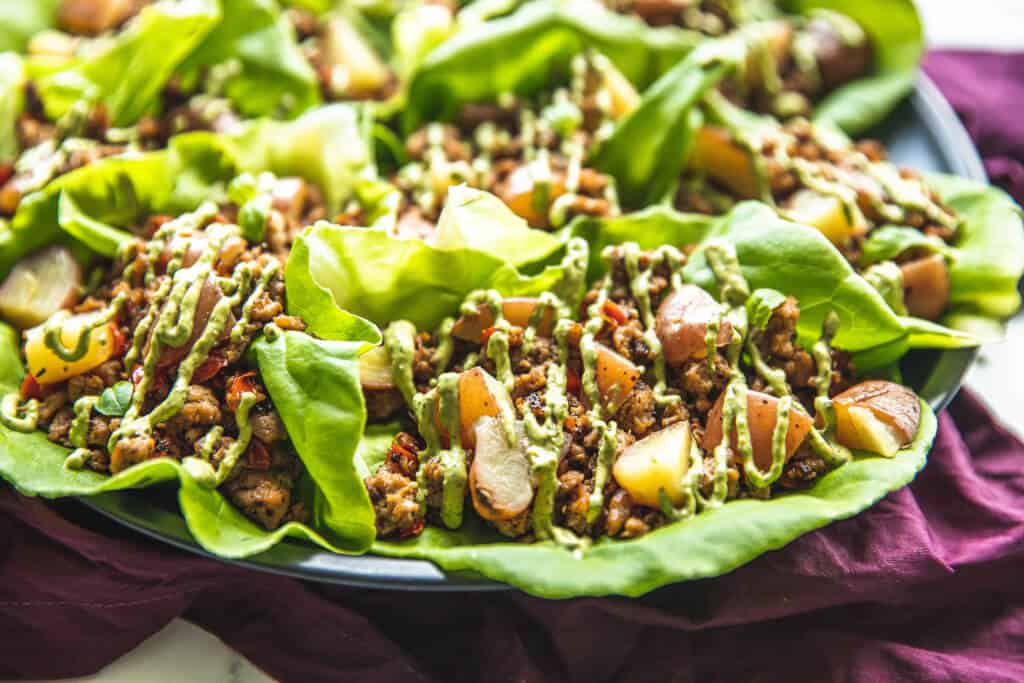 If you've never made lettuce wraps at home, here are the basics:
Lettuce: Any kid of lettuce that can serve as a 'cup' or 'vessel' for your ingredients will work. Think: iceberg, romaine, Boston, or Bibb. You want something sturdy rather than thin and flimsy.
Protein: Use any of your favorite proteins – anything goes here! Ground chicken, ground turkey, ground beef, tofu, tempeh, or soy curls. Anything you have on hand or any leftover meat will work.
Sauce: All lettuce wraps need some kind of sauce! Depending in the flavor profiles, you can go simple by topping with soy sauce, salsa, or salad dressing.
Veggies: Again – anything goes! Add any vegetables that you love and, like we said, use this is a way to add more to your plate rather than take away from it.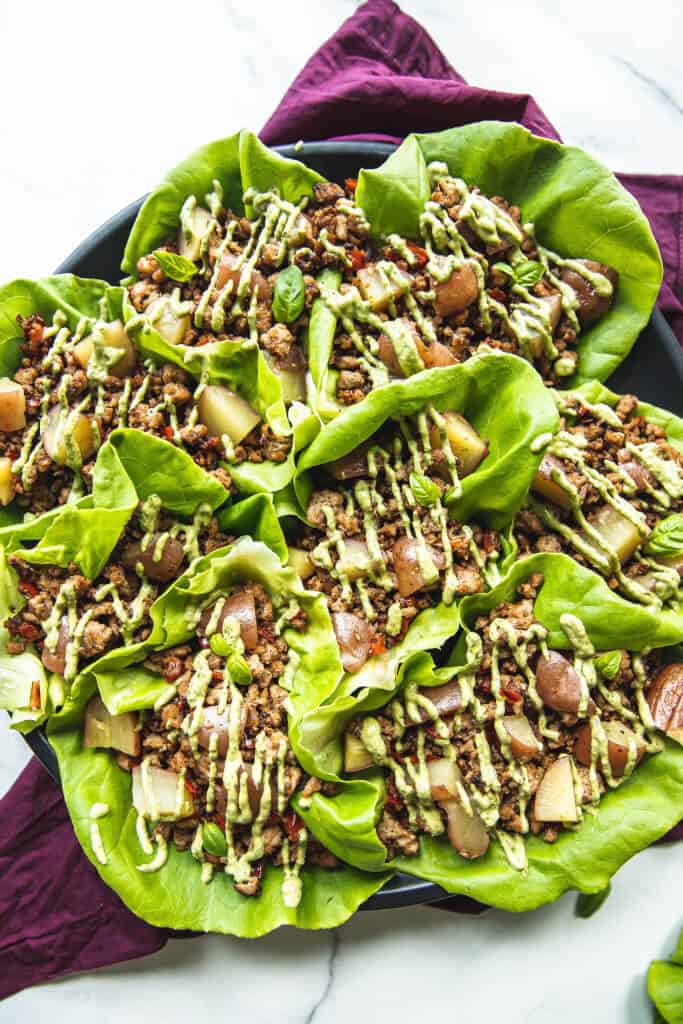 Our version really plays up the garlic and rosemary flavors of the One Step...Done!™ potatoes why is why we've created a creamy pesto sauce with greek yogurt, fresh basil, a little parmesan, and lemon juice. It's SO good and can be used beyond just this recipe. We tried it with pasta and as a dip for vegetables and both were delicious!
If you make this recipe, please share on social media and tag us and our friends at Green Giant™ Fresh potatoes!

Wrap Ingredients:
Garlic Rosemary One Step...Done!™ Potatoes
Lettuce such as iceberg, romaine, Boston, or Bibb
1 tsp olive oil (or non-stick cooking spray)
1/2 cup sweet onion, diced
2 tbsp. garlic, minced
1 cup red bell pepper
1 lb ground turkey
salt and pepper to taste
Pesto Ingredients:
1/2 cup greek yogurt
1/4 cup shredded parmesan cheese
1 clove garlic
2 cups fresh basil
1/3 cup olive oil
1 tbsp (or more to taste) lemon juice
salt and pepper to taste
Directions:
In a food processor, add greek yogurt, parmesan cheese, garlic, fresh basil, and lemon juice. Mix until all ingredients are well combined. With the blade running, slowly drizzle olive oil into the creamy greek yogurt mixture. Add salt and pepper and mix once more. Taste and adjust seasonings as needed.
Add olive oil to a skillet over medium heat and once skillet is hot add diced red bell pepper and onion. Cook until bell pepper soften and onions are translucent (about 3-5 minutes).
Add ground turkey and mix to combine with bell pepper and onion. Once the turkey begins to turn brown, add garlic and cook for another few minutes until turkey is fully cooked. Remove pan from heat.
Cook One Step...Done!™ potatoes according to package instructions and cut into small pieces.
Layer turkey and cooked One Step...Done!™ Potatoes onto each lettuce leaf. Drizzle with creamy pesto and serve.

Servings 8 | Calories 271 | Total Fat 17g | Saturated Fat 4g | Monounsaturated Fat 9g | Polyunsaturated Fat 3g | Cholesterol 57 mg | Sodium 104 mg | Potassium 505 mg | Total Carbohydrate 13g | Dietary Fiber 1g | Protein 19g | Vitamin A 55% | Vitamin C 44% | Calcium 7% | Iron 10%
---