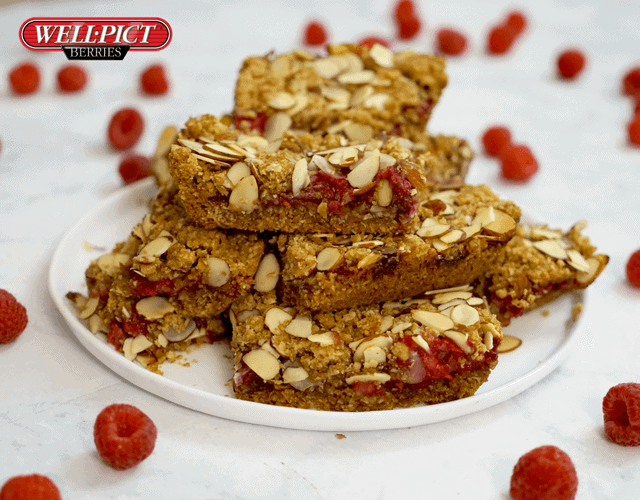 We're loving these make-ahead On-the-Go Raspberry Breakfast Bars. When an unexpected busy morning hits you, it's so nice to have a homemade breakfast ready at your reach. They're full of healthy Well•Pict Raspberries, oats for some fiber, and almonds for protein!
Check out the video for step-by-step instructions: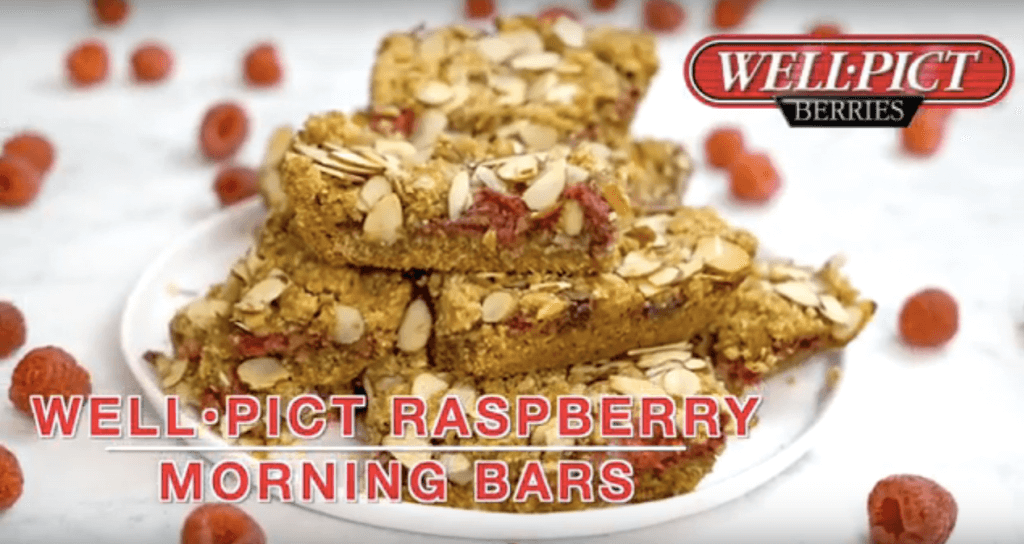 Ingredients:
1 1/2 cups old fashioned oats
1 cup plus 2 Tablespoons All Purpose flour
1 cup plus 2 Tablespoons brown sugar
3/4 teaspoon baking powder
1/4 teaspoon baking soda
1 1/2 cubes (6 oz) unsalted butter, cut into squares
1 cup sliced almonds
2 pints Well•Pict Raspberries
3 Tablespoons raspberry preserves
Directions:
For the crust, spray a 2 quart rectangular baking dish with cooking spray. Combine oats, flour, brown sugar, baking powder, and baking soda in the bowl of an electric mixer. Add the butter and mix with the paddle until it resembles coarse crumbs. Reserve 1 1/2 cups of the crumb mixture and set aside. Press the remaining crumbs into the baking dish. Bake at 350 degrees until golden brown, about 20 minutes. Allow to cool slightly.
In a separate bowl, gently coat the raspberries with the preserves. Evenly distribute the raspberries over the crust. To the reserved crumb mixture, add the almonds. Spread the mixture evenly over the raspberries. Bake at 350 degrees for 25 minutes, or until raspberries begin to bubble. Cool completely and cut into bars.
Makes 18 servings.

---