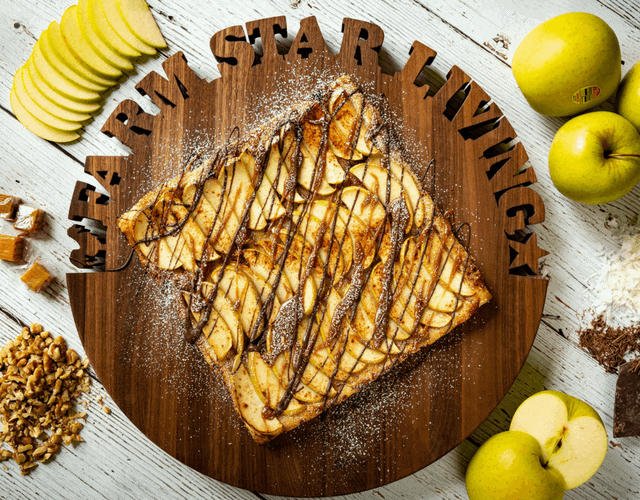 Slices of Golden Delicious apples, crispy pastry, warm caramel drizzle, and, if you are feeling particularly jazzy, some vanilla ice cream, is what makes up our Golden Delicious Apple Flatbread. Warning: These square slices may become your family's dessert of choice. Custom-top each slice with a topping bar or surprise your family with different toppings with each bake!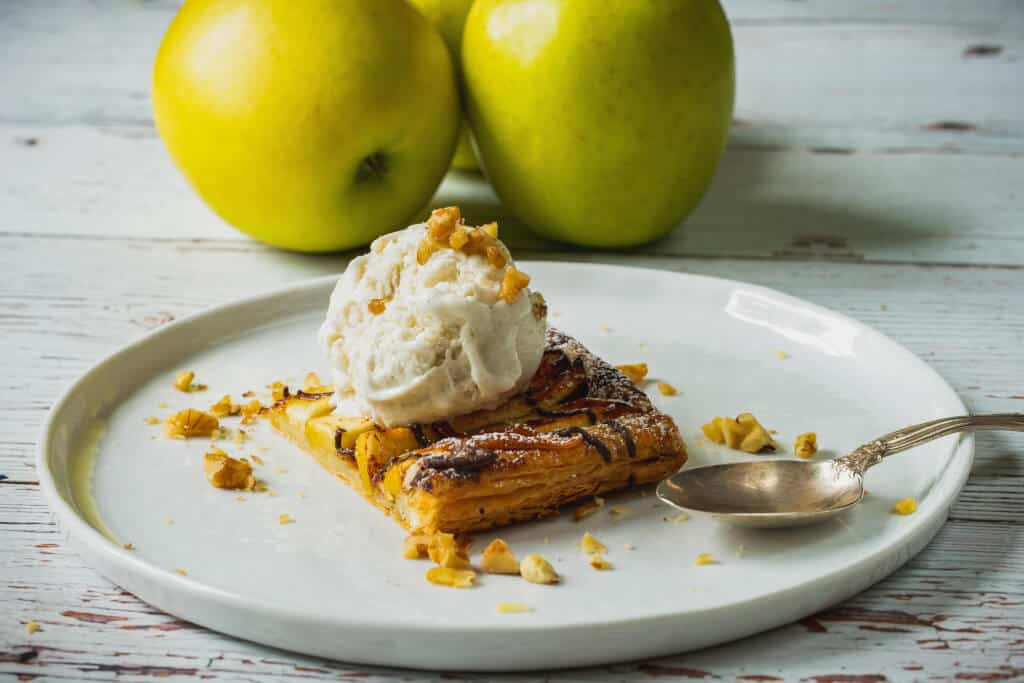 Either way, there is no mistaking the star of this bake—the Golden Delicious from Rice Fruit Company. Best described as "sweet natured," this company is located at the heart of Pennsylvania's apple country, rural Adams Country. There, the soil and climate are ideal for growing a crunchy, full-flavored apple. The company currently packs and stores twelve other varieties of apples and three varieties of stone fruit.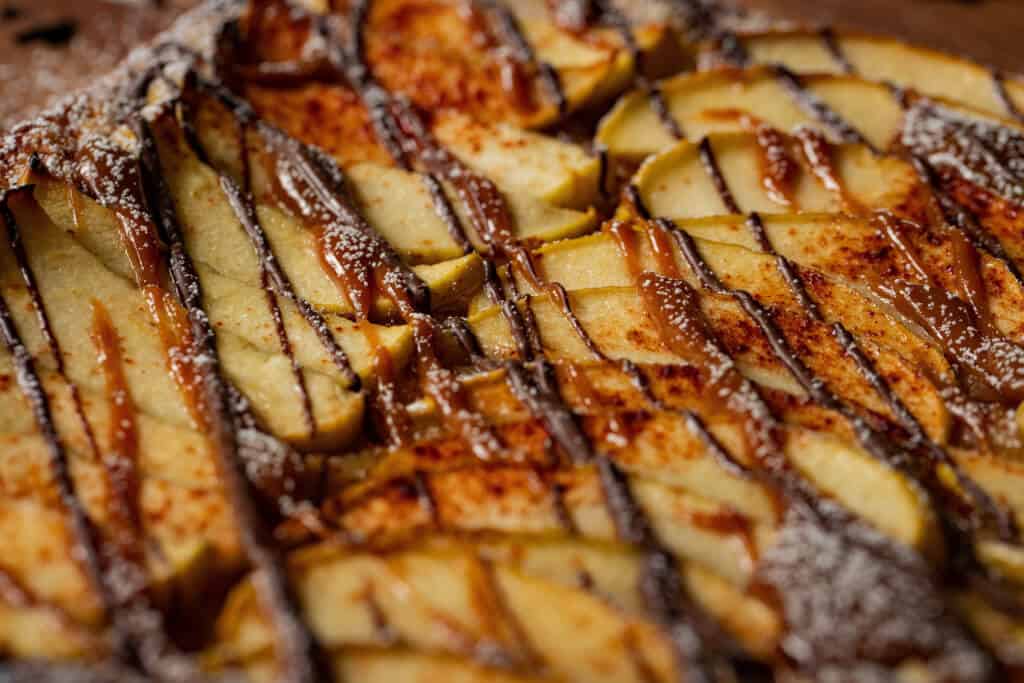 Discover the sweet natured flavor of the Golden Delicious in our exceptional yet simple bake!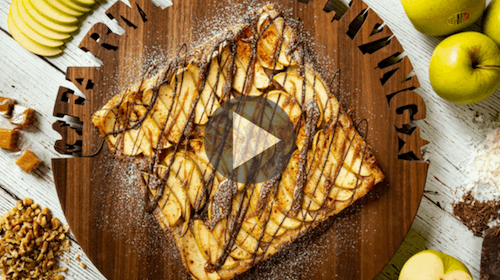 TIP: When brushing apples with honey, avoid getting any honey on your pan as the honey will burn on the oven.
Ingredients:
Juice of one lemon

1 Puff Pastry - thawed

2 tbsp melted unsalted butter

1 tbsp Sugar

1 tbsp cinnamon - divided in half

1 tablespoon honey
Directions:
Heat oven to 425F and allow puff pastry to thaw - about 30 minutes.

Slice Golden Delicious Apples into thin wedges. Avoid creating paper thin slices as apples will be too thin to withstand the oven and may dry out.

Place Apple slices into a bowl and squeeze with fresh lemon to keep from browning. Toss to coat.

Line a baking sheet with parchment paper and unfold puff pastry onto parchment.

Brush melted butter over the entire surface of the puff pastry. Sprinkle 1 tbsp of sugar and 1/s tbsp of cinnamon over puff pastry.

Arrange apples onto puff pastry slightly overlapping each apple slice. To fill the puff pastry, you should have 3-4 rows of Apple slices.

Heat 1 tbsp honey in the microwave for 10 seconds and carefully brush over apple slices. Lightly sprinkle with remaining cinnamon.

Bake for 20-25 minutes or until puff pastry is golden brown.

Remove from oven and allow to cool.

While the pastry is cooling, warm caramel and drizzle over the top of the pastry with a spoon. Get creative and top with nuts, chocolate chips or melted chocolate, shredded coconut, or even some vanilla ice cream!

Add a dusting of powdered sugar and slice into squares. Enjoy!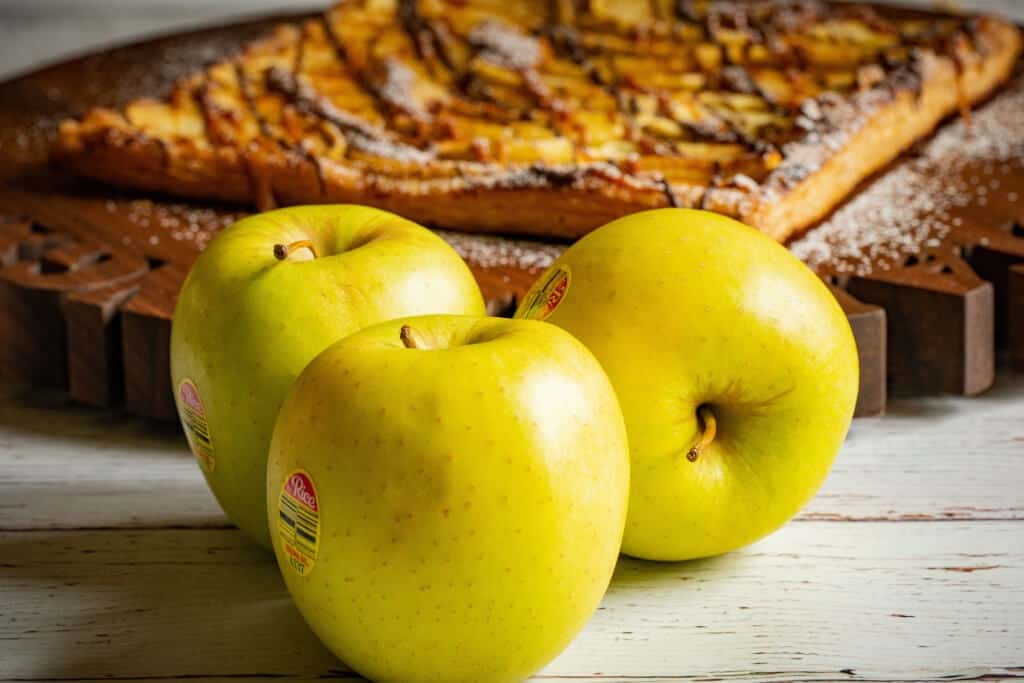 Servings 12.0 | Calories 178 | Total Fat 9 g | Saturated Fat 4 g | Monounsaturated Fat 0 g | Cholesterol 5 mg | Sodium 108 mg | Potassium 36 mg | Total Carbohydrate 23 g | Dietary Fiber 5 g | Protein 2 g | Vitamin A 1 | Vitamin C 3 % | Calcium 8 % | Iron 4 %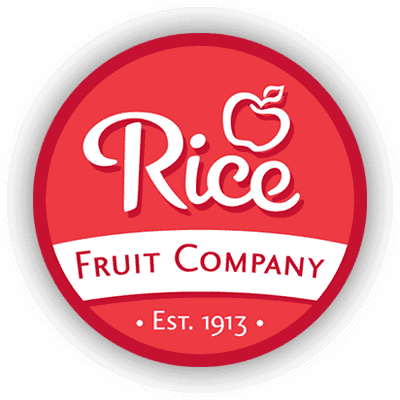 ---