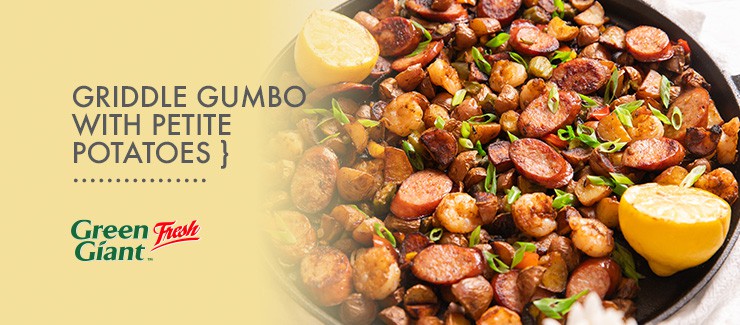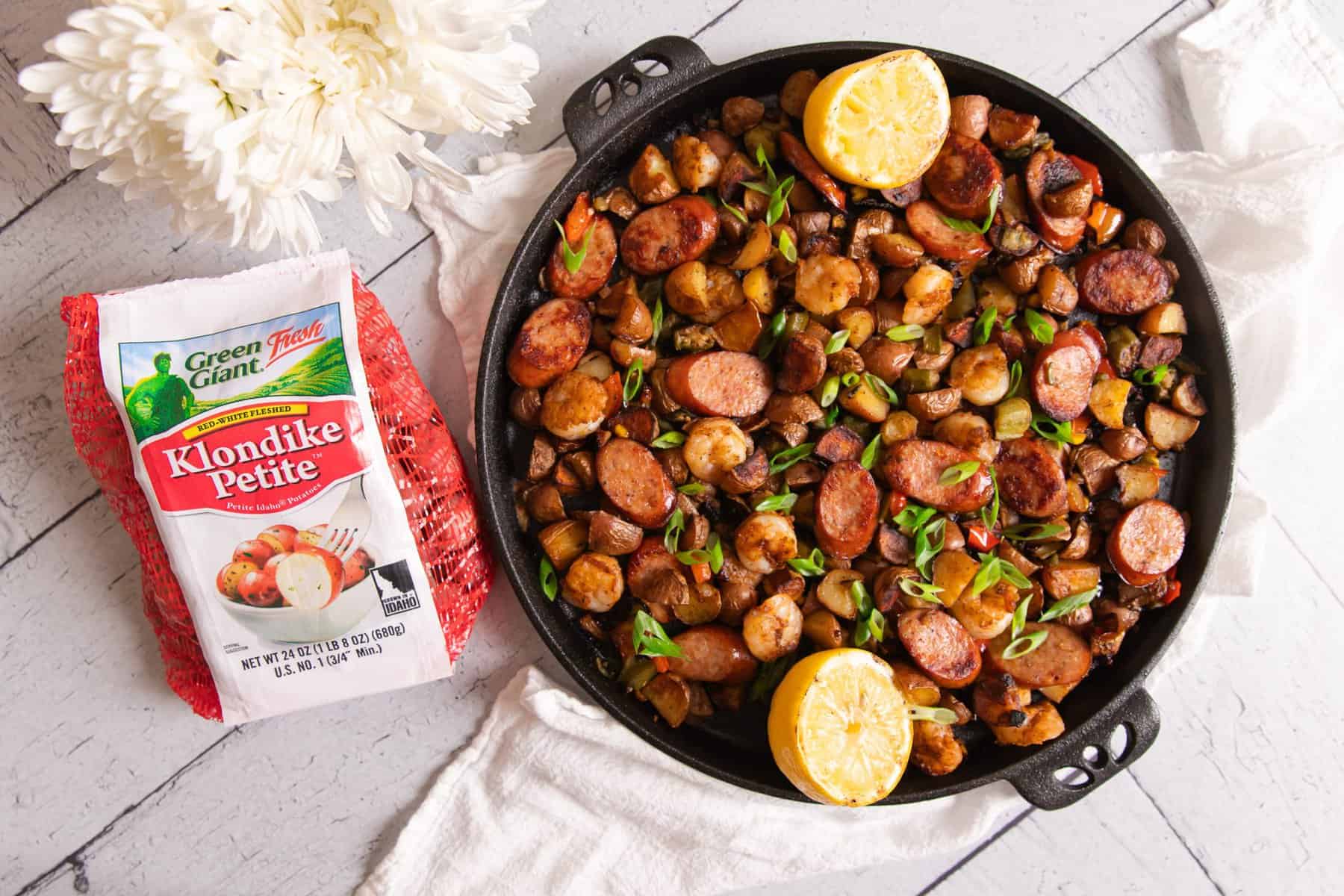 Grilling and chilling and gumbo – oh, my! Set the soupy version aside this summer and enjoy all of the flavors of gumbo right from your griddle. This recipe moves fast so fire up your griddle, grill pan, or cast-iron and get ready to enjoy this flavorful and easy recipe.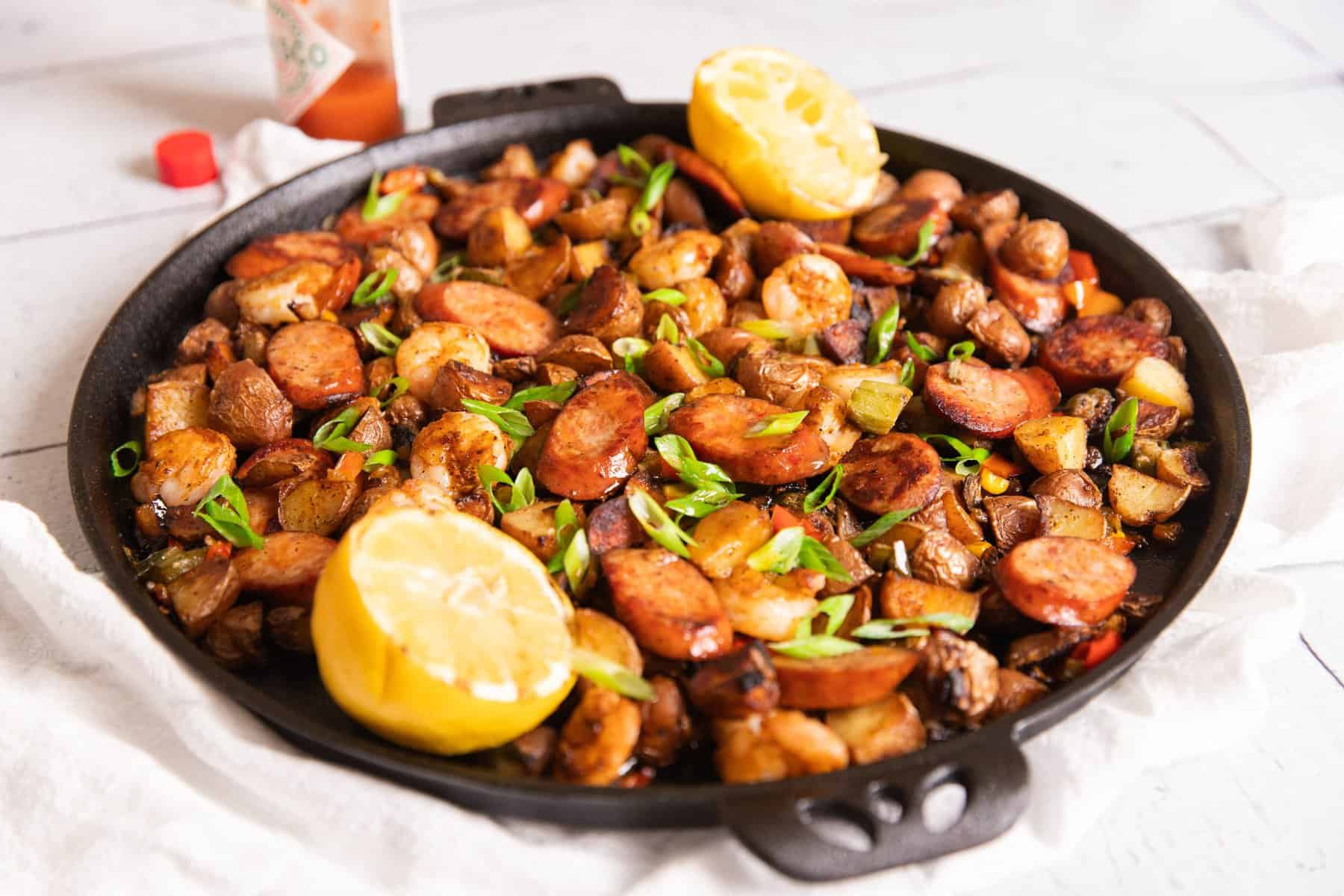 For the main ingredient, we used Klondike Gourmet® Mini Potatoes from Green Giant™ Fresh. These potatoes are small, round petite potatoes that are perfect for potato salad or in a warm dish like this one. These potatoes are versatile and have a super thin skin so there's no need to peel them.

Ingredients:
Green Giantâ"¢ Fresh Klondike Gourmet Red / White Potatoes
1 – 2 Tbsp neutral oil
2 cups bell pepper, diced
1 cup onion, diced
1 cup celery, diced
1 1/2 cups frozen sliced okra
1 cup frozen corn kernels
14 oz Andouille sausage, sliced
3 cups frozen peeled shrimp
2 Tbsp unsalted butter
2 Tbsp cajun seasoning, divided
salt and pepper to taste
Garnish with sliced green onion and hot sauce, if desired
Directions:
Heat your griddle to medium heat.
While the griddle heats, quarter Green Giantâ"¢ Fresh Klondike Gourmet Red / White Potatoes and add to a large bowl. Drizzle with neutral oil and season with 1 Tbsp cajun seasoning. Toss to coat.
Once griddle is hot add potatoes and cook until fork-tender, turning while cooking.
Once potatoes are just fork-tender, add all vegetables to the griddle and season again with remaining tablespoon of cajun seasoning. Toss vegetables and push them to one side of the griddle to continue cooking.
Add sliced sausage, shrimp, and butter to griddle. Turn shrimp and sausage after 2 minutes. If desired, add more cajun seasoning or salt and pepper.
Toss everything together one final time on the griddle to combine all vegetable and meat ingredients.
Remove from the griddle and garnish with sliced green onions and hot sauce, if desired. Serve with cooked rice if desired. Enjoy!

---