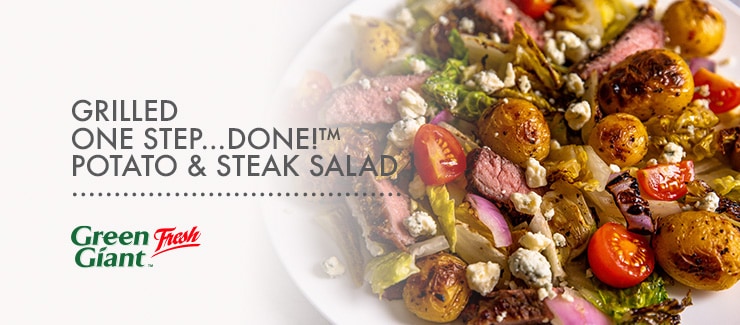 Tired of par-baking or par-boiling for sub-par grilled potato recipes? Time to try something new that takes the extra work out of grilling potatoes. One Step...Done!™ potatoes from Green Giant™ Fresh are the answer to fast, easy, and flavorful grilled potatoes because everything you need is right in the bag.
Fire up the grill while you pop the whole package of One Step...Done!™ potatoes in the microwave for six minutes and that's it! These farm-fresh potatoes are already seasoned and ready to grill. Find One Step...Done!™ potatoes in the produce aisle and enjoy this easy recipe all summer long.
Here's a few tips and tricks to making the best Grilled One Step...Done!™ Potato & Steak Salad:
Lettuce: If you're new to grilled lettuce, welcome to your new favorite way to eat salad! Grilling lettuce is so easy and if you're already grilling, you might as well throw your greens on the grill to get more of that grilled flavor into your meal. The key to grilling lettuce is to purchase a whole head of greens (like cabbage or romaine) so you can keep the head of lettuce attached at the core. Otherwise, individual lettuce leaves will fall through the grates of the grill. Really any head of lettuce will work so try different greens like bibb, butter, boston or cabbage.
Dressing: This dressing recipe tastes similar to ranch but instead of mayonnaise, sour cream, and buttermilk, we've lightened it up with greek yogurt which gives this recipe a little boost of protein, too. Feel free to use any dressing you like but we do suggest adding plenty of herbs to deliver some freshness to this dish.
Grilled Vegetables: If you have a vegetable grill basket, we suggest using one for the potatoes and onions on the grill. Since the size and thickness of the potatoes varies, this will prevent them from falling through the grill grates.
Don't forget to tag us and our friends at Green Giant™ Fresh potatoes if you give this recipe a try! Happy grilling!

Ingredients:
New York Strip Steak
1 tsp (or more) Steak Seasoning
1/3 cup Olive Oil
1 Red Onion, thick slices
2 heads Romaine Lettuce, sliced in half lengthwise keeping leaves connected at the core
1 cup Cherry Tomatoes, sliced
2 tbsp Crumbled Blue Cheese Dressing
Optional Additional Toppings: Fresh dill, fresh chives, avocado
Ranch Dressing Ingredients:
1/2 cup Nonfat Greek Yogurt
1/2 tsp. Garlic Powder
1/2 tsp. Onion Powder
1 tbsp Lemon Juice
1 tbsp fresh Chives
1 tsp Dried Dill
1 tbsp white wine vinegar
1 tsp (or more to taste) Red Pepper Hot Sauce
Salt & Pepper to taste
Directions:
Pre-heat grill to medium-high heat.
Microwave One Step...Done!™ Potatoes according to package instructions. Set aside.
Brush sliced onions and halved romaine lettuce with olive oil. Season well with salt and pepper. Season steak with steak seasoning (or salt & pepper) on both sides.
Add potatoes and onions to the grill and cook until golden. Turn potatoes while cooking until golden and slightly crispy on the outside, about 3 – 5 minutes. Once onions begin to soften, careful remove them from the grill. Set potatoes and onions aside.
Add steak and romaine lettuce cut side-down to the grill. Cook steak until medium-rare (or preferred temp), about 3 – 5 minutes on the first side and 2 – 3 minutes on the other side. Grill romaine lettuce until it begins to wilt, about 3 – 5 minutes.
Remove steak and lettuce from the grill, allow the steak to rest for 5 minutes. While the steak rests, roughly chop romaine and split between two plates. Slice steak into strips cutting against the grain and top salad with sliced steak. Add grilled onions and potatoes to salads and top with crumbled blue cheese.
In a small mixing bowl add all dressing ingredients and mix to combine. Top salads with ranch dressing and garnish with more chives and other optional toppings. Enjoy!

---