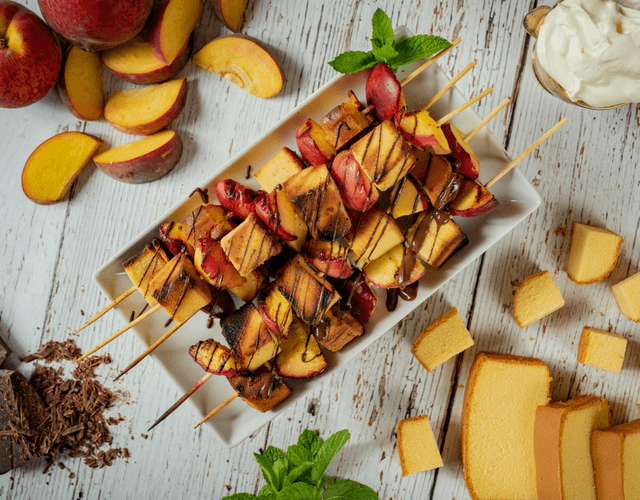 Two of our favorite summertime things – peaches and grills! Peaches just scream summertime, and what better way to celebrate summer than by spending time outdoors and firing up the grill?!
Grilling fruit does something special to the fruit – it delivers a caramel-y crunch and helps to brighten up the flavor, too. Typically, fruit desserts are loaded with refined sugars and other ingredients that might make us feel ... not so good. But, once again, we love the challenge of putting our healthy spin on a summertime favorite fruit – grilled peaches!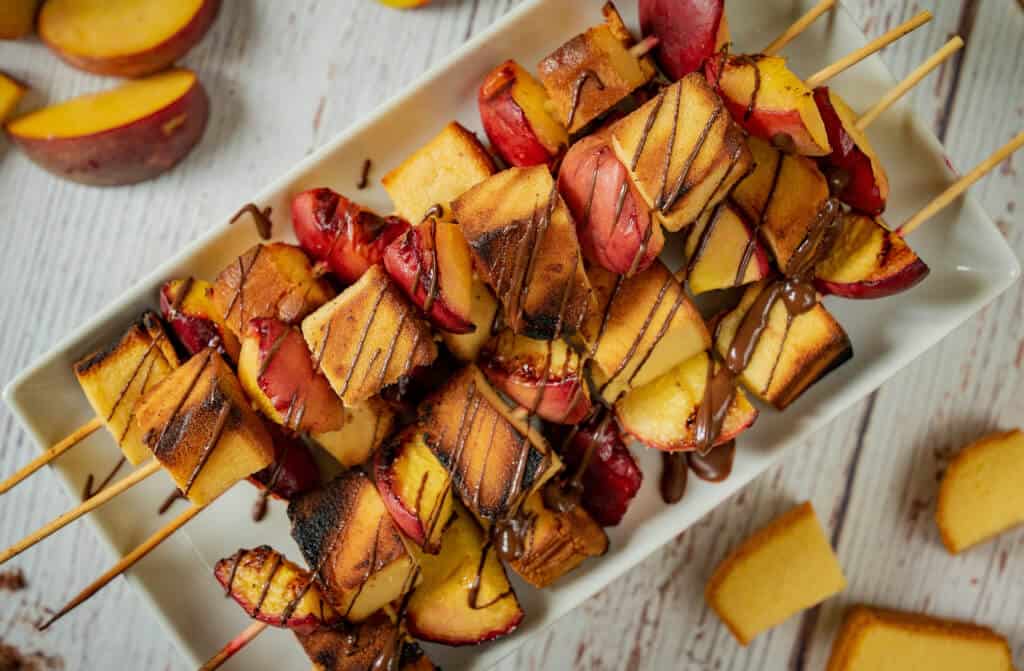 In this recipe, we reached for Brandt Farms Peaches that were grown in California, where about 50% of US peaches are grown. Brandt Farms has 77 years and three generations of experience in growing (marketing and packing, too!) California Peaches, Nectarines and Plums. Brandt boasts that the experience of tasting a fresh, ripe fruit is what drives them to grow their delicious peaches, and we assure you that they are on-point with that! Once you bite into one of their juicy peaches, you'll realize just how those years of experience and hard work pays off!
Fun Facts we think you'll love:
Peaches are often referred to as the "Fruit of Calmness" because eating peaches has been known to relieve stress and help to reduce anxiety. (More peaches, please!)
Plus, peaches are a good source of vitamins A and C and a great moisturizer and a natural cure for refreshing the skin!
Many people often want to know if you can eat the skin of a peach! Brandt Farms answers, "Of course! Despite its fuzzy texture, peach skin is perfectly edible, and many people eat peaches without peeling. Just be sure to rinse it under cool water first."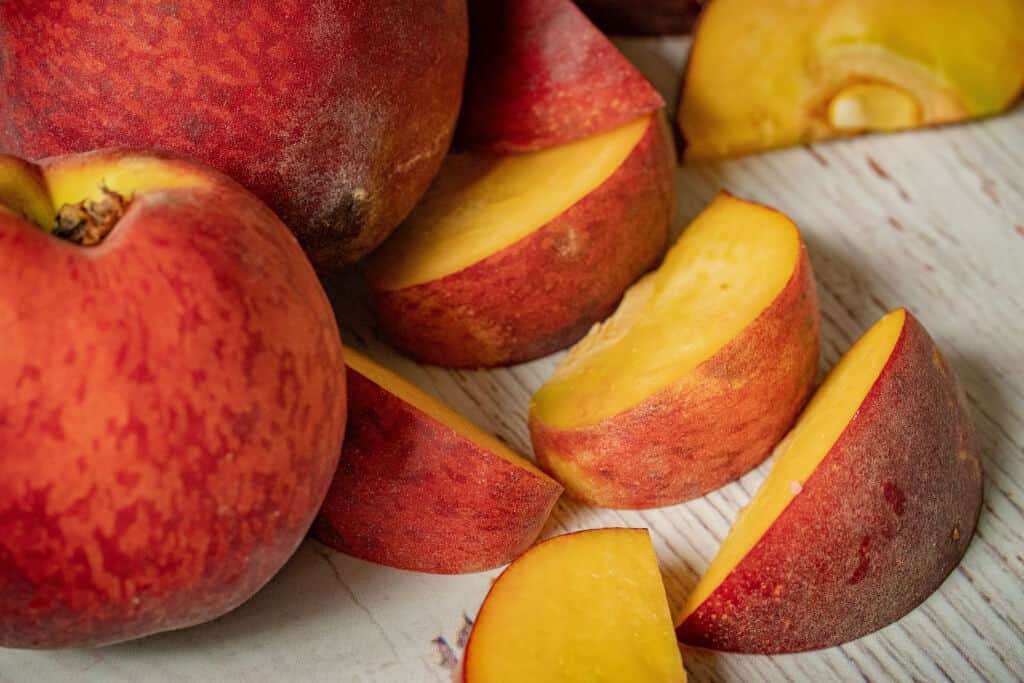 Now that we've got peaches on the brain, let's put some on the grill! This recipe really couldn't be easier, and you can serve this up with so many yummy ingredients! Pick your favorite from easy-to-add ingredients such as whipped cream, fresh mint, vanilla ice cream, or a drizzle of melted chocolate (like we did).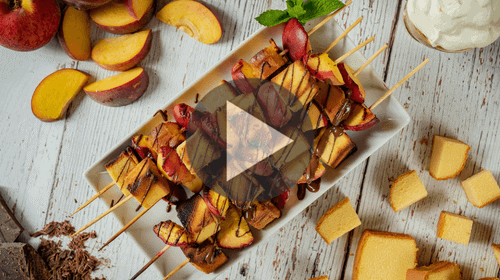 TIP: Be sure to cut / slice peaches and pound cake into similar sizes to ensure even cooking. And, if you can't find Brandt Farms' peaches in your area, feel free to swap out for their nectarines!
Ingredients:
Frozen Pound Cake

Fresh Brandt Farms Peaches

High-heat butter (like Ghee) or Olive Oil

Whipped Topping (if desired)
Directions:
If using wooden skewers, you will need to soak them in water for about 20 - 30 minutes. Allow pound cake to thaw, then slice pound cake into 1" cubes. Skewer peach slice, pound cake, peach slice, pound cake, etc until kabob is filled.

Brush each side of the kabobs with melted butter. Grill the kabobs over a warm, greased grill one each side until golden brown and grill marks appear.

Serve warm kabobs with whipped topping, if desired. Enjoy!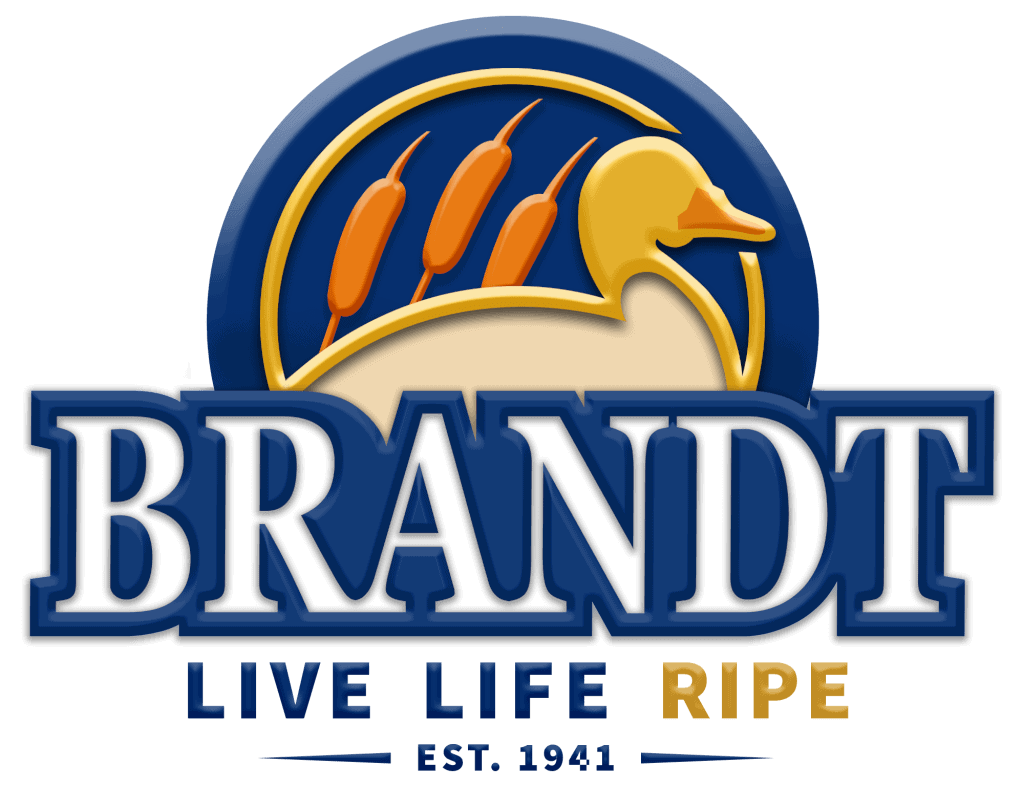 ---