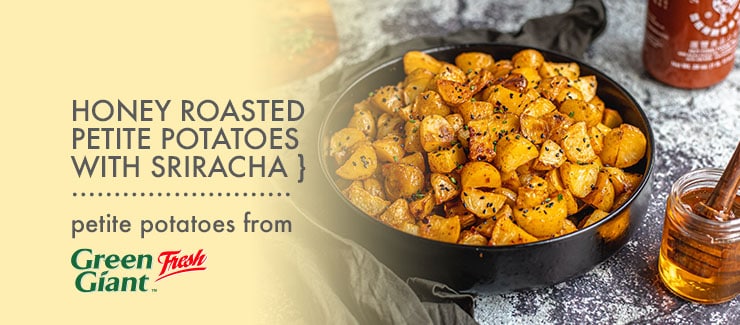 We're always saying that life is about balance – have your cake and eat it, but .... make sure you eat some fruits and veggies, too! This recipe speaks to that delicate balance and is the perfect equivalent of sweet and spicy which makes this recipe one of our new favorite ways to eat potatoes: Honey Roasted Petite Potatoes with Sriracha!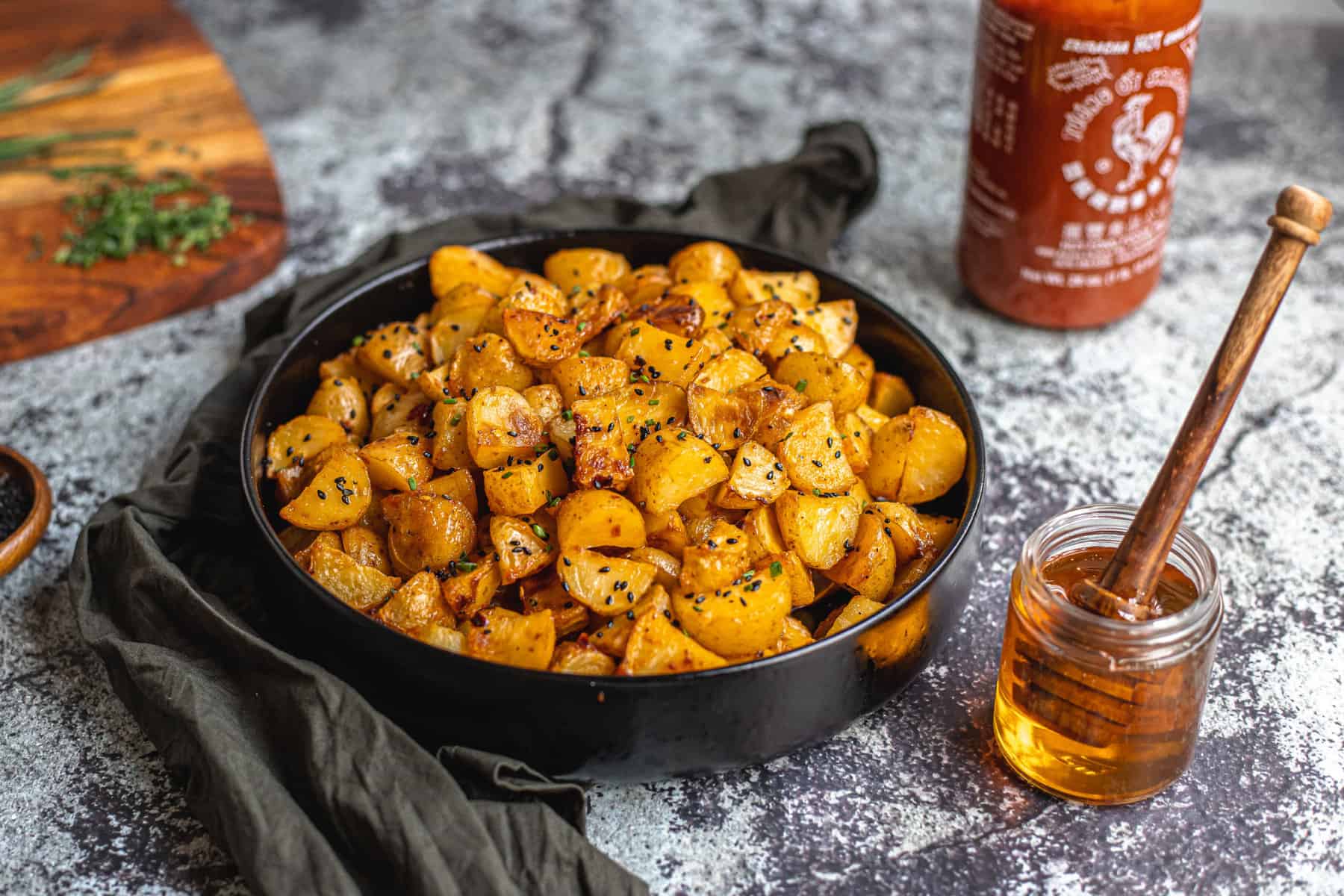 These petite potatoes are sticky, sweet, spicy, and everything we want in an easy side dish. Not only are they absolutely scrumptious, they are extra easy to make! An easy way to prepare potatoes for any kind of roasting or grilling is to first "parcook" (AKA partially cook) the potatoes. This gives the potatoes a head start so the inside is cooked and then the outside gets those delightfully crusty and crispy edges. YUM!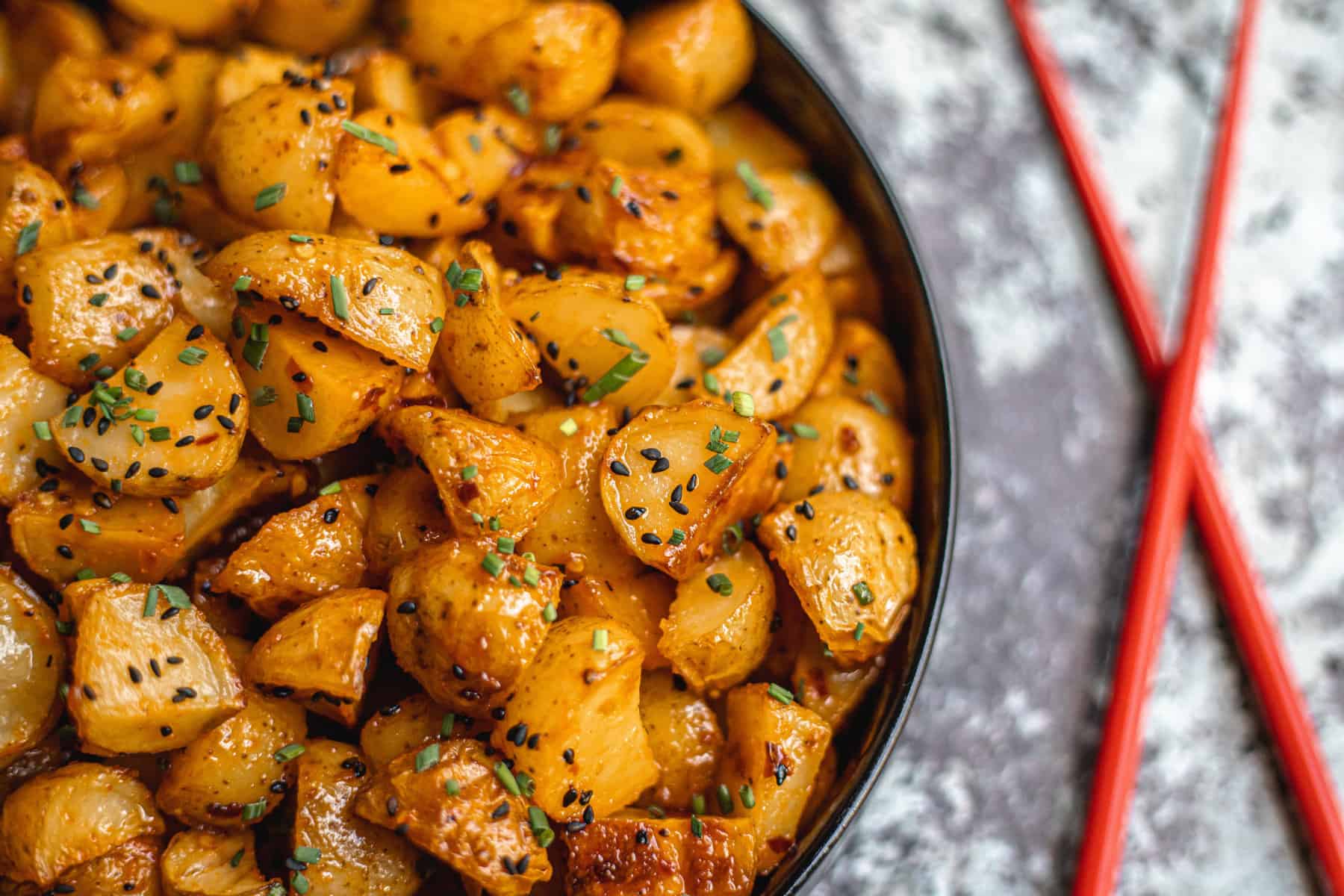 There are a couple of ways to par-cook petite potatoes for this recipe, but you first need to choose the right potato. For this recipe, we went with the Petite Potatoes from our pals at Green Giant™ Fresh. Why Petite Potatoes? Because these proprietary potatoes have it all – chosen for their flavor first, and their color, shape, and size second. Plus these petite potatoes have a super-thin skin so there's no need to break out the peeler! Did you know that 20% of a potatoes' nutrition is in the skin! Once cooked, the inside (AKA the flesh) of these potatoes transforms into a super creamy consistency, which makes them the perfect creamy and crispy potato for this recipe.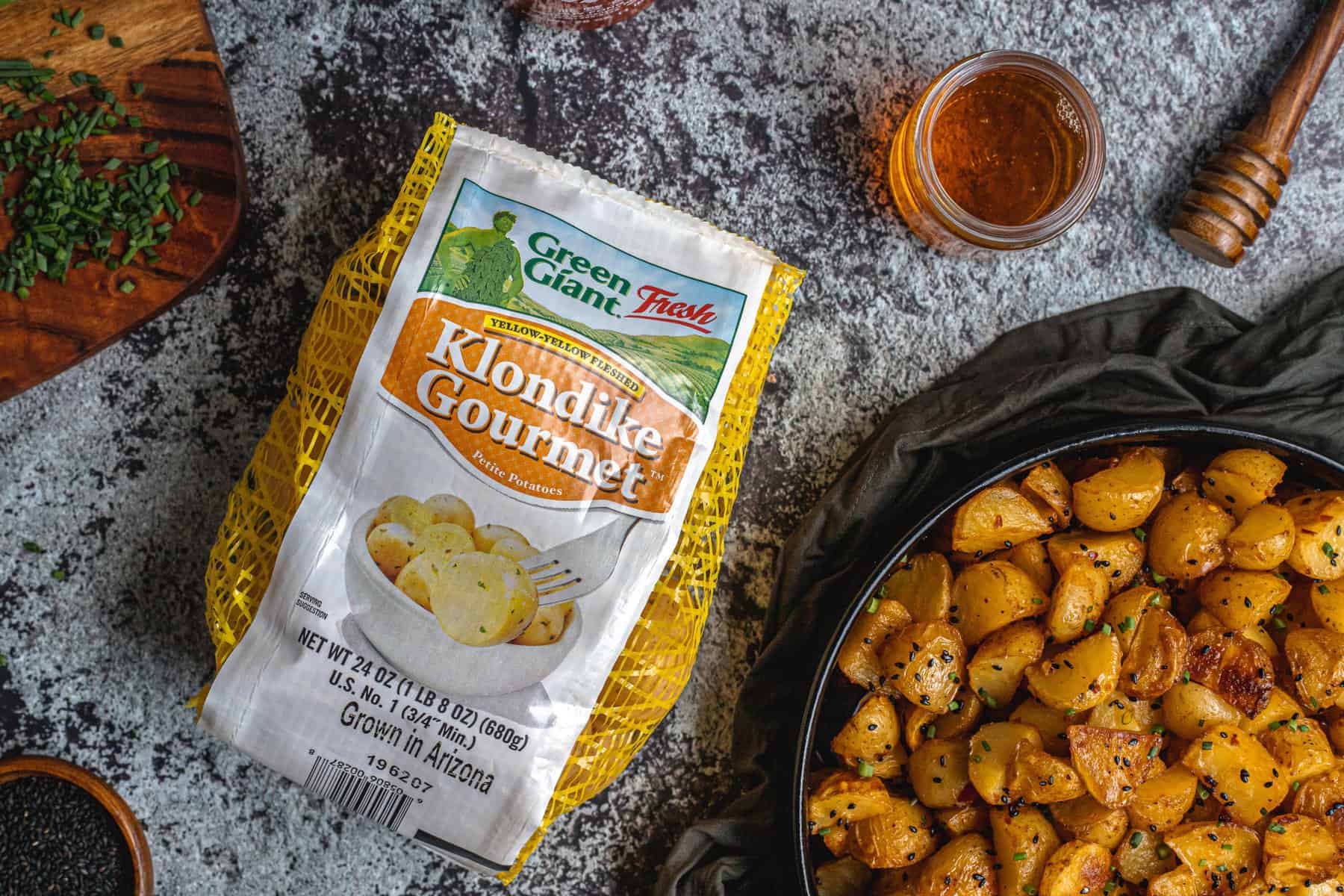 The first way to par-cook a potato is to steam it! Slice potatoes into cubes and then place a steamer basket at the bottom of a large pot. Add water to the pot until it just reaches the bottom of the steamer and then add potatoes. Steam over medium/high heat with a lid until the potatoes are *just* fork-tender. NOTE: You don't want the potatoes cooked too much or they will fall apart. The second way to par-cook potatoes is to use your microwave! Slice potatoes into cubes and then add them to a large microwave-safe bowl. Cook potatoes in 5 minutes increments and toss potatoes between cook times to ensure even cooking. For this recipe, the potatoes took about ten minutes in the microwave. Easy!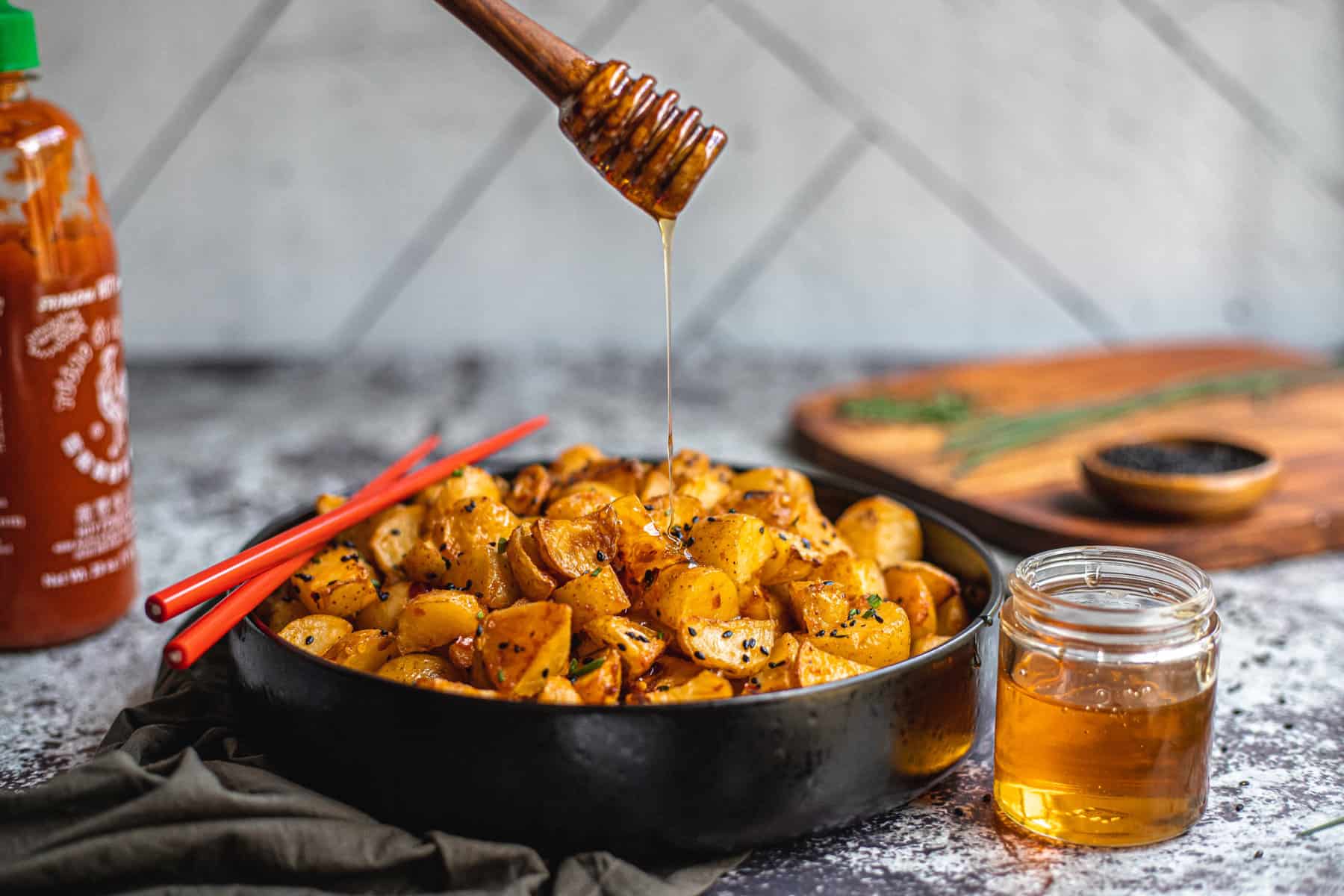 After your potatoes par-cook, it's time to put those 'taters in the oven and get saucy! We love this sauce on potatoes, but you could also drizzle it on top of other veggies or even fish or chicken (Honey Sriracha chicken wings, anyone?). ;)
In this sauce, it's important to "bloom" your dried spices – the key to getting the most flavor out of dried spices! So don't skip this step in any recipe, and start by melting your butter (or fat like oil, ghee, coconut oil) over a medium-low heat. Then add your dried, ground, or whole spices and cook until the spices begin to "sputter" and smell fragrant. This happens quickly so don't cook over a high heat because your fat and spices will burn! Alternatively, you can melt the butter until it begins to bubble, remove from the heat and then add your spices. From there it's just a quick whisk to bring it all together into a homogeneous mixture.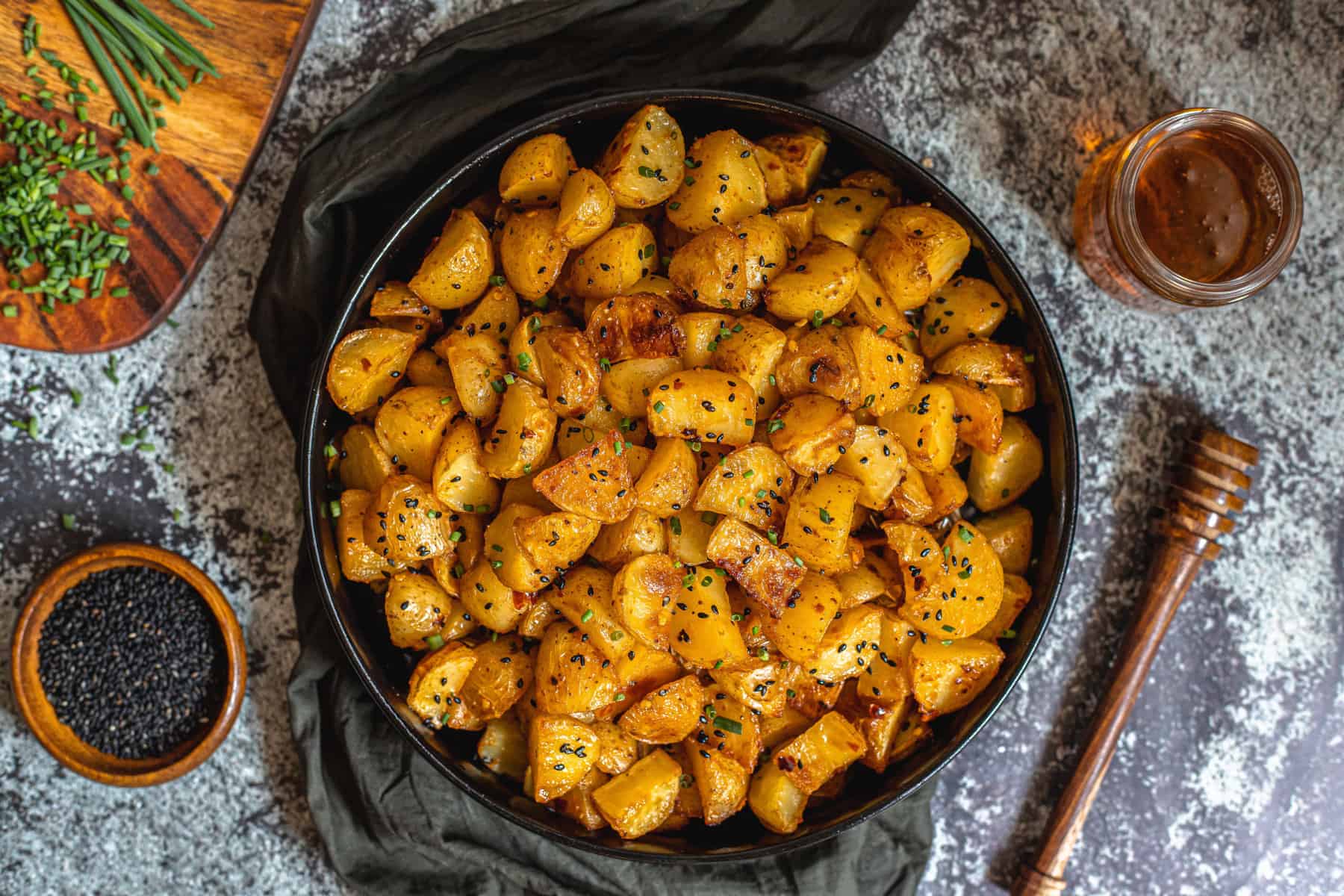 Once your sauce is complete and your potatoes have baked, remove potatoes from the oven and pour your delicious sauce all over potatoes. TIP: We suggest spooning the sauce over the potatoes rather than pouring straight from the pot to avoid over-saucing. You can keep any extra sauce in your fridge for a few days to re-melt on the stove and use again. Toss sauced potatoes with a spoon or spatula to make sure every inch of every potato is totally covered and return to the oven for their final bake. This is what creates that sticky-sweet magic! We hope you give this recipe a try and so hope that you enjoy it! If you make it, don't forget to post a photo and tag us on our social channels on Facebook, Twitter, or Instagram. Happy cooking!

Ingredients:
2 – 1.8 lb. Packages Green Giant™ Fresh Petite Yellow Potatoes

1 tbsp. Heat-heat oil like avocado oil, coconut oil, ghee, or butter

Salt & Pepper to taste

Optional Garnish: red pepper flakes, fresh chives
Hot Honey Sauce Ingredients::
1/2 cup Butter

1 tbsp Red Pepper Flakes

1/2 tsp. Garlic powder

1/4 cup Hot Sauce (sriracha)

2 tbsp. Honey
Directions:
Preheat oven to 400F.

Cut Green Giant™ Fresh Petite Potatoes into 1-inch chunks.

Place cut potatoes in a microwave-safe bowl and microwave for 8-10 minutes, tossing every couple minutes for even cooking. Potatoes should be easily pierced with a fork without falling apart.

Carefully remove potatoes from microwave (they will be hot!) and add to a parchment paper lined baking sheet. Drizzle with high-heat oil, season with salt and pepper to taste and toss to coat.

Bake potatoes for 20 minutes.

While potatoes bake, melt butter in a small saucepan over medium heat. Once butter is melted, add red pepper flakes, garlic powder, and whisk to combine.

Remove from heat and whisk in honey and hot sauce. Adjust to your taste – adding honey for sweetness or hot sauce for spice.

Remove potatoes from oven and pour hot honey sauce over potatoes and toss to coat. Return to the oven for five minutes.

If desired, garnish with black sesame seeds and chopped chives. Enjoy!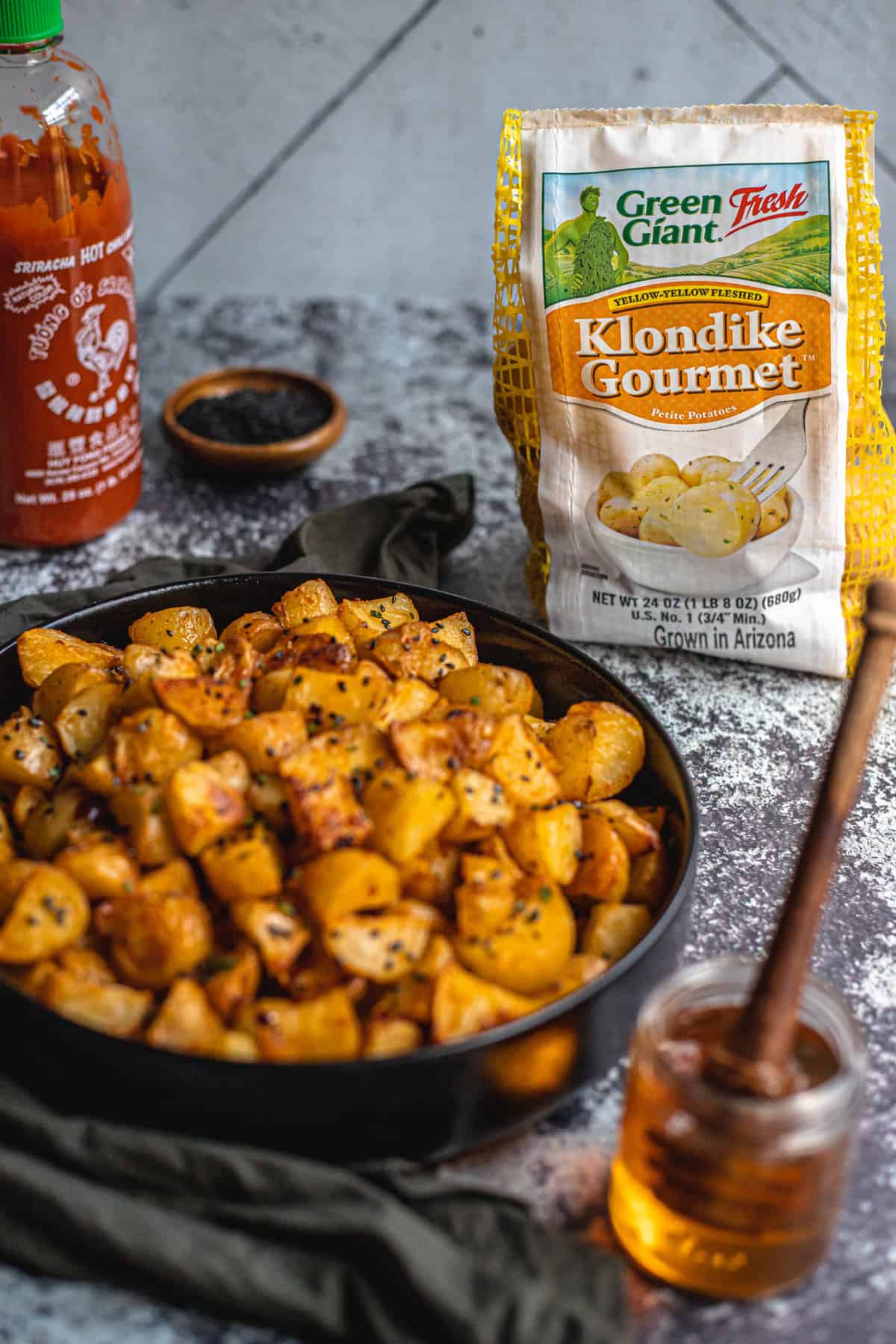 Servings 8.0 | calories 282 | Total Fat 13g | Saturated Fat 7g | Monounsaturated Fat 5g | Cholesterol 31 mg | Sodium 7 mg 0% | Potassium 840 mg | Total Carbohydrate 32g | Dietary Fiber 3g | Protein 4g | Vitamin A 97% | Vitamin C 60 % | Calcium 7% | Iron 8%

---