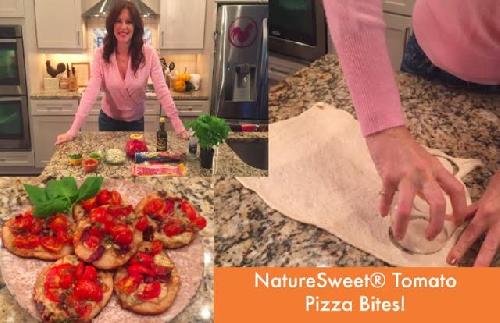 It's a touchdown with NatureSweet® tomatoes! Don't sit on the side lines – make these dishes the star of your game day food spread!
Ingredients:
1 (10.5oz.) container NatureSweet® Glorys™ Tomatoes, quartered
3 tbs. extra virgin olive oil
2 cloves garlic, minced
5-6 slices of bacon,
1/4 cup fresh basil, chopped
Salt and pepper to taste
1 can refrigerated thin crust pizza dough*
1 cup blue cheese crumbles
*Gluten Free version, use GF Pizza Dough
Instructions:
Preheat oven to 400 degrees.
Cut Glorys tomatoes into quarters. Add minced garlic, olive oil, and chopped basil. Fold gently, set aside.
Fry up 5-6 slices of bacon until fully cooked and crispy.
Spray pizza pan or cookie sheet with olive oil.
Unroll pizza dough on work surface and with round cutter, cut dough into 15-20 rounds (depending on size of cutter).
Place rounds on greased pizza pan or cookie sheet.
Sprinkle blue cheese & then bacon onto rounds. Spoon 1 tsp. tomato mixture over cheese and bacon.
Bake 10-12 minutes until cheese is melted and bubbly.
Ingredients for Spicy Yogurt:
1/2 cup plain Greek yogurt
1 tbsp. mayonnaise
1 tbsp. chopped fresh chives
1/8 tsp. coarse sea salt
1/8 tsp. black coarse pepper
Your favorite hot sauce, to taste
Combine all ingredients in a small bowl. Cover and refrigerate until ready to use.
Ingredients for Fried Glorys® Tomatoes:
1/2 cup all-purpose flour
1/2 cup Italian style bread crumbs
1 egg
2 tbs. water
1 (10.5 oz.) package NatureSweet® Glorys® Tomatoes
4 cups canola oil
Instructions:
In a small bowl, mix all-purpose flour and bread crumbs.
In another small bowl, beat egg and water with whisk.
Working in batches, roll Glorys tomatoes in the egg wash, transfer to the flour/bread crumb mixture and roll to coat. Repeat to double coat each tomato and placing the finished tomatoes in a single layer ungreased sheet pan.
Heat canola oil to 350 degrees in a deep sauce pan.
Fry the tomatoes a few at a time, lowering into the hot oil gently. Fry about 60 seconds until golden brown.
Serve warm with spicy yogurt.
Ingredients:
1 container NatureSweet® Glorys® tomatoes, halved
1 bag frozen corn, cooked and cooled
1/2 cup sweet orange bell pepper, diced
1/4 cup thin sliced red onion
1/2 cup tiny cubes or crumbles of feta cheese
1/2 cup grated cheddar cheese
1/2 cup other sharp melting cheese such as Gouda or aged jack cheese
5 tbsp. unsalted butter
1 pkg. cornbread mix (follow pkg. instructions)
Instructions:
Position rack in center of the oven and preheat to 375 degrees.
Prepare vegetables and cheeses; have them ready.
Place the butter in a 10" oven proof skillet and set in the oven to melt, about 5 minutes.
In a large bowl prepare the cornbread mix according to packge.
Remove the pan from the oven, swirl to coat the sides with butter, then pour butter in the cornbread batter along with the corn and grated cheeses; stirring quickly and gently to combine.
Scrape batter into the butter coated skillet, top with tomatoes, peppers, grated cheeses, feta and onions.
Bake the cornbread until golden on top and a toothpick inserted comes out clean, about 35-45 minutes
*The cook time may vary depending on oven and moisture in vegetables.
---