This dish is just screaming summertime entertaining! Mexican Grilled Street Corn, also known as Elote, is a fun and delicious way to spice up corn on the cob. The thing with Elote is that keeping the corn on the cob makes it difficult to add additional toppings that really help to liven up the dish even more.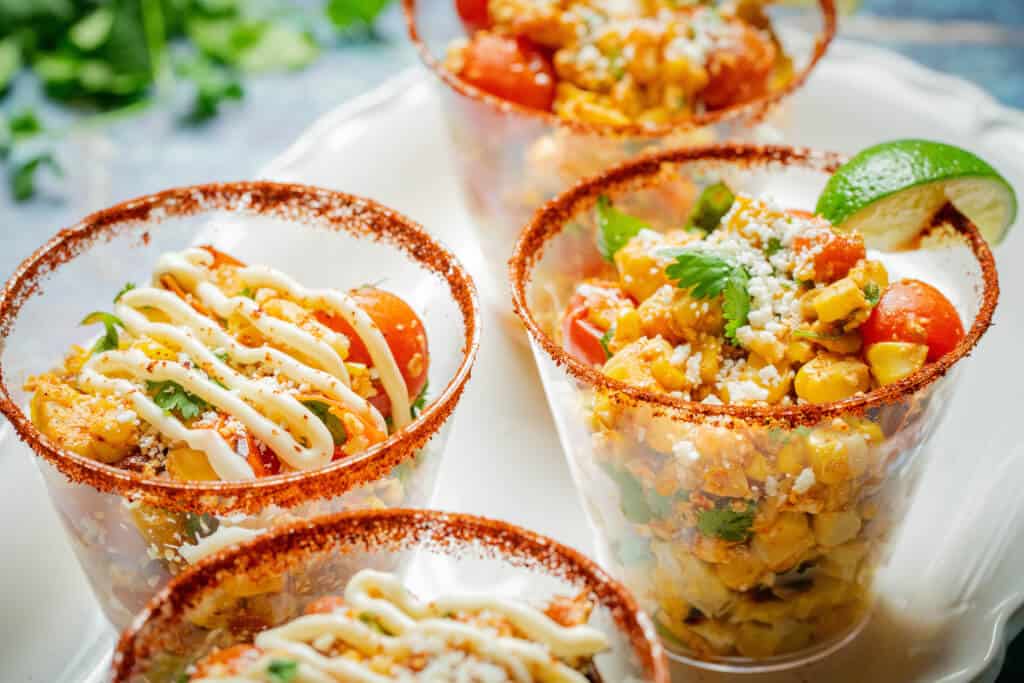 In this recipe, however, we've cut the corn from the cob and added some grilled, flavorful tomatoes for extra flavor and extra veggies! Our go-to tomatoes for this dish are from NatureSweet® – they're two of our favorites, the Glorys® and Eclipse™ tomatoes. NatureSweet tomatoes are always non-gmo and greenhouse grown, so you know you're purchasing a consistent product while feeding your family a healthy veggie. Glorys are are the perfect grilling tomato because it has a slightly thicker skin which helps it to stand up to the high heat of the grill. Eclipse tomatoes are named for their dark skin – their deeper color means a richer flavor.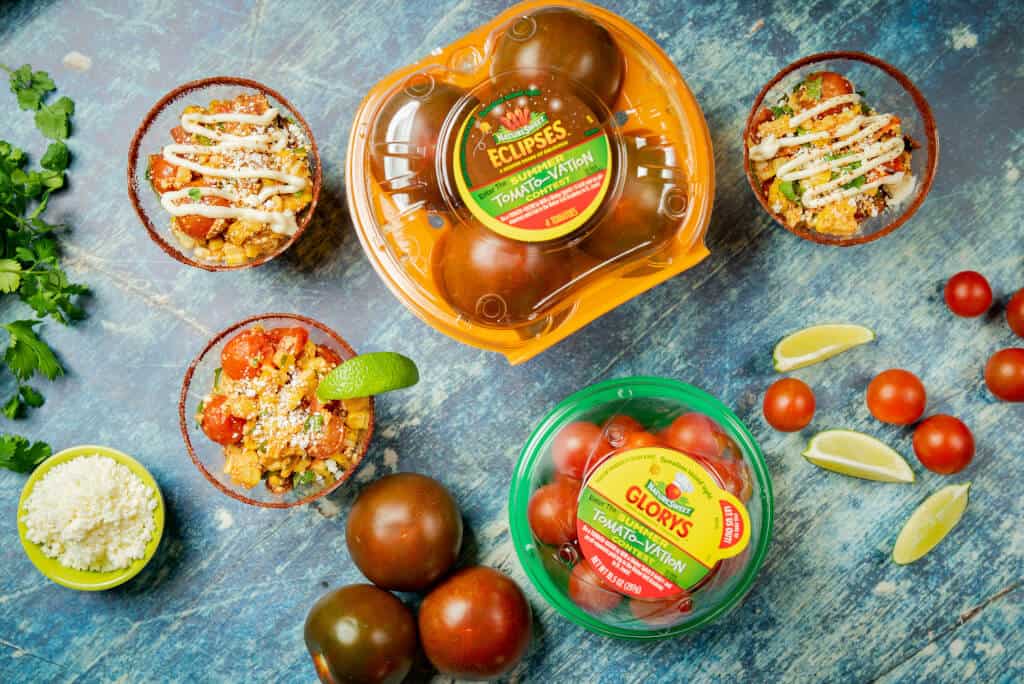 TIP: Using a spoon, remove some of the water from the Eclipse™ tomatoes to keep from becoming too water-y in the corn cups. For a fun presentation, rim your cups with a lime slice and dip into cayenne pepper.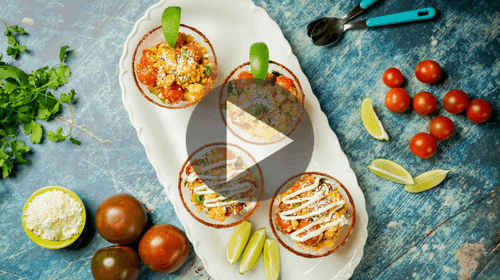 Recipe provided by NatureSweet®
Ingredients:
1 10.5-oz. container NatureSweet® Glorys® tomatoes
2 NatureSweet® Eclipse™ tomatoes

2 cobs of corn

1/2 cup cotija cheese, queso fresco or feta cheese, crumbled

1/4 cup cilantro, chopped

1 tsp. chili powder

1/4 cup mayonnaise, in a squirt bottle

1 lime, cut into wedges
Instructions:
Preheat grill.

Place the Glorys® tomatoes on skewers. Slice Eclipse tomatoes in half and brush lightly with olive oil.

Grill the corn on the cob, skewered Glorys tomatoes, and sliced Eclipse™ tomatoes for about 3 minutes. Flip the tomatoes, and grill for another 2 minutes. Remove the tomatoes from the grill, but let the corn continue to grill for another 5-7 minutes, flipping once.

Remove the grilled tomatoes from the skewers, and place in a mixing bowl. Slice Eclipse tomatoes into cubes. Allow the corn to cool, and cut off the corn from the cob into the mixing bowl. Add the cheese, cilantro and chili powder, and combine well.

Serve the corn salad over your favorite greens or in hot dog buns for a fun vegetarian twist on a Mexican corn dog. Drizzle with some of the mayonnaise.

Garnish with a lime slice.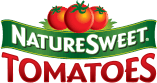 Servings 4.0 | Amount Per Serving | Calories 226 | % Daily Value * | Total Fat 14 g | Saturated Fat 3 g | Monounsaturated Fat 3 g | Polyunsaturated Fat 6 g | Trans Fat 0 g | Cholesterol 16 mg | Sodium 209 mg | Potassium 135 mg | Total Carbohydrate 18 g | Dietary Fiber 3 g | Sugars 5 g | Protein 6 g | Vitamin A 13 % | Vitamin C 38 % | Calcium 9 % | Iron 4%
---