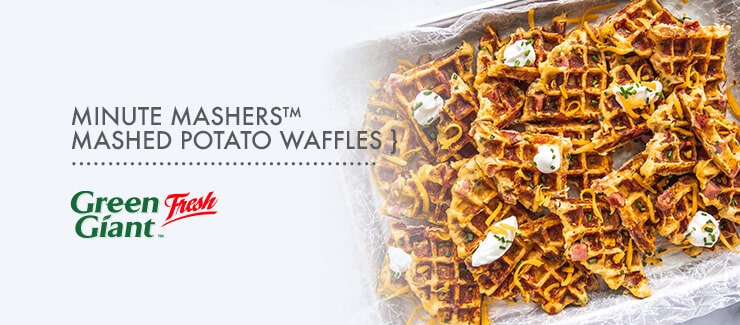 You know what they say, "Breakfast is the most important meal of the day!" And we're here to remind you that a cup of coffee and a banana is not, in fact, breakfast. Make sure you give your body the sustenance it needs each day to get you up and energized and out the door with these Minute Mashersâ"¢ Mashed Potato Waffles.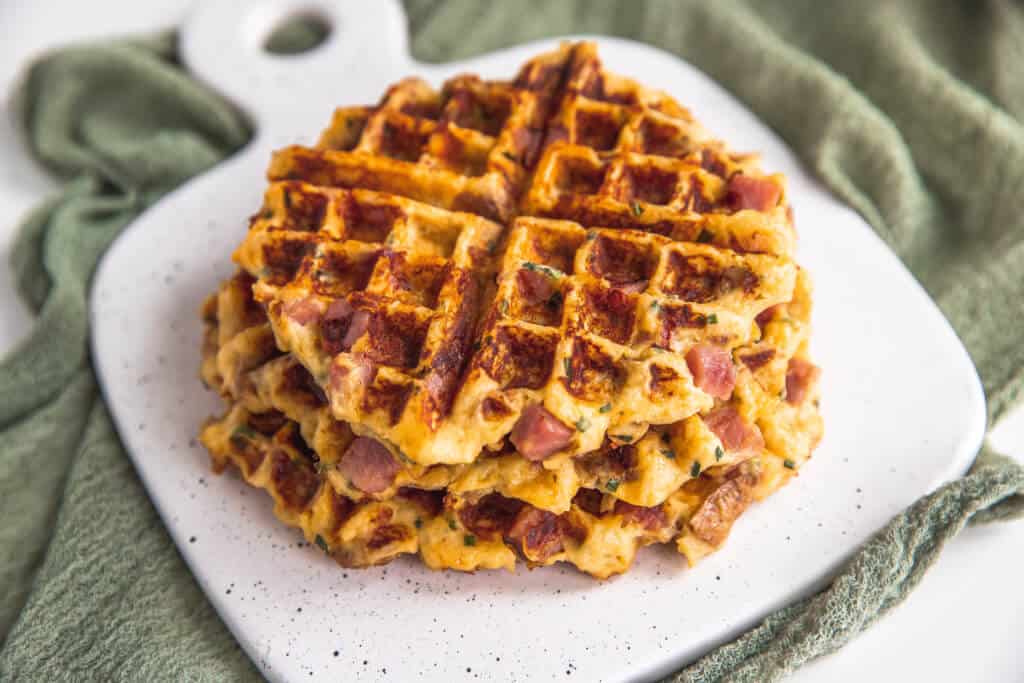 We love this super easy recipe because it's fast and has all of the healthy and hearty ingredients you need for delicious waffles. But, forget the syrup with this waffle recipe because we're going savory this time with these Mashed Potato Waffles with ham, cheddar cheese, and chives. YUM!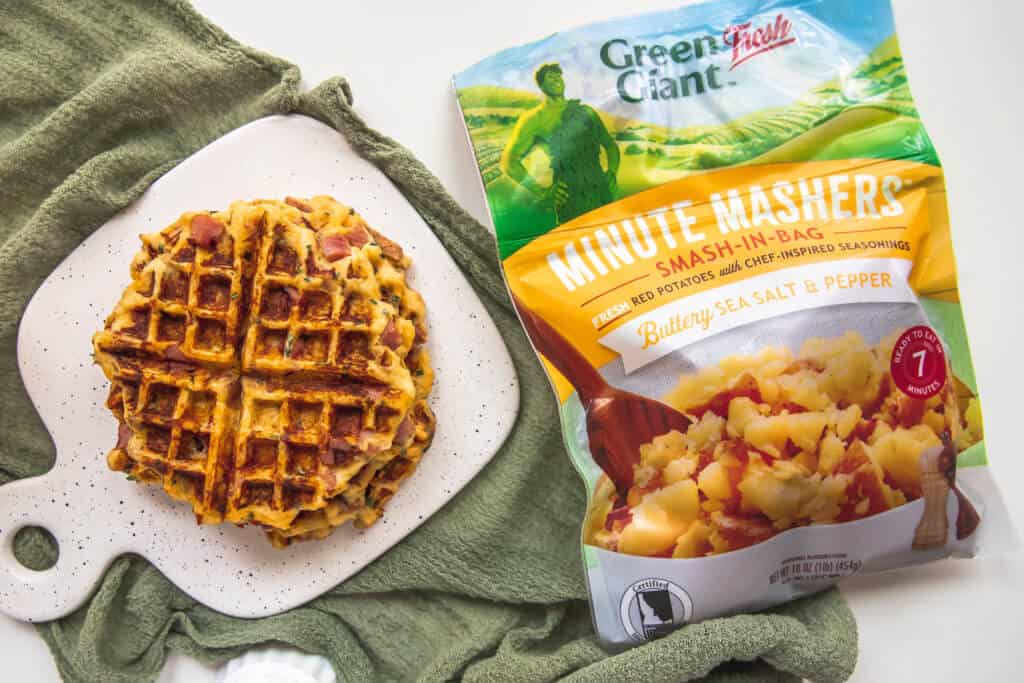 If you've been with us for a while, you know that we're big fans of potatoes from Green Giant™ Fresh and these new Minute Mashers™ make mashed potatoes in literally seven minutes flat. No need to boil water, gather ingredients, or peel potatoes – just put the whole package in the microwave and cook for seven minutes. That's it! Then, using oven mitts, smash and mash to your desired potato texture. It's really that simple guys. No need to cut open the bag, remove any portion of the package, or add anything to the microwave – you just pop the bag in the microwave to cook, mash, and serve!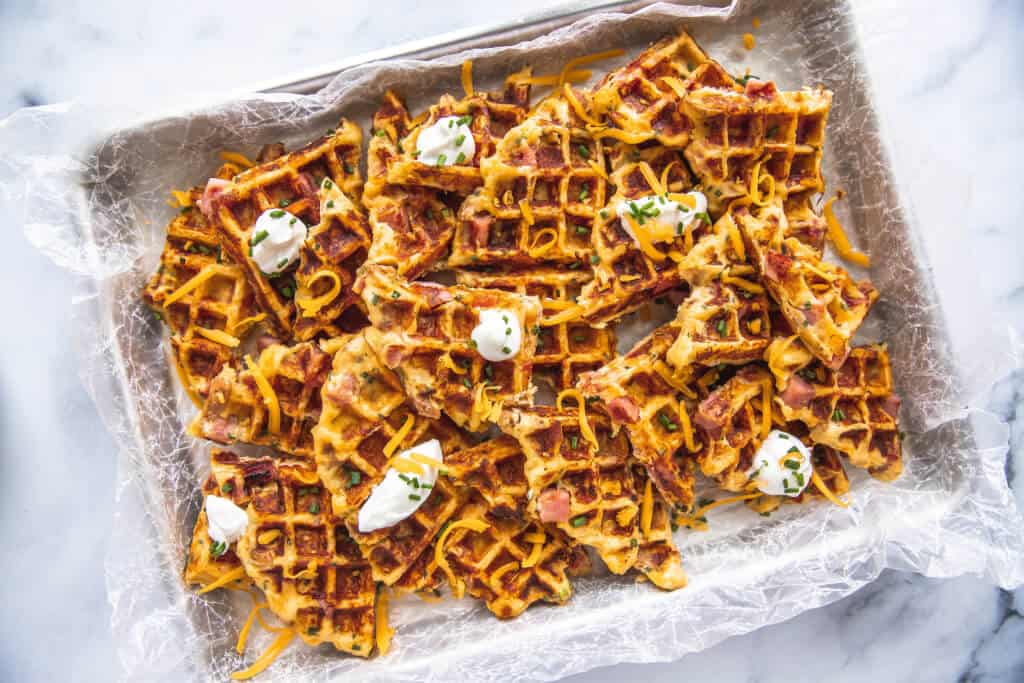 Now, we all love a little sweetness every now and then, but when you start the day with a savory breakfast studies show that your blood sugar is more stable throughout the day. That's why we're avoiding syrupy sweet waffles and other confections first thing in the morning and going for potatoes instead. These mashed potato waffles have the protein, fiber, and fat that you need to stay satisfied and to fuel your body for busy days ahead. And Minute Mashersâ"¢ make it easy to create this recipe in just minutes!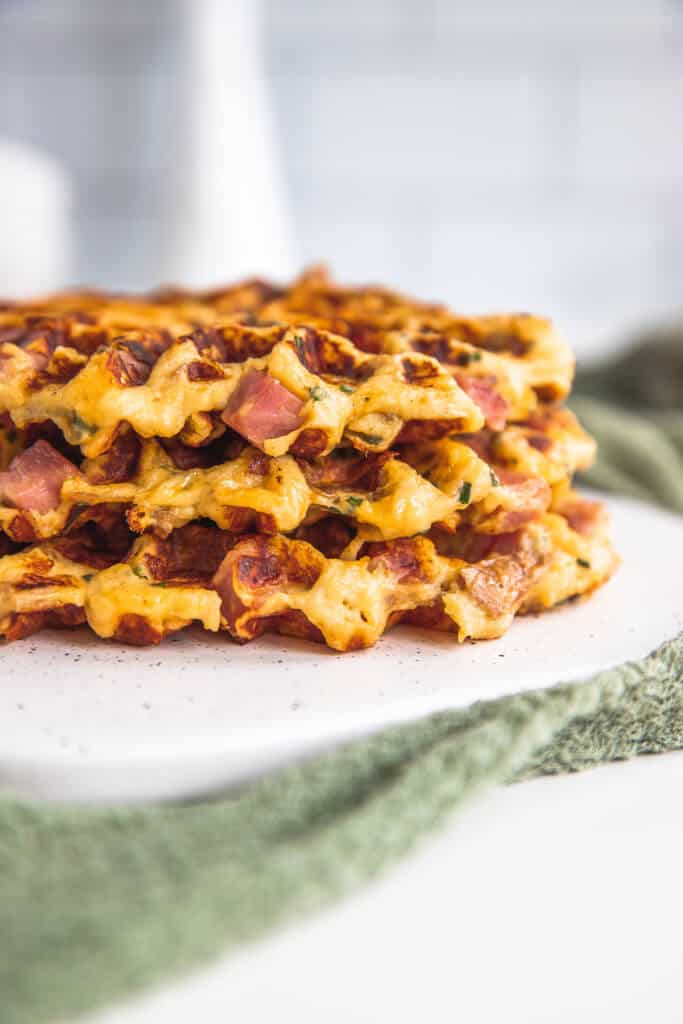 Here's a tips and ways to customize these waffles:
Protein: if you're not a fan of ham, then feel free to swap with another breakfast protein or leftovers that you have on-hand. Try this recipe with bacon or sausage to mix it up! We think this would also be great with pepperoni and mozzarella. Speaking of cheese...
Cheese: Try it with any other shredded cheese that you have on-hand or that you like!
Cook-Time: Just like ovens, all waffle irons cook at different temperatures. So you may need to test this recipe on your own waffle iron before perfecting it. We suggest starting at the lowest setting which will allow the waffle to cook internally while keeping a light golden brown crust.
Mashed Potatoes: You can also use leftover mashed potatoes with this recipe if you don't have Minute Mashers™ – but they do make this recipe so simple!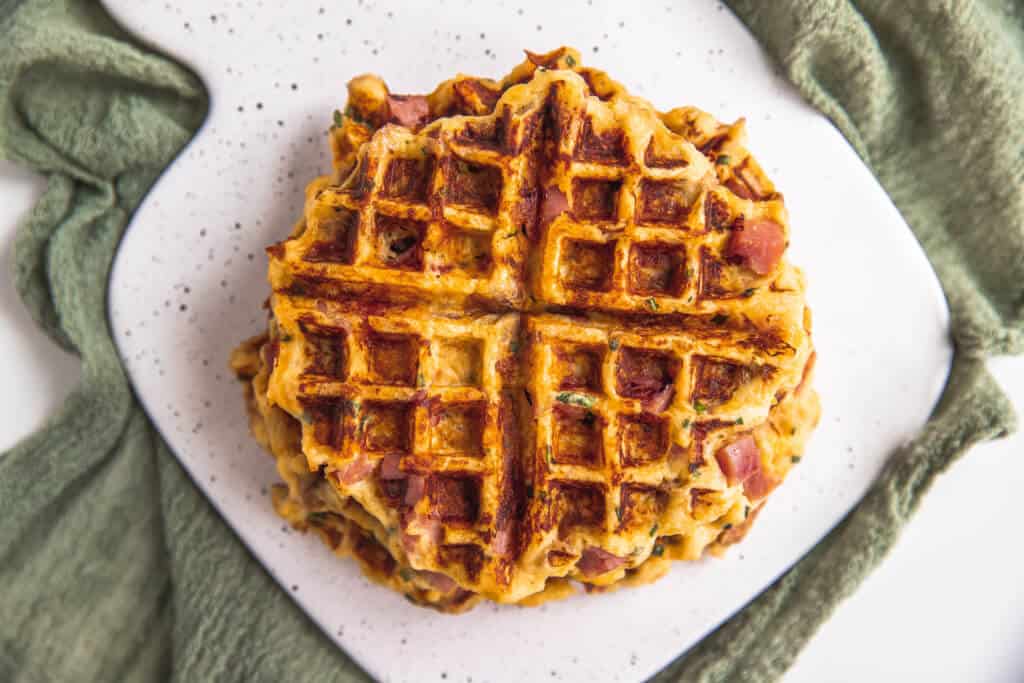 If you give this recipe a try, then please let us know and tag us and our friends at Green Giantâ"¢ Fresh Potatoes on social media!

Ingredients:
1 Package Minute Mashersâ"¢ Mashed Potatoes or 1 1/2 cups leftover mashed potatoes
1 cup diced ham
2 eggs, beaten
1/4 cup chopped chives
1 cup shredded cheddar cheese
1/4 cup all purpose flour
1/2 tsp baking powder
Directions:
Prepare Minute Mashersâ"¢ according to package instructions.
In a bowl combine mashed potatoes (slightly cooled), beaten eggs, cheddar cheese, chives, and ham. Mix to combine.
In a separate bowl whisk together flour and baking powder. Add flour mixture to mashed potato mixture by folding together. Mix well.
Set a waffle iron to the lowest setting and spray with cooking spray.
Add 1/4-1/2 cup scoop of mashed potato mixture to waffle iron and cook for 3-5 minutes. Be sure to close waffle iron all the way. Waffles should be golden brown in color.
Top with extra cheese, chives, sour cream, hot sauce, bacon, and more of your favorite toppings. Enjoy!

Servings 4.0 | calories 364 | Total Fat 19g Saturated Fat 10g |Monounsaturated Fat 3g | Polyunsaturated Fat 1g | Cholesterol 161 mg | Sodium 947 mg | Potassium 526 mg | Total Carbohydrate 26g | Dietary Fiber 2g | Protein 23g | Vitamin A 0% | Vitamin C 1% | Calcium 26 % | Iron 12%

---