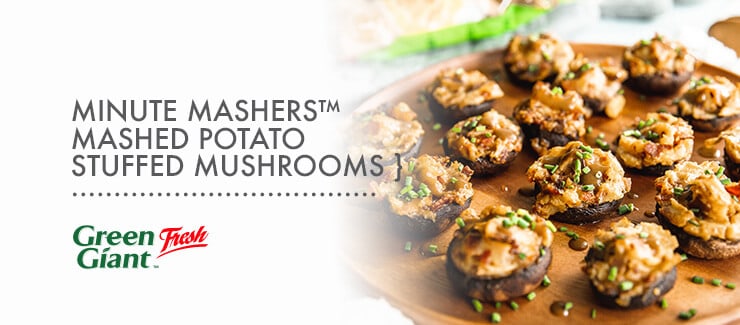 These might just be the one of the easiest appetizers we currently have to share at Farm Star Living! Creamy mashed potatoes and bacon are stuffed into portobello mushroom caps then drizzled with mouth-watering brown gravy and topped with chives. Are you hungry yet? And, you only need four ingredients to make this mushroom and mashed potato magic happen thanks to Minute Mashers™ with Gravy from Green Giant™ Fresh!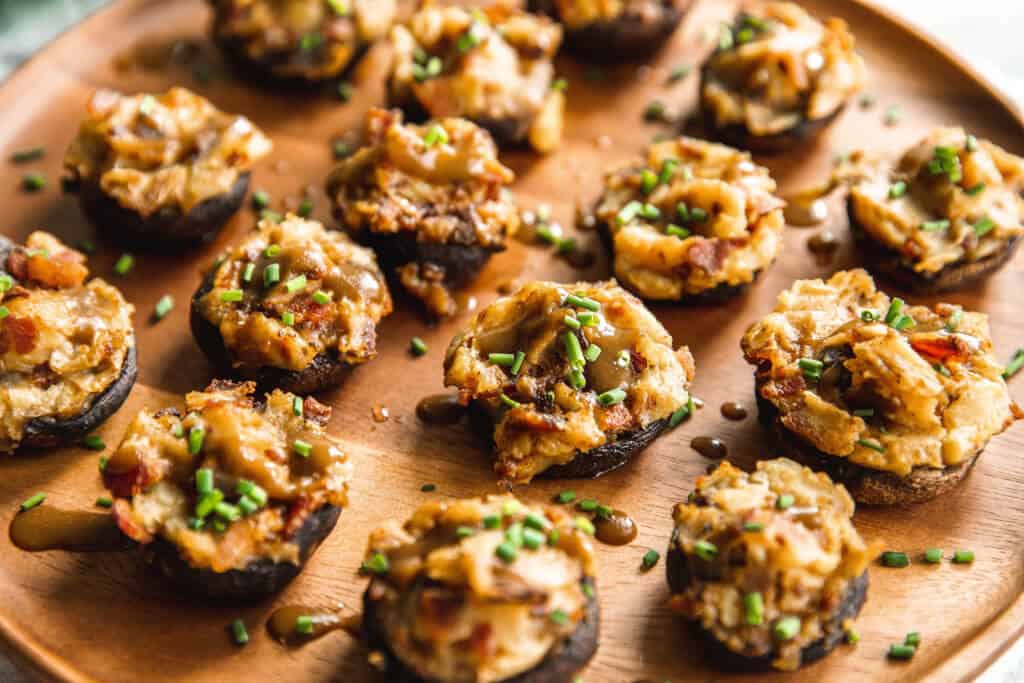 These make the perfect appetizer for any dinner, game day, or family gathering and they're a cinch to put together. The not-so-secret ingredient are these NEW Minute Mashers™ with Gravy – once again (just like the original Minute Mashers™) everything you need is right there in the bag. Following the directions on the package, just place the whole Minute Mashers™ bag in the microwave for seven minutes to cook. You don't need to remove any portion of the bag, vent the package, or add any ingredients. Once the seven minutes are complete, you just remove the Minute Mashers™ package from the microwave with oven mitts (the package will be hot) and then you smash and mash fresh potatoes to your desired consistency.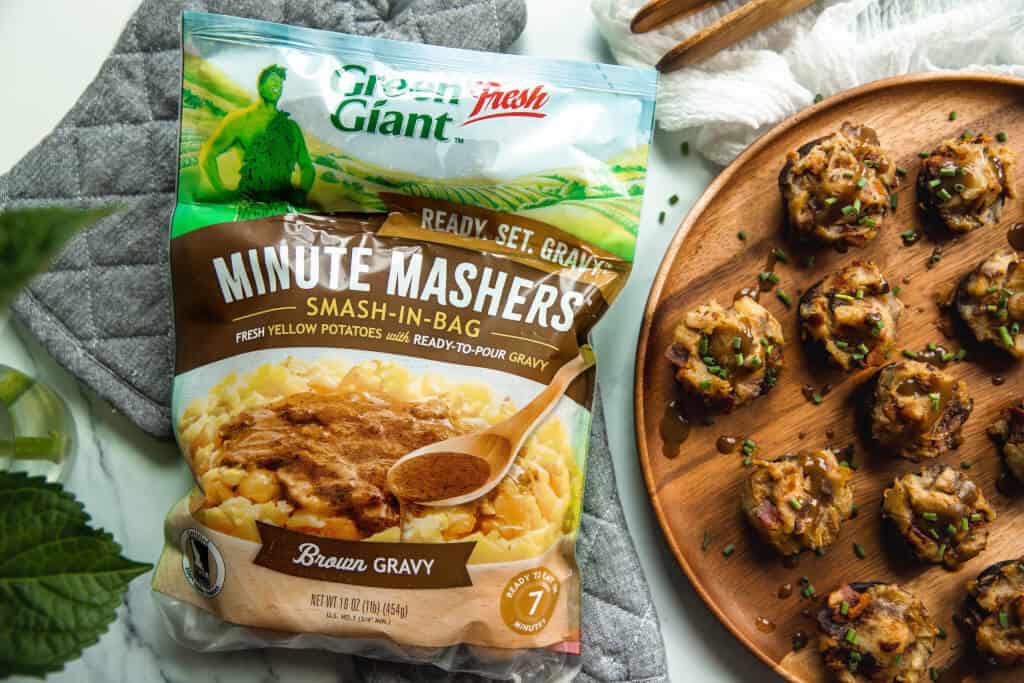 If you like chunky mashed potatoes, mash a little less. And if you like creamy mashed potatoes, mash a little longer. Tear the bottom portion of the bag open and add mashed potatoes to your plate. Then carefully cut a small slit into the top corner of the package to easily pour hot gravy right over your fresh mashed potatoes. No pots and pans, no peeling necessary, just microwave and you're done!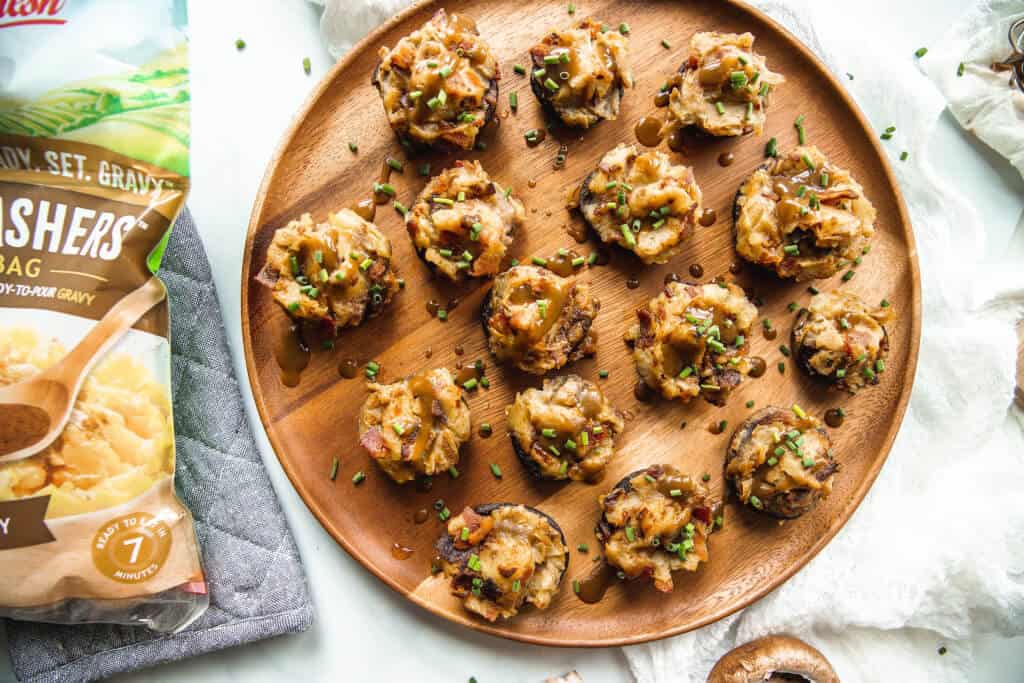 Here's a few tips, tricks, and substitutions for this recipe:
Mushrooms: We think baby portobello make the best appetizer for this recipe but you could try it with other mushrooms as well. Try large portobello mushroom caps for a larger entree-sized version or use white button mushrooms if that's what you have on hand. Cremini mushrooms would also work here.
Bacon: For an easy, splatter-free way to cook bacon try baking it in the oven! Set oven to 400 and lined a baking sheet with parchment paper. Add bacon in a single layer and bake for 18-20 minutes (cook time depends on bacon thickness). For this recipe, we suggest crispy bacon over chewy bacon.
Minute Mashers: Make sure to mash Minute Mashers™ mashed potatoes into a creamy consistency so it's easier to really stuff those mushrooms with the mashed potato and bacon mixture.
Herbs: Garnish with any fresh herbs that you love! Parsley, chives, thyme, or rosemary would all work in this recipe.
Amount: The amount of people this recipe will feed varies since the size of the mushrooms varies also. We were able to make 18 mushroom caps that were stuffed to the brim with the mashed potato mixture (see photos).
If you're looking for more ways to serve healthy and delicious recipes to your family, we suggest giving Minute Mashers™ with Gravy a try! If you try this recipe, let us know and tag us on your recipe photos on social media. Happy mashing!

Ingredients:
1 package Minute Mashers™ Mashed Potatoes with Brown Gravy (about 1.5 cups mashed potatoes)
1 cup cooked and crumbled bacon, thick cut
Salt and pepper to taste
16 oz package baby portobello mushrooms, stalks removed
2 tbsp chopped fresh chives
Directions:
Preheat oven to 350 F. Line a large baking sheet with parchment paper and add mushrooms caps (stalks removed) to the baking sheet and set aside until ready to use.
Cook Minute Mashers Mashed Potatoes with Gravy according to package instructions then mash into a creamy consistency.
Add cooked and mashed Minute Mashers mashed potatoes to a bowl. Add cooked and crumbled bacon and mix to combine. Add salt and pepper to taste.
Using a spoon or rubber spatula, scoop the mashed potato and bacon mixture into the mushroom caps. Note that each mushroom cavity will hold a different amount of the mashed potato mixture since mushroom sizes vary. TIP: try to leave some grooves in the mashed potatoes rather than creating a smooth dome shape. These crevices will help the gravy to "stick" on top of the stuffed mushrooms rather than rolling off. Add stuffed portobello mushroom caps to the baking sheet.
Carefully cut a small slit in the top of the Minute Mashers package to release the gravy and pour over the stuffed mashed potatoes.
Bake for 18-20 minutes. Garnish with chives and serve hot. Enjoy!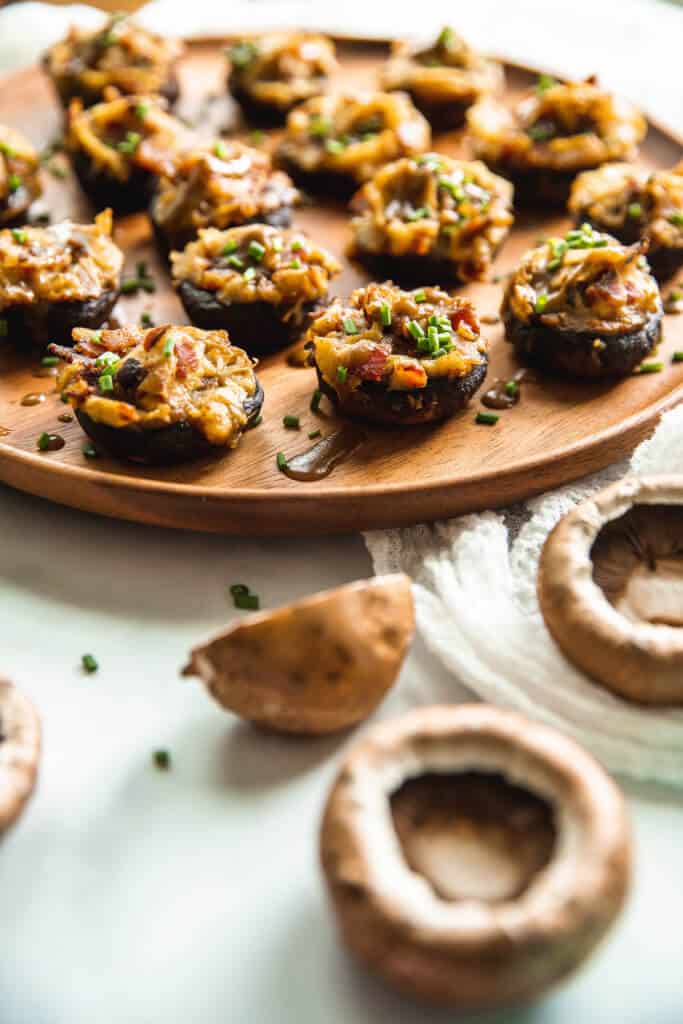 Servings 8.0 | Calories 150 | Total Fat 9g | Saturated Fat 3g | Monounsaturated Fat 2g | Cholesterol 20 mg | Sodium 530 mg | Potassium 510 mg | Total Carbohydrate 11g | Dietary Fiber 2g | Sugars 0g | Protein 10g | Vitamin C 1% | Calcium 0% | Iron 4%

---