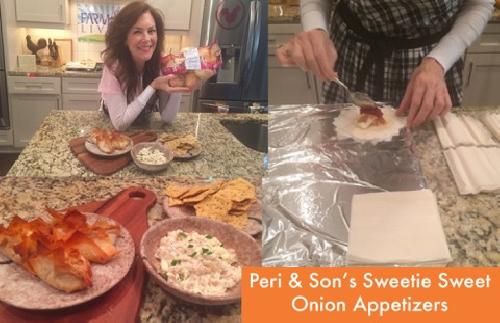 Introducing the STAR of the show... Peri & Sons' Sweetie Sweet® Onions!
Sweetie Sweets® are truly nurtured and cared for – rather amazing, isn't it? They are each hand-harvested and cured at Peri & Sons Farms and available mid-July through December. Sweetie Sweet onions are also available in USDA Certified Organic. We made not just one but TWO Sweetie Sweet Recipes. So, let's get cookin'!
Sweetie's Onion Dip
Ingredients
1 tablespoon olive oil
2 large Organic Sweetie Sweet® onions finely chopped
1 cup organic sour cream
2 ounces organic cream cheese, room temperature
1-1/2 teaspoons white-wine vinegar
1/4 cup finely chopped chives
Salt and ground pepper to taste
Whole-grain chips, for serving
Directions
In a large skillet, heat oil over medium and add onions. Cook stirring frequently until onions are golden brown.
Set aside to cool. In a medium bowl combine sour cream, cream cheese, vinegar and the chives. Gently stir in onions.
Season with salt and pepper to taste. Chill dip for at least 1 hour. Serve with chips.
Caramelized Onion Filos
Ingredients
1 cup butter
2 yellow onions, sliced
2 tablespoons light brown sugar
1 teaspoon white wine vinegar
1 package of filo pastry sheets
12 oz of ripe camembert, divided into 6 pieces
6 teaspoons cranberry sauce
Salt and pepper to season
Instructions
Pre-heat oven to 400°F
Melt half the butter in a pan and cook the onions with the sugar and vinegar over a low heat for 25 minutes or until the onions have caramelized. Allow to cool.
Cut the filo into approximately 24 squares
Layer 4 sheets one on top of the other, making a half turn each time to form a star shape.
Brush each layer with melted butter as you work. Repeat with the remaining pastry to make 6 stars.
Place a piece of cheese in the centre of each pastry star and top with the onions and 1 teaspoon of cranberry sauce.
Draw up the pastry to enclose the filling, pinch well to seal. Brush with melted butter and bake for 10-15 minutes.
Serve straight away.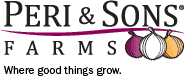 ---