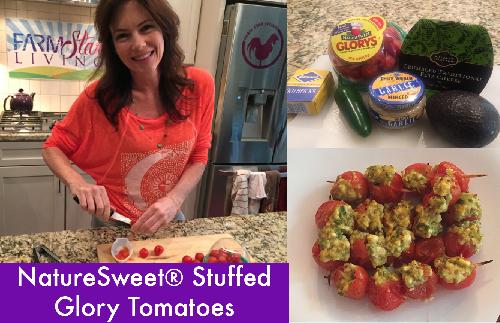 NatureSweet® Glorys™ Tomato, Roasted Jalapeсo and Avocado Poppers
Ingredients:
Directions:
Soak 4-inch toothpicks in water before grilling – at least 30 minutes.
Prepare the grill for direct cooking over high heat (450є – 550єF).
Grill the jalapeсo over direct high heat with the lid closed as much as possible, until the skin is blackened and blistered all over, 5-8 minutes, turning once or twice. Set aside to cool.
Remove and discard the stem and seeds and then mince the jalapeno.
Reduce the temperature of the grill to low heat (250є – 350єF).
Rinse the Glorys tomatoes. Using a paring knife, gently core and seed and Glorys tomatoes, reserving the pulp and seeds.
In a medium bowl, using the back of a fork, mash the cheese, avocado, jalapeсo, garlic, pepper and reserved tomato pulp and seeds. Generously stuff each hallowed out tomato with the mixture.
Double skewer two tomatoes on 4-inch long toothpicks. Grill the tomatoes over direct low heat, with lid closed as much as possible, until the tomatoes start to bubble around the base (4-6 minutes) without turning. Using tongs, carefully remove the tomatoes from the grill and serve warm.
---