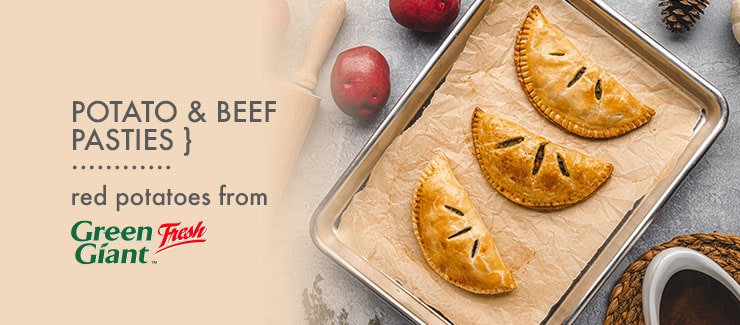 Fall has officially arrived! This season, the word that comes to mind is "harvest," but not just in regards to the world of farming, but also in regards to ourselves. This definition of harvest refers to the product or result of an action. So, what actions are you taking in order to harvest a certain outcome or desire? After the year(s) we've all experienced, let's focus on harvesting better connections to our communities, our families, and our friends! One of our favorite ways to connect with others is by entertaining and sharing a meal together and here's a great recipe to help you share, connect, and maybe even slow down a bit – these comforting Potato & Beef Pasties!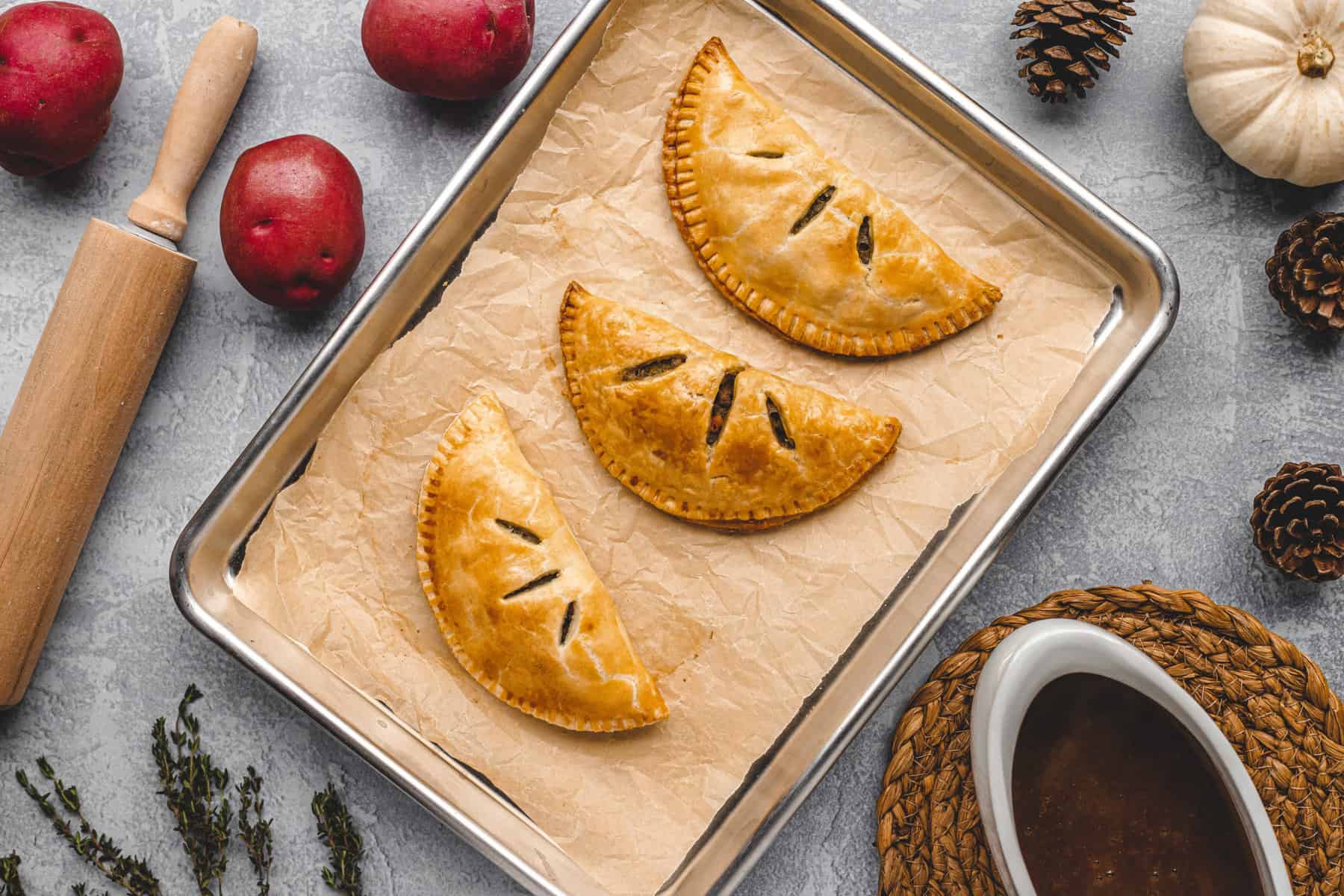 If you're unfamiliar, pasties are a common, savory British pastry typically filled with seasoned meat and vegetables. Our Potato & Beef Pasties are chockfull of healthy vegetables including carrots, peas, yellow onion, garlic, and potatoes. For this recipe, we opt for red potatoes from Green Giant™ Fresh because their red potatoes contain more moisture and less starch, which means they'll remain firm during the cooking process. This feature makes red potatoes ideal for potato salad dishes, steamed, boiled, or in baked casseroles and crock pot meals.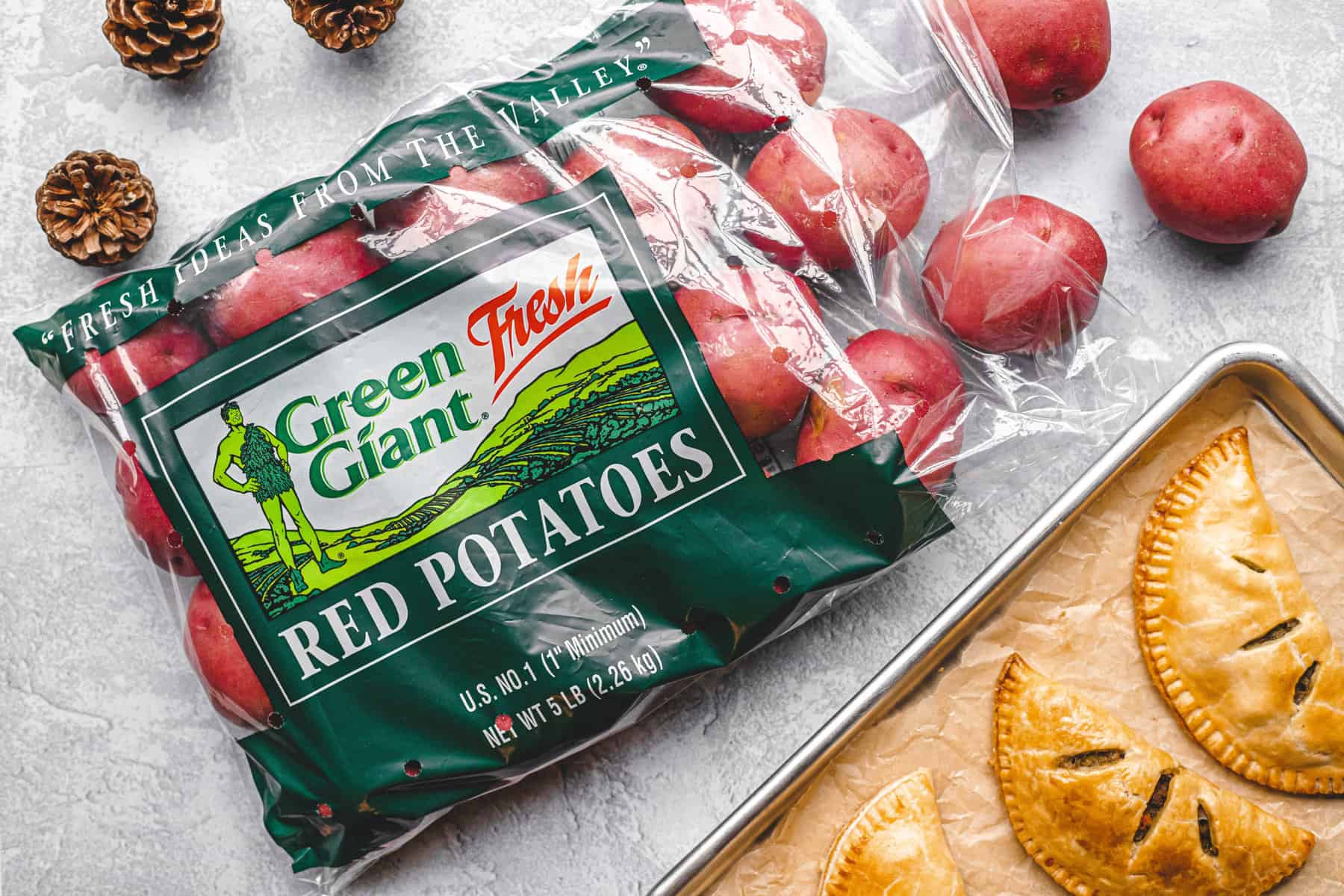 Here are a few tips, tricks, and hacks to making the most delicious Potato & Beef Pasties:
Pie Dough: Use store-bought refrigerated pie dough for this recipe and follow the instructions on how to thaw the dough exactly. Carefully and slowly unroll the dough; if it begins to crack, then allow dough to thaw a bit more.
Vegetables: Chop all vegetables into a small dice – this will ensure that all vegetables will be cooked through.
Alternate Recipe: Rather than making individual pasties, you can simply use the pie dough and a pie pan to create one large savory pie.
Freeze for later: Place cooked and cooled pasties in a freezer-safe zip top bag and freeze for a quick grab-and-go meal, snack, or dinner.
Gravy: Use the drippings from the pan of beef or use your favorite brand's brown gravy packet and serve on the side.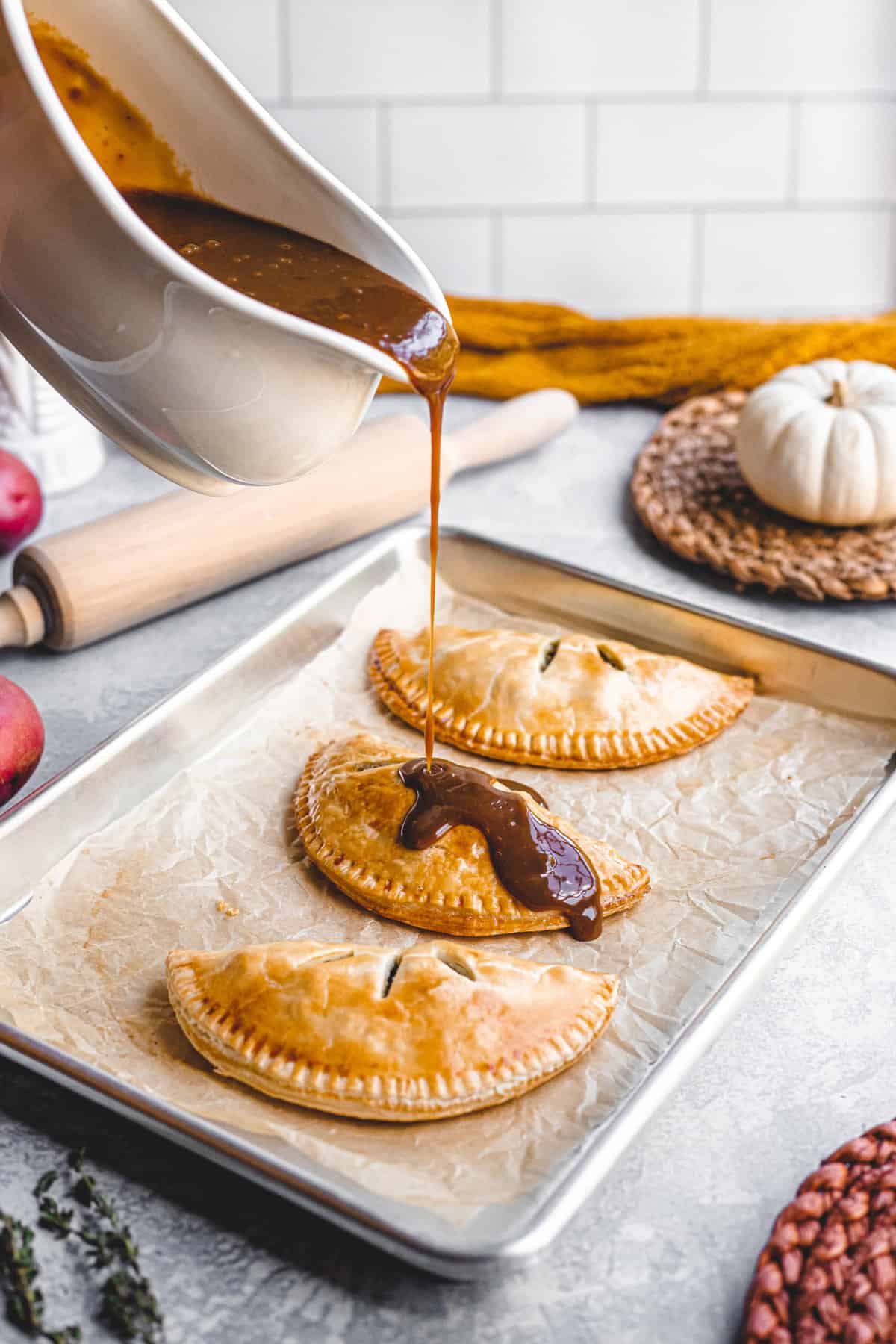 By design, pasties are easily eaten out of hand or on-the-go. They're super tasty and comforting, but they still leave some room for other small bites, making them the perfect party food. This recipe would be great for a fall party, picnic, or family gathering. We hope you love this delicious recipe; and, as always, don't forget to share with us on our social media channels if you give this recipe a try!

Ingredients:
2 Refrigerated (or frozen) 9-inch pie crusts

1/2 lb. Ground Beef or Diced Chuck Steak

1/2 cup Beef Stock

2 tbsp Olive Oil, divided

1 cup Green Giantâ"¢ Fresh Red Potatoes, small dice

1 15oz can peas

1/2 cup yellow onion, small dice

1/2 cup carrots, small dice

1/2 tsp. dried thyme

1/2 tsp dried sage

2 cloves crushed garlic

1 tbsp cornstarch + 1 tbsp warm water = corn starch slurry

1 egg, eaten + 2 tbsp water = egg wash

Brown Gravy Packet for serving
Supplies:
Small bowl roughly 6 inches in diameter or 6-inch round cutter

Pastry brush

Rolling Pin

Fork
Directions:
Preheat oven to 400. Thaw pie crusts according to package instructions.

Warm 1 tbsp olive oil in a large pot and add carrots, onion, and potatoes. Cook on low for 10 minutes.

In a separate skillet over medium heat, warm 1 tbsp olive oil, dried thyme, dried sage, garlic, and stir for 30 seconds. Add ground beef and cook until browned. Using a slotted spoon, remove ground beef from the skillet and add to the pot of vegetables. Add peas and vegetable stock. Stir to combine.

In a small bowl mix cornstarch with warm water to create a slurry. Add cornstarch slurry to the pot, stir, and simmer for 10 minutes. Remove from heat and set aside.

Unroll pie crust on a lightly floured surface and roll with a rolling pin to smooth any creases. Using the upside bowl or round cutter, cut rounds from the dough. Repeat by reshaping and re-rolling the dough as needed. Note: we were able to make 4 pasties with one 9-inch pie crust.

Brush egg wash around the entire edge of each piece of dough. Spoon two heaping tablespoons of your filling to one half each dough round. Fold the dough over to create the pasties shape and seal edges with a fork.

Place pasties on a lined baking sheet and brush with egg wash. With a sharp knife, create three slits in the top of each pastie.

Bake for 20 minutes until golden brown and serve warm with gravy.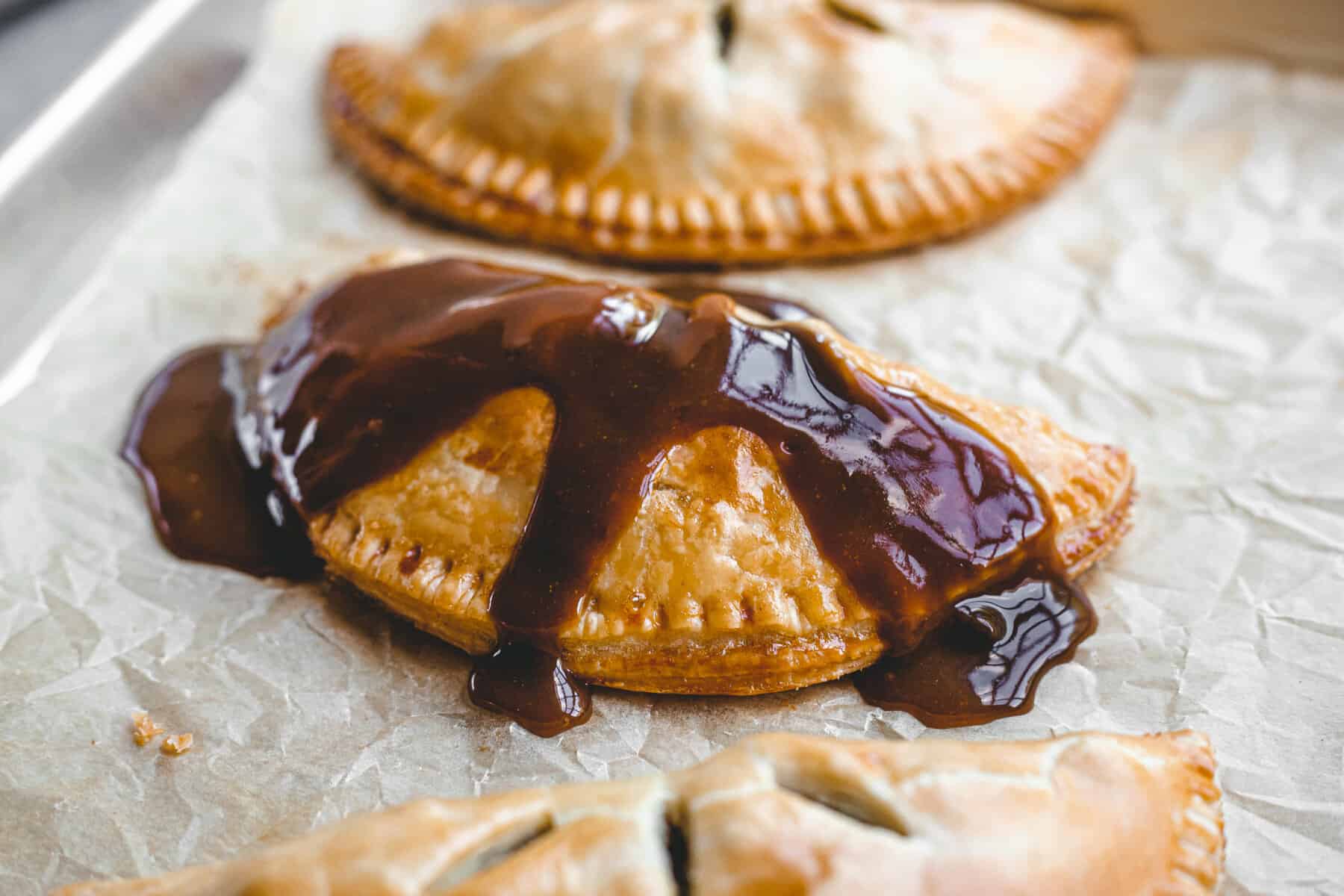 Servings 8.0 | calories 357 | Total Fat 21g | Saturated Fat 7g | Monounsaturated Fat 3g | Trans Fat 0g | Cholesterol 51 mg | Sodium 677 mg 28% | Potassium 170 mg | Total Carbohydrate 37g | Dietary Fiber 3g | Protein 10g | Vitamin A 80% | Vitamin C 11% | Calcium 11% | Iron 8%

---