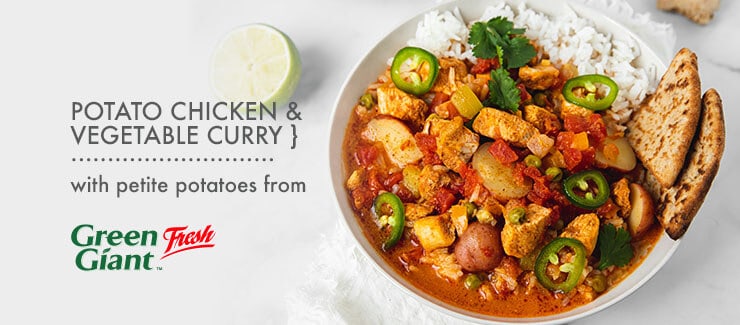 Winter is the perfect time to dive inward. This may look like creating a morning routine, taking a look at how your daily habits impact your mood, or learning to take more care in how you treat yourself. It's a chance to reset the ways in which you feed your body, mind, and soul when the world is a bit more quiet. And when it's cold outside, we find ourselves craving more warmth – in our actions, words, and menu. This Potato Chicken & Vegetable Curry is one of the ways we're feeding ourselves and warming up this winter.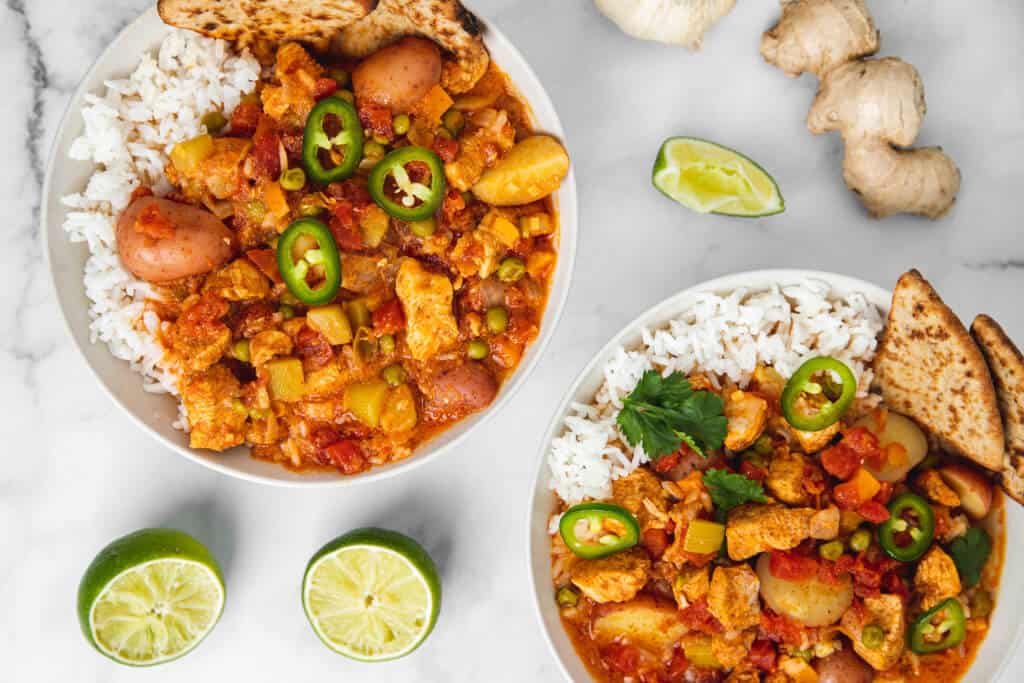 We believe that cooking for yourself is an opportunity to nurture your body, mind, and soul. And there's just something about a big pot of soup, or in this case curry, that warms you all over – it's like a hug in a bowl. But, making something really good for you that also tastes great doesn't mean you have to stand by the stove for hours. This one-pot recipe takes just one hour from prep to completion and it's oh-so-worth-it.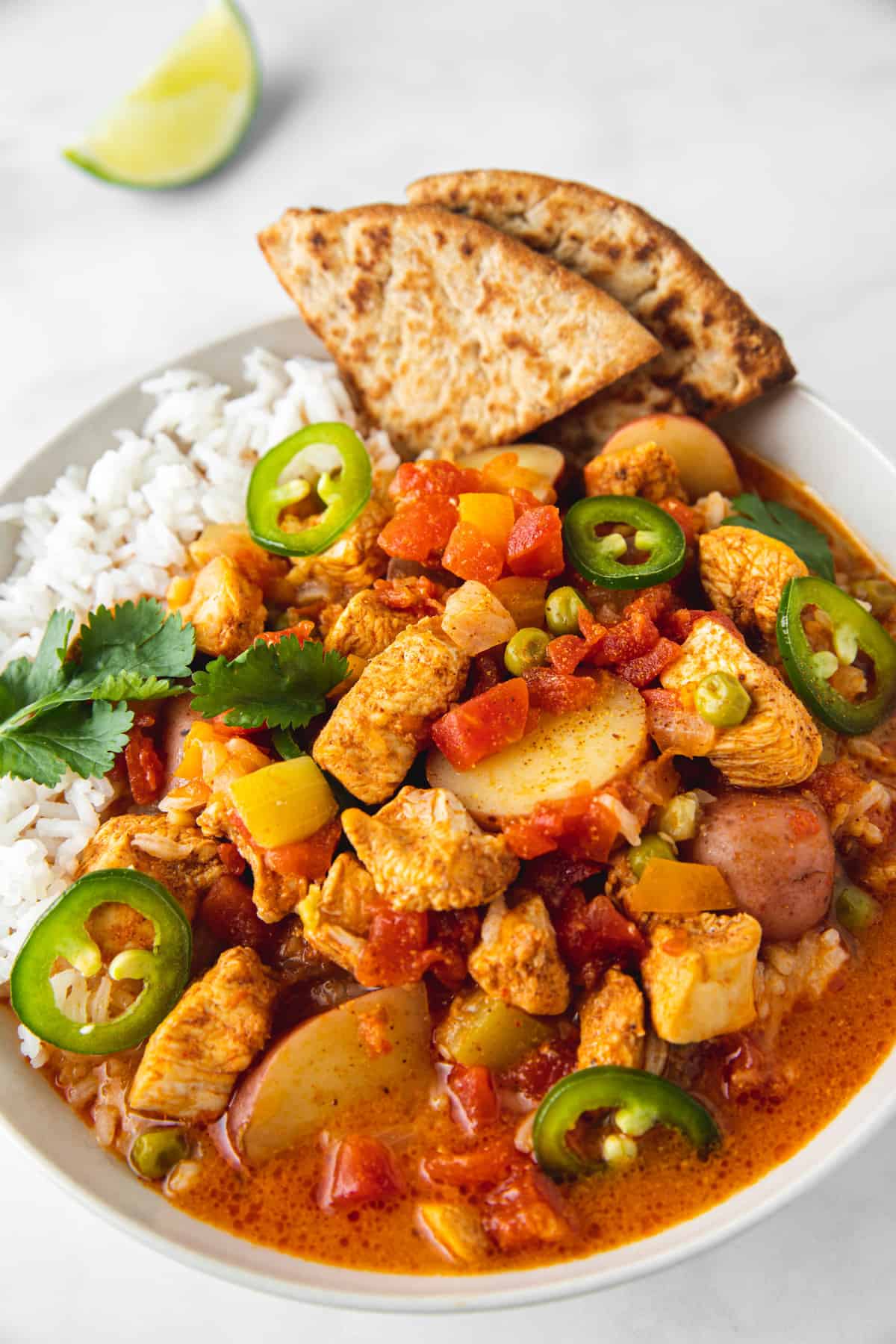 We are also loving how versatile this recipe is so here's a way tips, tricks, and substitutions so you can make a curry that's all your own:
Protein: We use chicken, but try other proteins like pork, beef, tofu, or tempeh. Or you can skip the protein all together and have yourself a delicious vegetable curry.
Vegetables: You can follow our directions below, or use whatever you may have in your fridge as long as the measurements stay the same.
Potatoes: We opt for Petite Potatoes from Green Giant™ Fresh because they're the perfect size and consistency for this recipe. These petite potatoes don't need to be peeled and a quick chop in half makes them the perfect bite-size.
Curry Paste: You should be able to find this easily in your grocery store's Indian food section. Ask an employee if you have trouble finding it. We use red curry paste but experimenting with different kinds will result in a change of flavors.
Rice: Basmati or jasmine rice works well with this recipe but feel free to use cauliflower rice, quinoa, or wild rice if that's what you prefer.
Spice: Our recipe does have a slight spice but if you enjoy it extra hot, a big pinch of cayenne would spice up with this recipe. Oh and don't forget to garnish with extra jalapeno or chilis.
Marinade: If you don't have time to marinate the protein for a few hours, then just let it sit in the marinade until you're ready to use it. A longer marinating time will result in more flavor but if you're short on time, then don't sweat it! We suggest marinating the protein the day before you make this recipe so you'll have one less step to take care of when cooking.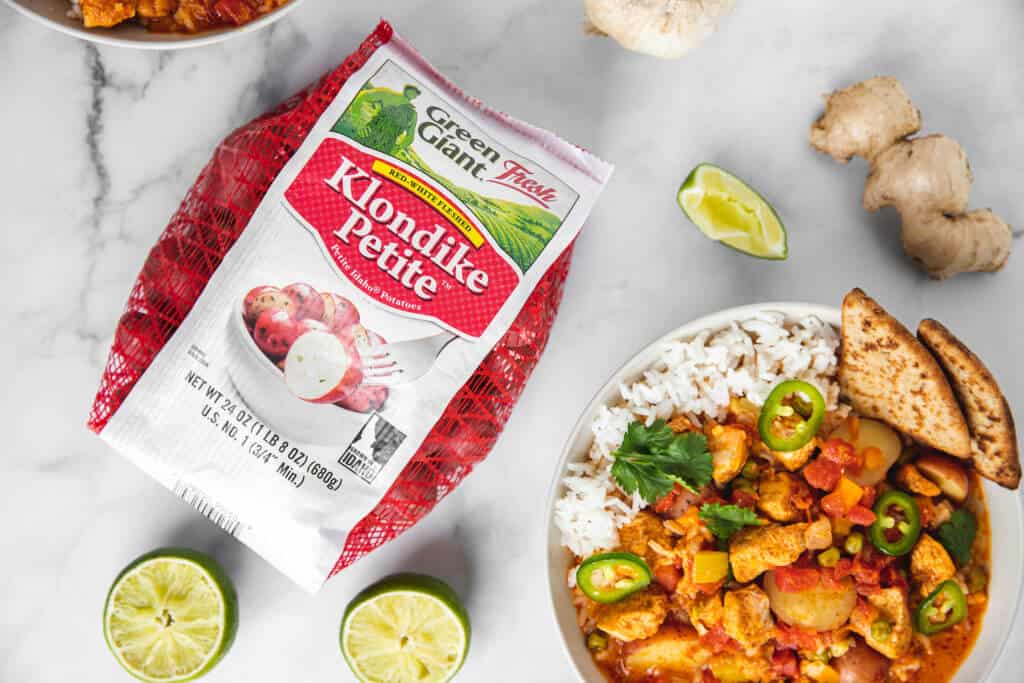 Did you make this recipe? Please don't forget to share it with us and our friends Green Giant™ Fresh Potatoes on social media and tag us in your posts! We love seeing what you create. Enjoy!

Marinade Ingredients:
2 tbsp Red Curry Paste
1 tbsp. garam masala or cumin
Juice of 1 limes, approximately 2 tbsp
4 boneless skinless chicken breasts, trimmed and cubed
Curry Ingredients:
2 tbsp olive oil
1 1/2 cups yellow onion, diced
3 cloves garlic, minced
1 tbsp fresh ginger, peeled and minced
4 cups Green Giant™ Fresh Petite Potatoes, cut in half as needed
14 oz can of full fat coconut milk
2 – 14 oz cans of diced tomatoes
3 cups vegetables of your choice, chopped if need (we use peas, bell pepper, zucchini)
3 cups broth (chicken or vegetable)
Directions:
Add curry paste, cumin, and lime juice to a small bowl and whisk to combine. Place chicken in a plastic bag and pour marinade over chicken. Close the bag and toss to coat the chicken in the marinade and refrigeratefor at least two hours or overnight.
Add vegetable oil and onions to a large pot over medium heat and cook until onions are translucent. Add marinated chicken, ginger, and garlic, then stir to combine and brown the chicken for 2-4 minutes. Keep stirring so the garlic and ginger do not burn.
Add the remaining ingredient to the pot and stir to combine all ingredients. Bring to a boil, cover, and simmer until potatoes are fork-tender and chicken is fully cooked (about 20-30 minutes).
Serve with rice and garnish with cilantro, jalapeno, and lime juice (if desired). Enjoy!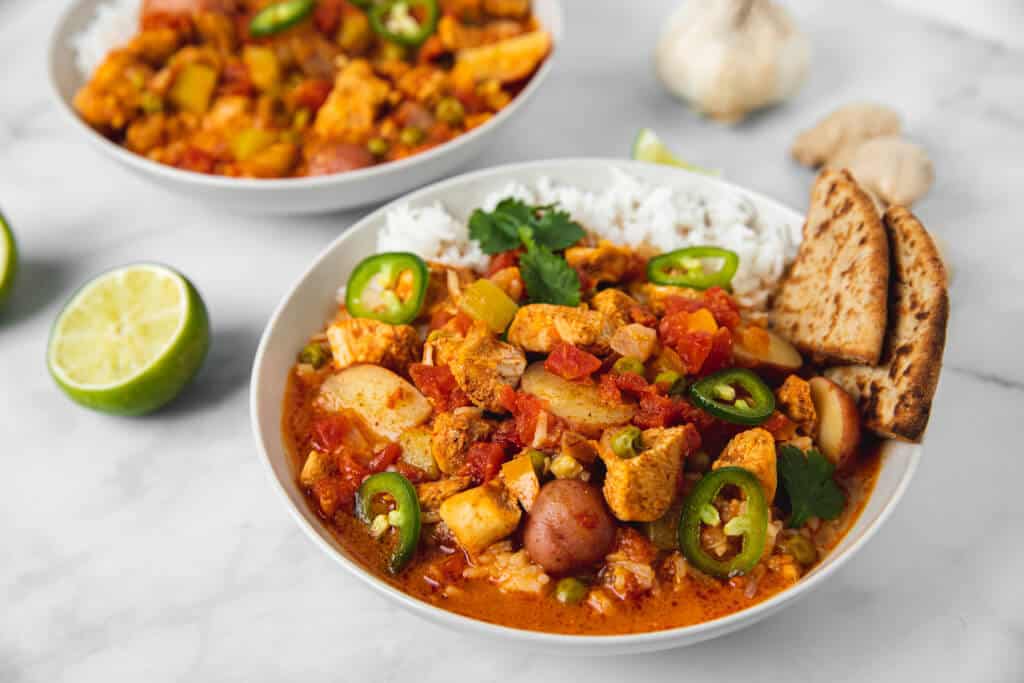 Servings 6.0 | Calories 345 | Total Fat 17g | Saturated Fat 11g 54 % | Monounsaturated Fat 3g | Polyunsaturated Fat 1g | Sodium 590mg | Potassium 626mg | Total Carbohydrate 25g | Dietary Fiber 5g 20 % | Protein 13g | Vitamin A 23% | Vitamin C 45% | Calcium 25% | Iron 9

---