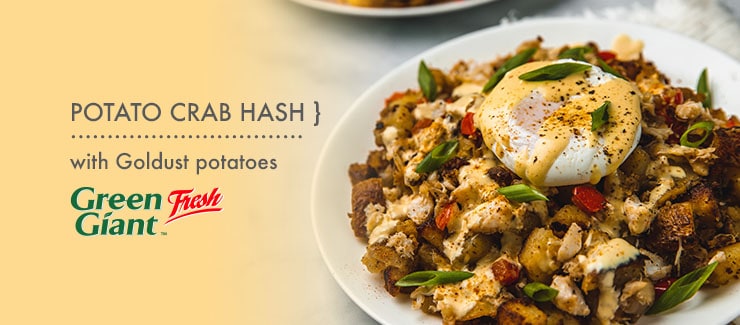 While new year's resolutions, goal-setting, and box-checking might be top of mind this time of year, let's remember to treat ourselves every once in a while, shall we? One of our favorite ways to treat and show ourselves a little love is to make a delicious meal and this new Potato & Crab Breakfast Hash is sure to help you start your day in the best way.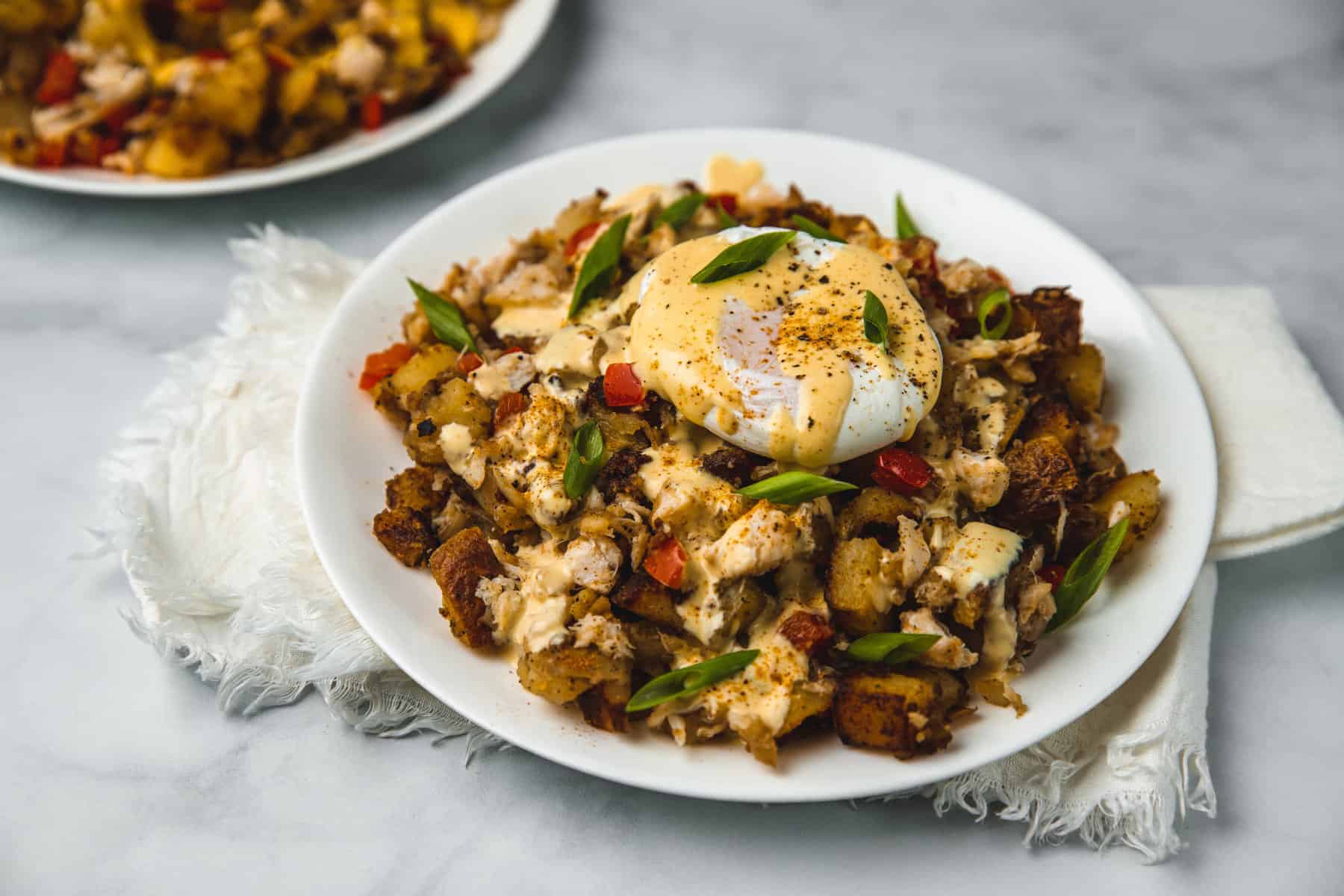 Plus, is there anything better than breakfast potatoes? Seriously, if we're out to breakfast and potatoes are an option, it's a no-brainer! The best breakfast potatoes have a soft and creamy interior with a crispy, crunchy exterior bringing together the best textures a potato can offer – and this recipe delivers just that. Really...is there anything a potato can't do?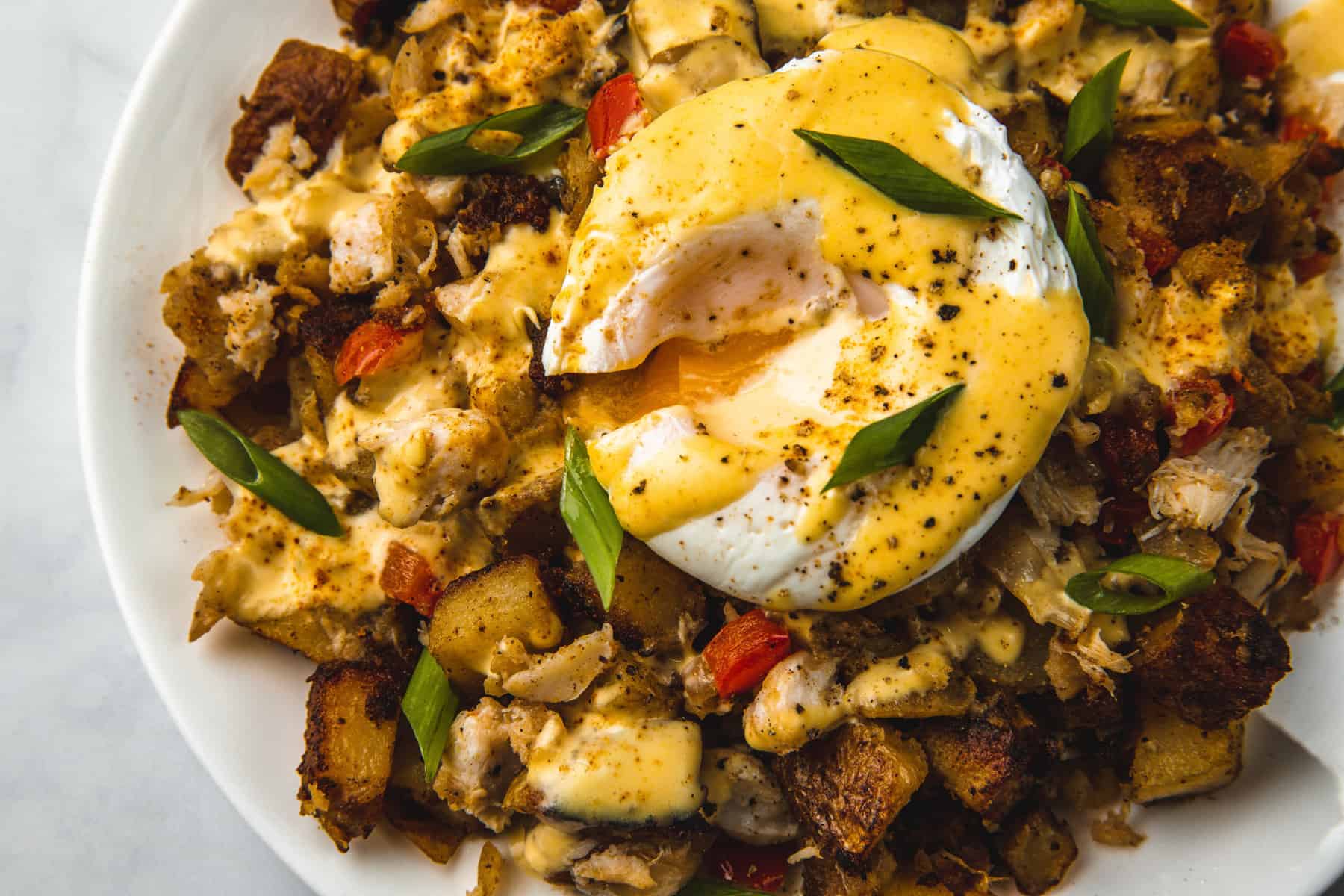 When you start your day with potatoes, you're getting a ton of nutrition right at the beginning of your day. So whether you're setting out on a long hike or preparing to plow through a pile of work, your body and your mind are going to be fueled and ready for whatever you take on that day.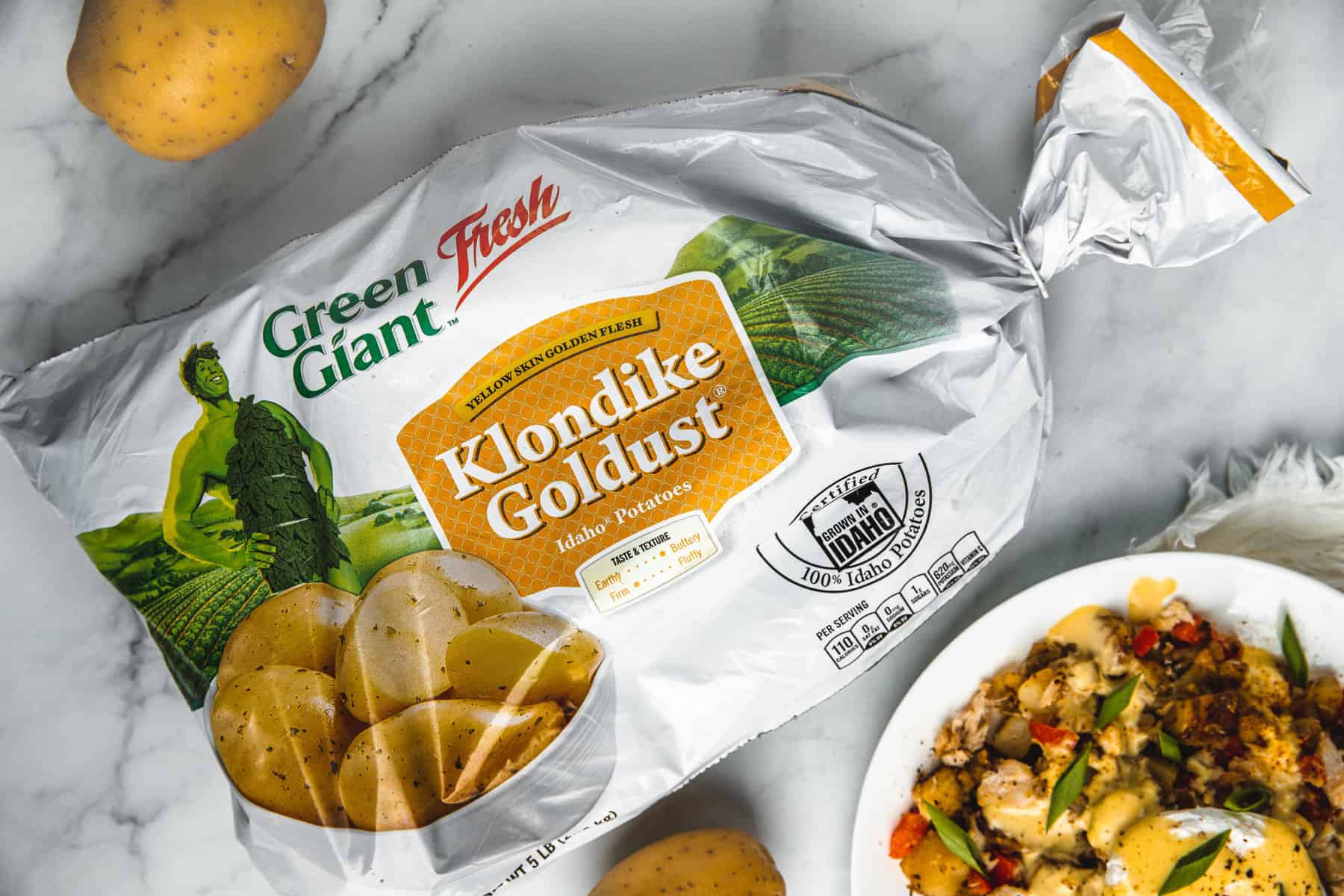 For this recipe, we're choosing these Goldust® potatoes from our friends at Green Giant™ Fresh. They're known throughout the fresh potato industry as the very best yellow potato available! It's a perfect union with smooth yellow skin and vivid yellow flesh. Not to be outdone by the appearance, the dense flesh cooks to a wonderful buttery deliciousness with a silky smooth texture. The uses for this potato range from baking, broiling, mashed, steamed, roasted, grilled, and in the microwave. It's the potato to use for any recipe!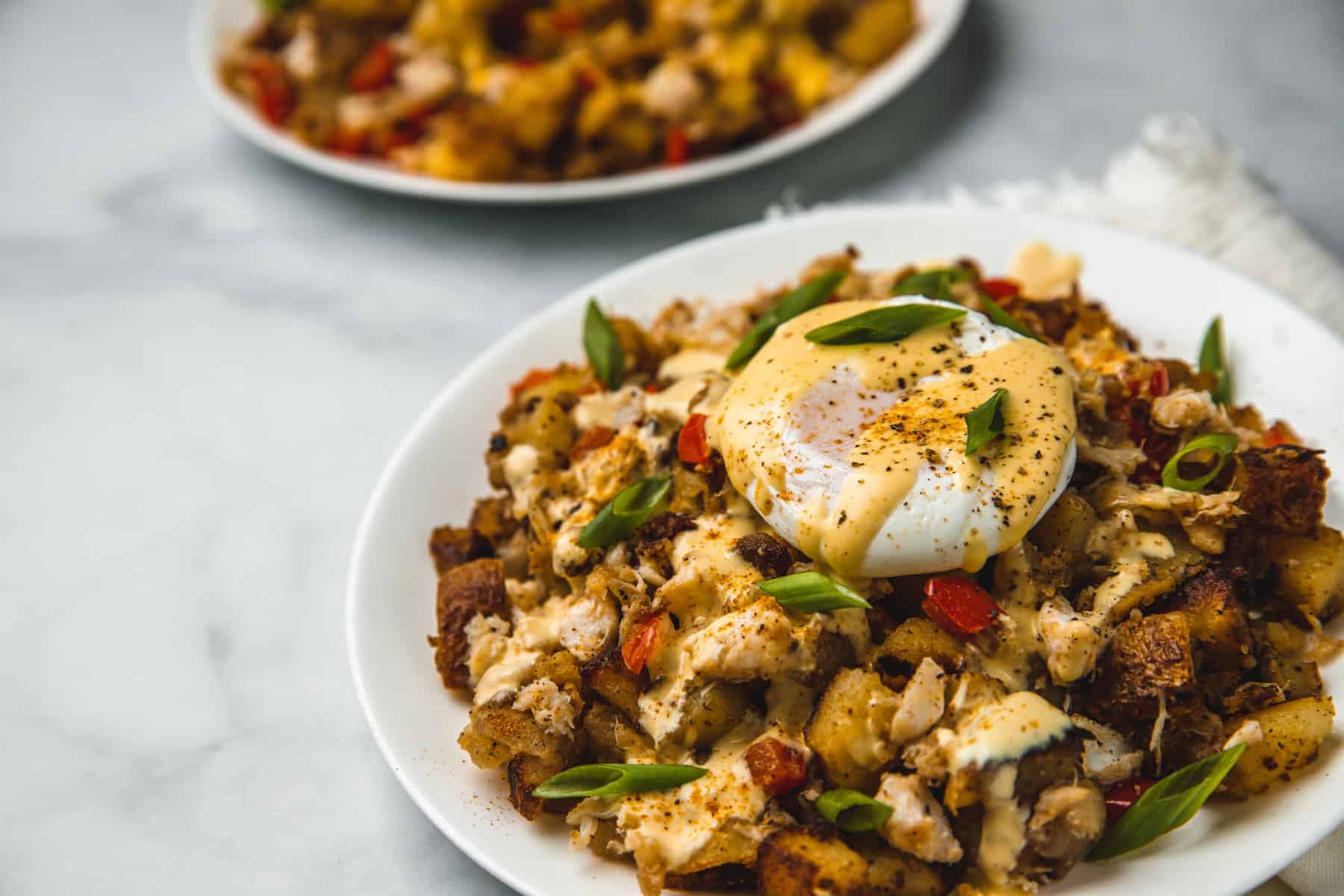 Here's a few tips to making the best Potato & Crab Breakfast Hash and homemade Hollandaise:
Butter: since we created this short-cut hollandaise recipe, follow the instructions carefully and make sure the butter is bubbling hot. This hot butter helps to cook the egg yolks in the food processor and helps to create a homogenous mixture.
Potatoes: when boiling, cook the potatoes until just fork-tender. Since you're cooking these potatoes two times, (once boiled and once pan-fried) you want them to stay together during the second cooking. If the potatoes are over-done or too soft after boiling, then you'll end up with mashed potatoes.
Crab: use any kind you like – we used canned lump crab meat for this recipe because it's easy to find and shelf-stable. Just make sure you take a look through any crab you purchase and remove all remnants of shells.
If you enjoy this recipe, check out these other recipes using Goldust potatoes:
We hope you love this easy and super-tasty breakfast. If you make this recipe, let us know and tag us and our friends Green Giant™ Fresh Potato on social media!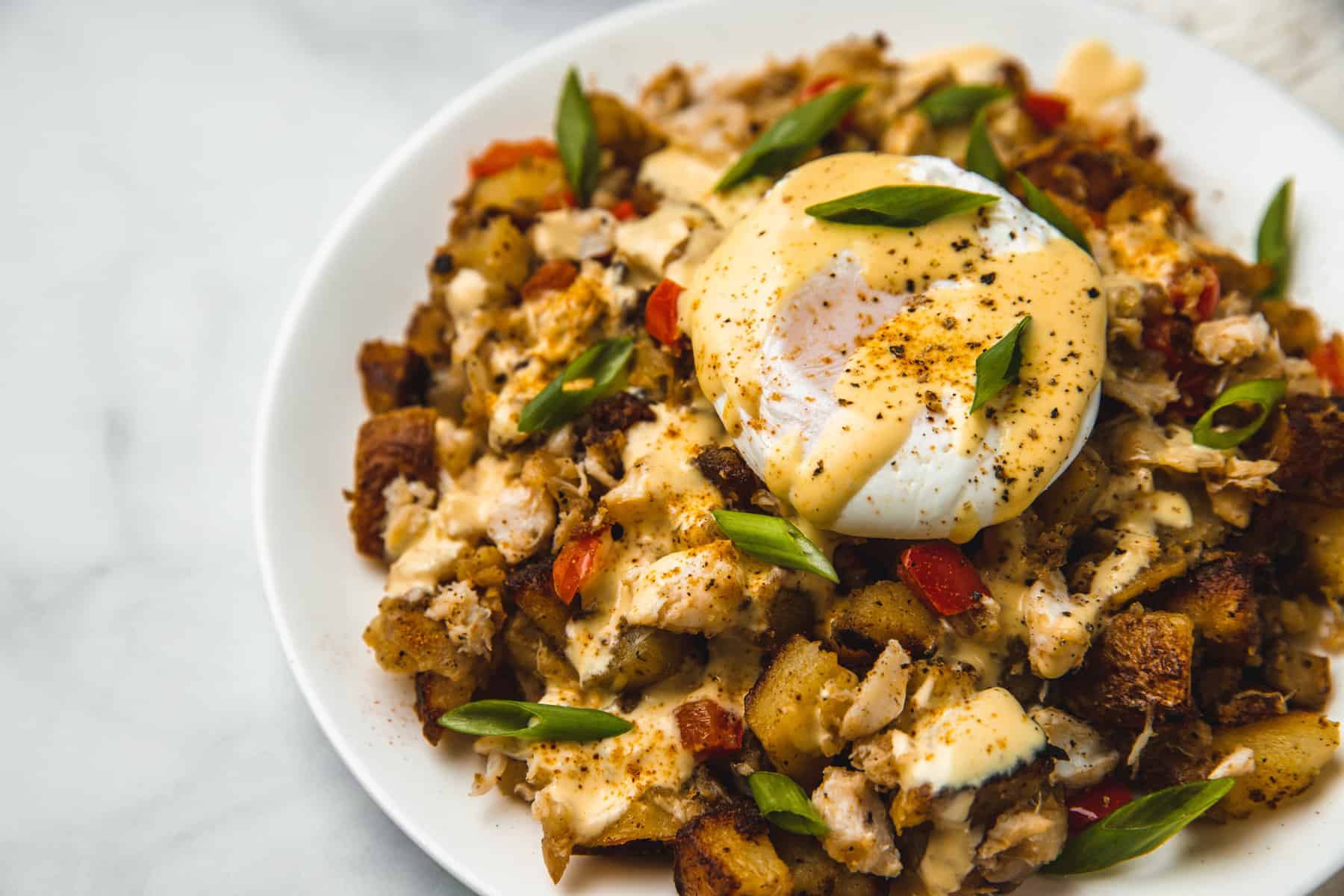 Potato Crab Hash Ingredients:
3 cups Green Giant™ Fresh Goldust® Potatoes – cut into 1-inch cubes
1 tsp salt
3 tbsp vegetable oil or olive oil
1 cup red bell pepper – chopped
1 cup sweet onion – diced
12 oz can lump crab meat – drained picked through to remove any shells
1 tbsp cajun seasoning
Salt and pepper to taste
Green onion – sliced for garnish
Easy Hollandaise Ingredients:
3 egg yolks – room temperature
1 stick butter – melted and bubbling hot
1 tsp dijon mustard
1 1/2 tbsp fresh lemon juice – room temp
Pinch cayenne pepper
Potato Hash Directions:
Add potatoes to a large pot and cover with cold water. Add 1 tbsp salt and bring to a boil. Cook potatoes for five minutes or until just fork-tender. Drain and set aside. NOTE: Do not cover potatoes. Allow the moisture to evaporate by placing potatoes on a large plate or baking sheet.
Heat 2 tbsp oil to a large skillet over medium/high heat then add bell peppers and onions. Cook until onions are just translucent and bell peppers have softened. Remove onions and peppers from the skillet and set aside.
To the same skillet, add 1 more tbsp oil and add potatoes. Cook for 8-10 minutes or until the outside of the potatoes are crispy and the inside of the potatoes are soft. Add the cooked onions and bell peppers and sprinkle with cajun seasoning. Add crab meat and stir to combine all ingredients and warm the crab meat thoroughly. Remove skillet from the burner and set aside until ready to eat.
Plate potato crab hash, spoon hollandaise over the potato crab hash, and garnish with sliced green onions.
Options: add poached eggs, hot sauce, or more fresh herbs. Enjoy!
Easy Hollandaise Directions:
Place egg yolks in a food processor and blend for 2-3 minutes. While the eggs blend, place butter in a microwave-safe bowl and melt in the microwave until bubbling hot.
With the blade still running, add lemon juice, dijon, and pinch of cayenne pepper to the food processor. Once the butter is bubbling hot (but not burned), slowly and carefully pour the butter into the egg mixture and blend for 2-3 more minutes. Add hollandaise to a bowl until ready to use.

Servings 3.0 | calories 441 | Total Fat 19g | Saturated Fat 4g | Monounsaturated Fat 13g | Sodium 1200 mg | Potassium 1074 mg | Total Carbohydrate 33g | Dietary Fiber 4g | Protein 28g | Vitamin A 53% | Vitamin C 61% | Calcium 20% | Iron 40%

---