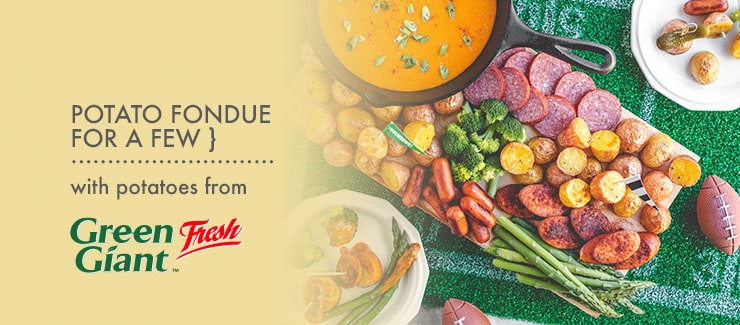 You may not be hosting a big party or hanging out at your favorite spot to catch the big game...but that doesn't mean you can't celebrate with the same enthusiasm! We created this recipe for the party-planner in you that is eager for another chance to host your friends and family. With just a few good ingredients and little cheesy magic, you'll have a super easy and game-worthy spread.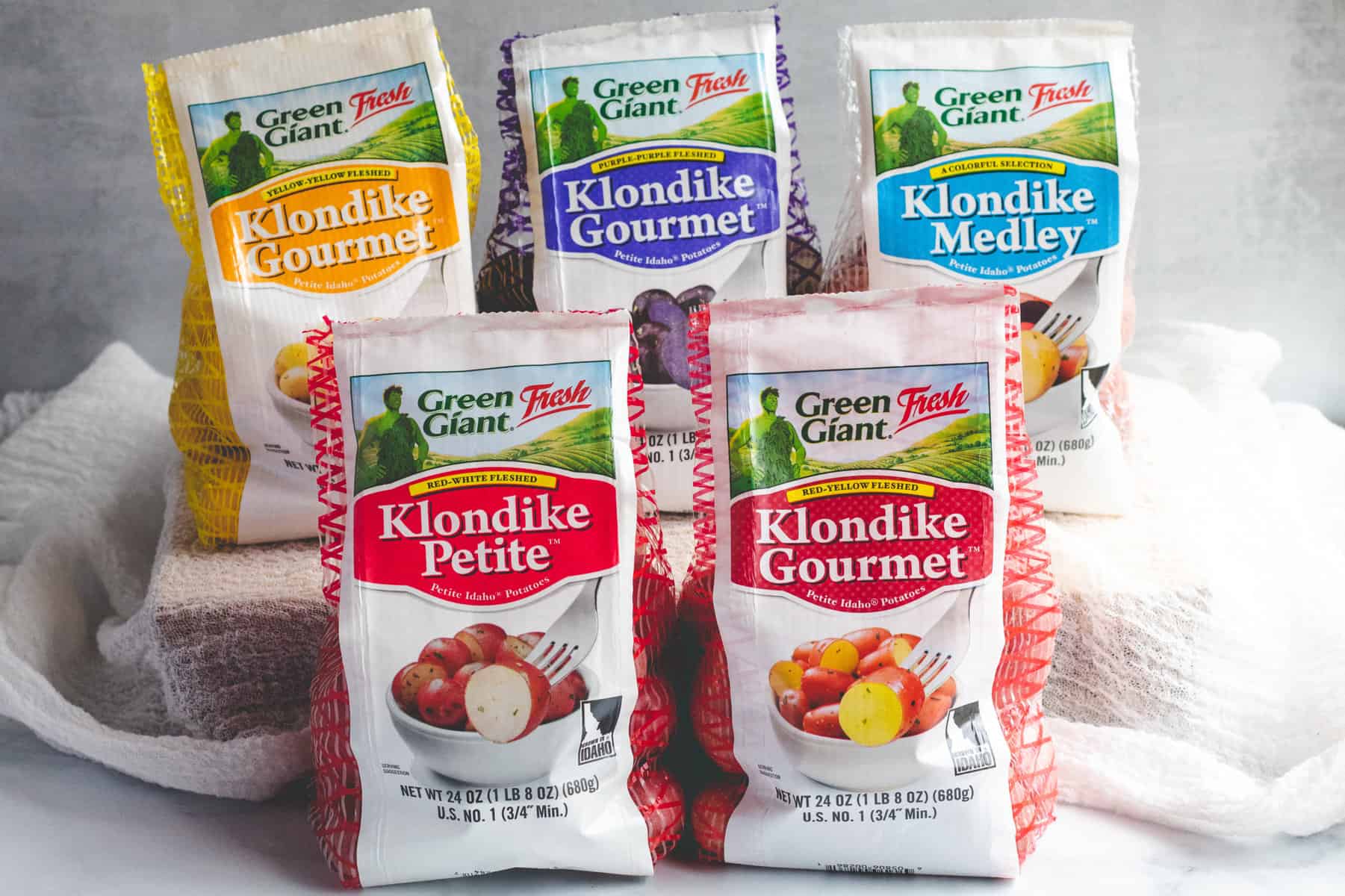 Potatoes and cheese go so well together and this combo of potatoes, meats, veggies, and cheese is everything you need to cheer on your favorite team. While it's not fondue without the cheese, the true star of this recipe is certainly these Petite Potatoes from our friends at Green Giant™ Fresh. These Petite Potatoes are a perfect example of when big things come in small packages – they might be mini in size, but their flavor is off the charts!
For this recipe, we opt for these Petite Potatoes for a few good reasons:
1.) Small, delicious, Green Giant™ Fresh potatoes make for easy preparation, because they don't have to be peeled. WIN!
2.) These potatoes are versatile, easy to use, and they are grown to a perfect bite-size portion. This means less chopping and slicing for you. WIN AGAIN!
3.) With a creamy, buttery texture, they are perfect for any recipe! ANOTHER WIN! (Are you catching on to the winning theme, here?)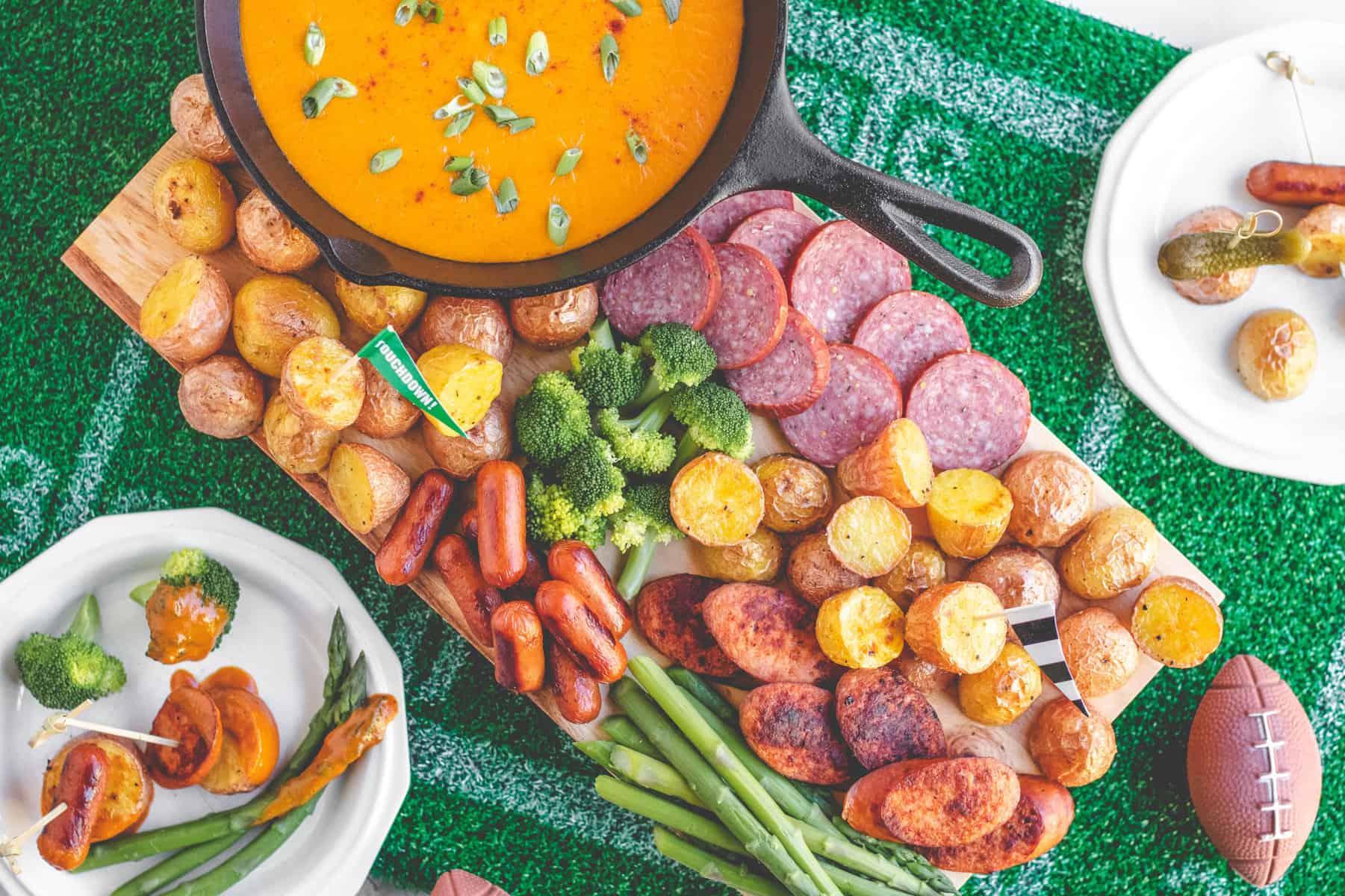 If you're not new around here, then you know how much we adore Green Giant™ Fresh potatoes. Not only does Green Giant™ Fresh grow some of the best potatoes in the industry, but they are also a brand that we truly trust, which is why we continue to work with them and use their products here in the Farm Star Living kitchen and in our own homes. We refer to them as the potato experts because they've been around for a long time, and they continue to evolve to satisfy you and your families' needs. Green Giant™ Fresh provides healthy, delicious, and safe products for all of us...and that's something you just can't put a price tag on.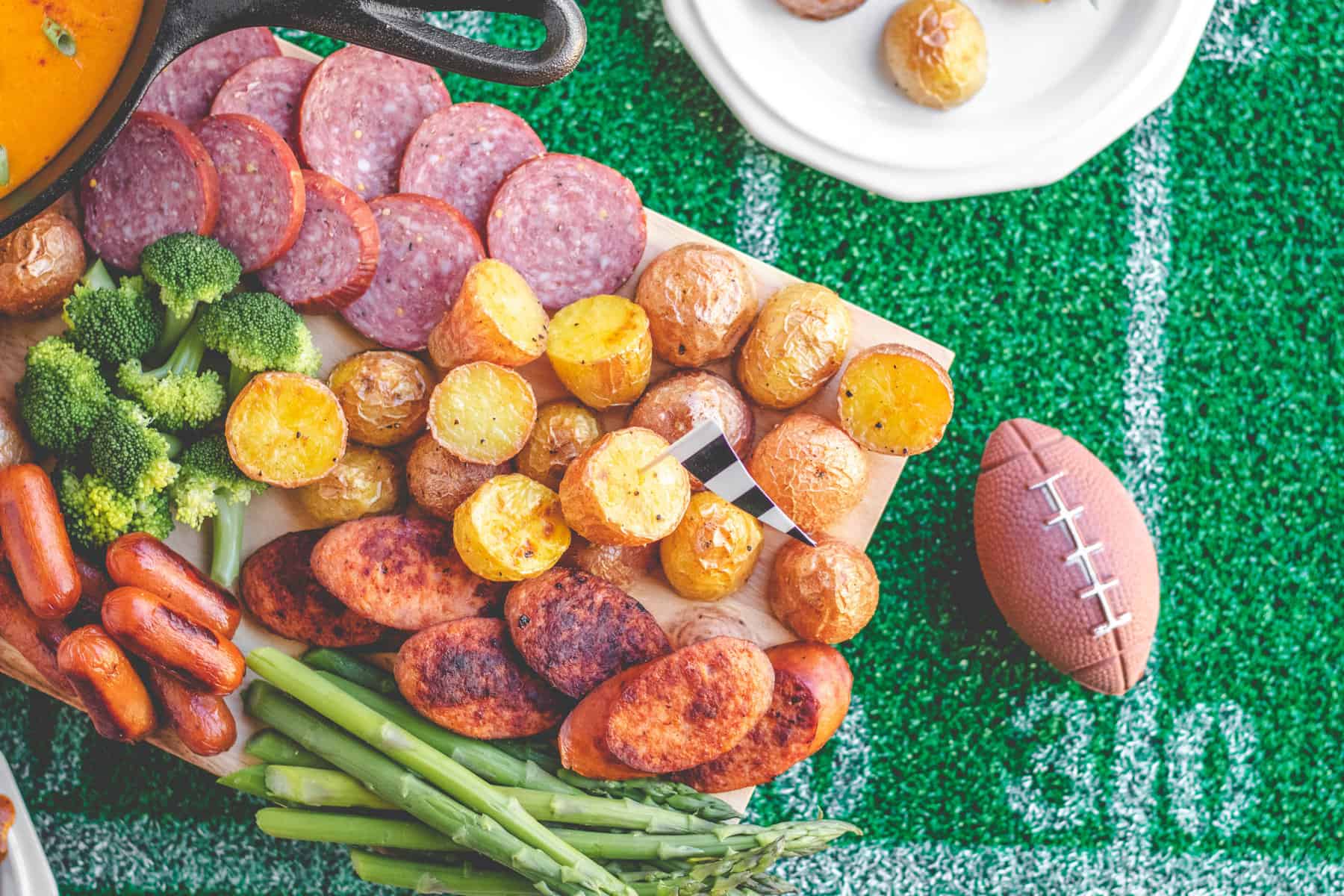 Now, let's get down to the nitty-gritty details of this recipe...we cannot wait until you try it! There are really two main pieces to prepare this recipe – the cheese fondue and the veggies.
First, you'll want to roast your potatoes and build your cheese fondue while the potatoes cook. Then we also added steamed broccoli and asparagus for a little greenery and more veggies, but that's totally up to you.
When serving the fondue, we love the ease of a cast-iron skillet – just place your cast-iron into a 350 degree oven for about 5 minutes (or until the skillet is warm), then pour in the finished fondue. Don't forget to place your hot skillet onto a folded kitchen towel or trivet that can withstand the heat of the skillet! Cast iron holds heat well and this is a great option if you don't have a fondue pot.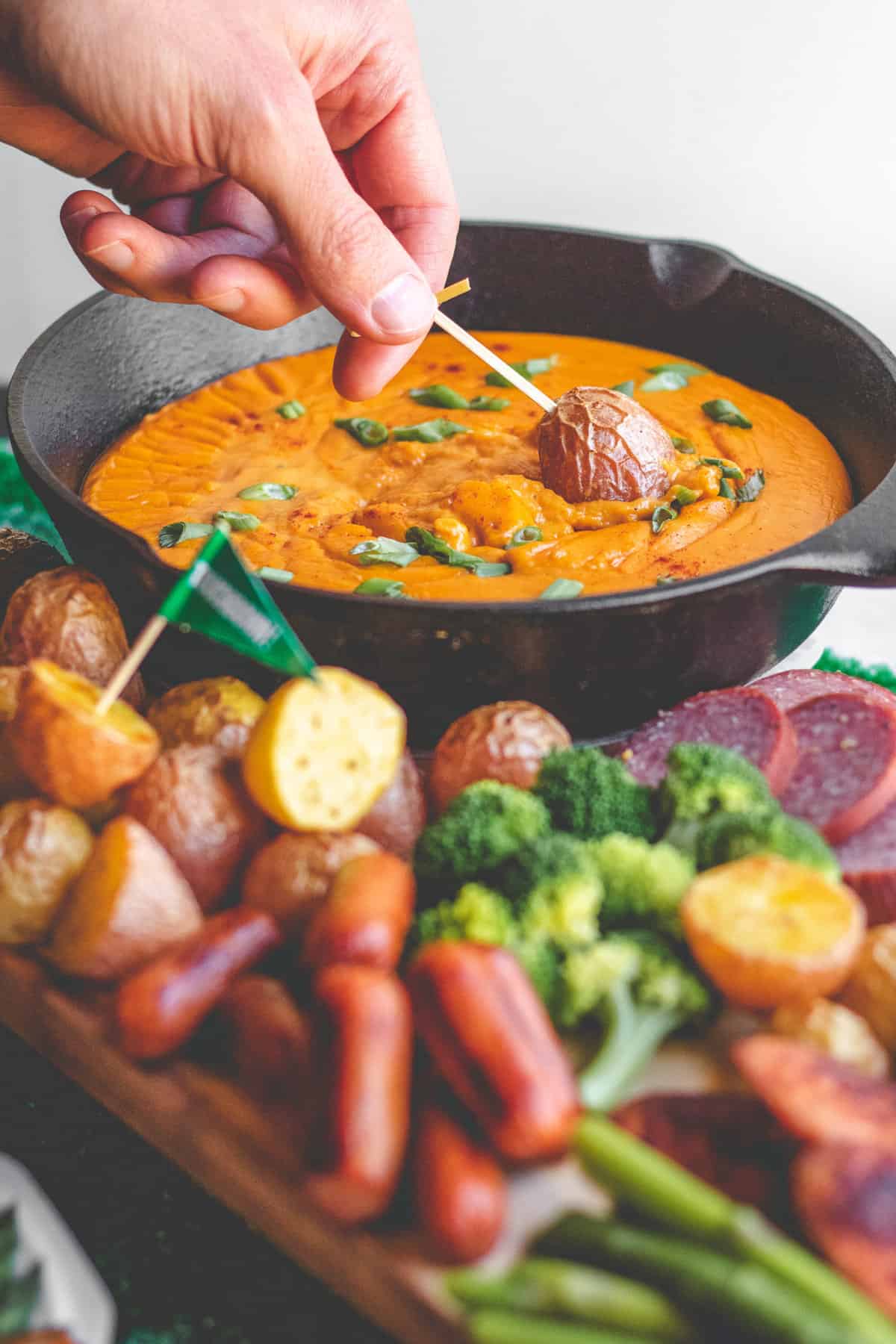 The great thing about this recipe, is that it is totally customizable! Do you like spicy food? Add a bit of horseradish or jalapenos to your cheese fondue. Not a big meat-eater? Serve it with veggies only! Love pickled foods? Add a big side of mini gherkin pickles, pickled okra, or pickled onions. Make this recipe work for you...just don't forget the potatoes, okay? ;)
Have fun and enjoy the big game with this Potato Fondue For A Few!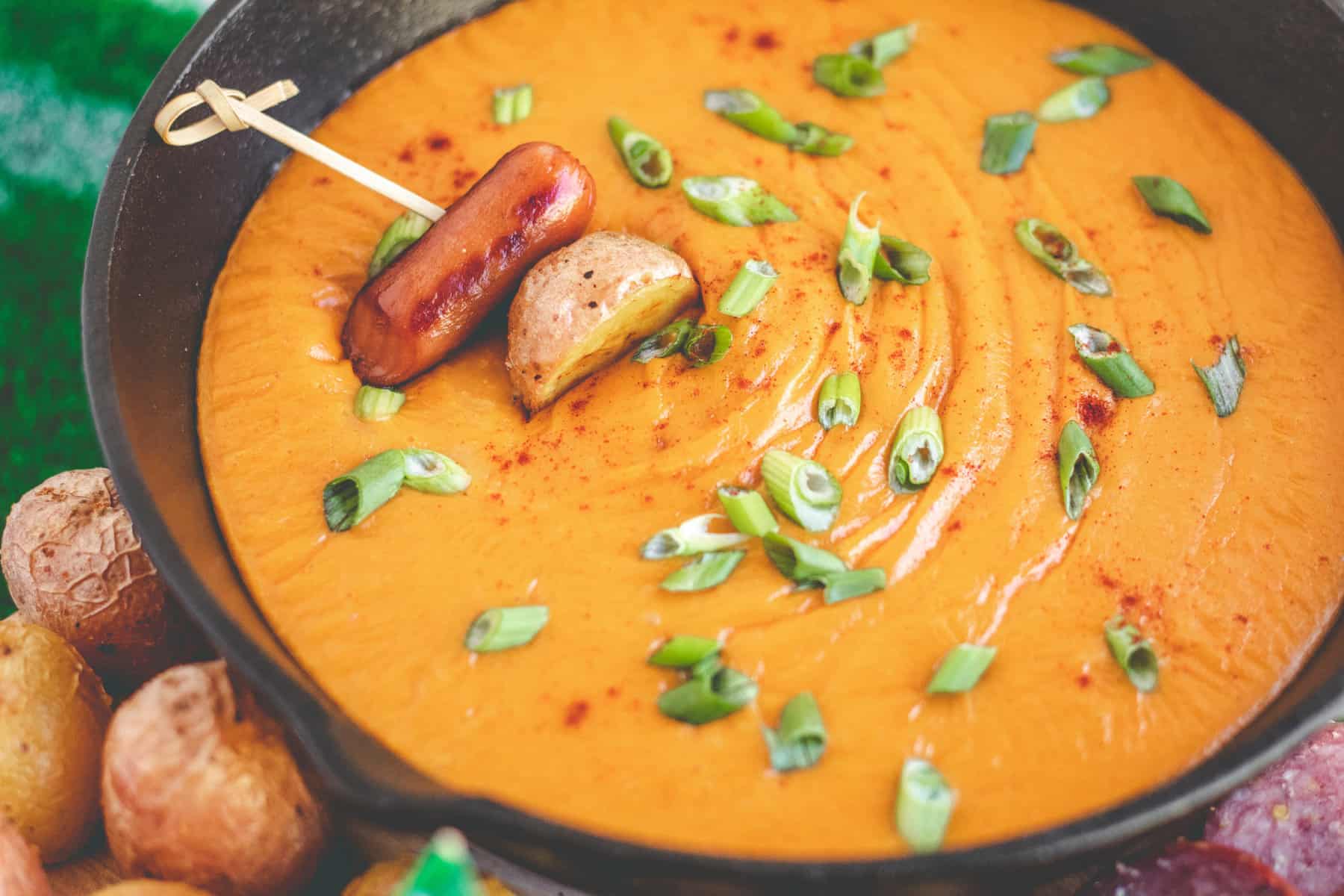 TIP: We served this with cocktail sausages, sliced ham, and salami for a well-rounded meat and veggie platter so everyone can pick and choose their favorites.
PRO-TIP: Bake potatoes until just fork-tender – you want them to be fully cooked, but not fall apart when dipping into fondue cheese.

Potato Ingredients:
Klondike Petite Mini Red & Yellow Potatoes – cut in half

1 tsp garlic powder

Olive Oil

Salt & Pepper
Potato Directions:
Preheat oven to 400F.

Place halved potatoes onto a baking sheet lined with parchment paper, drizzle with olive oil and sprinkle with garlic powder, salt, and pepper (to taste). Toss to coat and combine.

Bake potatoes for 15-20 minutes or until potatoes are just fork-tender. Important tip: you want potatoes fully cooked, but not fall apart when dipping into fondue cheese.
Fondue Ingredients:
12 oz Lager Beer (or non-alcoholic beer)

1 tbsp Mustard

4 cups grated Sharp Cheddar Cheese

2 tbsp Paprika

1 Tbsp Cornstarch

1 tbsp water
Fondue Directions:
Combine beer, mustard, and paprika into a saucepan over medium heat and stir. Bring to a low boil.

Add cheese – less than a cup cup at a time, whisking constantly to melt and combine cheese mixture before adding more cheese.

Mix water and cornstarch in a small bowl to dissolve cornstarch. Add to cheese mixture and simmer for 1-2 minutes until thickened.

Transfer to a fondue pot (if you have one) or to a preheated cast-iron skillet. Cast-iron holds it heat very well but be careful! Place skillet over a thick kitchen towel, trivet, or oven mitts.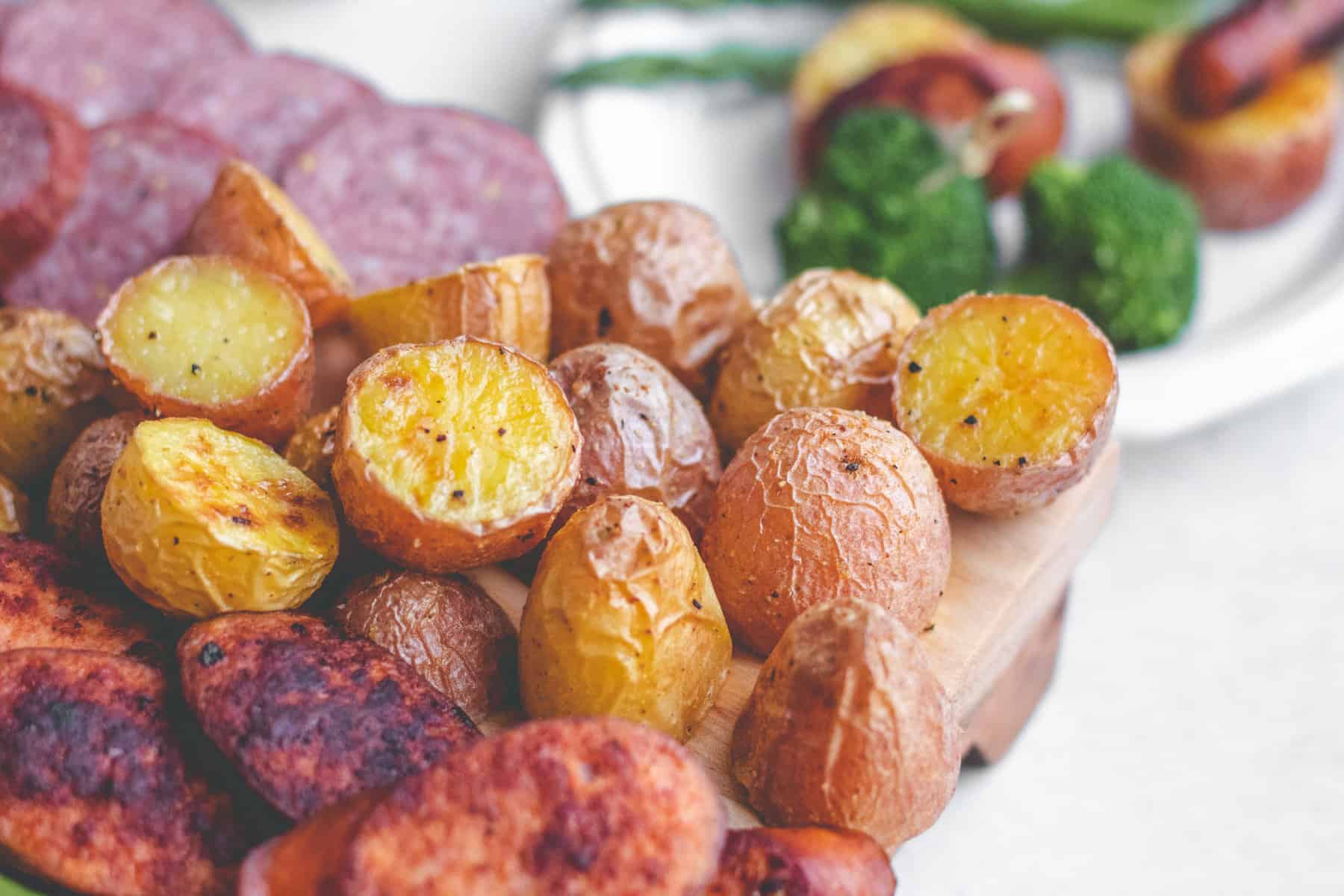 ---