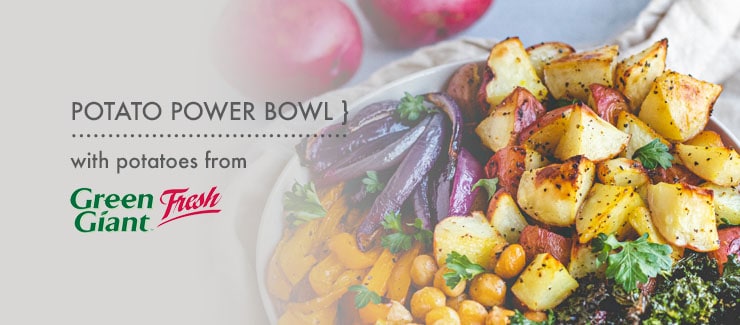 Happy New Year! While a fresh start can be inspiring, this time of year can seem overwhelming with the pressure to begin setting a new resolution, goal, or starting yet another diet. *EYE ROLL* Typically when people feel pressured to do something, they tend to do the exact opposite, right? So, here's a tip to liberate you from those pressures: do what works for YOU.
In our experience, taking small steps every day and changing your mindset and attitude is the easiest and most efficient way to achieve a goal. One of our goals at Farm Star Living is to inspire you to live a more grounded and healthy life (#LiveGrounded is our new hashtag!), and just one way to do that is by eating farm-fresh foods that nourish your body. Okay, that doesn't mean you can't have a slice of cake or some chocolate – because it's all about balance! Eating foods that fuel your body and taste good, too ... and that's what we're all about.
Here's a suggestion: eat one meal a day that is all veggies. Or start with one meal a week that is totally plant-based. Need a snack? Try eating a piece of fruit or a serving of vegetables instead of going for crackers or cookies. We are not here to preach, however, do what works for you but take a healthy step forward!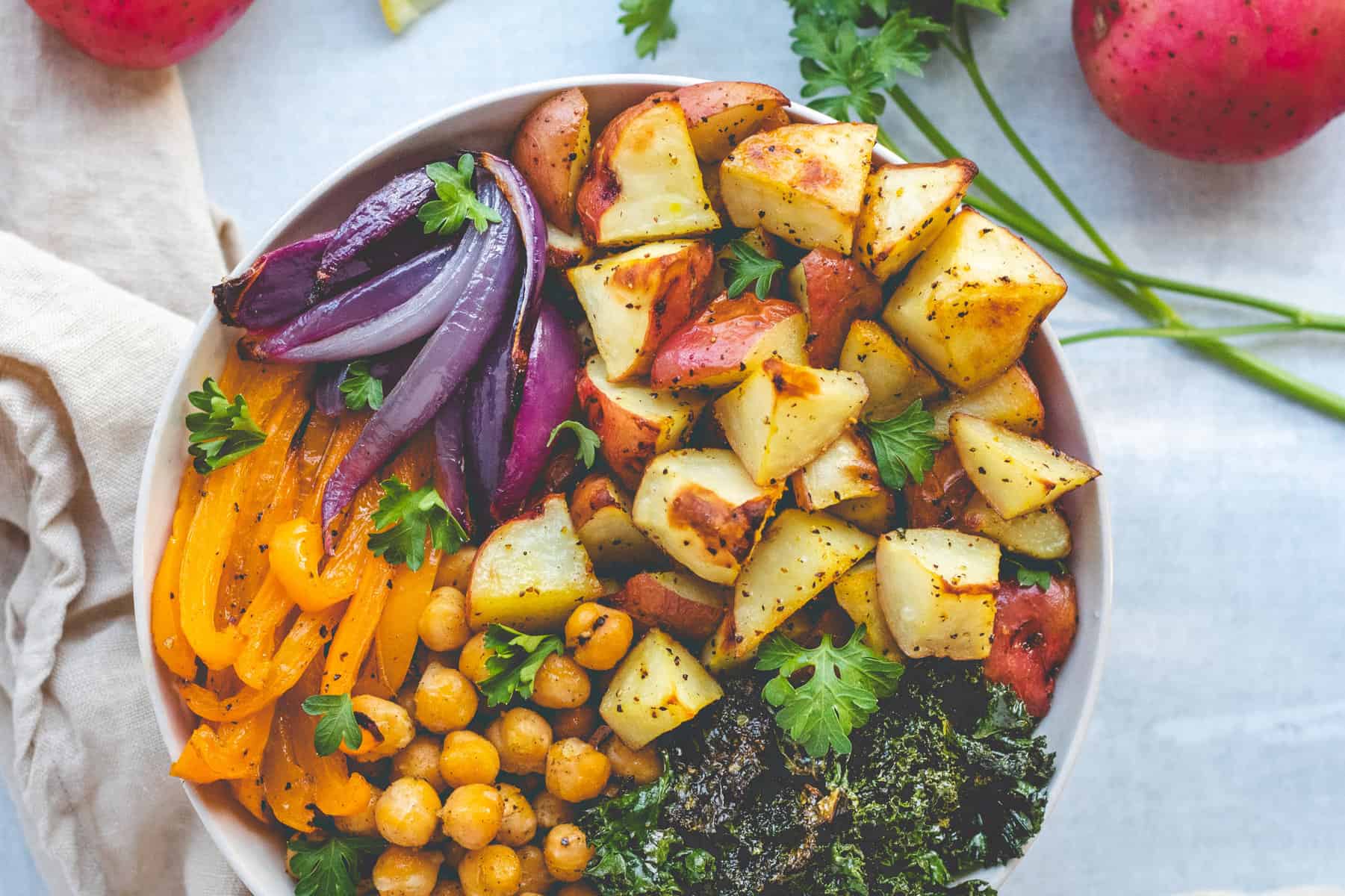 We created this new recipe to help change your mindset about what "healthy" means. No bland, tasteless veggies here, thank-you-very-much! Instead of being bogged down by the restrictive ideas of "eating healthy", treat each day as an opportunity to nourish your body with delicious, healthy, and nourishing foods. This Potato Power Bowl is special because it checks the boxes on flavor and nutrition.
Did you know that potatoes provide with you protein and Vitamin C? Just one medium potato with the skin provides 30% of the recommended daily value of Vitamin C and 3 grams of plant-based protein!*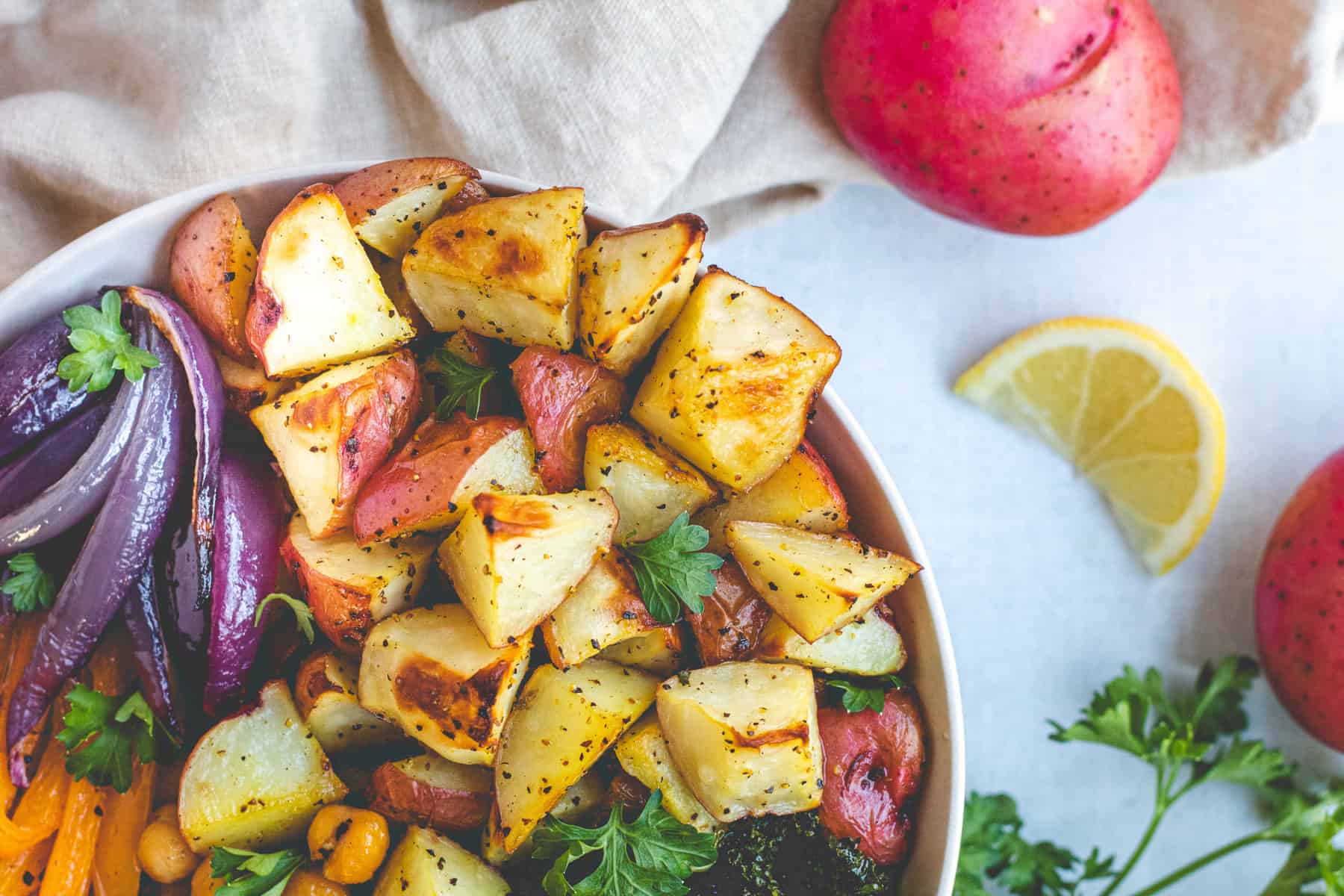 Now, let's talk about carbohydrates. Carbs are always a topic of conversation when talking about potato nutrition. Let's just clear the air here ... carbs aren't bad! Say it loud enough for the people in the back ... CARBS AREN'T BAD! In fact, your body needs carbohydrates to function. One medium potato with the skin provides 26 grams of carbohydrates, or 9% of the daily value per serving.* That's right, just 9%! Like we said before, "It's all about balance." You can learn more about the health benefits of potatoes in our A-Z Food Guide here.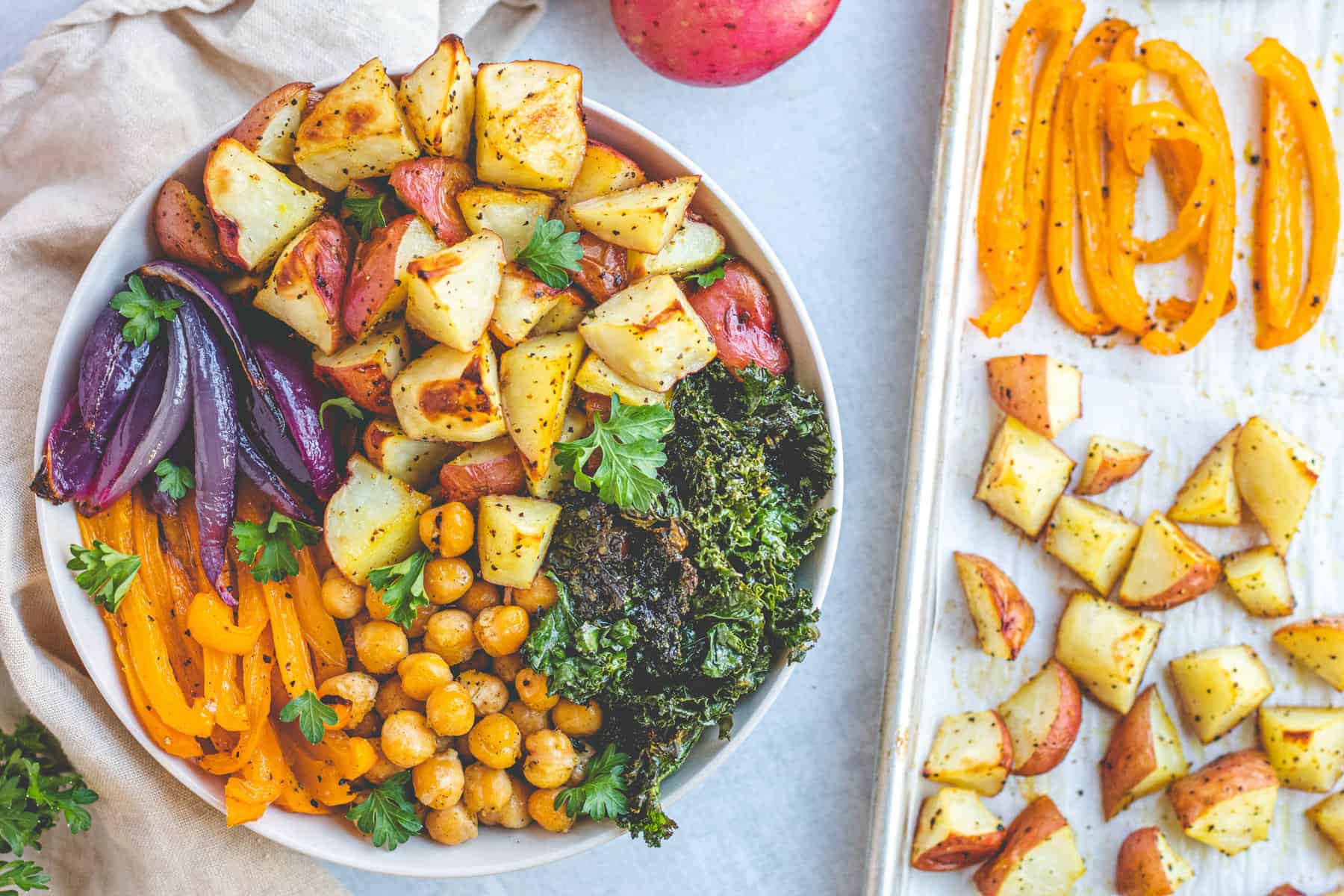 Alright, let's get back to the Potato Power Bowl because this is a fun one to make and to eat. We love this recipe because not only is it customizable, but it requires only two pans, y'all! No need for multiple bowls, cutting boards, pots, or tons of dishes. Just those two baking sheets – yeah, the same ones you used to make a million Christmas cookies, but now we're putting them to a healthier use. Remember ... balance.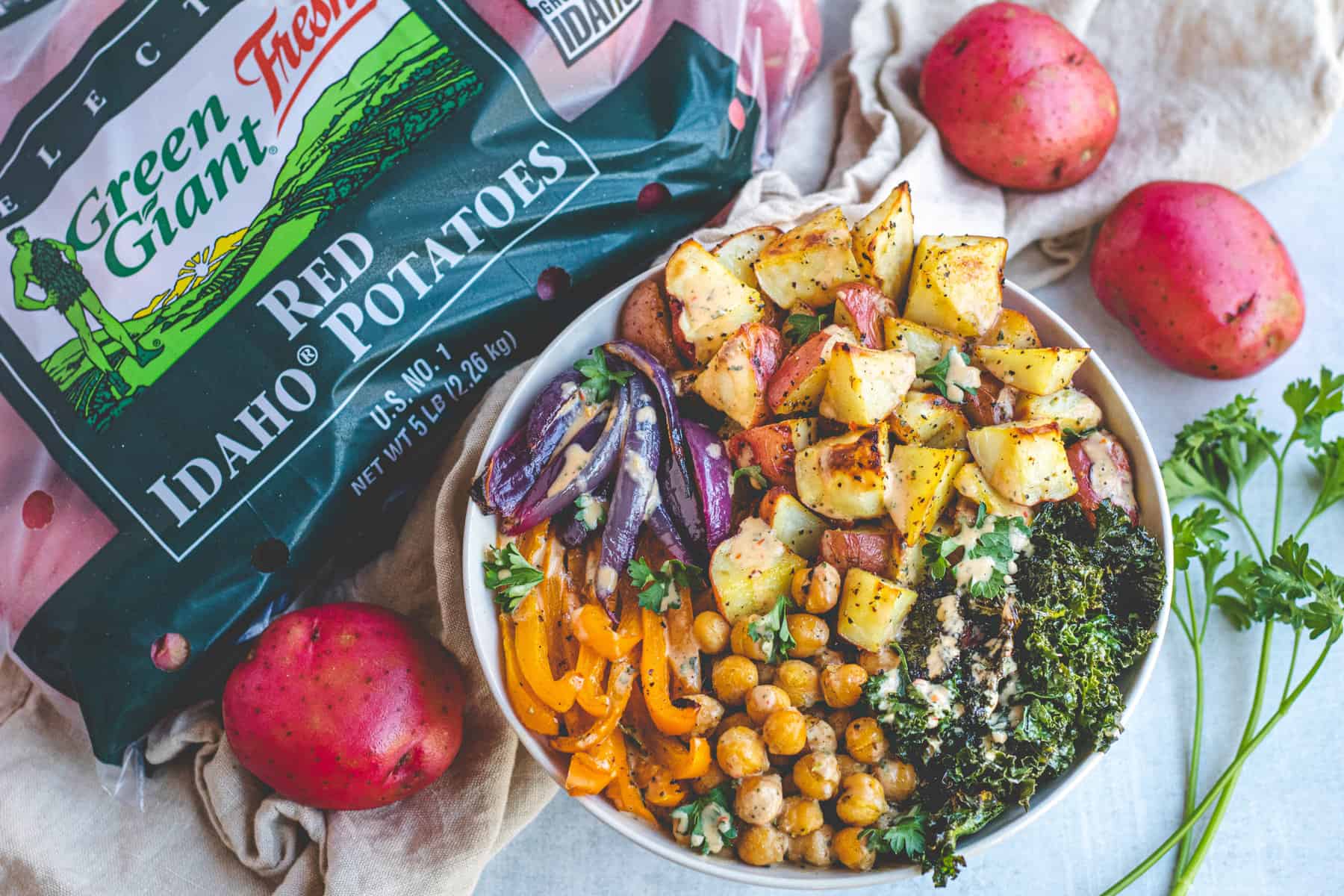 Why did we opt for Red Potatoes from our pals at Green Giant™ Fresh? Most red potatoes contain more moisture and less starch, which means they'll remain firm during the cooking process. Their flavor is sweet and robust with a creamy, slightly moist mouth feel. This makes them a great meal-prep option because they're less likely to dry out when cooked, refrigerated, and reheated. Plus, the red skin produces higher antioxidant levels versus russet or white potatoes.
In our recipe below, we share the spices we use, but we encourage you to get creative! This can taste like a totally different bowl every time you make it, which is what makes it so fun!
Do you love spicy foods? Use chili powder, cayenne pepper, or red pepper flakes. Love Mexican-inspired cuisine? Use cumin or your favorite taco seasoning. Are you a fan of Italian-inspired dishes? Add some oregano, rosemary, or thyme. Seriously, the options are endless! We went for a Greek-inspired bowl with lemon pepper potatoes, garlic-y kale, and lots of parsley. Here's another tip for this dish and for any dish when cooking at home: add fresh herbs! Fresh herbs elevate your dish and add tons of flavor and nutrition, too.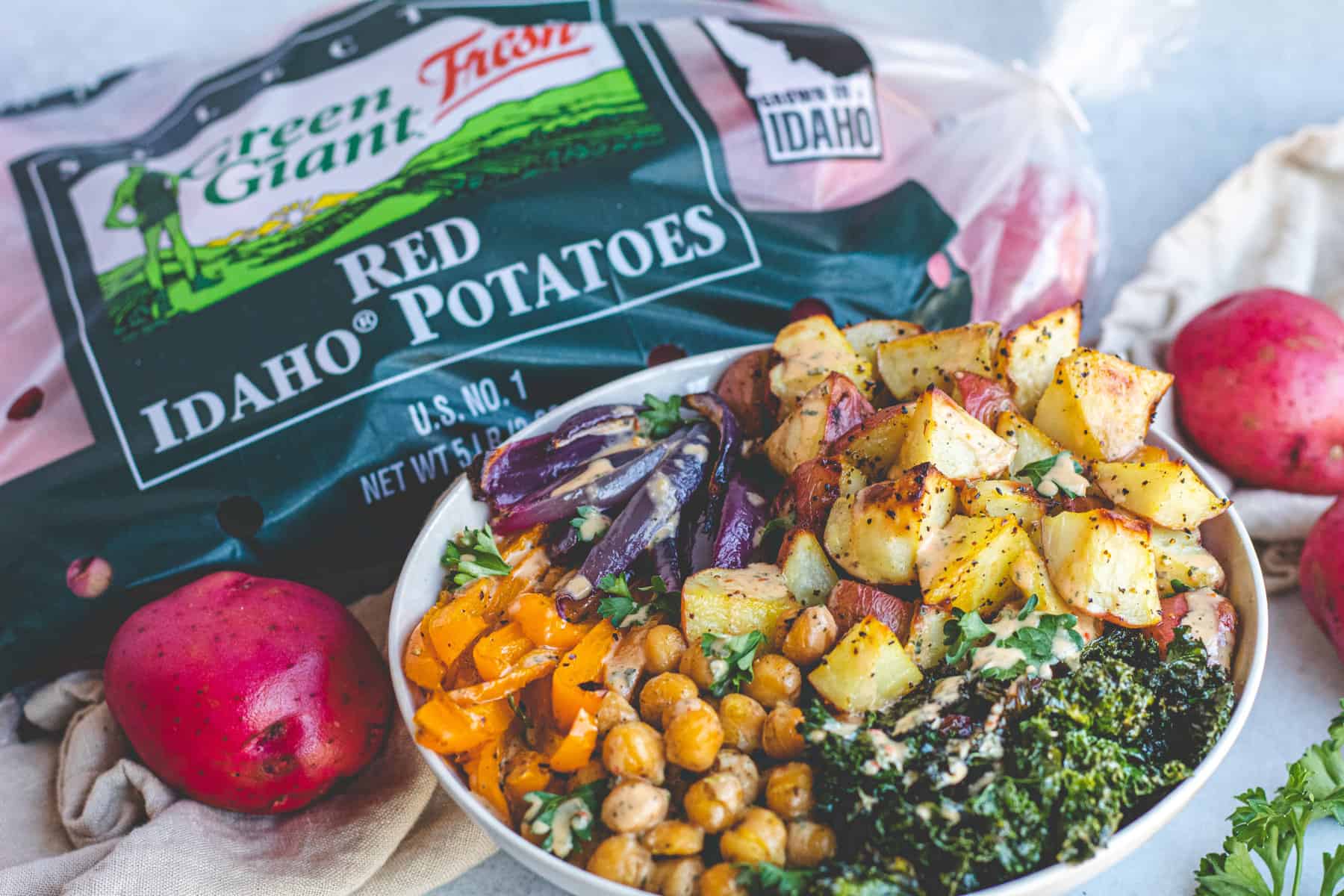 Make this recipe in the beginning of the week and store each vegetable in separate containers in the fridge so you can pick and choose what you want throughout the week. Feel free to customize further by adding a little hummus, avocado, hemp seeds, salad dressing, or a sauce you love. Serve your veggies on top of delicious greens like arugula, or another starch like rice, or add even more veggies and serve with cauliflower rice. Seriously, the more you change up your menu, the more excited you'll be to try new things and get creative with your own cooking. See how we made this Potato Power Bowl below...and have fun!

TIP #1: Add kale to a separate bowl and drizzle with olive oil and your seasoning of choice. Toss and squeeze with your hands to help coat the kale. Since kale is a heartier green, 'squeezing' it helps to break down the kale a bit.
TIP #2: For easy clean-up, add parchment paper to your baking sheets.
PRO-TIP: This recipe is great for any meal of the day! Add an egg for breakfast, rice for lunch, or salad greens for dinner.
Ingredients:
5-6 Green Giant™ Fresh Klondike Red Potatoes – cubed

1 can Chickpeas – drained and rinsed

1/2 Red Onion – sliced

1 bunch Kale – rinsed and removed from ribs

1 Bell Pepper – sliced

Optional Ingredients: squeeze of lemon, fresh parsley, your favorite dressing
Seasonings We Used:
2 tsp Lemon Pepper Seasoning
1 tsp Poultry Seasoning
1 tsp Garlic Powder
Directions:
Pre-heat oven to 400F

Slice & prep veggies: cube potatoes, slice red onion into wedges, de-rib kale and tear leaves into bite-size pieces, slice bell pepper into strips.

Drain and rinse chickpeas then pat dry on a kitchen towel.

Add potatoes to a baking sheet and drizzle with olive oil, coconut oil, or ghee. Season with lemon-pepper seasoning (we used about 2 teaspoons, but season to your taste), then bake for 20 minutes.

Add all other ingredients to the baking sheets, drizzle with oil of choice, and season. We tossed kale in garlic powder, chickpeas in poultry seasoning, and bell pepper with salt and pepper.

Place both baking sheets back in the oven for an additional 20 minutes or until potatoes and other vegetables are done to your liking.

Place veggies in a bowl and enjoy!

Options to customize:

Add hummus, avocado, hemp seeds, salad dressing, or a sauce.
Serve over quinoa, cauliflower rice, rice, or salad greens.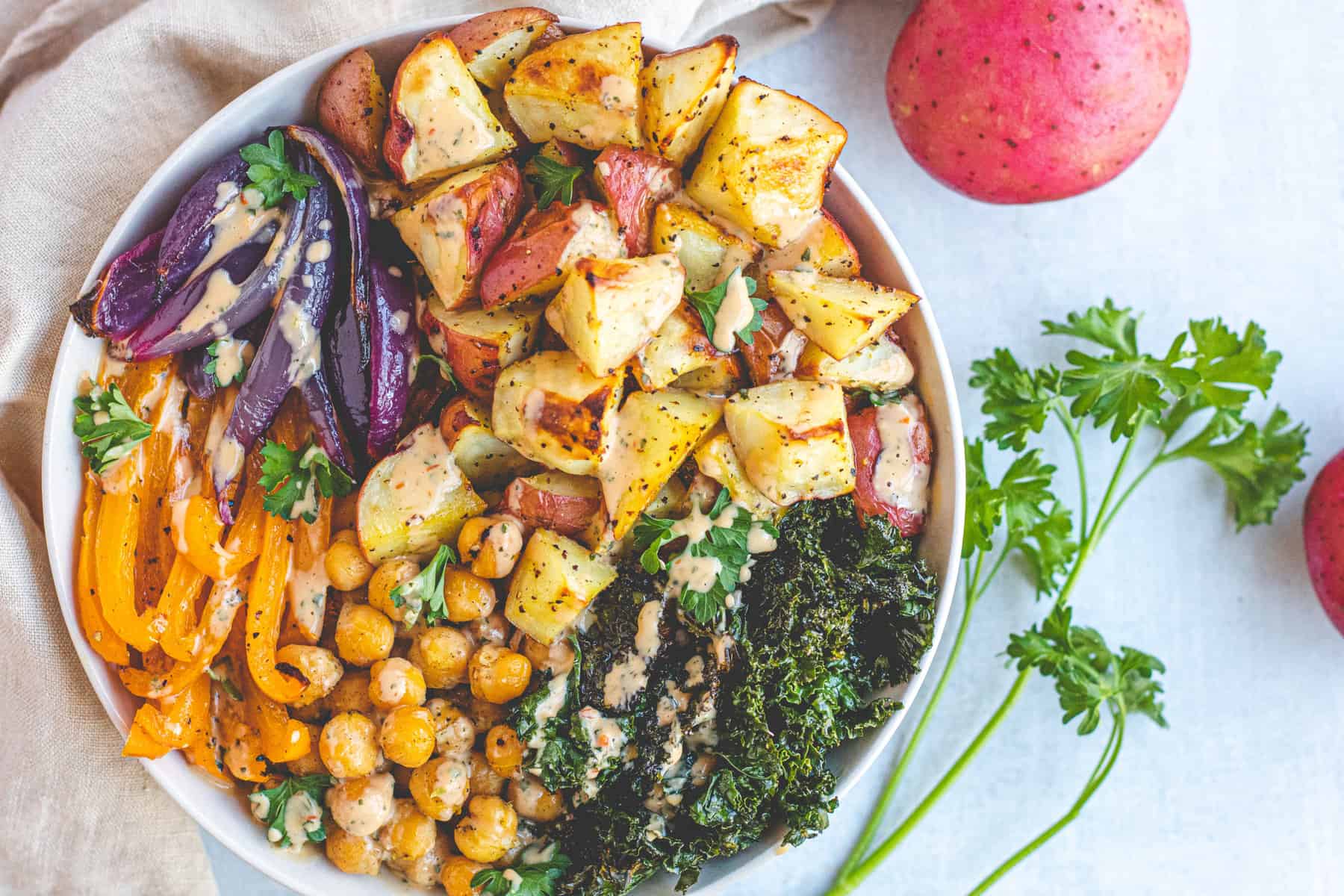 *Nutritional information gathered from studies provided by Potatoes USA and our A-Z Guide.

Servings 5 | calories 225 | Total Fat 1g | Saturated Fat 0g | Monounsaturated Fat 0 | Trans Fat 0g | Cholesterol 0 mg | Sodium750 mg | Potassium 1053 mg | Total Carbohydrate 45g | Dietary Fiber 8g | Sugars 4g | Protein 9g 22% | Vitamin C 197% | Calcium 14%

---