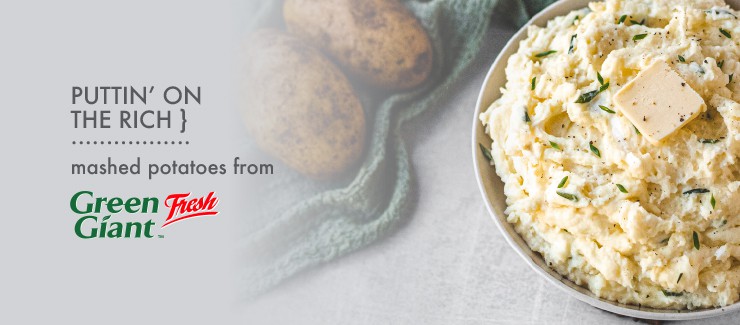 We can't help but hum the song when sharing these "Puttin' On The Rich" Mashed Potatoes from Green Giant™ Fresh. They're so properly named because they are very rich, creamy, decadent, and delicious. Basically, anything you want from a mashed potato recipe...this is it!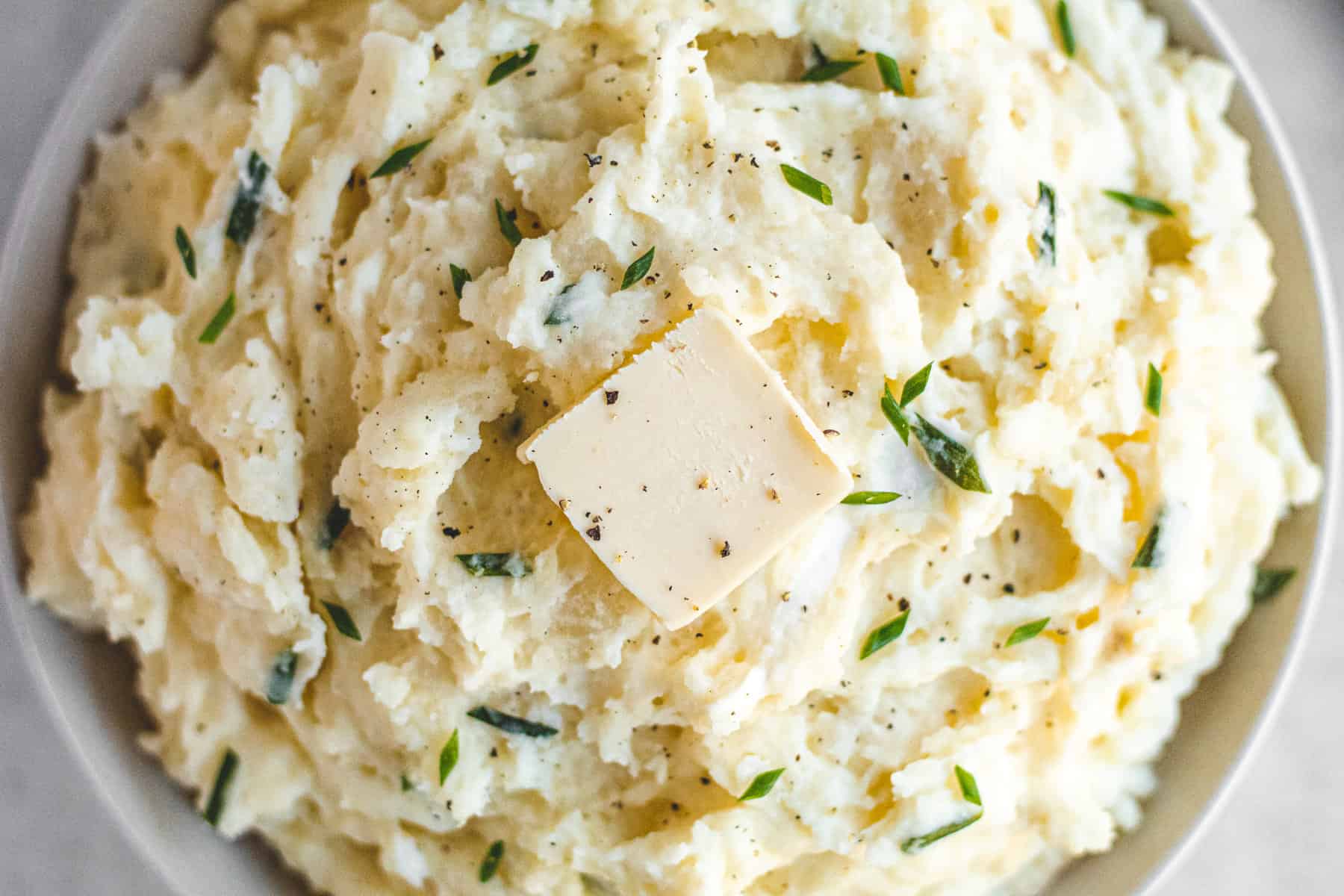 We used Green Giant™ Fresh russet potatoes for this recipe. Why russet? Russet potatoes are the most common potato in the US and are best known for baked potatoes, mashed potatoes, and of course, french fries. Russets are packed with nutrition, so it's easy to see why they are so popular.
Did you know that russet potatoes are cholesterol free, sodium free, and fat free? They also provide 45% daily Vitamin C, 18% daily Potassium, 15% daily fiber, and are loaded with many other trace minerals such as copper, manganese, phosphorus, pantothenic and folic acids, as well as 3g of protein, and vitamins B3 and B6.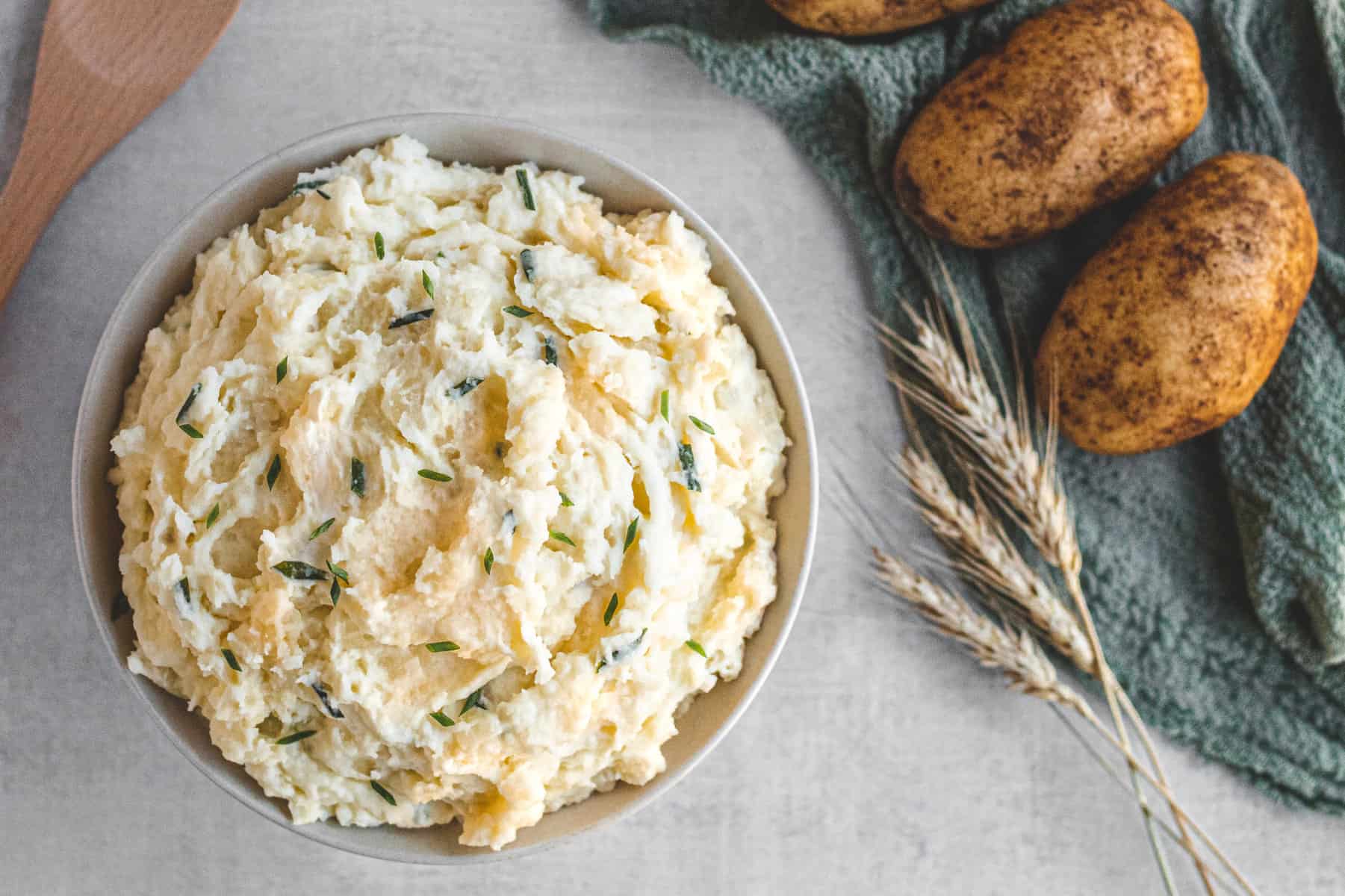 Not only do russets offer a ton of health benefits, but they're also great when making mashed potatoes because they are low in moisture and high in starch which leaves them light and fluffy when boiled or mashed. And these mashed potatoes are the perfect addition to any holiday table – or just for a delicious weeknight side dish!
Did you know that mashed potatoes freeze well? Leftover or meal-prep mashed potatoes can be frozen in an airtight container or plastic bag for up to ten months! So, you can actually make these mashed potatoes in January for next Thanksgiving...just saying. Get the full recipe from Green Giant™ Fresh below!
TIP: Make a double batch and freeze the rest for an easy heat-and-eat weeknight side dish!
Ingredients
6-8 Medium to Large Green Giant™ Fresh Russet Potatoes, (peeled if desired)
1/2 Cup Butter
1 pkg. (8oz.) Cream Cheese
1/4 Cup Heavy Cream
1/4 Cup Fresh Chopped Chives
Salt & Pepper to Taste
Preparation Steps
Wash and cut potatoes into 1 inch chunks.
Place the potatoes into a large pot and cover with water. Bring to a boil and cook until fork tender, 15-20 minutes.
Drain potatoes and return them to the pan.
Mash the potatoes with a potato masher.
Add the butter, cream cheese and stir to combine. Add the heavy cream a little at a time until desired consistency.
Stir in chives and salt & pepper.
Enjoy!

---