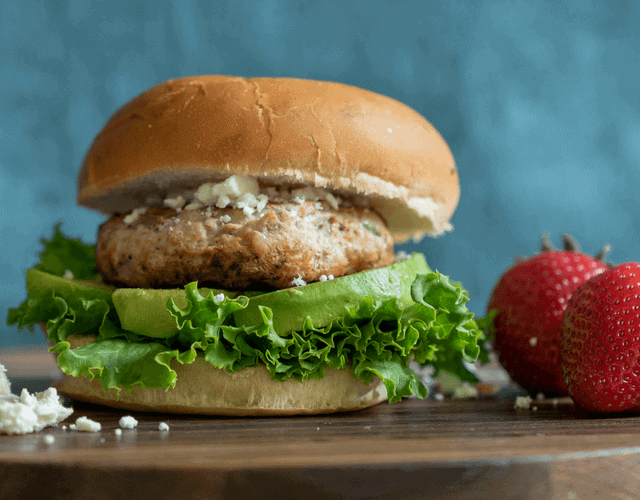 As summer inches near, strawberries are definitely one of our favorite fruits to enjoy – in summer salads, smoothies, sips, and, of course, straight out of hand! We started thinking as to how to feature them as the main ingredient in our summer entrees, as in, what about in a burger?! Well, guess what! We tried it and loved it!
We found that sweet strawberries roasted in the oven with balsamic vinegar add a unique and scrumptious flavor to these burgers, so introducing the Well•Pict Roasted Strawberry Chicken Burger. You'll love these!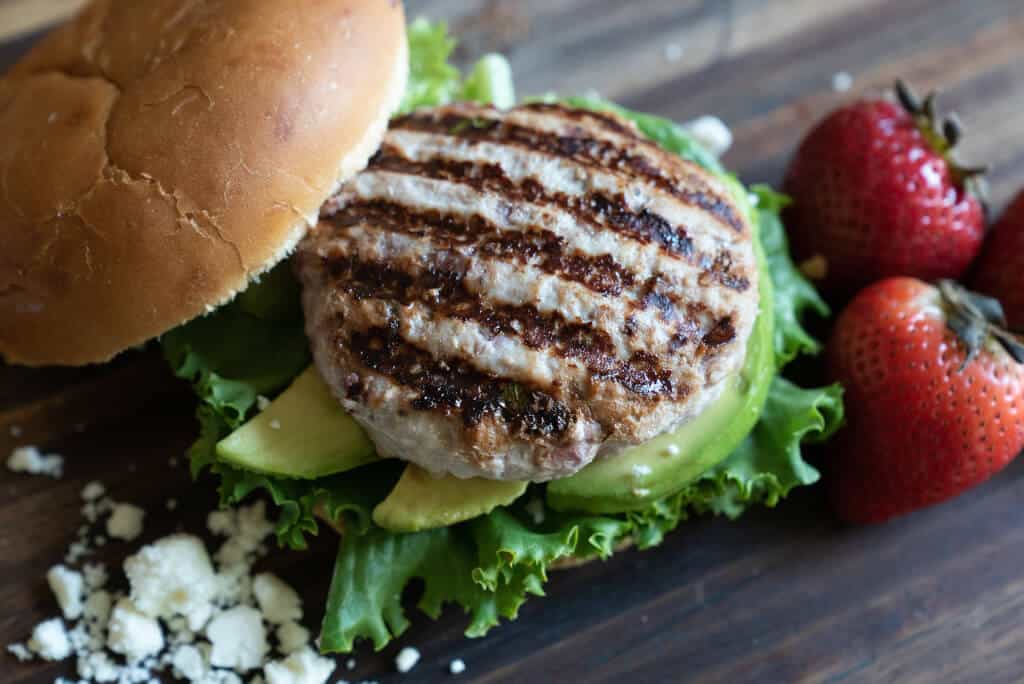 Not only are these chicken burgers a healthier way to enjoy a summertime favorite, but they're also really delicious! What a great way to mix up your old burger recipes! You can serve this chicken burger on a bun or even on top of a bed of lettuce for a lighter version of this recipe. We recommend adding even more fresh strawberries to really get a big burst of strawberry goodness. Check out the bonus recipe at the bottom of this article, and spread it all over this amazing burger.
Speaking of strawberry goodness, it's a fact that eight strawberries contain more Vitamin C than a medium-sized orange, a single 12-ounce serving of strawberries contains just 97 calories, and they are known to promote heart-health, and reduce of the risk of diabetes, osteoporosis, and certain cancers!
For this strawberry recipe, we gladly use fresh Well•Pict Berries' strawberries grown in the great state of California. No wonder they call California their home, too! California produces 80% of strawberry crops in the U.S and uses over 23,000 acres of land with its fertile valleys and moderate year-round temperatures for strawberry production alone! People call California "The cradle of berry perfection", providing almost a year-round supply, but the peak season is from April through June.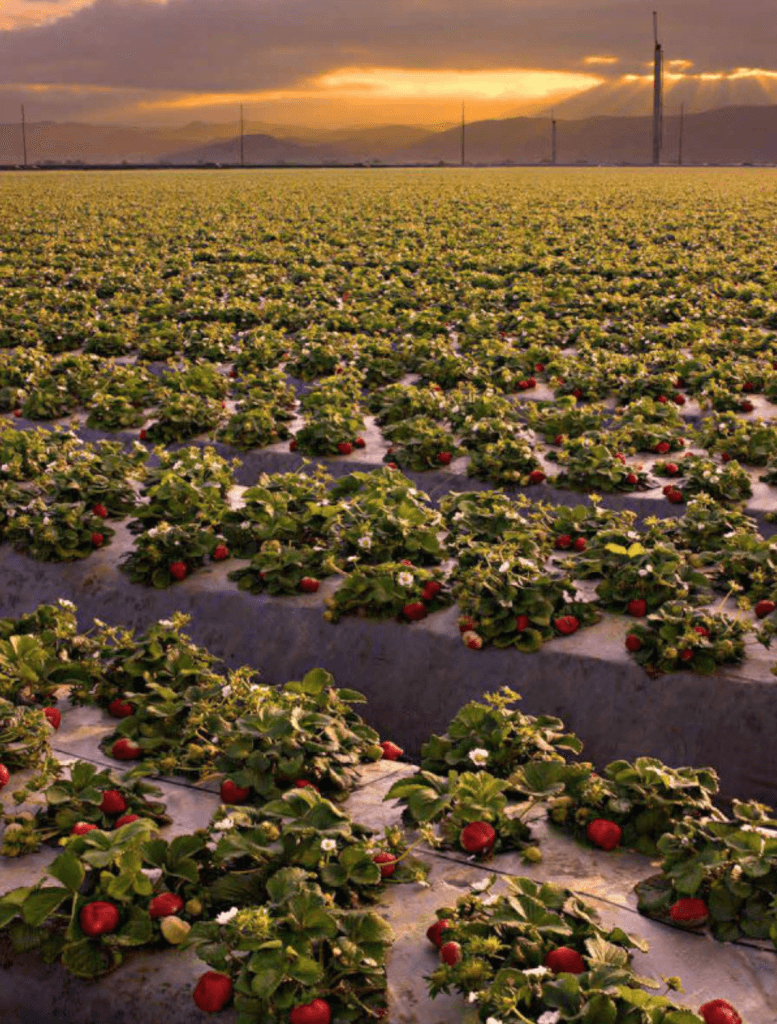 While you're enjoying your summer strawberries, here are a few care
tips and tricks
to help you enjoy the best, most long-lasting berries possible:
Do not wash or hull strawberries until you're ready to use them. This can cause them to become mushy or even speed up the molding process.
Prior to putting your berries in the fridge always make sure to remove any overripe strawberries to prevent mold from spreading to others berries.
If you have leftover washed strawberries, be sure to place them in a paper towel in an airtight container and store in the refrigerator.
For best flavor, serve your Well•Pict strawberries at room temperature.
To find more information about this delicious berry be sure to check out our
A-Z Food Guide.
Now, back to the burger – see how we made it below!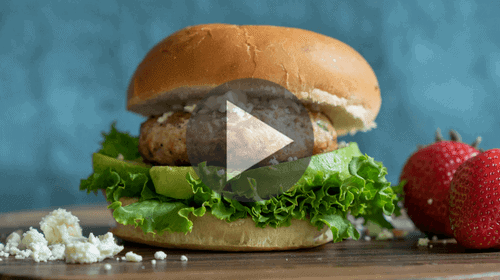 TIP: We recommend you drain the roasted strawberries to prevent a 'wet' burger mixture. Just place a colander over a large bowl and allow the roasted strawberries to drain and cool in the colander.
Ingredients
1/2 lb fresh Well•Pict strawberries,

trimmed and cut in half

1 lb ground chicken

1/4 cup tightly packed fresh basil,

roughly chopped

2 cloves garlic,

minced

2 tablespoons extra virgin olive oil

1 1/2 tablespoons balsamic vinegar

1/2 teaspoon salt

1/4 teaspoon black pepper
Directions
Preheat oven to 400 degrees.

Toss halved strawberries in the balsamic vinegar to coat.

Lay out strawberries on a baking sheet, cut side down, and bake in the oven for 15-20 minutes, until juices are bubbling, then remove from the oven and let cool.

In the meantime, prep the rest of the burger mixture: put the ground chicken, basil, garlic, salt and pepper, and 1 tablespoon of olive oil in a bowl and mix to thoroughly combine.

Once the strawberries have cooled, roughly chop them (to about the size of a kidney bean) and toss them in the burger mixture, making sure the strawberries are well incorporated throughout (hand mixing works best for this job). The mixture will be on the wet side.

Heat the other tablespoon of olive oil in a skillet on medium heat. Form four equal sized patties with the mixture and place them in the skillet. Cook for 4-5 minutes on each side until the patties are firm to the touch. If you find the pan getting dry add a little more oil. When the burgers are cooked through, remove from the pan and let rest for about 5 minutes before serving.

You can serve on a bun with fresh sliced avocado, mixed greens, and feta cheese, or over a bed of greens dressed with a balsamic vinaigrette. The Strawberry-Chipotle jam (recipe below) is another tasty option to pair with these burgers.
Well•Pict Strawberry Jalapeno Chia Jam
TIP: This jam is extremely versatile. Serve on toast, with cream cheese as a dip, or even on sandwiches and meat! Yields about 2 cups.
Ingredients
1 lb fresh Well•Pict strawberries, quartered
1 jalapeno pepper, deseeded and finely diced
3 tablespoons honey
1 tablespoon lemon juice
2 tablespoons chia seeds
Directions
Wash and quarter the strawberries.
Deseed and dice the jalapeno. (leave the ribs on if you want to have a little spice, or remove them along with the seeds if you prefer a completely mild flavor).
Put both the strawberries and jalapenos in a sauce pan, along with the lemon juice and honey. Cover and bring the mixture to a gentle boil on medium heat.
Remove the lid, stir everything to combine, and reduce the heat to cook at a low boil, uncovered, for about 15 minutes
Add the chia seeds and stir to combine. Continue to cook for another 5 minutes, or until mixture has thickened.
Mash the jam with a fork or potato masher until desired texture.
Let cool in the pan for about 5 minutes before transferring to a glass jar. Let cool completely before storing in the fridge.

---