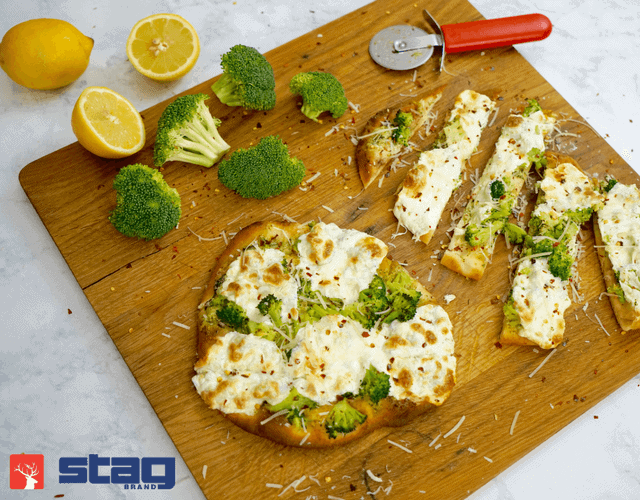 We love creating dishes that everyone will enjoy and putting a healthy farm-fresh twist on them, but sometimes you just want a slice of pizza! With this delicious recipe, you don't have to sacrifice good health and the indulgence of pizza with this fabulous recipe – Broccoli Pesto Pizza! It will really hit the comfort food spot and fulfill any 'pizza' craving while still getting in those healthy vegetables.
We've topped this pizza with broccoli from Smith's Farm - the largest broccoli grower in the southeast! Smith's Farms grows, harvests, and delivers their broccoli themselves. This means that when you grab a head of Smith's Farm Broccoli at the store, you know it'll be fresh and delicious.
We made this recipe easy by using naan bread - yep - for the crust! With your busy lifestyle, we know it's hard to be making pizza crust hours before you want to eat!
Check out the video for step-by-step instructions: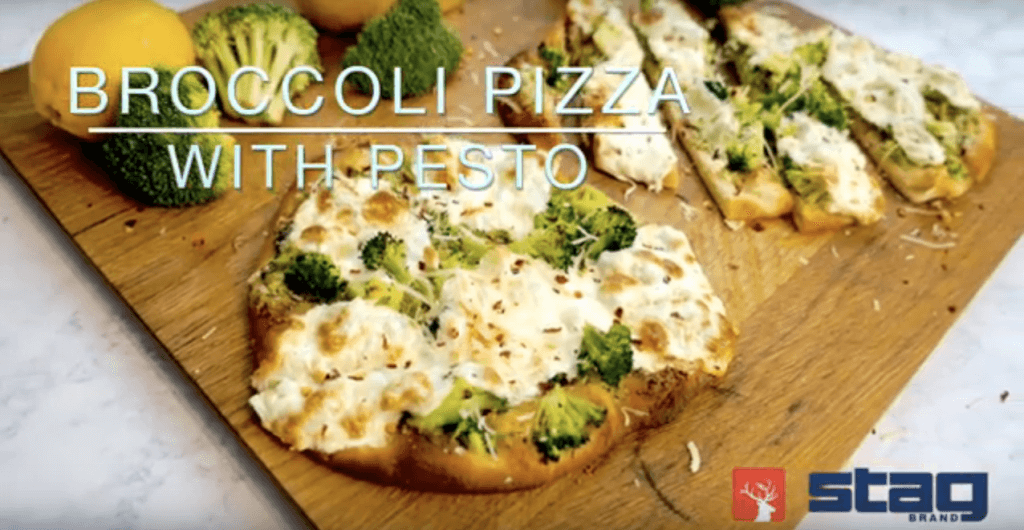 TIP: If you like a crispier crust and don't have a metal cooling rack, place the pizza directly onto the middle oven rack. Cover the lower oven rack with aluminum foil to protect your oven against any drips!
Ingredients:
Pesto -
1/3 cup pine pieces
2 cups broccoli florets
2 cups coarsely chopped curly basil
2 garlic cloves, minced
Juice of 1/2 lemon
1/2 cup extra virgin olive oil
1/4 cup freshly grated parmesan cheese
1/4 teaspoon kosher salt
Pizza -
4 naan breads (3 oz each)*
1 cup mozzarella sliced cheese
1 tablespoon extra virgin olive oil to drizzle
1 head Smith's Farms Broccoli steamed, dried, and finely chopped
Red pepper flakes to taste
Use Gluten Free naan for GF version
Directions:
Preheat oven to 425 degrees. Prepare the broccoli topping by steaming, rinsing under cold water, and patting dry.
In a food processor or blender, combine the basil, broccoli for pesto, toasted pine nuts, parmesan cheese, garlic, lemon juice, salt, and a few twists of freshly ground black pepper. Process the pesto while slowly drizzling in the olive oil until the mixture is relatively smooth and uniform.
Place the naan on an oven-safe metal cooling rack, if you have one, then place the rack on a backing sheet to catch and drips (the rack helps the naan become nice a crispy). If not, just place the naan directly onto a baking sheet. Spread pesto on the naan and top with an even layer of broccoli and sliced mozzarella.
Bake until the broccoli is tender and the florets are deep green and crispy, about 8 to 10 minutes. Drizzle a bit of olive oil over the naan and top with a light sprinkling of red pepper flakes. Let the naan cool slightly before slicing with a sharp knife or pizza slicer. Enjoy!
---