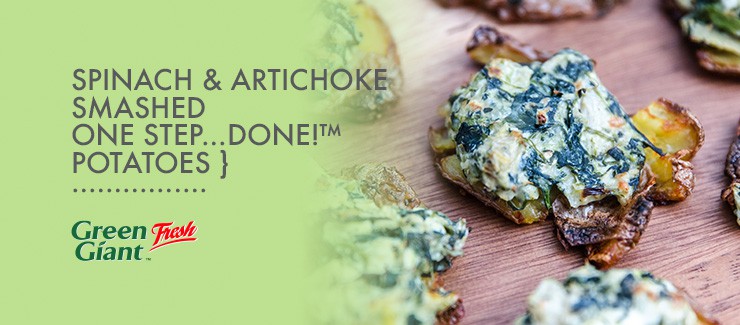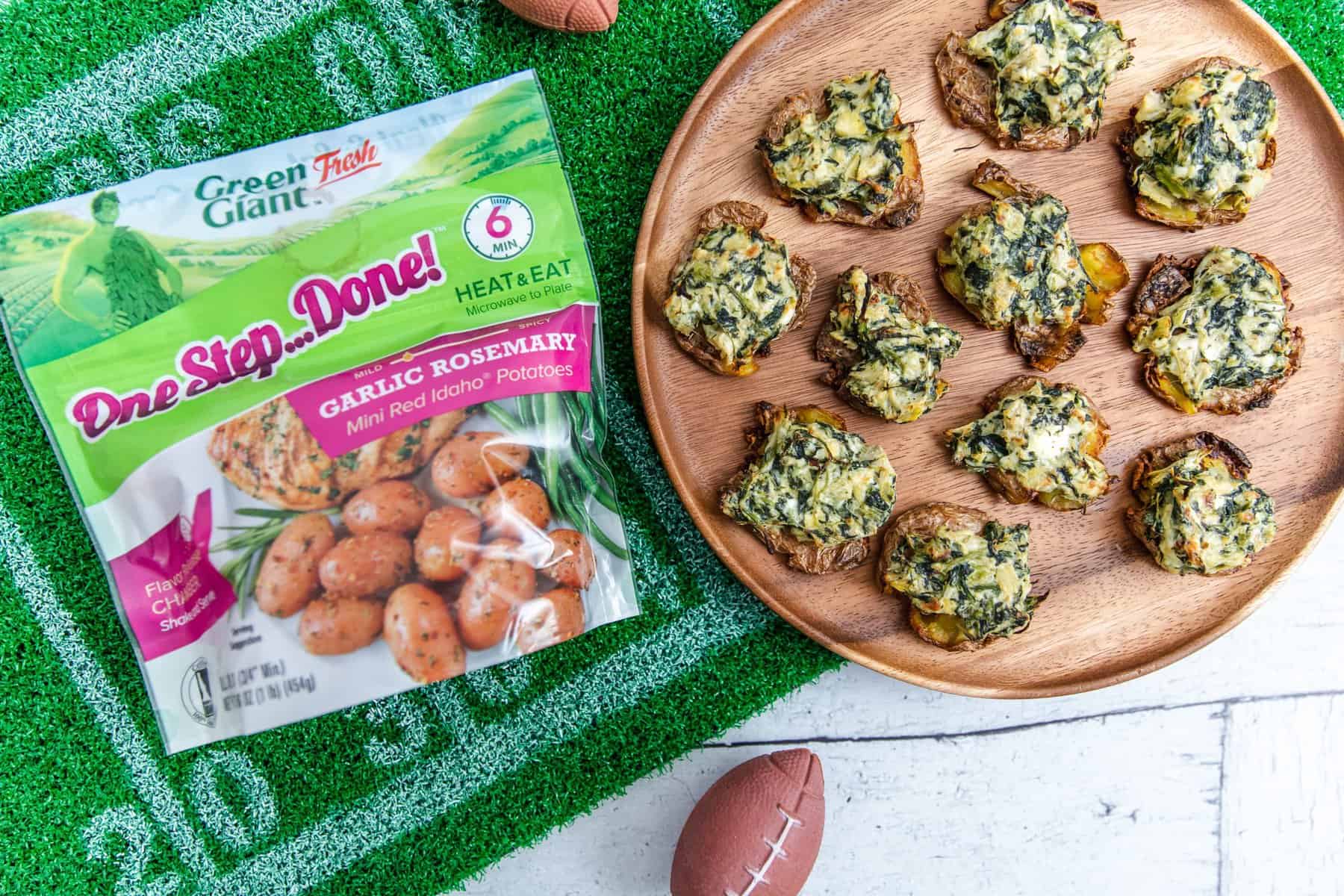 Ingredients:
2 Garlic Rosemary One Step...Done!™ Potatoes
10 oz frozen spinach, thawed and drained
1 tbsp minced garlic
14 oz can artichoke hearts, chopped
1/2 cup shredded mozzarella cheese
1/4 cup shredded parmesan cheese
3 tbsp Greek yogurt
8 oz block cream cheese, room temperature
1/2-1 tsp red pepper flakes, optional
1/8 tsp salt & pepper
TIP: Add thawed spinach to a fine mesh strainer and press to remove any moisture.
Directions:
Preheat oven to 425 F.
Add all ingredients, except for potatoes, to a medium sized bowl and mix well with a rubber spatula to combine all ingredients well. Once ingredients are well combined, add bowl to the refrigerator.
Microwave each Garlic Rosemary One Step...Done!™ package separately according to package instructions. Add microwaved potatoes to a greased baking sheet.
While potatoes are still warm, use a potato masher or heavy-bottomed glass or jar to smash each potato until they are approximately 1/4 inch thick. NOTE: Do not smash completely flat or potatoes will become too thin and burn in the oven.
Lightly spray smashed potatoes with cooking spray or olive oil spray and bake for 25 minutes. Carefully remove from the oven and top each potato with spinach artichoke dip (about 1-2 tablespoons depending on the size of the potato).
Add topped potatoes back to the oven to cook for 8-10 more minutes. Spinach artichoke dip topping should be warmed through and lightly brown. Serve immediately.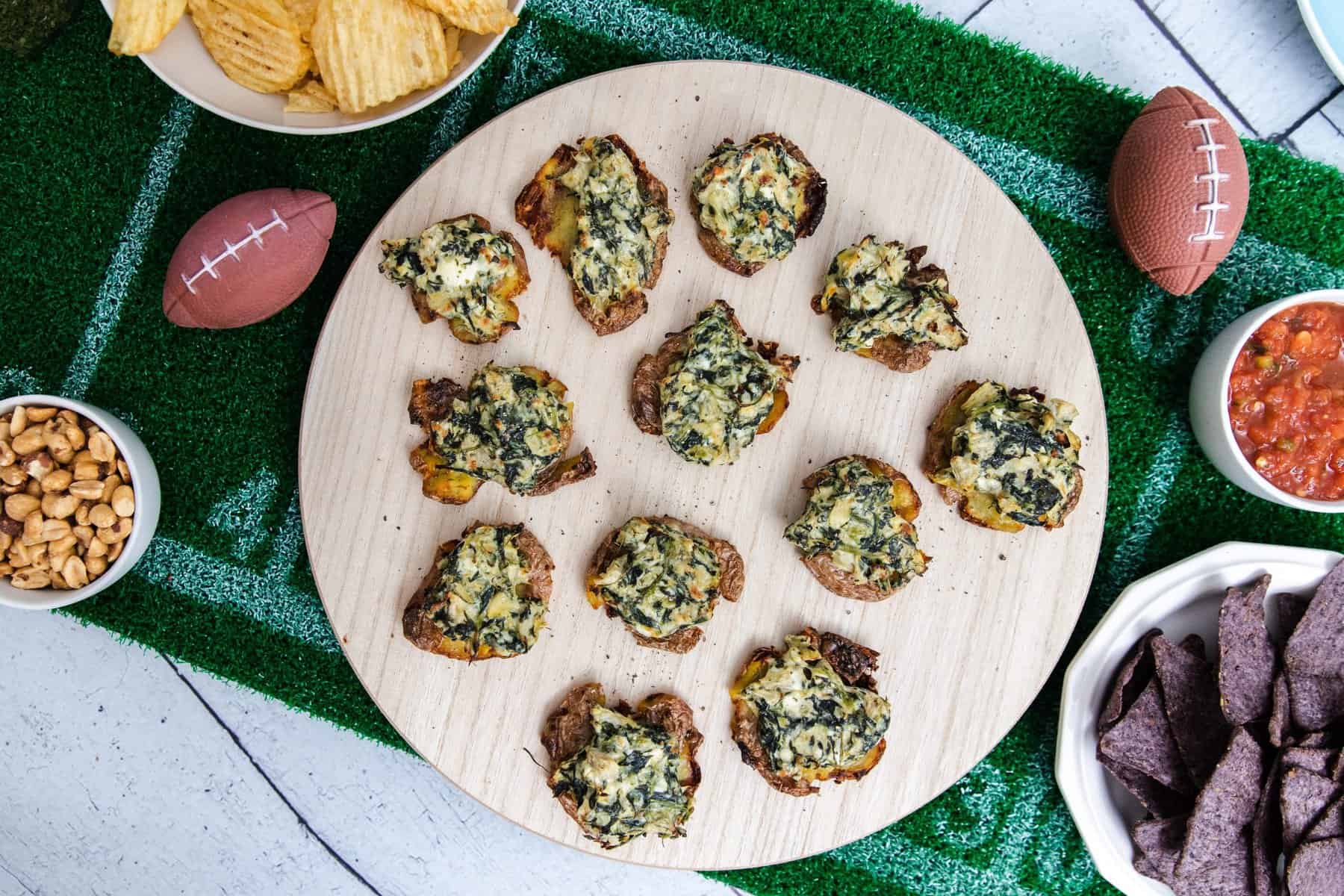 Calories 413 | Total Fat 25g | Saturated Fat 16g | Monounsaturated Fat 0g | Polyunsaturated Fat 0g | Cholesterol 80mg | Sodium 445mg | Potassium 874mg | Total Carbohydrate 33 | Dietary Fiber 4g | Protein 16g | Vitamin A 353 % | Vitamin C 34 % | Calcium 30 % | Iron 16%

---