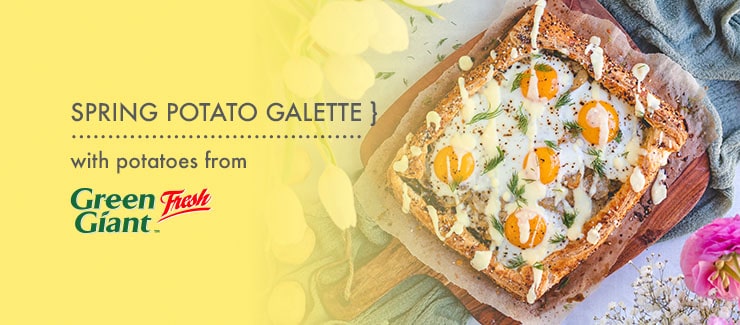 There's just something about a hint of warmer weather that feels inspiring, and we are so excited for spring. Springtime often brings a sense of renewal and hope, but this season in particular, the blooming flower buds, the chirping birds, and extra bit of sunshine feels even more invigorating after the year we've all endured together. With a glimmer of light at the end of this dark tunnel, we are looking forward to being together again with friends and family, which is why we're celebrating with delicious new recipes and farm-fresh foods like this Spring Potato Galette recipe!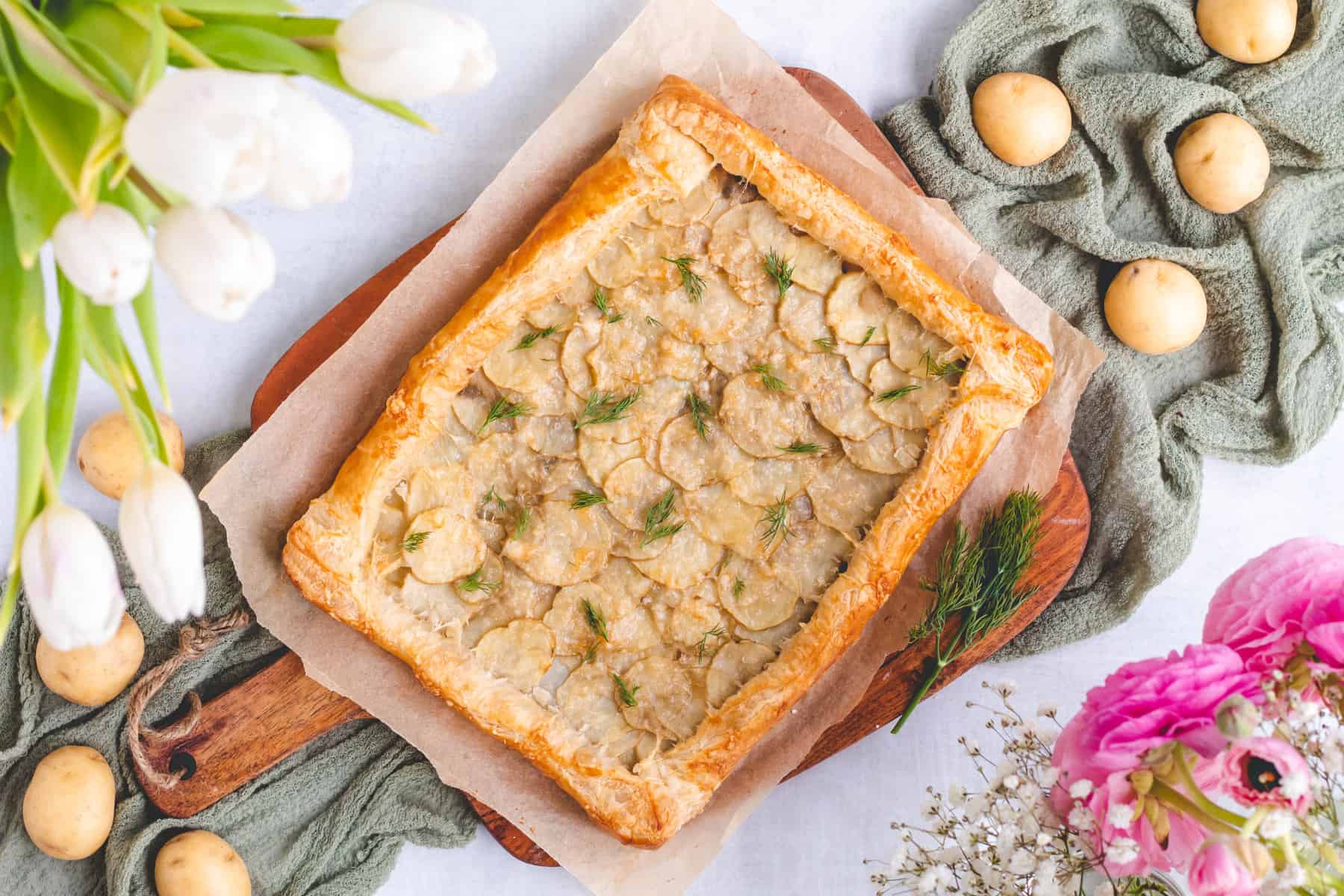 The potato isn't just reserved for humble dishes like baked potatoes or french fries (don't get us wrong – recipes like these are delicious staples), but potatoes can be elevated, fancy, and even elegant. Potatoes are truly one of the most versatile veggies and can be eaten for breakfast, lunch, and dinner. Plus, potatoes offer a ton of health benefits! Did you know that one medium potato with the skin provides 45% of the recommended daily value of Vitamin C?! It's true....and you can check out more potato health benefits, farming facts, and trivia in our newly renovated A-Z Food & Health Guide here.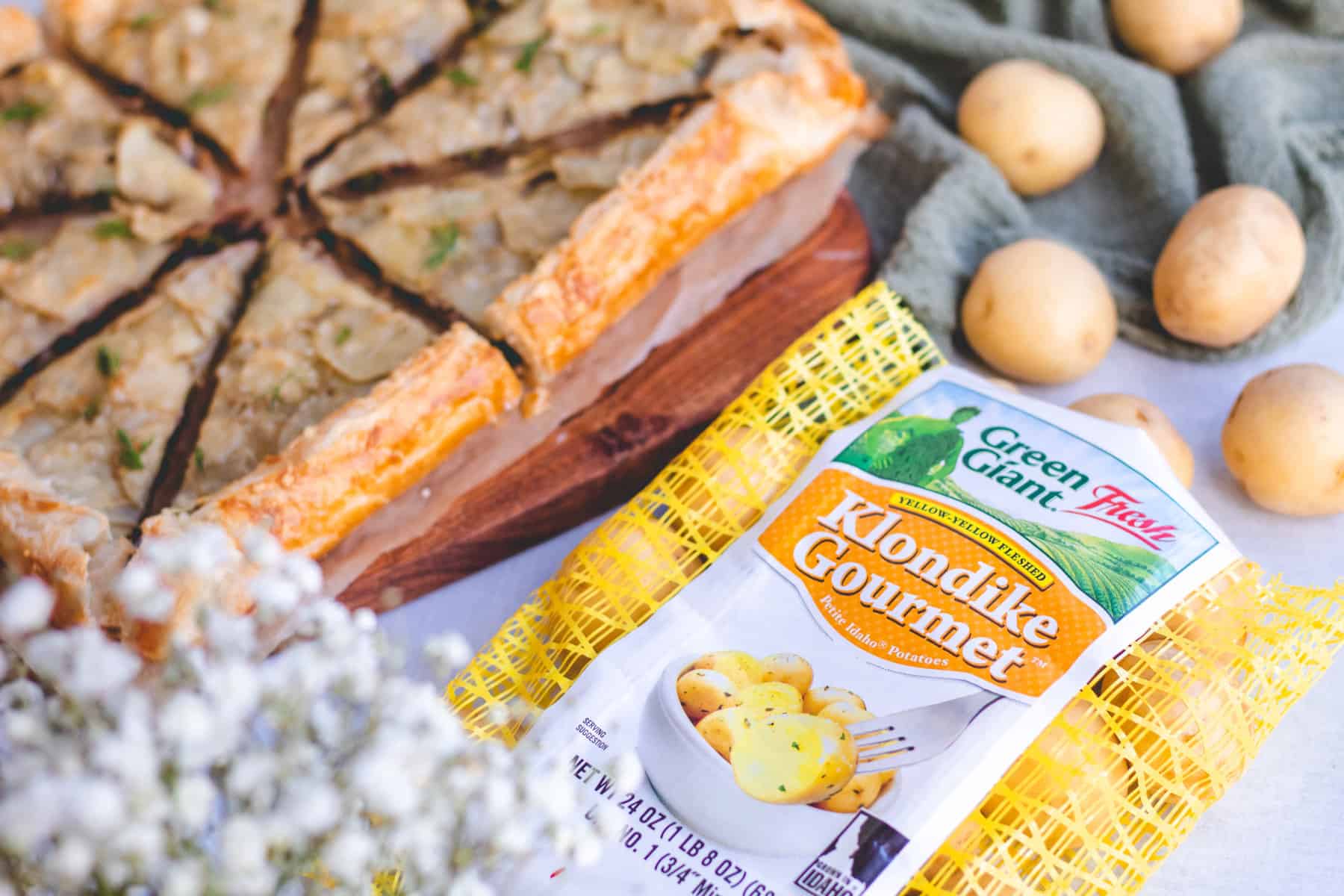 We've opted for Green Giant™ Fresh Gourmet™ Yellow Potatoes because they always deliver that reliable, fresh, and creamy potato that we expect from these potato experts. These tiny potatoes the perfect size, shape, and flavor – plus they're beautiful yellow skin and golden flesh just scream spring!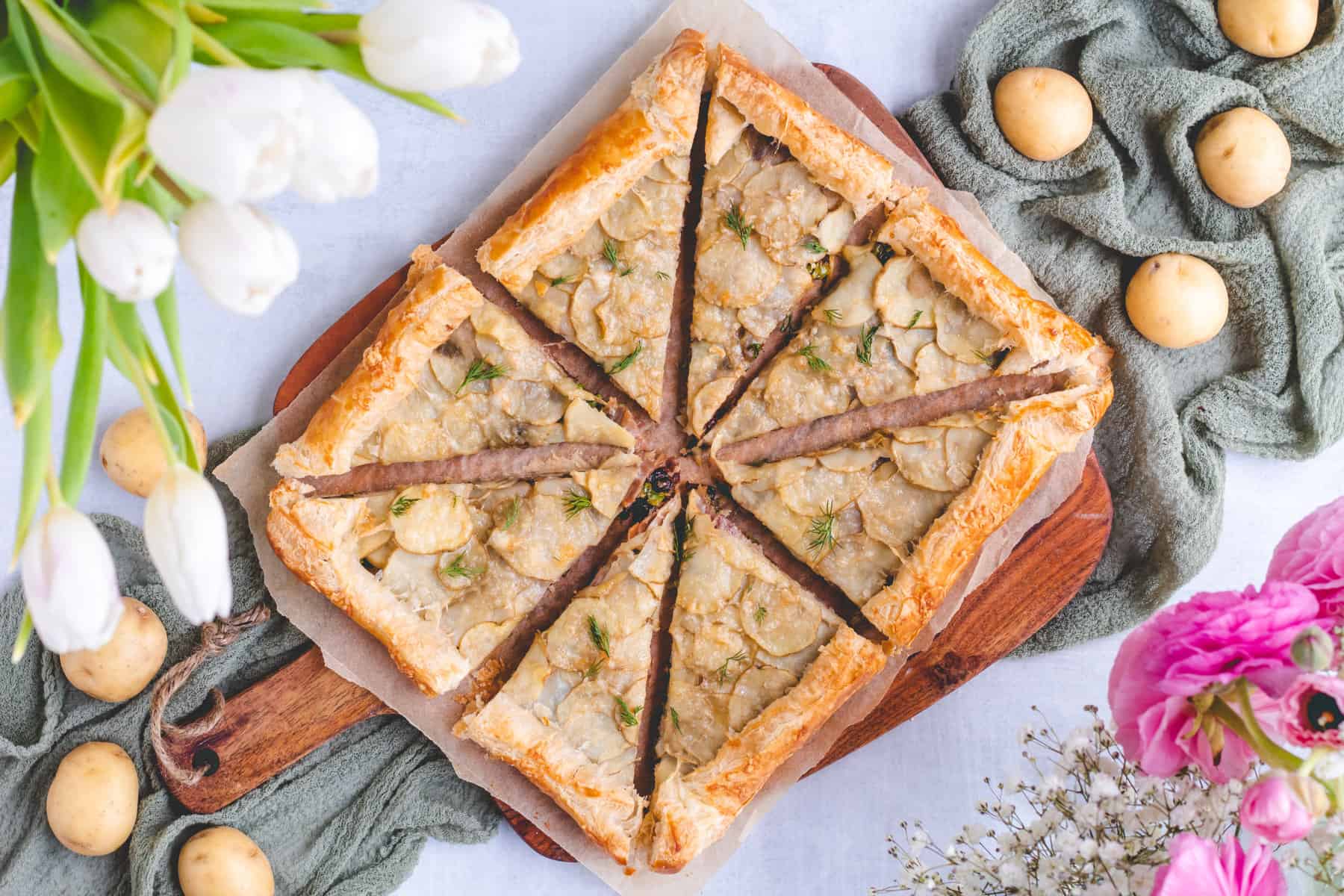 Feel free to swap it up! If there's one thing we've learned during this pandemic, it's use what you have, be creative, and have fun in the kitchen! So if you're not a fan of prosciutto, then sub it out for bacon, smoked salmon, or sliced portobello for a vegetarian-friendly version. If you prefer cheddar over gruyere cheese, then more power to you! Does dill detour you? Use another fresh herb in its place like thyme or basil. No puff pastry to be found? Try a pie crust instead!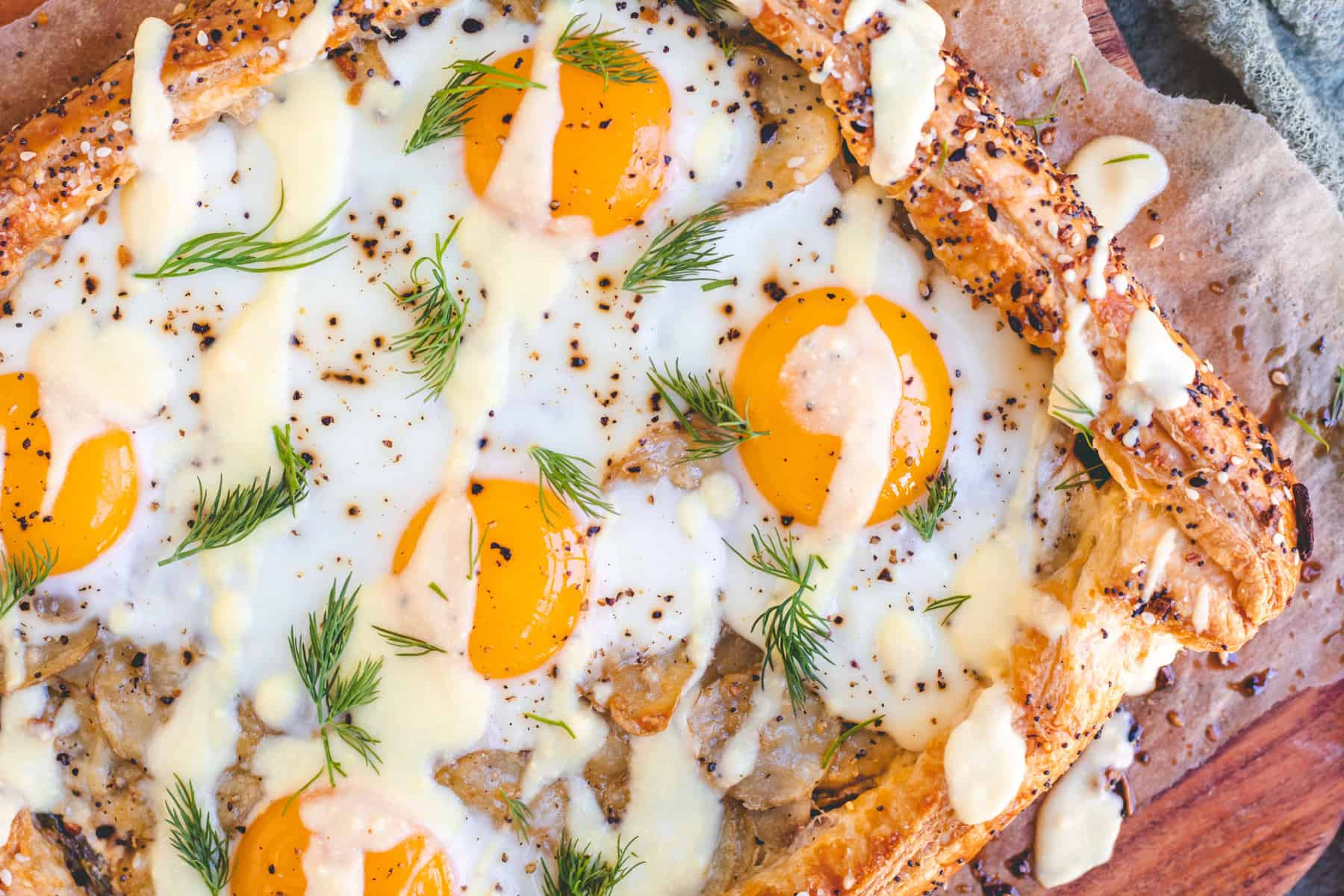 To really kick this recipe up a notch, we added eggs, a drizzle of hollandaise (store-bought because we know you just don't have time for that!), and sprinkled Everything Bagel seasoning on the crust before baking. The result is a deliciously dreamy breakfast galette that's perfect for any spring table. This recipe serves about four people so make more than one if you're feeding more folks...or just make another for those who want seconds which is highly likely.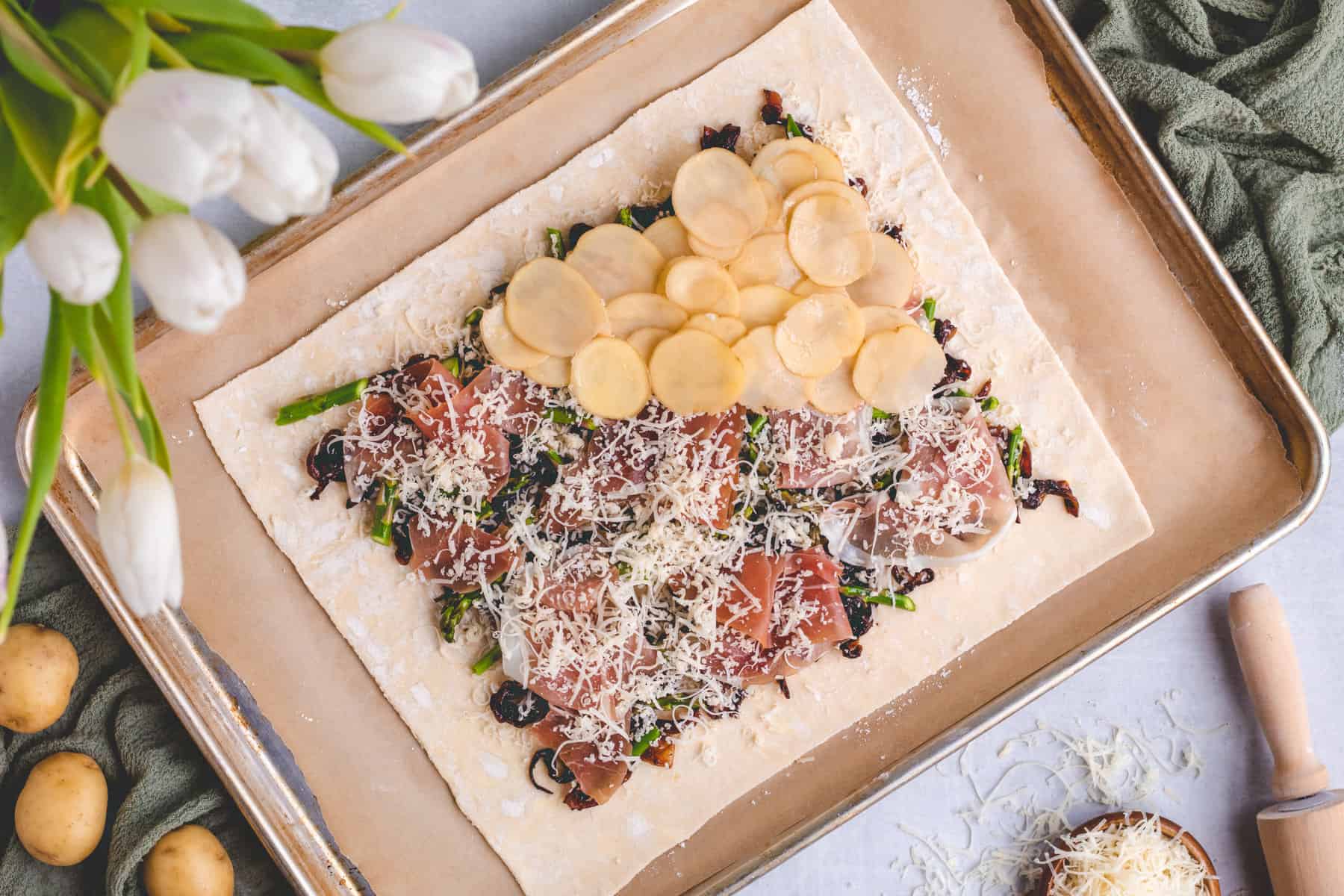 Here are a few more a few tips to ensure you have create your greatest galette yet:
Caramelized Onions: make them a up to five days in advance! Caramelizing onions can take up the better part of an hour if they're done the 'low and slow' method (which we do suggest). Make a big batch with 4-5 onions and use them for this galette, on top of crusty bread, eggs, or serve with veggies and meats. They're jammy, crazy-flavorful, and add a ton of depth to this dish.
Potatoes: slice them thin, thin, thin, y'all! It's best to use a mandolin slicer for this recipe. Ultra-thin potatoes create a paper-thin and crispy crust for the top of this galette, and it's absolutely delicious. If you don't have a mandolin slicer cut your potatoes down the middle to create a flat surface, then place the flat surface down on top of your cutting board. With a sharp knife, carefully slice potatoes as thin as you can.
Puff Pastry: you'll find this in the freezer section of your grocery store – keep it in your freezer until the day you're preparing this recipe. Move frozen puff pastry to thaw on your counter top (about 45 minutes) and place in your refrigerator until you're ready to use. Puff pastry typically comes folded so you'll know it's ready to use when you can easily unfold the dough without any cracks. If it begins to crack, let it thaw a little more.
As always, if you have any questions about this recipe feel free to comment below and reach out to us! We're here to help you recreate these dishes in your homes, and we love being a part of your celebrations.
If you make this recipe, please share and tag us on social media so we can celebrate along side you. Enjoy and happy spring!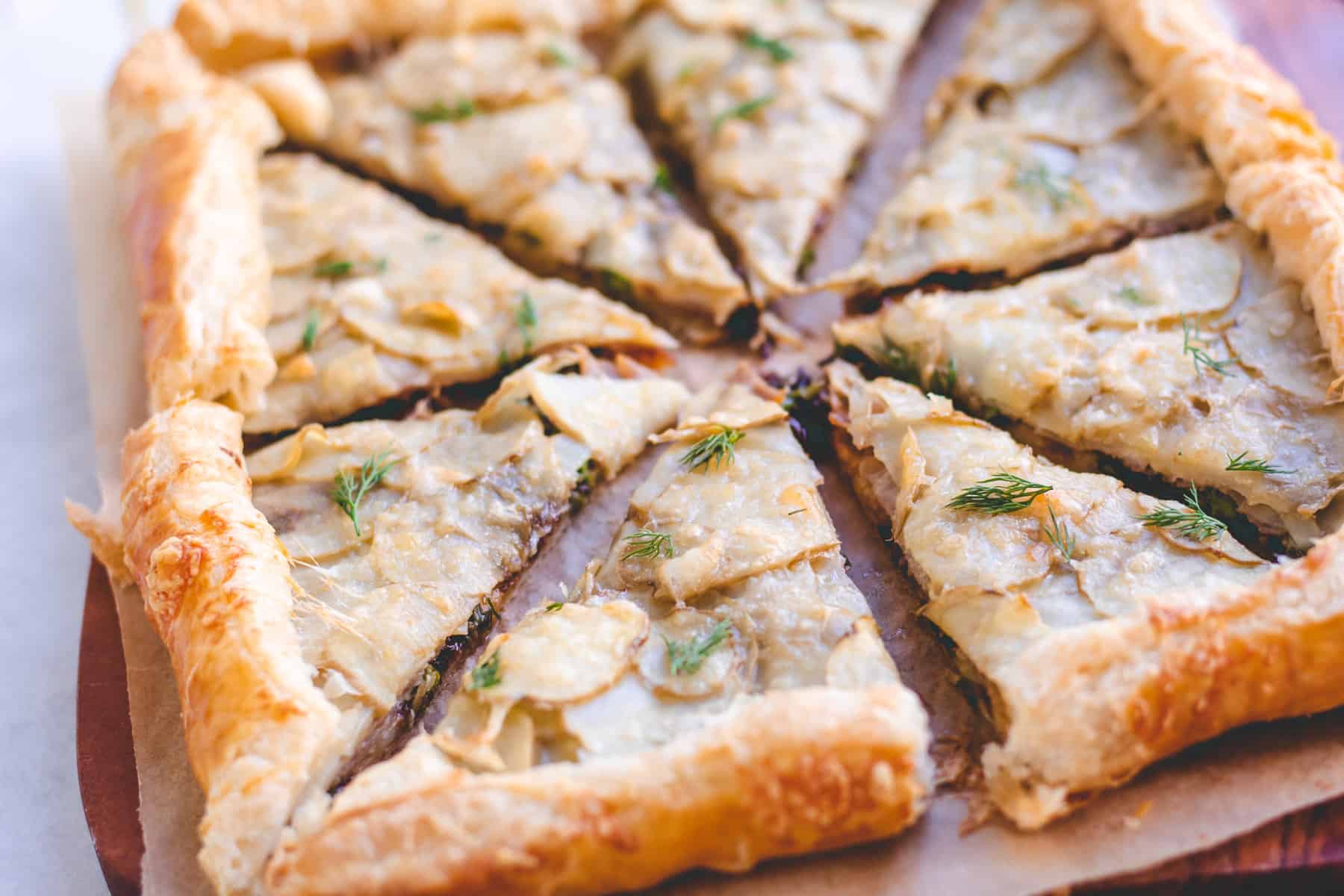 Caramelized Onion Ingredients:
2 Sweet Onions – thinly sliced

3 tbsp butter or olive oil

Salt and Pepper to taste
1/4 cup balsamic Vinegar
Caramelized Onion Directions:
In a large non-stick skillet, melt better over medium heat. Add onions, season with salt and pepper, and stir to coat onions in melted butter.
Stirring occasionally, allow onions to cook until they turn a dark brown / caramel color ( about 45 minutes to an hour). If your pan becomes dry, add a tablespoon of butter or oil as needed. TIP: if you're onions begin to crisp or burn, turn down the heat.
Once your onions are caramelized, add balsamic vinegar and cook for five more minutes. Store in the fridge for up to five days.
Spring Potato Galette Ingredients:
1 sheet Frozen Puff Pastry Dough, thawed

4 Green Giant™ Fresh Gourmet™ Yellow Potatoes, very thinly sliced

1 tbsp Olive Oil
1/2 cup Caramelized Onions

1 1/4 cup grated Gruyere Cheese, divided

1/2 cup Asparagus, washed and trimmed, roughly chopped into 1-inch pieces

1 3 oz package Prosciutto

1 whole egg, beaten
Optional Ingredients:
Everything Bagel Seasoning Blend

Store-bought Hollandaise Sauce

Fresh Dill

4 or more whole eggs

Salt & Pepper to taste
Directions:
Preheat oven to 400 F and line a baking sheet with parchment paper.

Add thinly sliced potatoes to a bowl and toss with 1 tbsp of olive oil to coat potatoes. Season with salt and pepper to taste.

Carefully place thawed puff pastry dough on top of a floured surface and roll with a rolling pin to create a thinner and larger surface area. TIP: We rolled ours out to 11" by 13".

Transfer dough to a parchment paper lined baking sheet. Using a fork, poke the surface of the pastry dough several times.

TIP: When adding toppings to the pastry dough, leave a 1-2 inch border around the edges. The size of the border depends on how much of a 'crust' edge you want for your galette.

Sprinkle 1/2 cup grated gruyere cheese evenly onto the surface of the dough.

Layer caramelized onions, chopped asparagus, prosciutto on top of the cheese. Then, sprinkle another 1/2 cup of cheese on top of these ingredients.

Add potatoes in an even layer allowing potatoes to overlap, completing covering other ingredients.

Fold the border edges of the puff pastry up and slightly over the toppings to create the crust. Press edges down to seal crust.

Mix one egg with one tablespoon of water and brush the crust edges with egg wash. Season the entire galette with salt and pepper to taste. Note: if adding everything bagel seasoning to crust, add now before you bake.

Transfer to the oven and bake for 20 minutes until dough is very slightly golden.

Remove galette from the oven and serve warm, garnish with fresh dill if desired.

If add optional ingredients – add 4 (or more) eggs to the top of the galette. Return to the oven and broil for an additional 2-4 minutes or until egg whites have set. TIP: cover pastry crust with foil to prevent burning under the broiler.

Remove from the oven and allow galette to cool for just a few minutes. Drizzle with hollandaise sauce, garnish with fresh dill, slice and serve.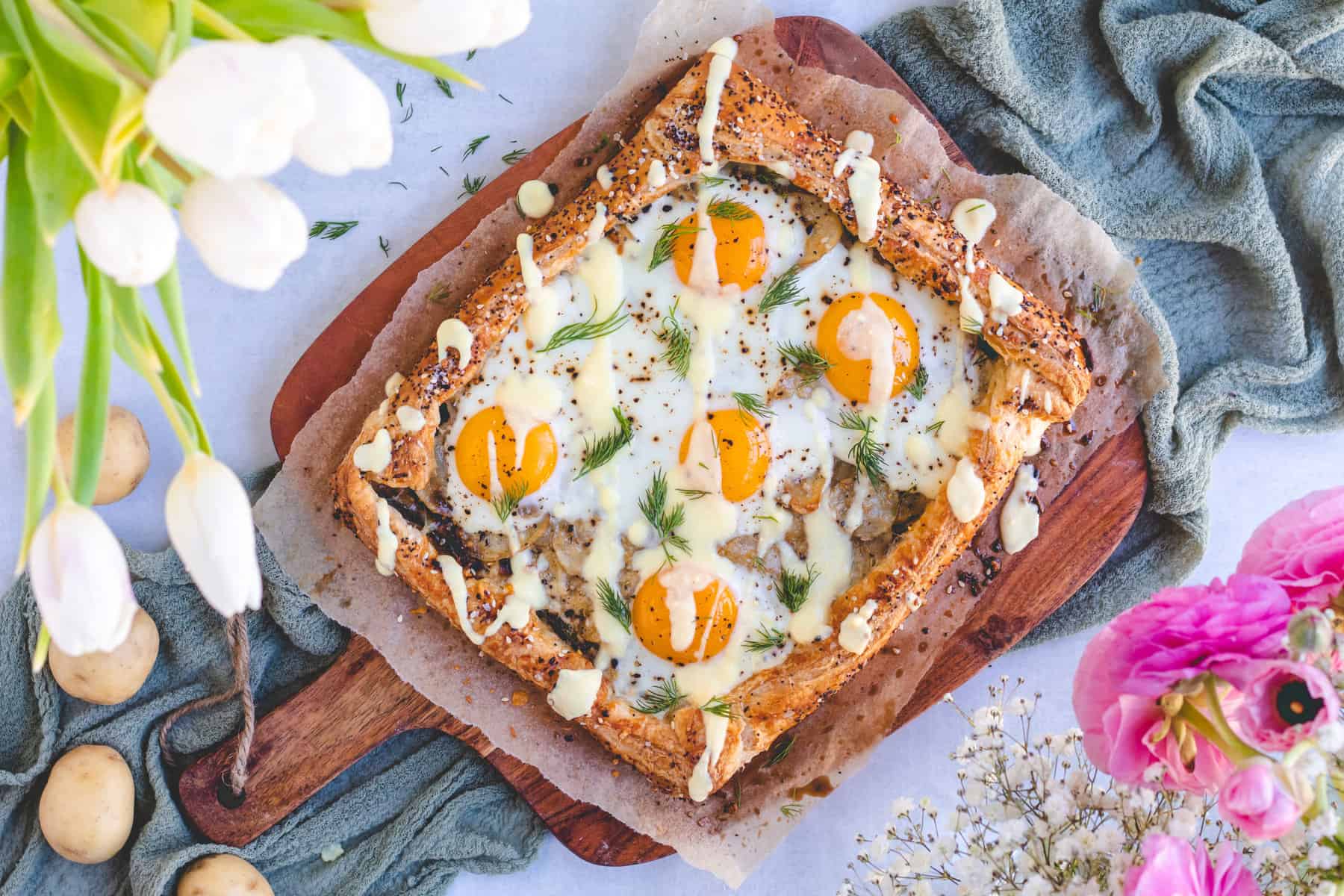 8 servings | Calories 319 | Total Fat 22g | Saturated Fat 11g | Monounsaturated Fat 5g | Cholesterol 65 mg | Sodium 391 mg | Potassium 99 mg | Total Carbohydrate 20g | Dietary Fiber 2g | Protein 13g | Vitamin A 42 % | Vitamin C 12 % | Calcium 24 % | Iron 8 %

---