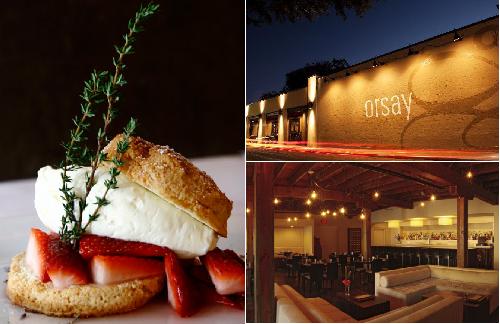 Did you know that strawberries are in season not just once, but twice a year in Florida? That's why Chef Michael Bump says he especially loved his restaurant in Florida and made sure he found a way to perfect the mainstay classic, the Strawberry Shortcake.
Growing up in Monterey, California, close to the USA's strawberry capital, he would pick fresh berries every year. He says, "Eating fresh strawberries off the plant is something everyone should experience." (We agree, too, and don't forget one can find great farms to pick strawberries with our Farm Fun Finder!)
He brings this dessert back to his menus time and again, but he updates the traditional offering just a bit.And that what makes it unique and a stand-out.
"Using mascarpone breaks the traditional cream by adding a deeper flavor and better texture. The lemon is an undertone which just flows and the lavender just goes to show it has more uses then a savory dish or in a bowl of potpourri," he says.
Here's his unique and fabuous take on the classic:
STRAWBERRY SHORTCAKE - Restaurant Orsay, Jacksonville, FL
SWEET BISCUITS 2 cups all purpose flour 3 tablespoons sugar 1tablespoon baking powder 1/2 teaspoon salt 1/4 cup cold butter 1cup heavy cream
Directions: - In a large bowl, combine flour, 2 tablespoons sugar, baking powder and salt. - Cut in butter until mixture resembles coarse crumbs. Gradually stir in heavy cream until a soft dough forms. - Roll the dough out on a floured surface( about 1/2 inch thick) adding more flour as needed to prevent sticking, cut with biscuit cutter into desired size ( you can cut into squares for something different) - Brush tops with cream and sprinkle sugar on top, place on a lightly greased baking sheet. - Bake at 375° for 12-15 minutes or until lightly browned. Cool on a wire rack
LEMON MASCARPONE
8 oz Mascarpone cheese 1/2 vanilla bean or 1 1/2 tsp vanilla extract 1/3 cup sugar Zest of 1/2 lemon 1 cup heavy cream
Directions: Place all in a stand up mixer, mix until thick, set aside STRAWBERRIES
1 quart hulled strawberries, quartered and rinsed 1/8 teaspoon finely minced fresh thyme ( optional) 1/4 cup sugar
Sprinkle the sugar over the strawberries with the thyme and mix gently. Allow to sit at room temp for about 20 minutes, then set aside for use later that day. *I don't recommend doing this the day before, the strawberries start breaking down.
LAVENDER SYRUP
1 cup sugar 3/4 cup water 2 teaspoons lavender flowers 1/2 vanilla bean 1 tablespoon honey
Directions: Put in a pot over medium heat, bring to a strong simmer, reduce heat and allow to cook for 5 minutes. Remove from heat and strain. Cool.
ASSEMBLY
Cut biscuits in half and spoon a generous amount of berries on top, follow with a large dollop of the whipped Mascarpone, top with other half of biscuit and drizzle the lavender syrup on the plate in front of the shortcake.
Dust with powdered sugar - and enjoy!
Thanks Chef Michael - you know we will!
---