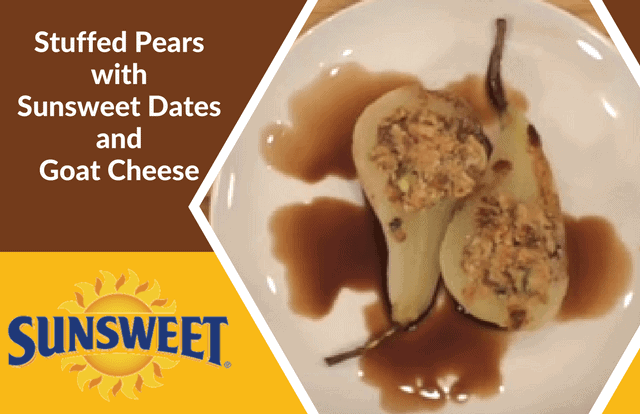 Ingredients:
4 Bosc pears - peeled
5 cups water
1 star anise
1 cinnamon stick
1/2 tsp nutmeg
1/4 cloves
1/2 lemon
2 cups sugar
1/3 cup whole salted almonds with skin, toasted and cooled
2/3 cup unsalted shelled pistachios
2/3 cup Sunsweet pitted dried dates, coarsely chopped
2 tablespoon orange zest, chopped
1/4 teaspoon cinnamon
1/4 teaspoon ground cardamom
1/4 teaspoon cayenne
1 tablespoon of lemon juice
1 tablespoon of orange juice
5 oz goat cheese
Directions:
Peel the pears.
Combine water, star anise, cinnamon stick, nutmeg, cloves, sugar, and lemon in a pot and bring to a boil.
Add pears, reduce to simmer, and cover. Poach about 15 minutes or until pears are fork tender.
Remove pears from pot and place in the freezer to chill.
Roughly chop the dates.
Combine almonds, pistachios, dates, cinnamon, cardamom, cayenne, lemon juice, orange juice, and orange zest in a food processor. Pulse until you have a chunky paste.
Transfer to a bowl and fold in the goat cheese.
Once pears have cooled, slice them in half and use a spoon to remove the seeds.
Place the halved pears on a baking sheet and top each one with a spoon full of the date mixture.
Bake pears for 10 minutes on 400.
Serve warm with a drizzle of balsamic vinegar. Enjoy!
---