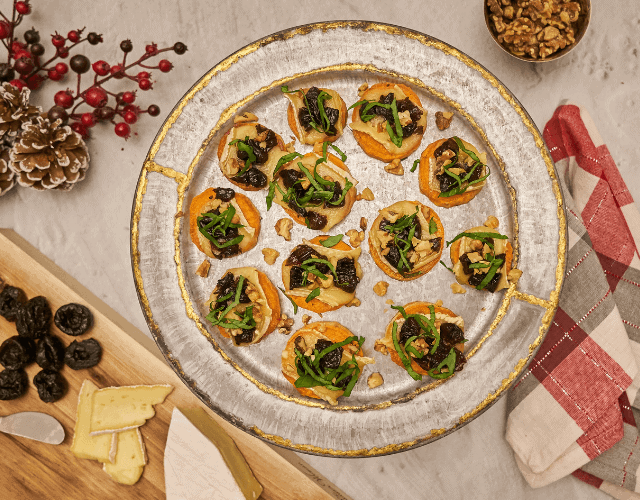 Crostinis are the perfect Italian appetizer for any holiday party. Normally made with slices of grilled or toasted bread, this savory, low-carb version uses thick yam slices, making this 'yamtini' the perfect alternative for your holiday health goals.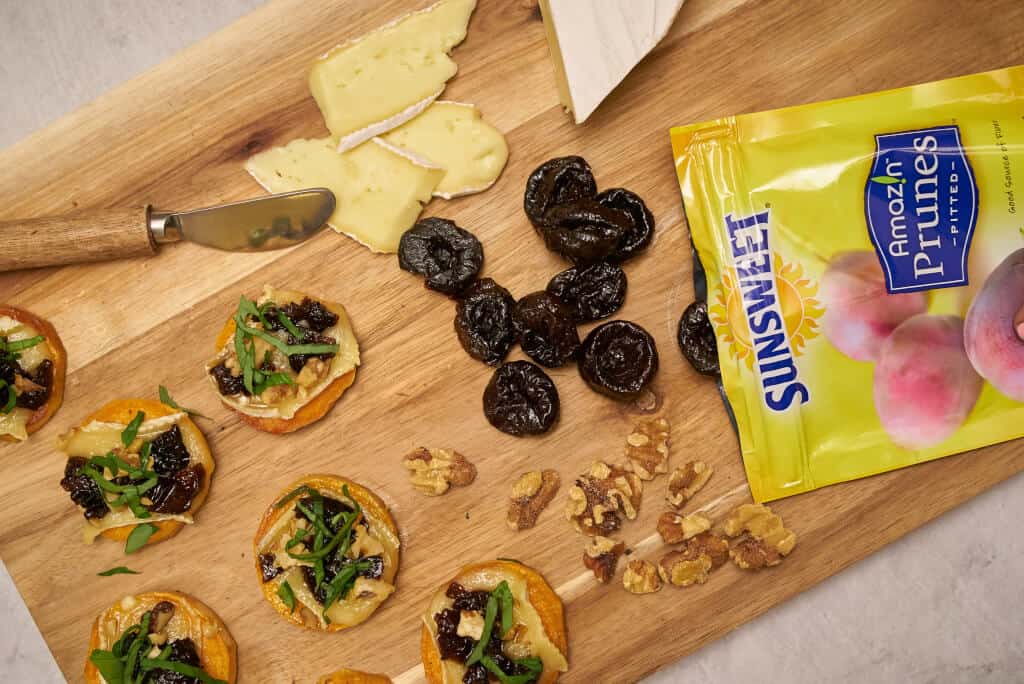 For the star topping, we use Sunsweet® signature, super-tasty Pitted Amaz!n™ Prunes. This stalwart company boasts 100 years of providing high quality and delicious prunes. Sunsweet®, comprised of 200 plus farms, harvests succulent sweet prunes using the fertile growing region of San Joaquin Valley in California, allowing for constant sunlight during the growing season that aids the nutritional development of the fruit.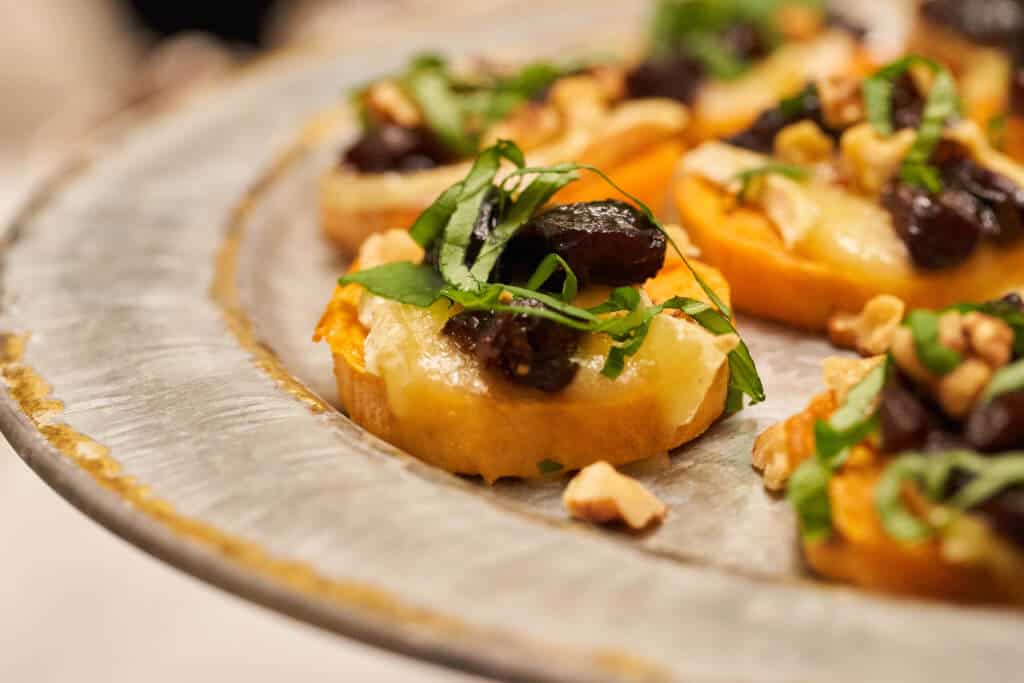 Using this dried fruit adds a chewy depth to the earthy taste of the yam and pairs well with the mild, creamy and buttery taste of the Brie cheese. Cooking with prunes not only comes with tasty results but also a slew of nutritional value. They are high in fiber and only 100 calories per serving.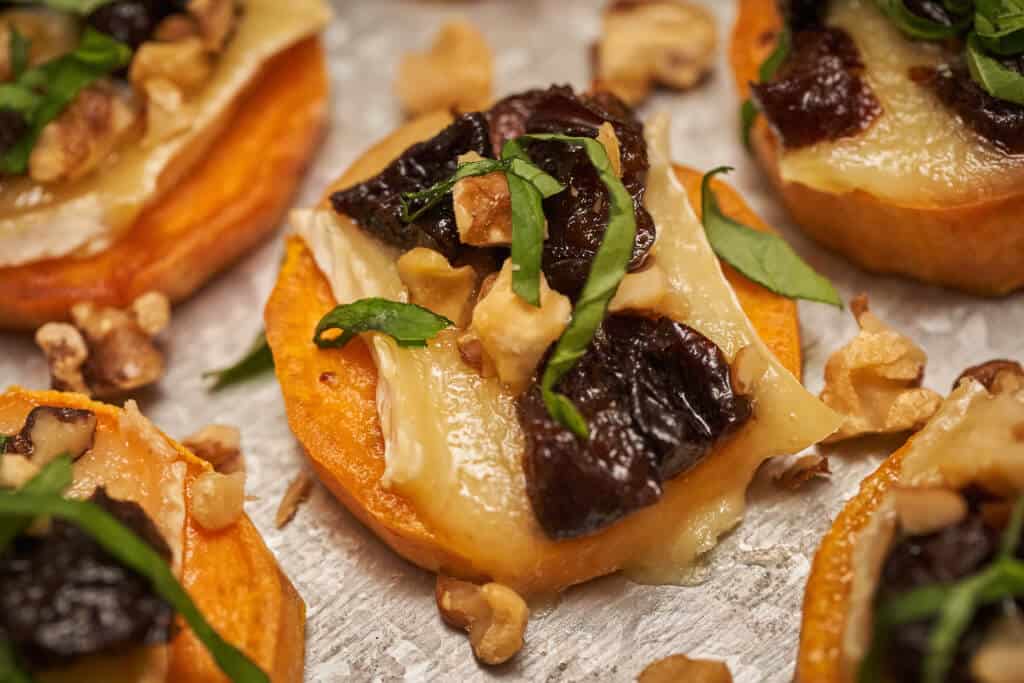 Check out more of the prune's nutritional value in our A-Z Food Guide.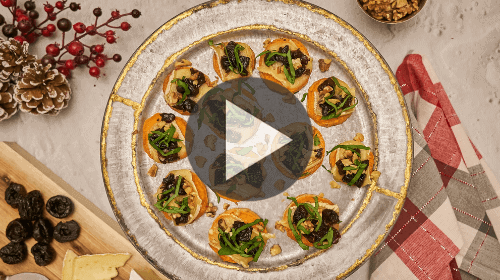 TIP: Make sure you slice yams into the same thickness so ensure even cooking time.
Ingredients
2 lbs yams (about 2" diameter)

3 Tbsp extra virgin olive oil, divided

Freshly ground sea salt and pepper to taste

1/2 cup Sunsweet® Pitted Amaz!n™ Prunes, coarsely chopped

1 Tbsp white balsamic vinegar

3 oz brie cheese, sliced 1/8" thick

3 Tbsp chopped walnuts, toasted

Fresh basil, snipped
Directions
Preheat oven to 425 degrees F and line a large baking sheet with foil. Peel yams and cut into 1/2" thick slices. Spread 2 Tbsp oil on foil, place yams on top. Turn once or twice to coat both sides with oil, then season with salt and pepper. Roast for 15 minutes; turn slices over and roast for 10 minutes more or until lightly browned and soft.

While yams are cooking, stir together prunes, remaining oil and vinegar in small bowl.

Top warm yams with equal amounts of cheese and prune mixture. Roast for 2 minutes more or until cheese is melted. Sprinkle with walnuts and basil.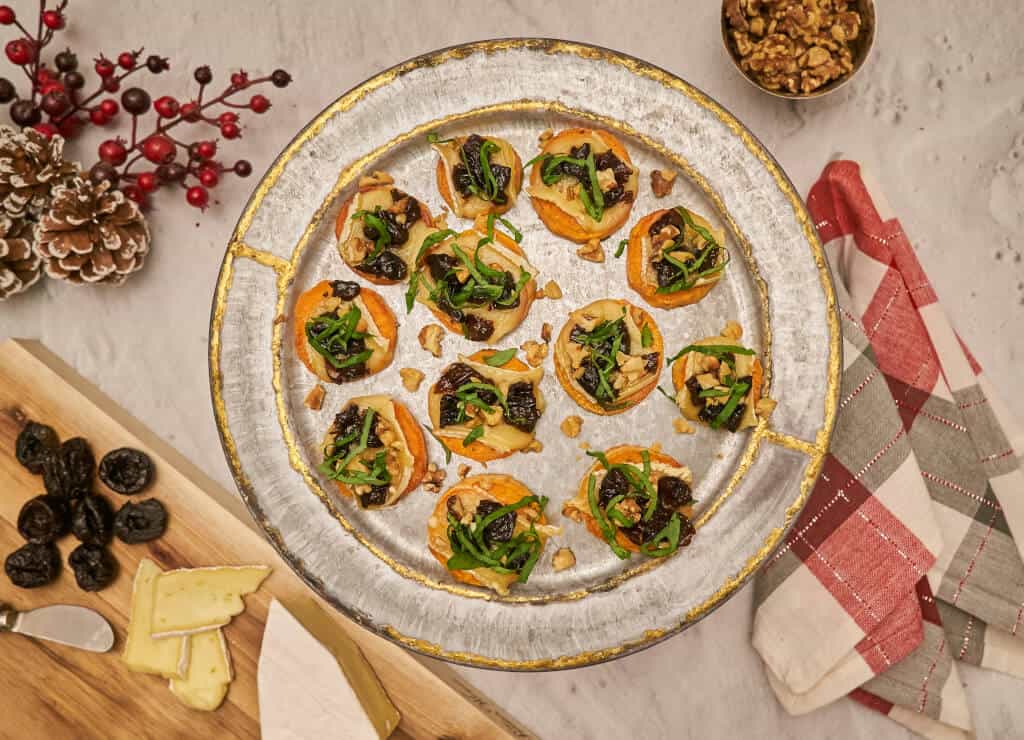 10 servings|Calories 209|Total Fat 8g|Saturated Fat 2g|Monounsaturated Fat 4g|Sodium 117 mg|Potassium 807 mg|Total Carbohydrate 31g|Dietary Fiber 4g|Protein 3g|Vitamin A 3%|Vitamin C 17%|Calcium 3%|Iron 2 %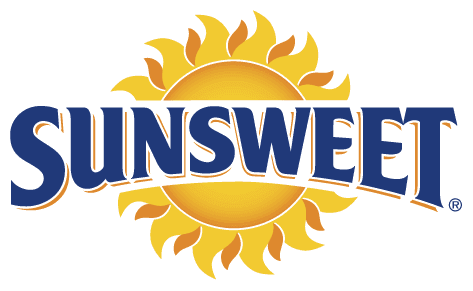 ---