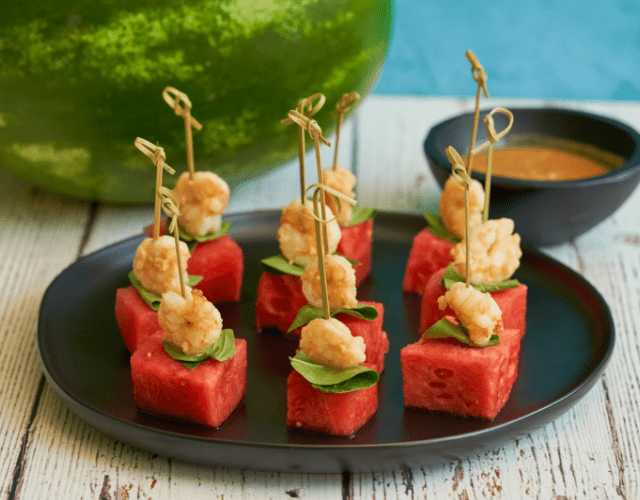 Welcome the summer months with Watermelon and Shrimp Cocktail Skewers, a recipe brought to us by Melon 1, one of the oldest and largest watermelon shippers in the United States. This refreshing, playful combination is sweet, savory, and sure to become your new favorite food combo.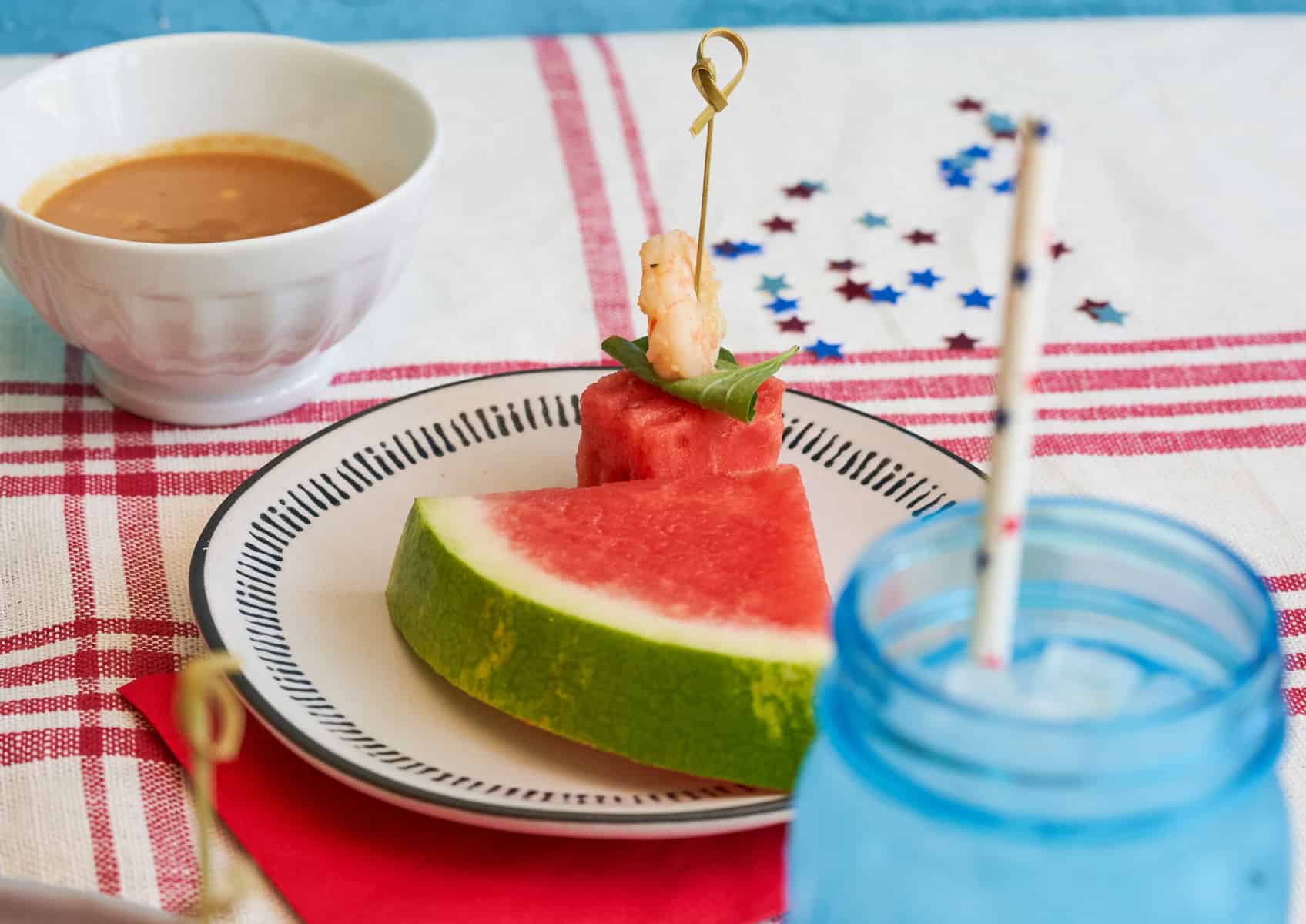 Melon 1's watermelons are shipped nationwide from one of their many packing sheds or points of distribution along the east coast. They implement the most cutting edge electronic sizing, grading and labeling equipment to provide their customers with the highest quality product possible.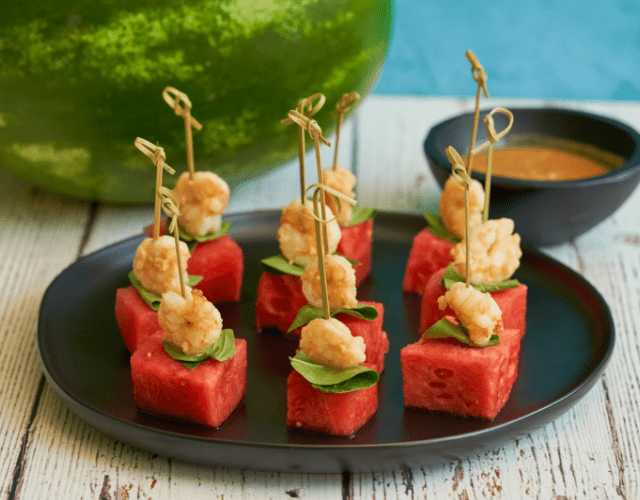 This recipe is even more exciting because of the health benefits watermelons provide:
Vitamin A

found in watermelon is important for optimal eye health and boosts immunity by enhancing the infection-fighting actions of white blood cells called lymphocytes.

Vitamin B6

found in watermelon helps the immune system produce antibodies. Antibodies are needed to fight many diseases. Vitamin B6 helps maintain normal nerve function and form red blood cells. The body uses it to help break down proteins. The more protein you eat, the more vitamin B6 you need.

Vitamin C

in watermelon can help to bolster the immune system's defenses against infections and viruses and can protect a body from harmful free radicals that can accelerate aging and conditions such as cataracts.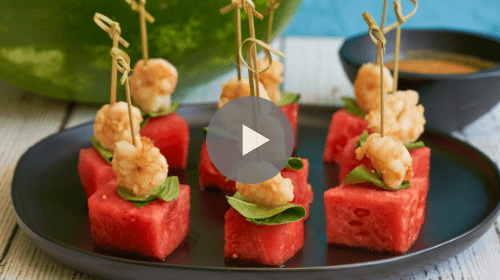 Melon on - or should we say Melon ONE!
Ingredients
1/2 medium-sized watermelon, peeled, seeded and cubed (about 32 cubes)

32 large shrimp, cleaned, poached and chilled

1/2 bunch fresh basil leaves

2 cloves fresh garlic, minced

1 tablespoon fresh grated ginger (or 1 teaspoon dried)

1/4 cup peanut butter

1/2 cup rice vinegar (or mild-flavored vinegar)

1 tablespoon low-sodium soy sauce

kosher salt to taste

fresh ground pepper to taste

8 (6-inch) bamboo skewers
Directions
In a small bowl, whisk the vinegar and the peanut butter until completely blended. Add in the garlic, ginger and soy sauce until fully combined. Taste sauce and adjust seasoning with salt and pepper.

Pour most of the dressing over the shrimp, reserving some sauce for dipping. Chill marinated shrimp for 1 hour.

To assemble, alternate shrimp, watermelon cubes and torn basil leaves on 8 skewers. Serve skewers with leftover sauce. Enjoy!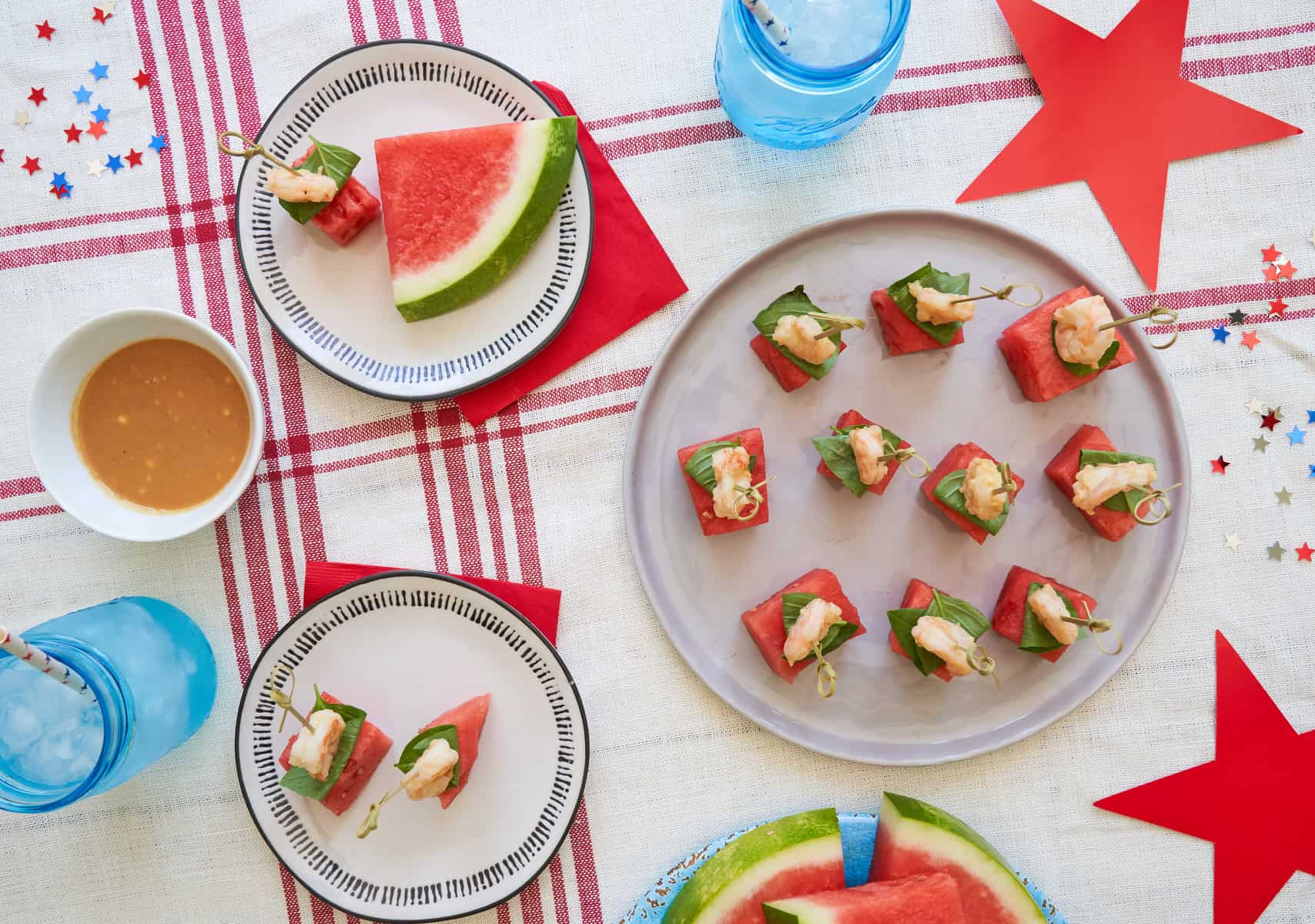 Servings 8.0|Calories 81|Total Fat 4g|Saturated Fat 1g|Monounsaturated Fat 0g|Sodium 178 mg|Potassium 79 mg|Total Carbohydrate 4g|Dietary Fiber 1g 3%|Sugars 1g|Protein 7g 14 %|Vitamin A 1%|Vitamin C 2%|Calcium 1%|Iron 6%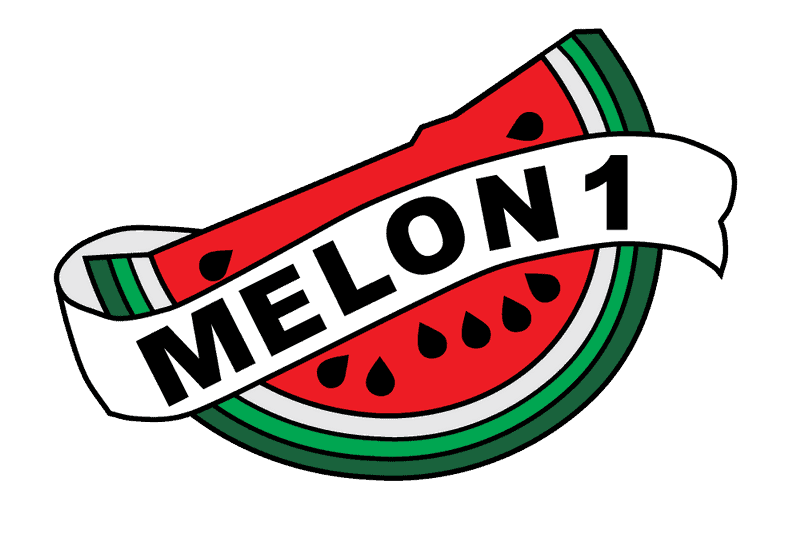 ---