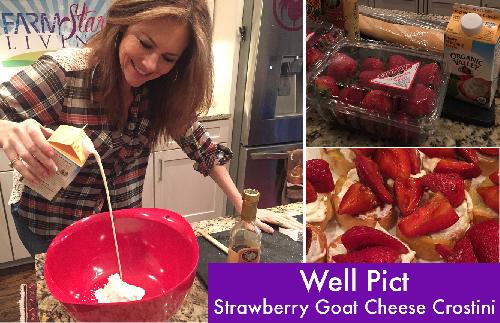 Looking for a super simple, delicious, AND festive appetizer to wow all your friends and family this holiday season? Well look no further! These strawberry goat cheese crostinis are perfect! The combination of the sweet strawberries with the tangy balsamic and the creamy goat cheese mixture is just divine. Garnish them with some bright mint and serve on a white platter for a beautiful "Christmas-y" presentation! We also recommend popping open some bubbly along side these little treats because who doesn't LOVE strawberries and Champagne?
For other wonderful Strawberry recipes head on over to Well Pict's recipe section, promise you won't be disappointed!
Well Pict Strawberry Goat Cheese Crostini
Ingredients:
2 cups Well-Pict strawberries, hulled, halved lengthwise and sliced thin 2 tbsp. balsamic glaze 4 oz. softened goat cheese 1/4 cup whipping cream 1/4 cup extra virgin olive oil 1 French baguette
Directions:
Slice strawberries, put in bowl, and add balsamic glaze. Toss to coat and set aside.
In separate bowl, mix together softened goat cheese and cream. Set aside.
Slice bread 1/4 inch thick. Brush both sides with olive oil.
Place bread slices on cookie sheet and lightly toast under broiler until golden. Turn slices and toast other side, remove from oven.
Spread cheese mixture on slices of bread and top with a spoonful of the strawberries.
Serve immediately.
We would LOVE to see your rendetions of this fab recipe! Please share it with us on Facebook, Twitter, or Instagram!
---