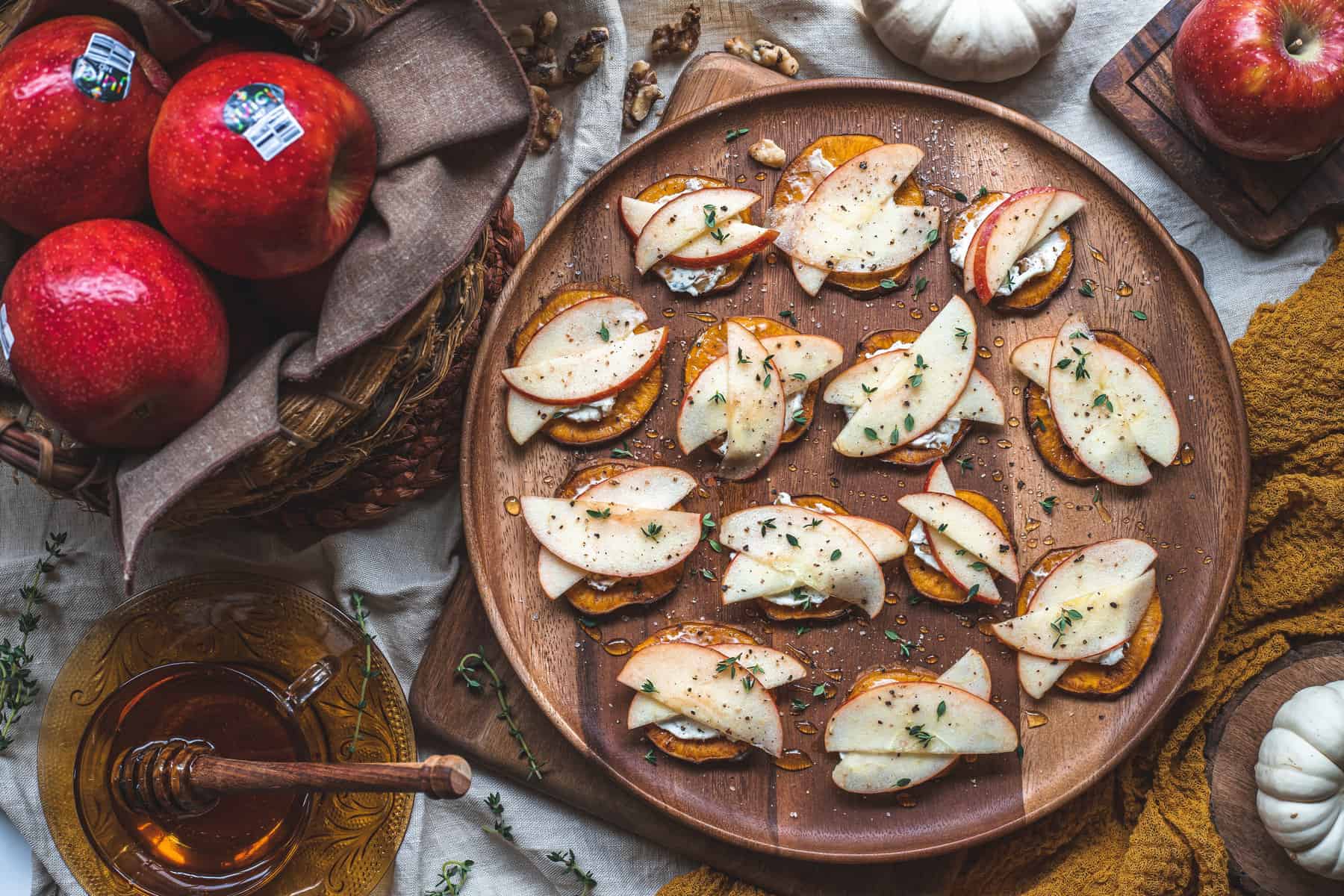 Okay, how many times have you been invited to a holiday party or family get-together and you think you don't have the time to make something? Sure, a bottle of wine is can be a good choice but every host knows that it's always appreciated when someone offers to bring a snack! Here's your new quick and easy go-to appetizer that's done in twenty minutes: JUICIā"¢ Apple & Sweet Potato Crostini!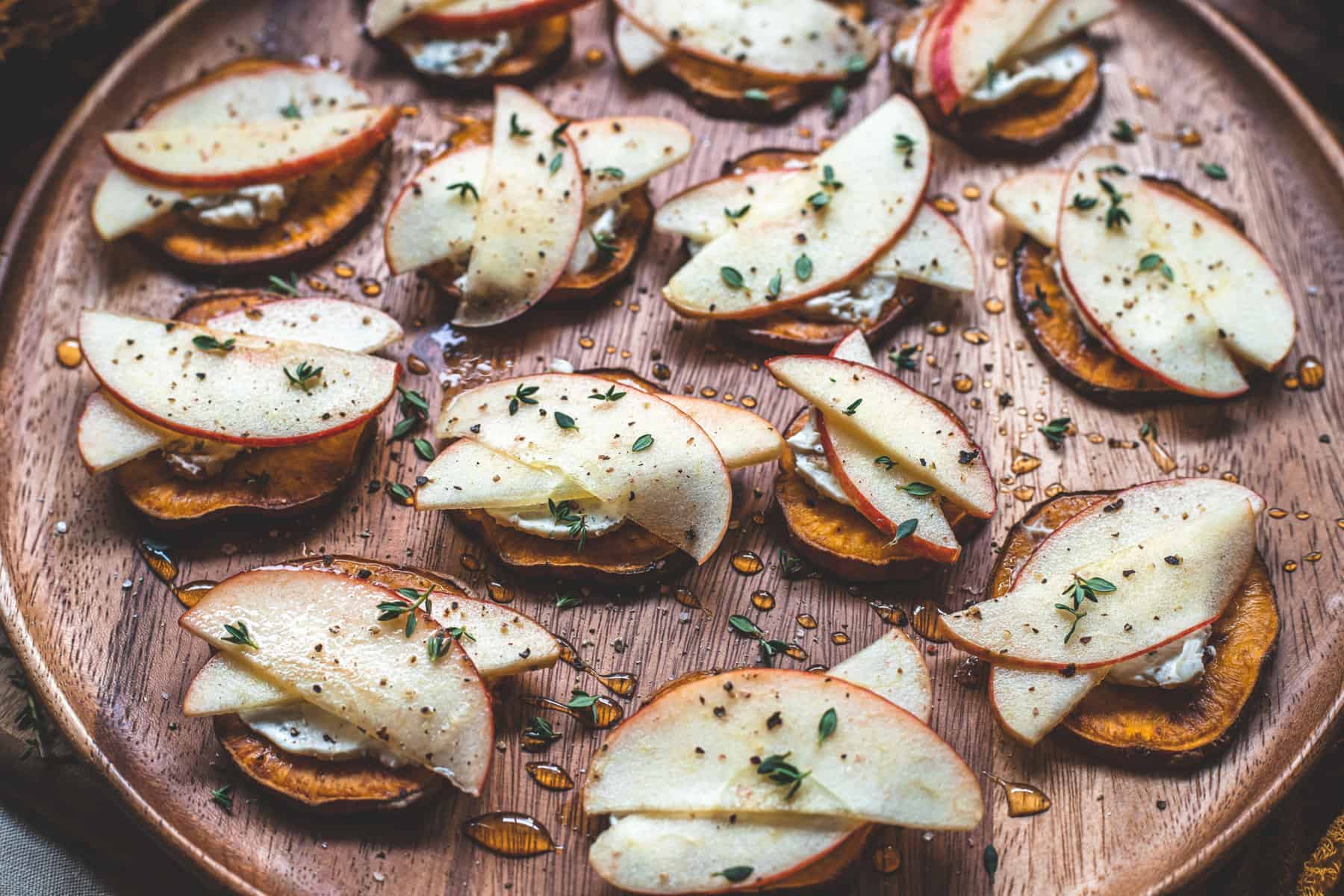 These delicate bites couldn't be easier to throw together, the flavors totally scream fall, and we're just ready to use apples in all the recipes this season, okay? Okay! Now, instead of using bread we opted for sweet potato because not only is it an all-natural, gluten-free option but their color totally fits into the fall aesthetic of reds, brown, oranges, and yellows. Just one look at this recipe and you know it's going to be the most delicious fall-centric bite.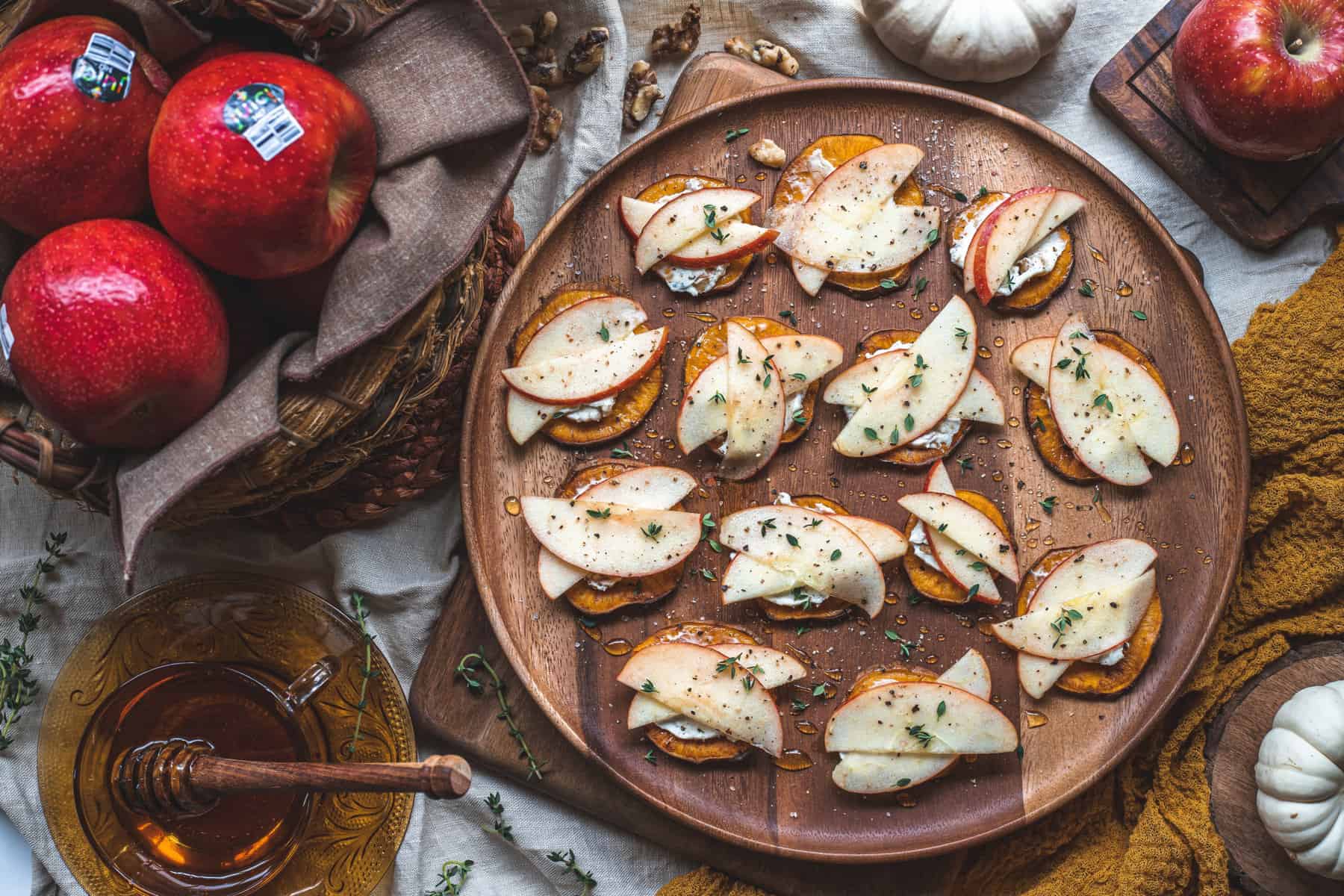 Of course, the star of the show are truly the JUICI apples from our friends at Starr RanchĀ® Growers. We've been cooking and snacking with this sweet apple for years now and it never lets us down. Just take a look at the different ways we've used the JUICIā"¢ apple: JUICI Apple & Pear Salad, JUICI Apple Old Fashioned, JUICI Apple Pie Cocktail, and our Halloween-themed JUICI Apple Spooky Spread. As you can see, the JUICI is so versatile! You can read more about Starr RanchĀ® Growers in this Food Spotlight article.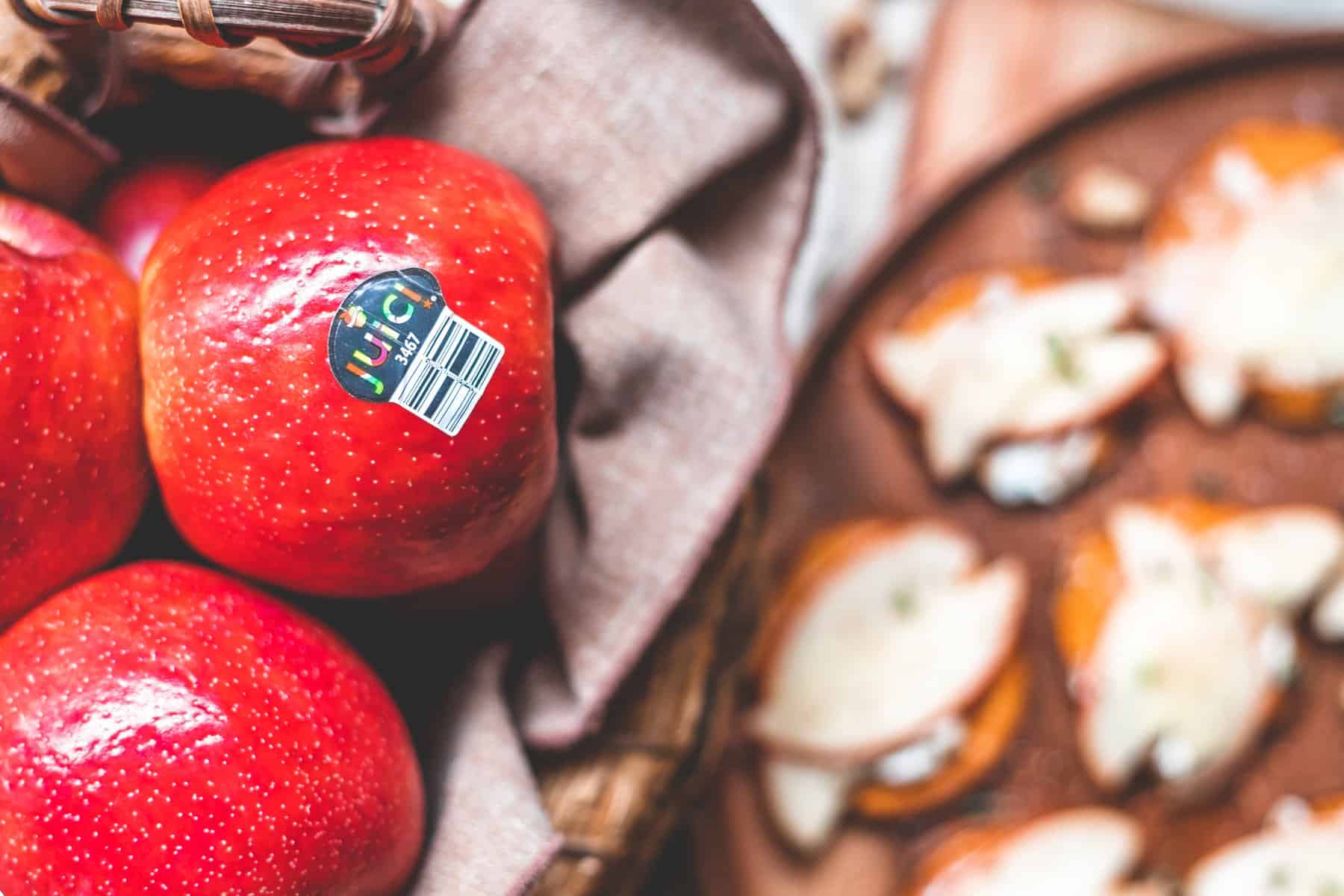 Here's a few tips, tricks, and suggestions to making the best JUICI Apple & Sweet Potato Crostini:
Sweet Potato: if you're not a sweet potato fan, you can try using baguette or other bread.
Broiling: this step gets them crispy! If you don't use the oven broiler often here's a huge tip ā€" don't walk away! Keep checking the sweet potato slices as they broil because the broil-time depends on how thick your slices are cut. They'll be ready when both sides have browned well.
Apples: we don't suggest trying this recipe with another apple as many other apples really don't have the same flavor profile and crunch like the JUICIĀ®. Slice them as thin as you can for this recipe and use two slices for each crostini.
Cheese: blue cheese is an acquired taste and can be quite pungent. If you want to skip the blue cheese, try using another soft cheese like goat, feta, or brie cheese.
We hope you love this recipe and don't forget to share and tag us along with Starr Ranch Growers on social media with your recipe photos! Happy Fall, friends!

Ingredients:
1 JUICIā"¢ Apple ā€" very thinly sliced

2 tbsp Fresh Lemon Juice

2 tbsp olive oil

2 Sweet Potatoes

8oz. Block Cream Cheese, room temperature

5 oz. Blue Cheese, crumbled

1/2 Cup Walnuts

1 tsp. Ground Thyme

4 Sprigs Fresh Thyme

Honey

Salt and pepper to taste
Directions:
Preheat oven to 400 F

Slice sweet potatoes into 1/4 inch - 1/2 inch rounds and place in a large bowl. Drizzle with olive oil and toss to coat.

Bake sweet potatoes for 10 minutes. Flip sweet potato rounds and broil each side for two minutes. This will help remove moisture from the sweet potato so they become crispy. Remove from oven and set aside to cool.

Thinly slice JUICI apple into thin wedges and place in a small bowl with lemon juice.

To a bowl add cream cheese, and stir with a spatula to soften. Add blue cheese, walnuts, and ground thyme. Mix until just combined.

Smear each sweet potato round with the blue cheese mixture, top with two slices of apple, and a light drizzle of honey. Add salt, pepper, and garnish with fresh thyme.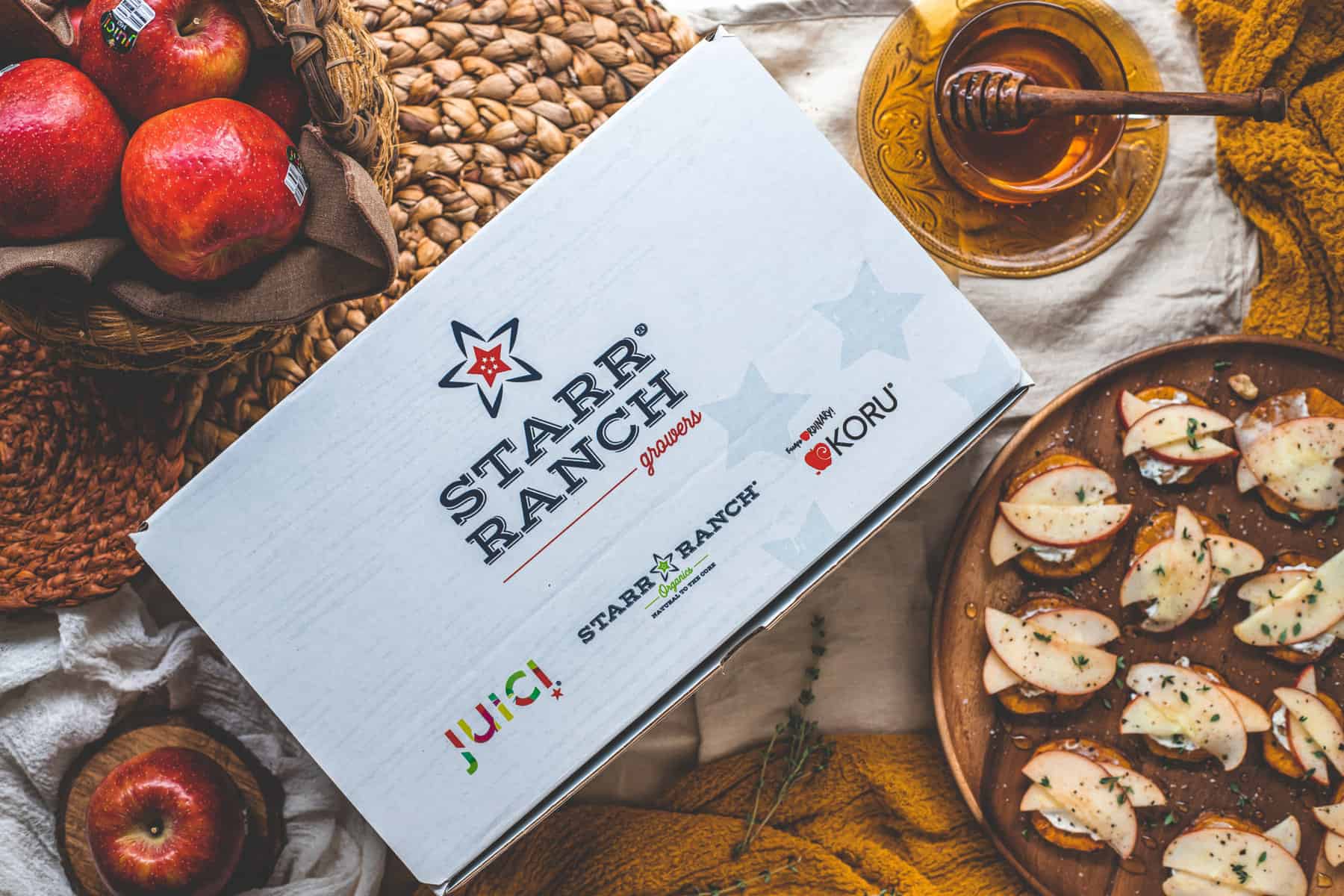 ---